ESG compliance: Introduction, benefits, and implementation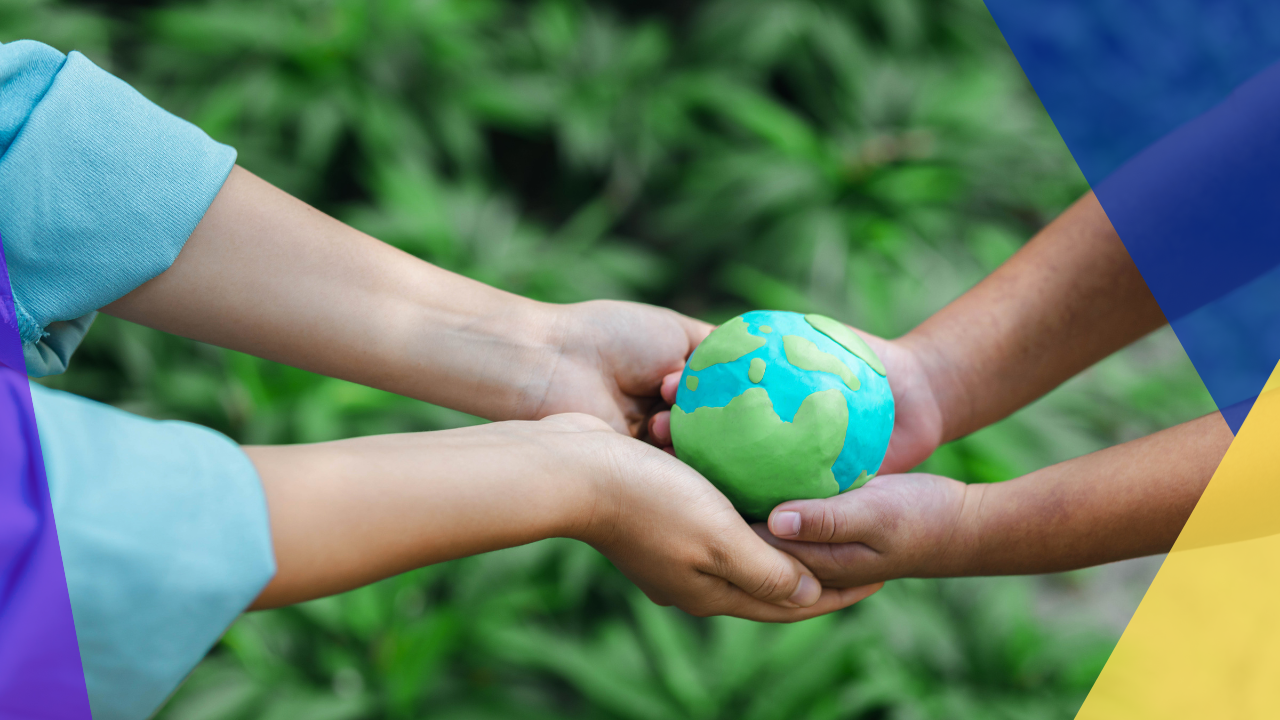 The growing emphasis on different service policies like environmental, social, and governance (ESG) compliance cannot be overstated.
This is true – especially now that investors, regulators, and customers are placing greater pressure on proving their dedication to sustainable and ethical operations.
Investors view ESG compliance as a key factor in a company's financial success and risk management. A recent Morningstar survey found that 90% of firms have or are creating a formal plan to manage corporate environmental, social, and governance standards.

Businesses that prioritize ESG compliance "may kind of give the reassurance to the clients [that] employees are being well looked after," Ashique Ali mentioned, Chairman of SLASSCOM Sri Lanka, at the 448th episode of the Outsource Accelerator podcast.
SLASSCOM is a software services company and is regarded as the national chamber for the knowledge and innovation industry in Sri Lanka.
Moreover, a strong ESG policy may enable businesses to handle social and environmental risks and uphold good governance effectively.
Introducing ESG compliance
ESG compliance refers to a set of standards and practices that companies adopt to ensure their operations are environmentally sustainable, socially responsible, and governed with integrity.
The main goals of establishing ESG compliance are the following:
Reduce carbon emissions

Promote diversity and inclusion

Ensure ethical leadership and transparency
Since "people are [now] paying a lot more attention to [ESG compliance]," adopting responsible ESG practices attracts investors—leading to increased access to capital and potential growth opportunities .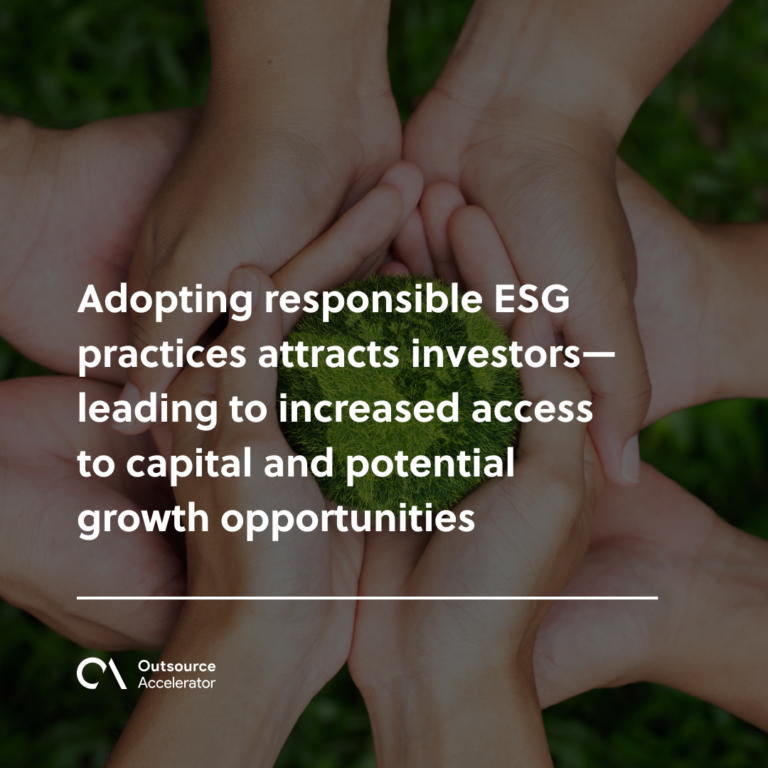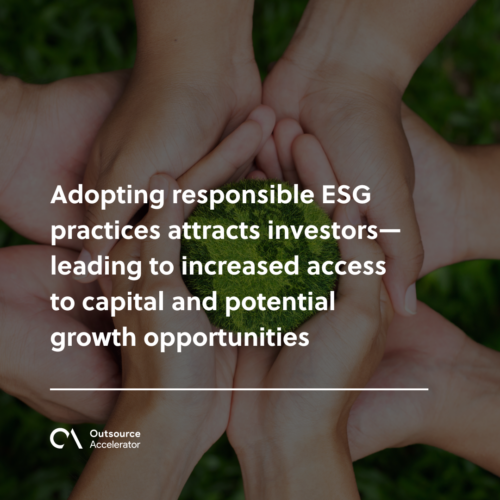 Financial benefits of ESG compliance
Implementing ESG compliance can have several financial benefits for businesses. By incorporating environmental, social, and governance factors into their operations, companies can achieve the following advantages:
Improved risk assessment
ESG compliance encourages companies to enhance their resilience and reduce the likelihood of business failure and financial losses by addressing potential risks, such as:
Climate change impacts

Supply chain disruptions
Enhanced long-term sustainability
Implementing ESG compliance means embracing sustainable practices that help minimize environmental impact and can lead to cost savings and operational efficiencies in the long run.
For instance, adopting energy-efficient technologies or reducing waste can lower expenses and improve the company's bottom line.
Attraction of socially responsible investors
Businesses can attract socially responsible investors by demonstrating a commitment to ESG compliance.
Increased client loyalty and trust
By implementing ESG compliance, businesses can build trust with their clients by showing them that "[their] practices are in place, [there's] good governance, [and] good environmental practices," Ashique mentioned.
This can increase client loyalty, customer retention, and a positive brand reputation.
How to implement ESG compliance
Implementing ESG compliance requires a strategic and systematic approach. The following steps can guide businesses in incorporating ESG principles into their operations:
Assess the current business state
To implement ESG compliance effectively, starting with a comprehensive assessment of your organization's current ESG performance is essential.
You can do this in three ways:
Conduct an audit of your company's environmental practices, including energy consumption, waste management, and carbon emissions.

Evaluate social factors such as diversity and inclusion, labor practices, and community engagement.

Assess your governance framework, including transparency and board composition.
Develop an ESG policy and framework
Establish a comprehensive ESG policy that outlines the company's commitment to sustainable and ethical practices.
Then develop a framework to monitor and report progress on these targets. This will help establish a baseline and provide a roadmap for your ESG compliance journey.
But note that for your "baseline [to] work," you should develop clear objectives and measurable targets aligned with international standards or industry best practices.
Build internal support
ESG compliance requires engagement and commitment from all levels of the organization. Per Ashique, some staff "may not actually think of the policies as [ESG compliance], so a lot of education [has to be implemented as to] what ESG is."
Educate and train employees on the importance of ESG principles and their role in achieving compliance.
Foster a culture that values social responsibility and provides the necessary resources and incentives to support employees in implementing ESG practices.
Integrate ESG compliance into operations and strategy
Businesses can identify and mitigate risks, reduce costs, and enhance operational efficiencies by integrating ESG compliance into the stakeholders' decision-making processes.
Embed the ESG process into the company's operational practices by integrating sustainability and social responsibility into supply chain management, product development, and corporate strategy. 
Finally, set up monitoring and reporting systems to track progress and ensure accountability.
Key considerations for ESG compliance
When implementing ESG compliance, it is essential to consider the following factors:
Environmental considerations
Companies must prioritize reducing their carbon footprint, conserving resources, and implementing environmentally friendly practices.
This may involve adopting renewable energy sources, minimizing waste generation, and implementing eco-conscious supply chain strategies.
Social considerations
Social responsibility entails promoting diversity, equity, and inclusion within the organization and beyond.
Consider social impact in the supply chain and the broader ecosystem in which the company operates. It involves fair labor practices, fostering a safe and inclusive work environment, and supporting community development. 
Governance considerations
Effective corporate governance ensures transparent decision-making processes, ethical behavior, and accountability.
Establish transparent and ethical governance practices through responsible leadership, and promote the importance of corporate governance throughout the organization.
Reassure your clients' well-being through ESG compliance
ESG compliance is a moral imperative and a strategic opportunity for businesses. Implementing this policy requires a comprehensive approach, focusing on assessment, policy development, and internal support.
The SLASSCOM Chairman is optimistic that "in the next seven years, as we move into hard targets, [ESG compliance] will become a lot more formal, and there might be global indexes and rankings that will identify or recognize countries for their [ESG] contribution."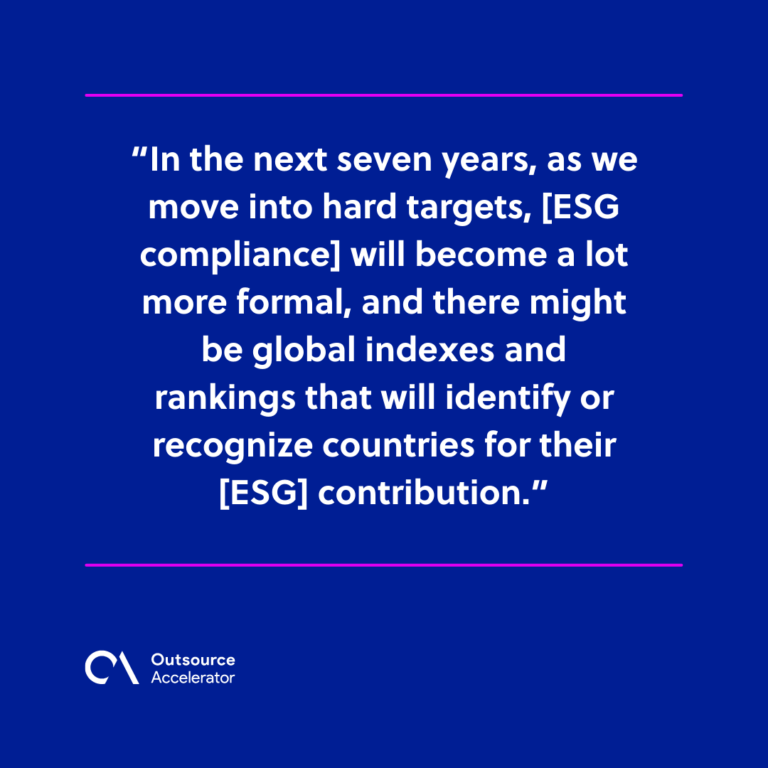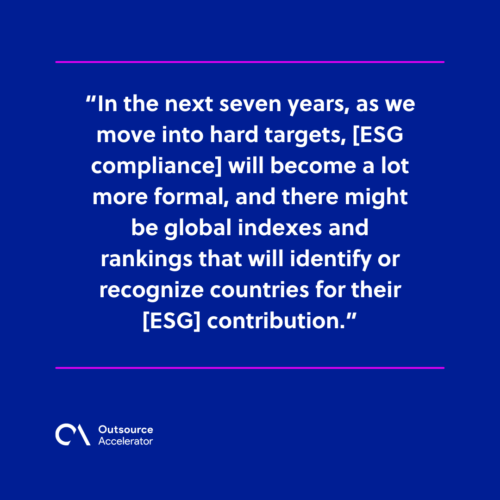 If you want to learn more about ESG framework and policies, connect with Ashique Ali on LinkedIn or send them an email at [email protected] 
Further, visit SLASSCOM's official website, and listen to episode 448 of the Outsource Accelerator podcast here.