20 Strategies to save a failing business in 2023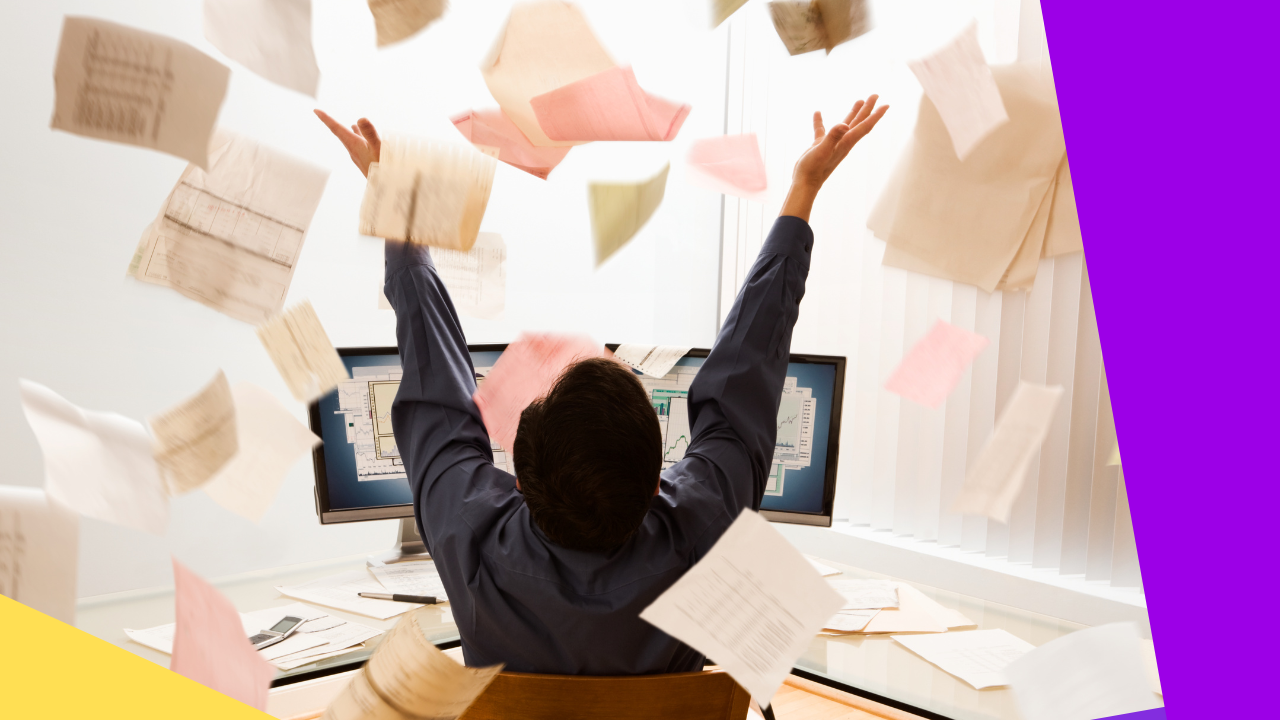 20 Strategies to save a failing business in 2023
Business failure does not happen overnight and there may be contributing factors that the owner was not able to notice early on. It's true that saving a failing business will be difficult yet, it will be worth it in the long run.
Seeing a business fail can be disappointing. But here are a few things to consider when saving a failing business.
Analyzing the situation of a failing business
According to the US Bureau of Labour Statistics, this has less to do with the economic climate. They have been an important figure in the economy.  However, business failure is (sometimes) inevitable.
1. Have a proper mindset
There might be an overlooked factor that caused the business to fail. Clear any negative thoughts and have a proper mindset on the situation. 
Set yourself aside and erase some speculations about why it happened. View the company as an outsider. 
Get to know its condition properly by closely examining all aspects of the business. 
2. Prepare all business documents
Prepare all business documents to be checked. This includes all financial records, inventory, business plans and performance, written processes, and KPIs of each team.
Evaluate sales and marketing projections. These are mostly needed in analyzing the company and what went wrong with its operation.
3. Know the root cause of the problem
Gather the core management to analyze the entire company. Communicate properly and brainstorm on the cause of failure and what are the measures to take for it. Some causes of failing businesses include:
Some businesses might not have enough funding to sustain their operation for the next few years.
 A startup might be doing well with their business, but they have too many debts to pay and cannot keep up with payments,
Inadequate or improper management. 
Some processes, goals, or business management should be reevaluated if they are fit for the business.
They might be targeting the wrong customers or they do not have a specific market at all.
Management might not produce a solution overnight. They might need to continuously evaluate and come up with better solutions.
However, knowing the main causes of a failing business is necessary if they want to find a solution.
4. Analyze business performance 
Check the previous performance of the business, whether for the past quarter or year. Check its market, leads, and if it still has the potential to bounce back.
Have a positive mindset and prepare initial goals on how to keep the business running.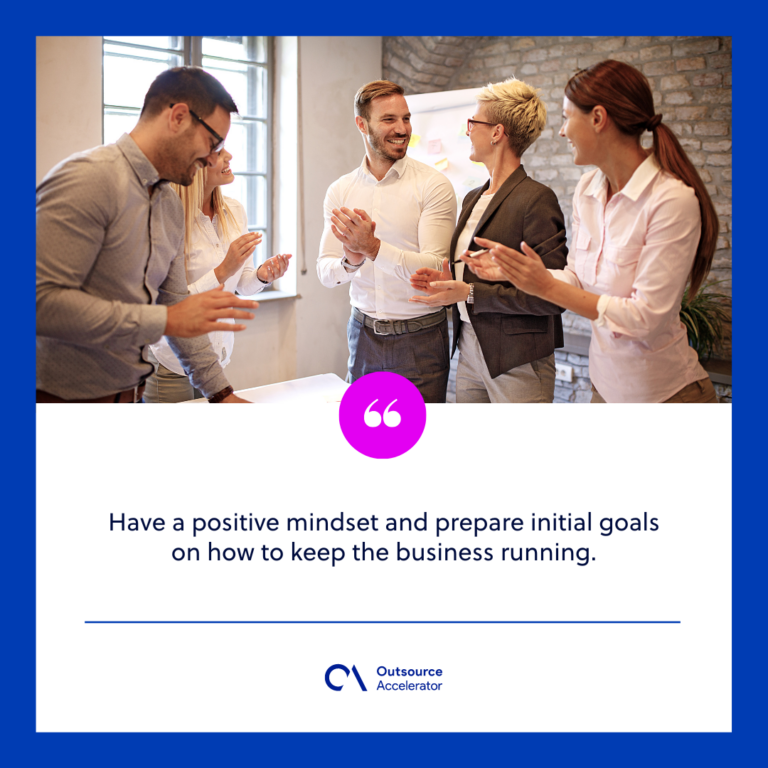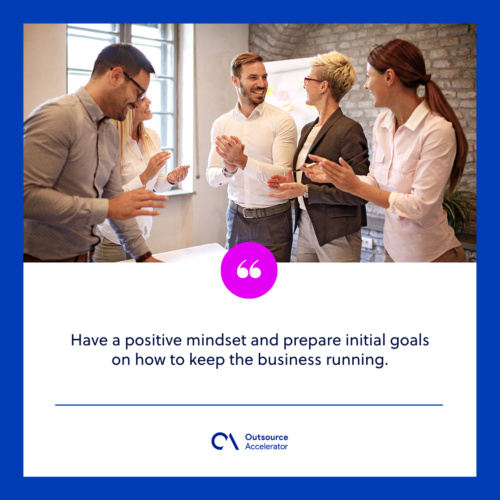 Filling up insufficient funding
According to the Small Business Administration in the US, more than 78% of small businesses survive in the first year. This percentage goes down every year, until around 45-50% in their fifth year.
5. Secure a loan from third-parties
When the initial capital gets depleted, owners can secure a business loan from banks or credit unions.
They just have to select their lender, apply online or offline, and prepare the necessary bank documents needed for their application.
Usually, banks look for concrete business plans, complete financial details and statements, insurance information, and collateral to pledge.
Processing usually takes 10-15 days, though some lenders give decisions in less than seven days.
However, lenders don't always approve a loan, so prepare for a backup plan in case the application gets rejected.
6. Borrow from family members or friends
If lending from banks doesn't work, borrowing money from someone close can do. Have a list of family or friends that can lend money and contact them.
Come up with an agreement to pay on a specific date or when the business gets back up. 
This is one of the fastest and most effective ways to come up with starting capital. However, don't pressure them to give as well.
Let them chip in how much they can lend. Move on to another on the list if they don't have something to lend. Do not let this be a hindrance to a relationship.
7. Withdraw from own savings or investment
If possible, owners can withdraw a specific amount on their savings or investment to add on the capital.
Doing this even secures their control in the business without external liabilities. However, most entrepreneurs don't have this luxury, so they either borrow from a creditor or their family or friends.
8. Check out crowdfunding
Most entrepreneurs that need additional funding turn to popular crowdfunding services such as GoFundMe, Patreon, and IndieGoGo. Usually, in these platforms, people commit money to projects and startups they want to support.
Crowdfunding provides different services to raise funding for a business. It may be in the form of peer-to-peer lending, reward-based, or equity crowdfunding.
Peer-to-peer secures loans from different individuals who chip into the project. Reward-based, meanwhile, requires businesses to send a product to the lenders depending on the package they availed.
Lastly, equity crowdfunding makes the individual shareholder of the company they chipped into.
9. Get venture capital funding
When a failing business has shown good performance in the past, they might qualify for venture capital funding.
An individual or a small firm finances the business when they see potential growth in the future. 
This can help get back up and boost business growth, but it may be risky for investors. The possibility that startups grow overtime is only up to 8%.
So, once a startup decides to get venture capital funding, they have to work hard and make sure that the business won't fail for the second time.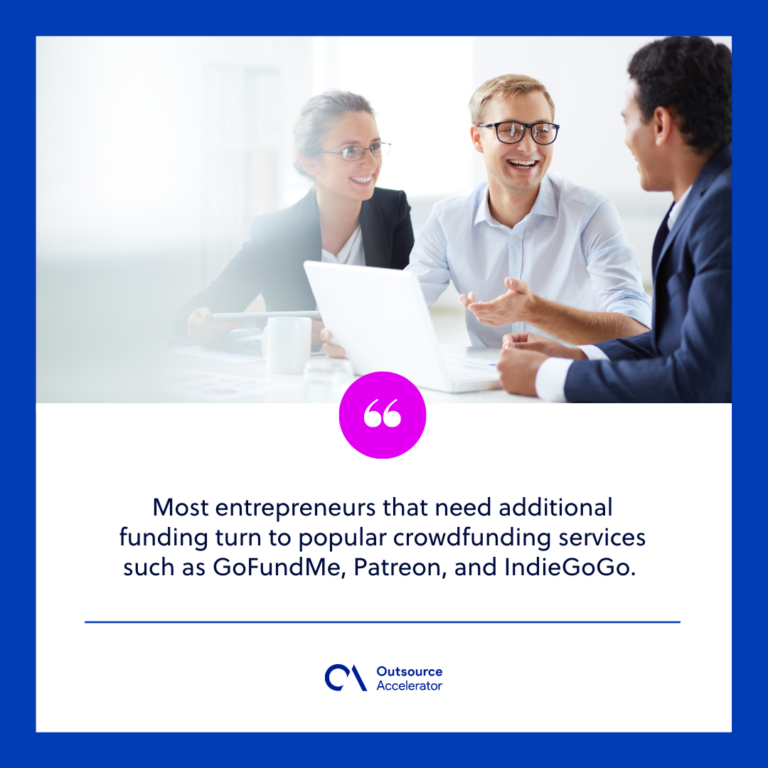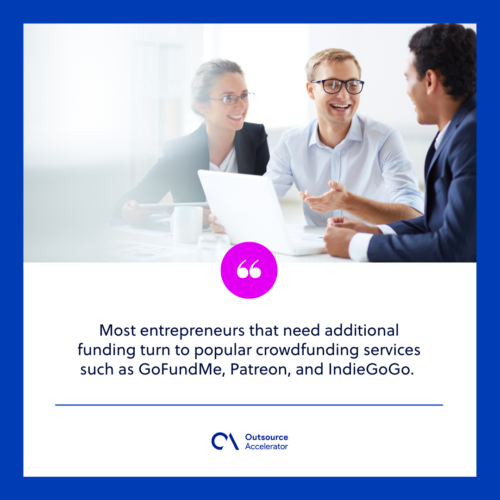 Pulling out of too many debts
10. Learn if debts can be consolidated
Sometimes, along with a failing business is tons of debt from creditors and friends. This usually happens when the target profit is not constantly met. With this, the owner should have a clear outlook of their debts and how much they should repay.
In most cases, debts can be consolidated or combined into one loan.
Only, be careful when applying for consolidation. Loans with high interest rates can be difficult to consolidate. Look for a lender first that can accommodate such cases and check their requirements. Once approved, the lender might give a higher or lower interest in the consolidated loan.
11. Undergo debt restructuring
If debt consolidation can't help, owners can apply to restructure their debt. Debt restructuring usually occurs when the business is on the brink of a financial crisis.
Creditors and senior debt holders have three options to agree with: giving a lower interest rate, extending payment terms, or taking out collateral. 
Whatever agreement the two parties come up with, it can be a win-win for both of them. With this, the company can be saved from bankruptcy while the creditor can get a larger value from their payment or collateral.
12. Personally arrange with creditors
Borrowed money from friends or family can be arranged without going to courts for it.
They can call their list and have an agreement on what percentage of loan they can pay or when they can pay it. They can also make their friends or relatives the shareholders of their company. 
13. Monitor cash flow 
Continuously monitor the cash flow of the company with or without additional funding.
It is important to keep track of expenses before and after consolidating its debts. Make sure it is profitable to operate and grow.
Consult an accountant or hire a virtual assistant to help you manage cash flow.
14. Prioritize payables
Make sure to prioritize bills and debts more when managing cash flow. Calendar dues and automate payments for a more flexible payment option.
Hire a bookkeeper that can file and pay taxes and bills more accurately to avoid penalties.
When too many debts cause the business to fail, make sure it will not happen again by paying bills and dues on time. 
Reevaluating business management
15. Reevaluate business plans
Look over at the business plan, from the mission, vision, goals, and objectives, to the projections. Compare it with the current standing today. Analyze what aspect went wrong and find a solution for it.
The products might not have a market or the marketing team is targeting the wrong audience. It might be due to the poor customer service or outdated web pages.
Whatever the problem is, think of a solution or an alternative that can fill it.
16. Focus and invest in workforce and customers
One of the most important resources that a business has is its human capital. The employees and customers help keep the business function. Even when the business is failing, in-house and remote employees can still achieve KPIs when they are motivated and properly directed. Continue to focus on the current manpower. Train and improve their skills and motivate them to reach their goal. With them, the business will still be functioning and might strive in the future.
This goes the same with customers. Continue to meet their needs and give them the best service. Match customer's expectations with the niche of the business. If possible, alter the current products and services given by the company. Give them the best experience that can make them stay loyal and can bring more customers to the business.
17. Change sales and marketing strategies
Sometimes, a business fails because of the sales and marketing strategies set by the company.
Especially with the tech industry, startups and big enterprises get less and less popular with fast-paced competition nowadays. 
Find the niche of the company and the audiences they should target. Use social media more efficiently and be active when interacting with customers. Get sales and marketing strategies by studying the competitors in the industry.
However, avoid copying competitors. Their strategy might not work for the company since they have their way of marketing and selling their products.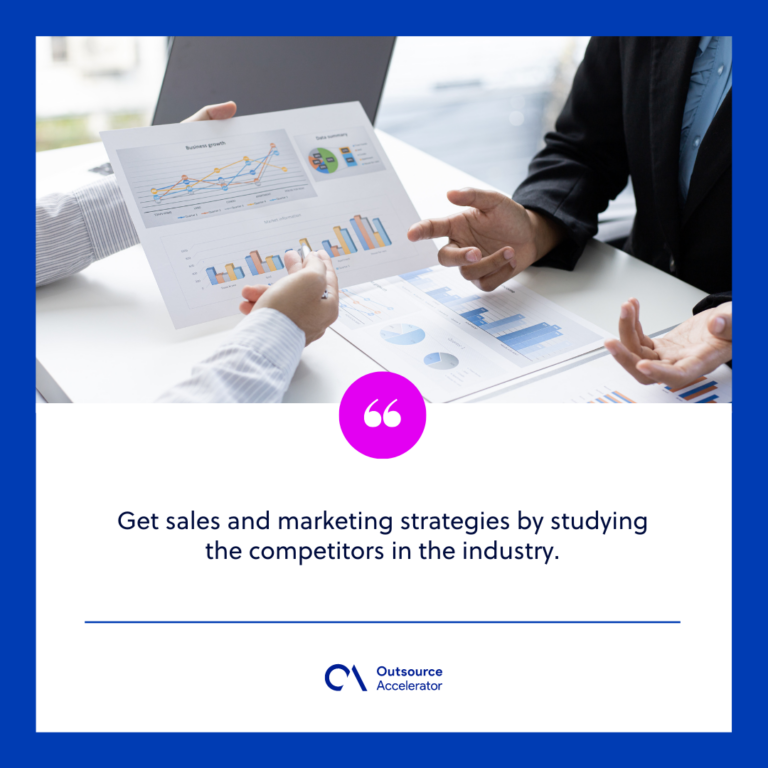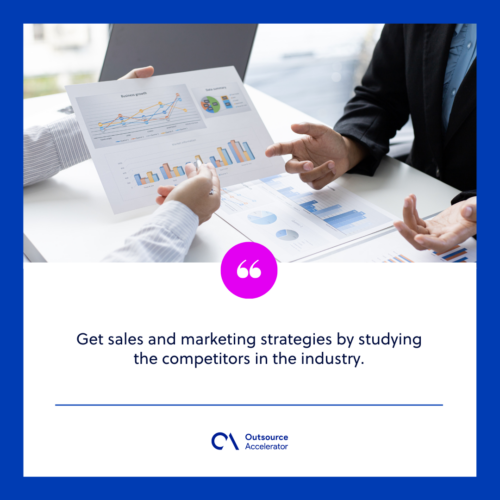 18. Look for alternatives
Reevaluate all aspects of the business. Check if there are some, such as in placing an order or account handling, that can be improved or removed.
Look for alternatives in managing a team's tasks and streamline the operation for a more efficient workflow.
Practice better procurement of products, services, and supplies consumed by the company. They might find a lower-priced supplier with a better product or service quality for the business.
Finding an alternative can improve business performance and services while saving on costs. 
19. Outsource other tasks
Instead of hiring in-house employees, check if there are tasks that can be outsourced.
Usually, it's the repetitive and more administrative tasks that should be outsourced to an agency or a business process outsourcing company. 
Outsourcing helps businesses save on costs and gives them the flexibility to scale their manpower when the demand goes down. The third-party company will set their team up and provide office space, equipment, onboarding and salaries of their offshore employees. 
Last resort
20. File for bankruptcy
Lastly, when all other strategies fail, owners can file for bankruptcy without dissolving their company. Filing for Chapter 11 or 13 bankruptcy can help a business get back at their feet and even thrive in the future. 
Small businesses usually file for Chapter 11 bankruptcy to reorganize their business and keep all of their assets.
Upon restructuring, business owners must present a business reorganization plan and budget to pay their debts partially or fully.
Chapter 13, meanwhile, is exclusively for individuals and solo entrepreneurs who experience difficulties in paying their personal and business debts.
However, they won't be allowed to file using their business name, but with their legal name. This method should only be considered as a last resort.
All of the time and effort put into preparing a business plan, securing documentation, hiring staff, and connecting with customers will be lost in an instant. However, giving up on the business when it still has the potential to grow is another level of failure.