10 motivational employee recognition ideas for your remote workers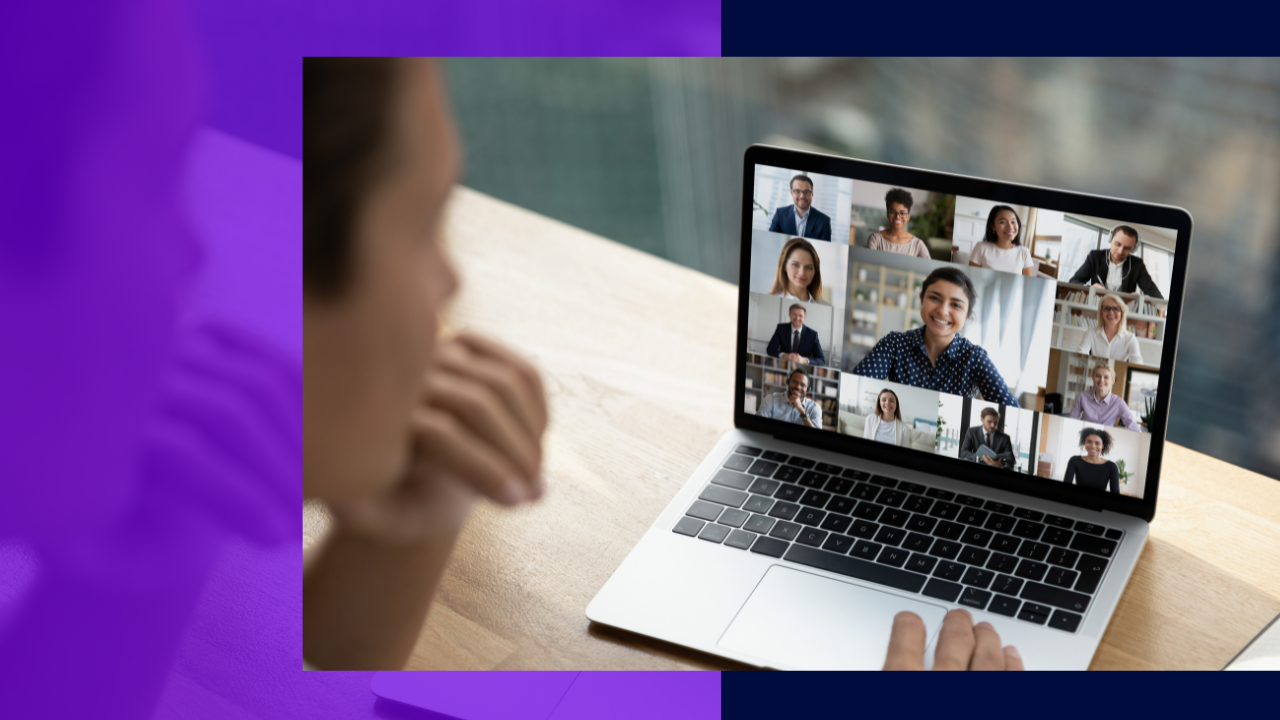 Nowadays, as remote work becomes in-demand, so are its downsides in engagement and productivity.
Compared to an office setting, remote working can be isolating and alienating for employees. They tend to miss out on some office updates and happenings that occur inside an office. At the same time, they can be increasingly disengaged from their employers.
One way to prevent this is by motivating them through employee recognition. Remote workers thrive when recognized and appreciated through their great work.
Remote Employee provides insights on employee recognition ideas for your remote workers.
Why employee recognition matters for your remote workers
Employee recognition can boost your remote workers' motivation and keep their engagement in the team and more. 
It helps you achieve your staff's best performance through the following aspects:
Productivity

. Employee recognition can help boost your team's productivity.

Studies

found that happy employees are more productive by up to 20% compared to unhappy ones.

Retention

. Unengaged employees are twice more likely to quit their job within one year. By constantly recognizing your remote employees' work, you make them stay longer and keep them satisfied with their careers.

Work environment

. Generally, you can maintain a healthy work environment for your remote workers by recognizing their work. With this, they can still feel they are part of the company's growth.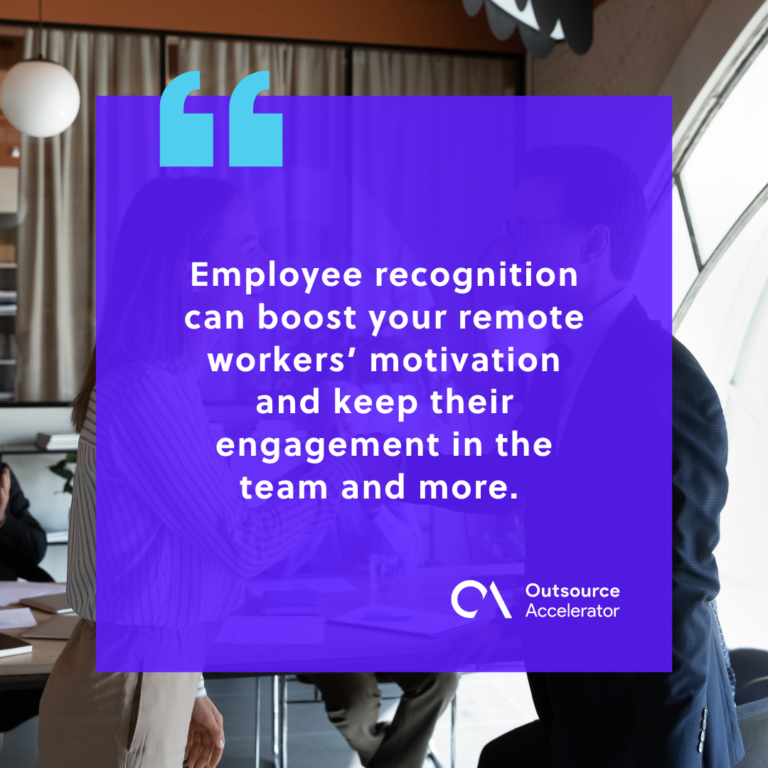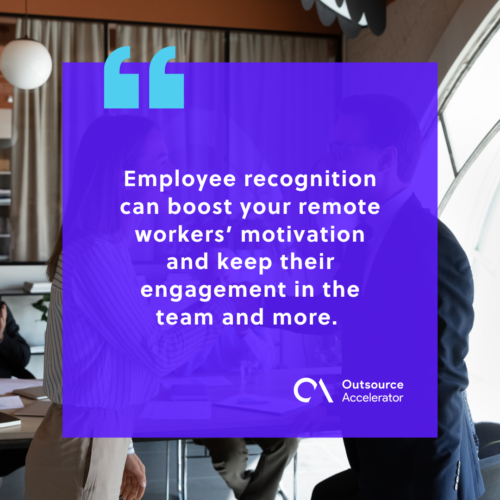 10 employee recognition ideas for your remote workers
Nowadays, it's easier to connect with your staff and collaborate with them. This also makes employee recognition for your remote employees more manageable.
Below are some employee recognition ideas you can apply for your remote workers:
Sending out virtual thank-you cards
Sending out thank-you cards is one of the thoughtful yet easy ways to recognize your remote workers. You can use different online tools such as Canva and e-card maker websites to make your cards presentable.
Implementing incentive programs
Aside from simple "thank you" cards, incentive programs are an excellent way to recognize and reward your remote workers' hard work.
Employee incentives can take any form, from tokens of appreciation to referral incentives and even tuition reimbursement.
Celebrating essential milestones
It could be nice for remote workers to feel like your team is an extension of their family.
Celebrate their milestones at work as possible. Mark special events such as birthdays, work anniversaries, and promotions, and get your team involved in celebrating them with their peers.
Hosting virtual team-building events
Team-building activities, whether virtual or physical, are an excellent way to build your team's spirit and motivation to work.
You can find a lot of virtual team-building activities online to encourage your remote workers to interact and build their teamwork.
Providing employee packages
Sending customized employee packages is an ideal way to show appreciation for your remote workers. 
Find a way to send out at least simple packages with apparel, notepads, and other goods to make them feel like a special part of your company.
Organizing virtual wellness programs
Isolation impacts your remote workers' welfare in terms of their physical and mental health. You can prevent this by organizing virtual wellness programs to help them recover, especially through a hectic workday.
Recognizing the employee of the month
Naming the "employee of the month" has become a tradition going on since in-office work. It is also widely used in customer service teams for agents reaching their metrics in a specific period.
You can also practice recognizing the employee of the month within your team to further motivate them to do great work.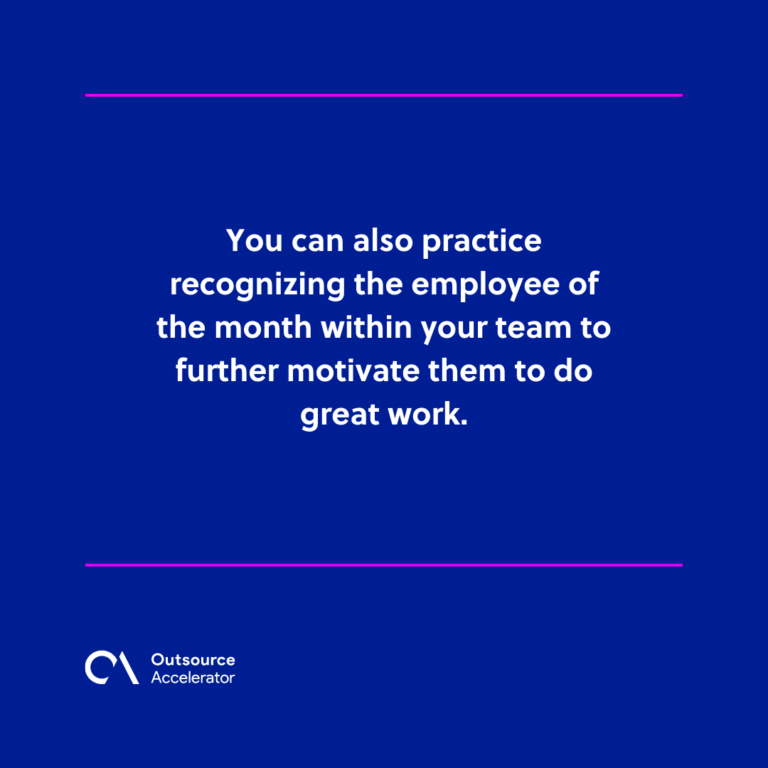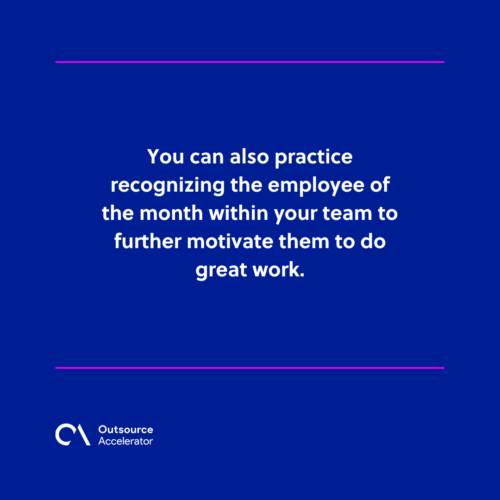 Organizing one-on-one catchups
Aside from team interactions, try to make your engagement personal at least once in a while.
Organize virtual catchups with your remote workers on a schedule that works for them. You can do it once a week or bi-weekly so you won't interrupt their work week as well.
Holding virtual lunch-outs
Nothing beats a free meal or a lunch out with your remote workers to bring them close. Hold virtual lunch-outs at least once in a while with a meal allowance or a surprise meal delivery along with a brown bag session.
Helping them upskill
Your remote workers also look forward to improve their skills as a way to accomplish their tasks and advance their careers.
Make an effort to provide online seminars, training, and professional courses to help them upskill and grow as a part of your company.
Employee recognition as your remote workers' motivation
With their work environment, it's easy to miss out on your remote workers' welfare, causing them to lose motivation and productivity. This is why building engagement and motivation should be one of your priorities to retain your remote workers. 
The employee recognition ideas mentioned above can be a great starting point. Though, it's best to have a reliable service provider to help you implement them on your team.
Through Remote Employee, you not only get the best teams to tap on your functions. They can even help motivate your remote workers by providing training programs and holding events for your employees.