6 fun meeting ideas to boost employee morale and teamwork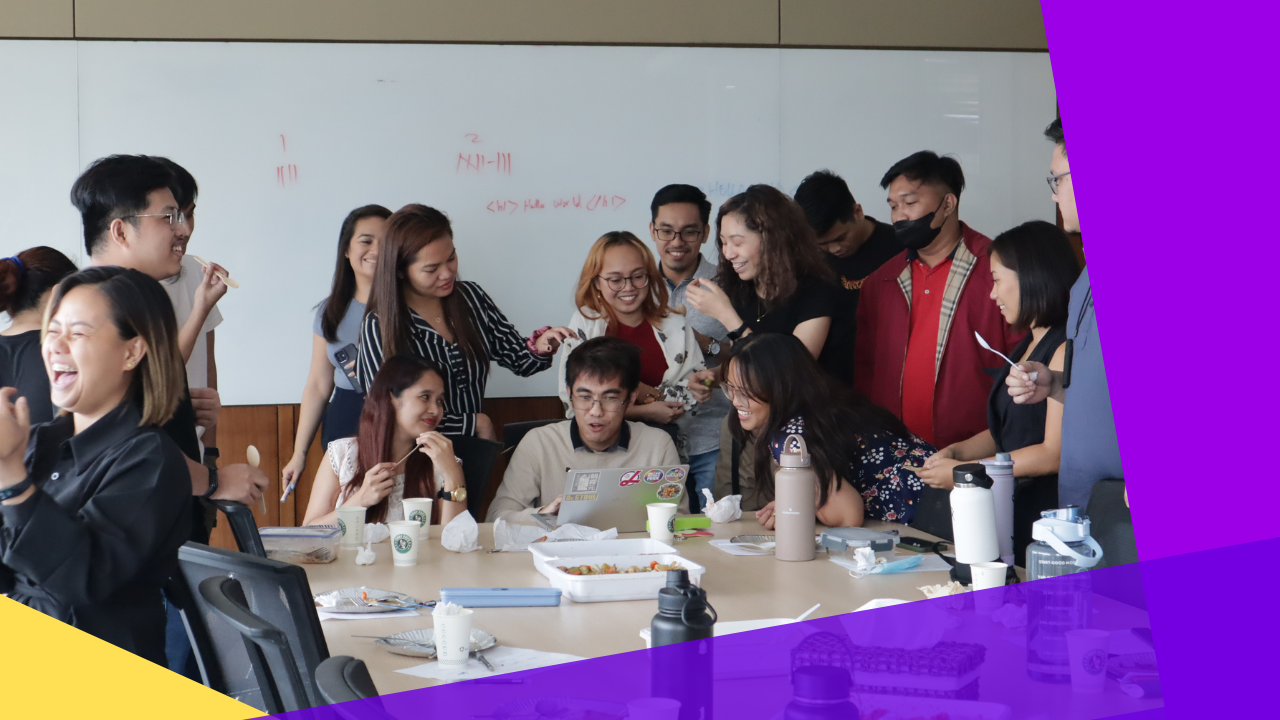 6 fun meeting ideas to boost employee morale and teamwork
Employees tend to dread having to sit in a conference room for hours and pretending to listen while spacing out from time to time. Meetings can pretty much be uneventful, and employees usually struggle to keep focus and share enough input for the team. 
Boring meetings can often lead to counterproductivity, impacting your staff's forward-thinking, creativity, and problem-solving. 
To help with your future meetings, we have 10 fun meeting ideas to keep your employees engaged and motivated. These fun meeting ideas can also impact your employee morale and especially your overall work environment. 
Fun meeting ideas: Fostering a positive work environment
The work environment has an impact on your bottom line. Cultivating a good working environment for your team helps you circumvent a stressful atmosphere that will affect their well-being and employee satisfaction.  
Employees who are happy with their work environment most likely will be more dedicated to their roles in the company. If everyone is effectively contributing, it will benefit not only the entire organization but each staff member as well. 
And there are many ways you can foster a good working environment in your office. It's always best to make your employees feel valued and appreciated. 
For instance, you can maintain a positive workplace by incorporating some fun meeting ideas into your team huddles. This way you can associate some sense of fun and entertainment while you deal with important projects, plans, and decision-making. 
With some fun meeting ideas lets, you enrich your team spirit and strengthen colleague relationships. It also helps promote collaboration within your team as they encourage members to engage with one another.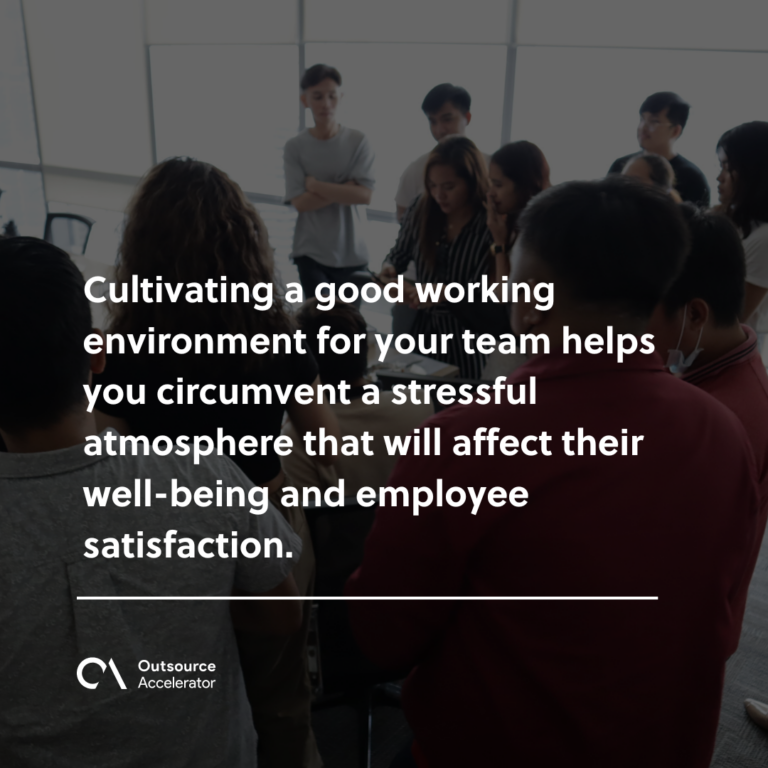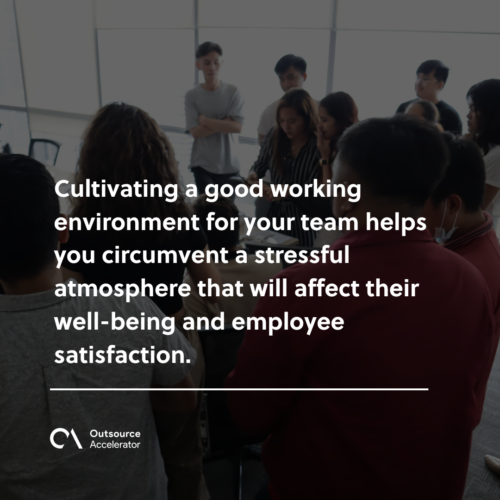 6 fun meeting ideas to encourage a good working environment 
Below are six examples of fun meeting ideas you can use in your upcoming meetings:
1. Icebreaker questions
Icebreaker is typically held before the actual meeting begins. You can use the first 10 to 15 minutes of your meeting for this as it encourages small talks within the team. 
Among the many kinds of icebreakers, Q&As are among the most common and easiest to facilitate. It can be as simple as asking your members about their recent accomplishments at work, and they can take turns answering. 
To make this round livelier, you can add a mixture of games into your icebreaker by playing catch-ball. Whoever catches the ball will be the one to answer the question next until everyone gets their turn to answer. 
2. Show and tell 
Show and tell is also one form of an icebreaker. This can also be done before your team gets to the nitty-gritty of the topic of discussion. You can ask each staff member to stand up and present something important to them and share some information about it. 
They can share photos of their family members or pets. Other examples are memorable keychains, accessories, or pens. This way, everyone can get to know each other on a deeper level. 
3. Joke of the day 
Encourage each member to share the funniest and best joke they know. The leader can ask them to write their jokes on a piece of paper and have everyone vote for your team's joke of the day. This is a delightful way to start a day, especially if the meeting is going to take hours. 
4. Pop quiz 
A pop quiz is another form of icebreaker game that helps everyone loosen up before the meeting starts. You can use this to introduce each participant of the meeting by asking questions about the individual team member that everyone will try to answer. 
Or, you can also use the pop quiz game to measure each of your staff's knowledge about the company. If you prefer a more exciting approach, you can opt for different topics like songs, movies, and famous personalities. 
5. Scavenger hunt
Like the normal scavenger hunt, you can keep small items around the office and have team members look for them. You can also use this opportunity to give incentives to your employees by hiding cash, gift cards, or coupons. 
As you start the game, divide employees into two groups, and give them a list of items they need to find. 
6. Charades 
Charades is perfect for meetings with large groups. This can also be played virtually for remote teams or in-person conferences. 
Similar to the scavenger hunt, you also need to divide the participants into two teams. Each time, one representative per round acts out a specific word or phrase. All team members will guess what it is. Whichever team can get the most points will be declared the winner.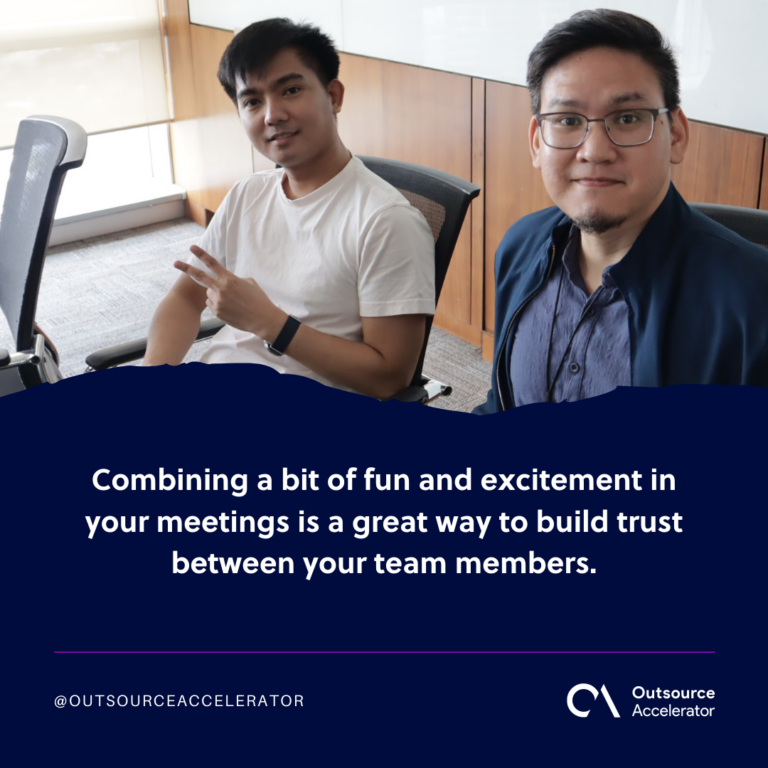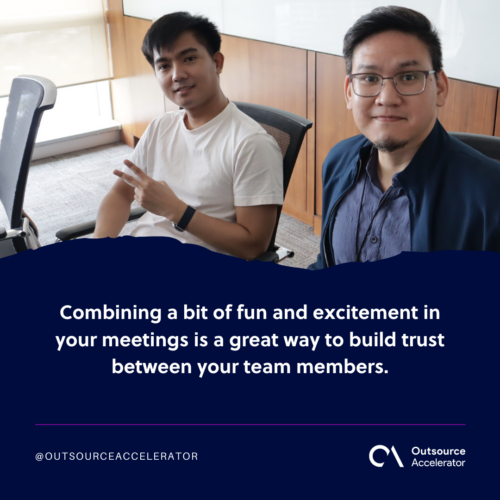 Spice up your team catch-ups with these fun meeting ideas! 
Combining a bit of fun and excitement in your meetings is a great way to build trust between your team members. 
These fun meeting ideas are also good forms of team bonding. At the same time, everyone is given a chance to get to know each other on a personal level. And of course, as we have mentioned, it is a perfect way to build and maintain good work relationships. 
If everyone within the organization can work synchronously, it will essentially improve the productivity and effectiveness of the organization as a whole.