Your guide to email monitoring in 2024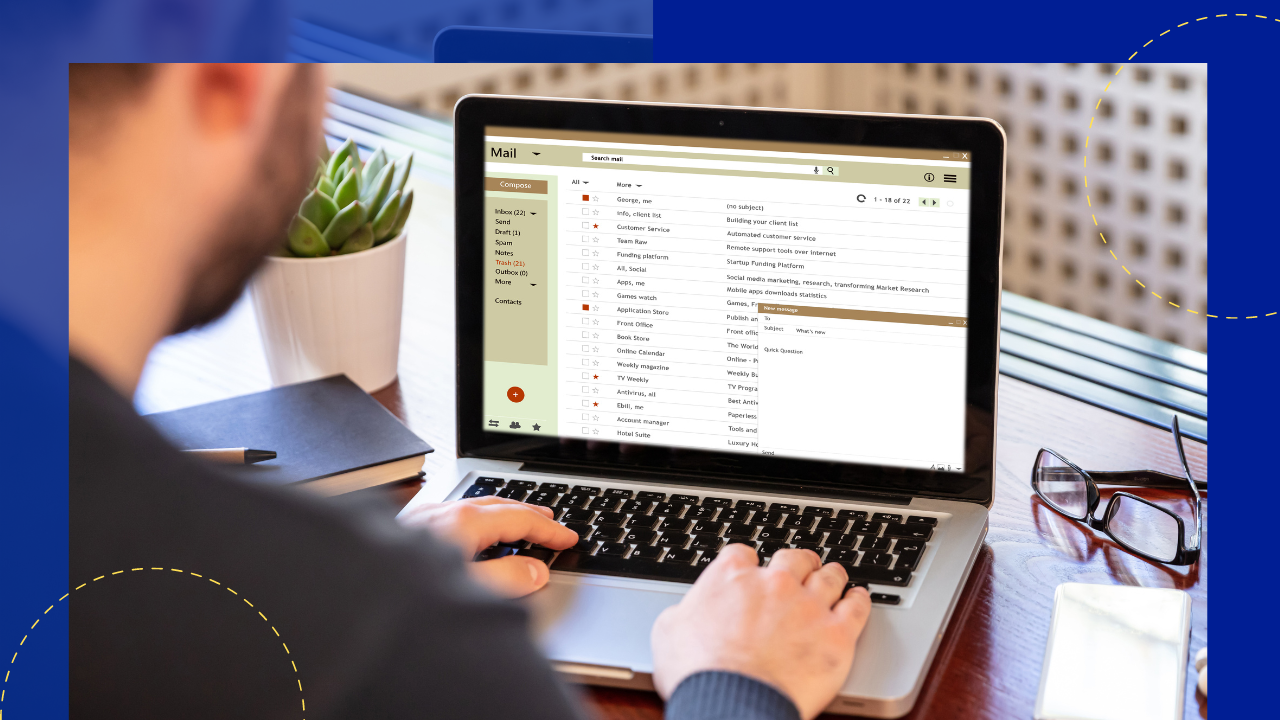 Email monitoring has become an essential practice for companies in today's digital age. It has even become a part of workforce management and security measures of businesses worldwide.
Individuals and organizations closely monitor email communications as a threat detection and performance monitoring safeguard. With more email attacks happening nowadays, it's best to spot and prevent these through monitoring measures.
This guide will explore email monitoring in its facets and the best practices for effectively conducting it.
Defining email monitoring
Email monitoring refers to overseeing, analyzing, and assessing email communications. It systematically tracks and reviews emails to ensure compliance with policies, regulations, and ethical standards.
Email monitoring is often implemented to protect sensitive information, maintain productivity, prevent security breaches, and promote a safe work environment.
Admittedly, this practice can raise concerns about maintaining employee privacy and protection. Fortunately, email monitoring can be done correctly with the proper screen monitoring policies.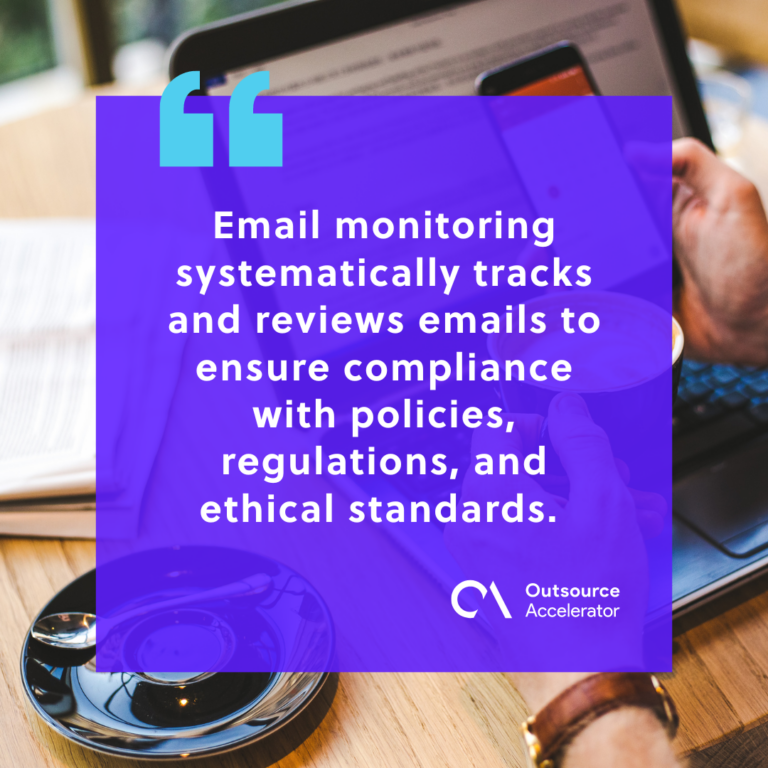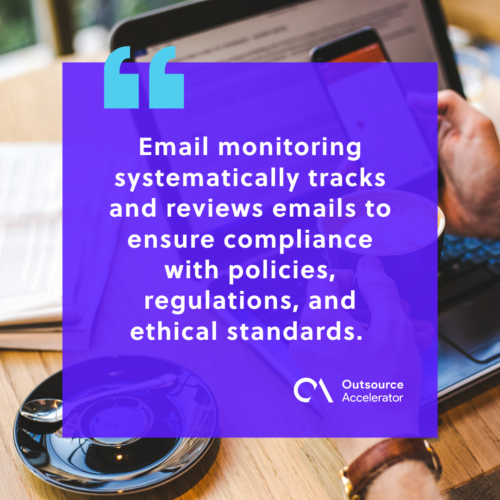 How does email monitoring work
Email monitoring deals beyond checking messages received through the channel. It looks up email servers and transmission to spot security, storage, and user threats.
Email monitoring can be done in different ways, namely through network monitoring and specialized tools.
Email monitoring tools capture, analyze, and store email communications. This software can monitor various aspects of emails, including content, attachments, and metadata.
Using algorithms and keyword detection, the software can identify potential risks, such as data leaks or inappropriate content. Once flagged, administrators or designated personnel can review the flagged emails for further action.
Legitimate reasons for email monitoring
While email monitoring can be seen as intrusive, there are legitimate reasons for implementing it within organizations. 
Let's explore three key reasons why email monitoring is necessary:
Maintaining security
Security breaches are a significant concern for individuals and organizations. According to the platform Security, in the past year alone, 52% of employees fell for phishing scams, costing them their company's security.
Email monitoring helps protect sensitive information by detecting and preventing unauthorized access, data leaks, or malicious activities.
Organizations can identify potential security threats by monitoring email communications and other cyber security measures.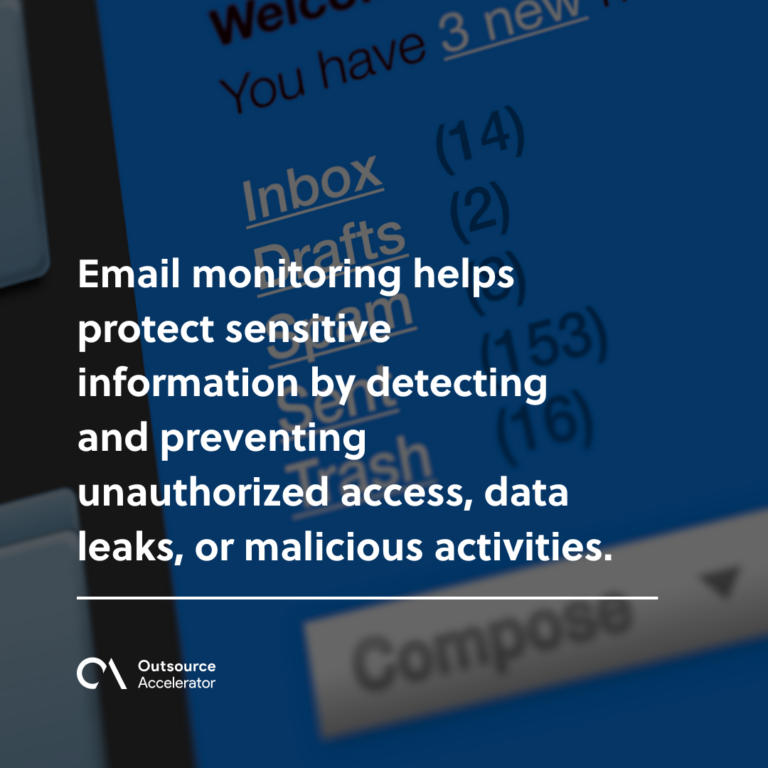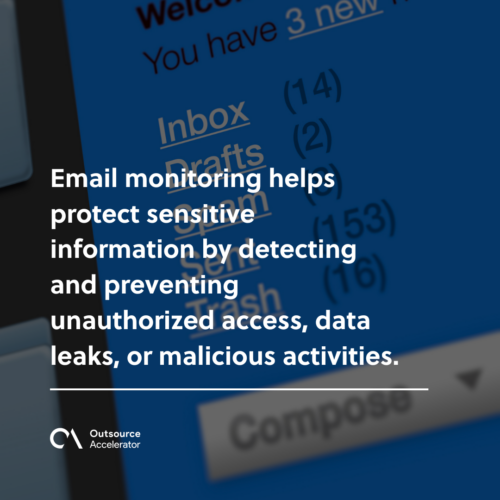 Complying with regulations
Many industries, like healthcare and finance, have strict data privacy and security regulations.
Email monitoring can help organizations ensure compliance with these regulations. By reviewing email communications, organizations can identify any breaches and take proactive measures to address compliance issues.
This helps to avoid legal repercussions and maintain the trust of customers and stakeholders.
Preventing misconduct
Emails can be a breeding ground for workplace misconduct, such as harassment, discrimination, or fraudulent activities.
Employees can spew inappropriate language and behavior without their employers' knowledge, download inappropriate content, or conduct other illegal activities using their company emails.
Email monitoring allows organizations to detect and mitigate such misconduct. This helps prevent toxic work behavior and fosters better conduct for everyone in the company.
Email monitoring tools
As mentioned, firms can utilize various tools and software solutions for email monitoring. The following are three popular email monitoring tools in 2024:
XYZ Monito is an all-in-one email monitoring solution that provides comprehensive monitoring capabilities through IoT. It offers real-time email tracking, keyword detection, and data leak prevention features.
With its user-friendly interface, XYZ Monitoring Suite allows organizations to effectively monitor email communications without disrupting productivity.
Teramind is a sophisticated email monitoring tool renowned for its versatility and comprehensive approach. The tool goes beyond traditional email content analysis by incorporating advanced behavior monitoring.
Besides scanning email content, Teramind observes user behavior, identifying deviations from established patterns.
SolarWinds is a trusted name in the realm of network and email monitoring. Its email monitoring tools offer a comprehensive set of features to enhance security and ensure efficient communication.
SolarWinds excels in metadata analysis, meticulously examining the details associated with emails. It provides a holistic view of communication flows through sender and recipient information, timestamps, and routing data.
This aids organizations in identifying irregularities and potential security breaches.
Conducting email monitoring the right way
While email monitoring is necessary, conducting it fairly and respectfully is essential. 
First, organizations should establish a clear and concise email monitoring policy. This policy should outline the reasons for monitoring, the scope of monitoring, and the consequences of policy violations.

Employers should also obtain informed consent from employees before implementing email monitoring. This can be done through employee agreements or policies clearly stating the organization's intent to monitor email communications.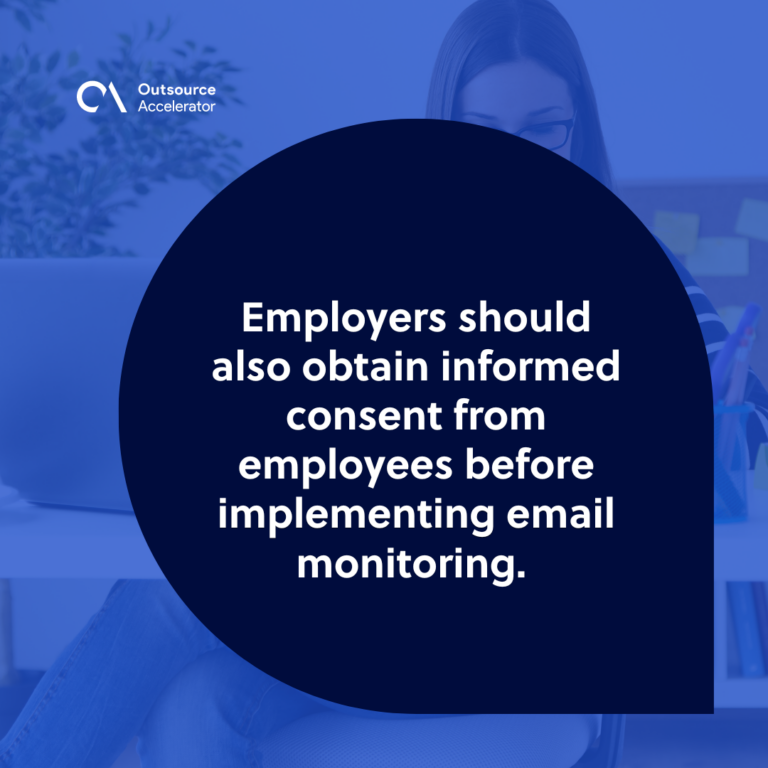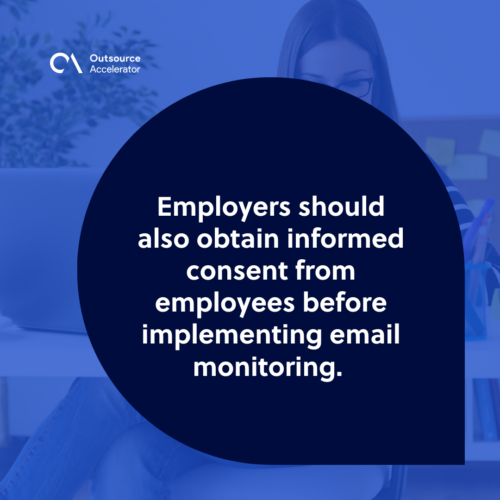 During the review process, organizations should prioritize confidentiality. Only authorized personnel should access the monitored emails, and strict measures should be in place to prevent unauthorized disclosure.

Lastly, their policies should be periodically reviewed and updated to align with changing regulatory requirements and industry best practices. Regular policy reviews ensure firms stay compliant and adapt to emerging risks or challenges.
By following these best practices, organizations can balance this need with respect for privacy and fairness.