Should you hire an email management virtual assistant?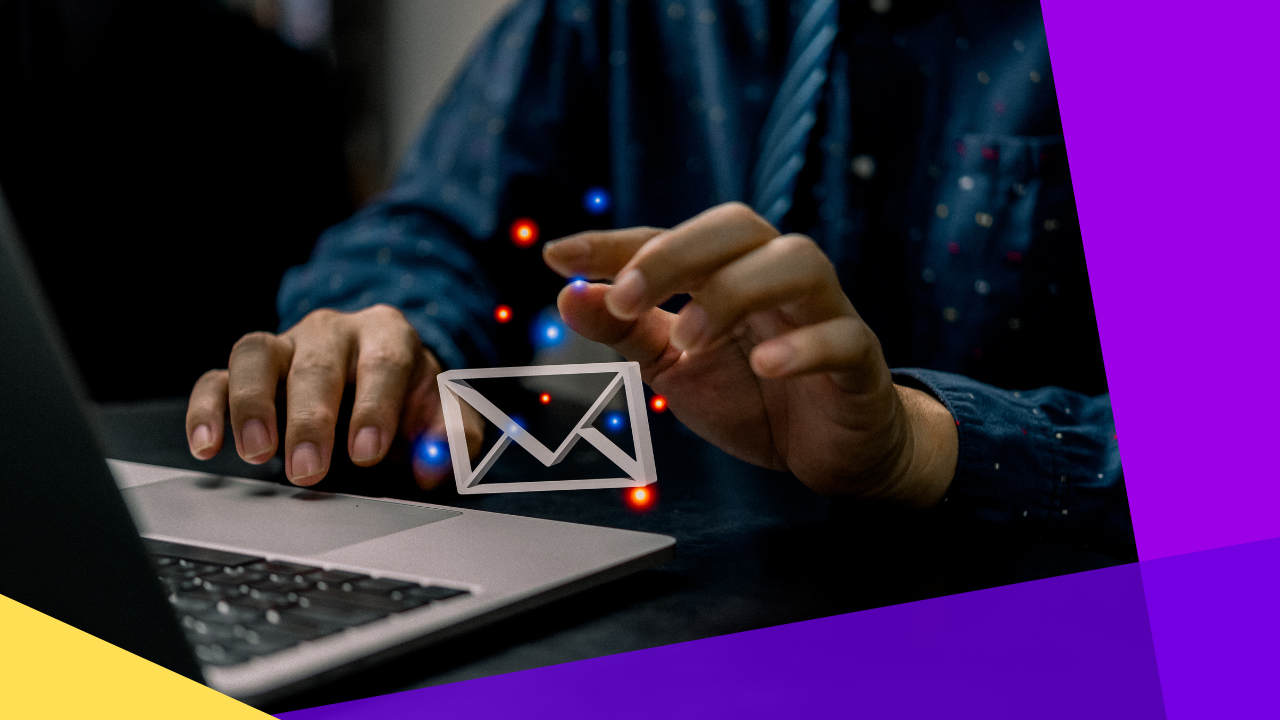 Businesses rely significantly on email to contact customers, partners, and employees. It is a low-cost method for companies to interact with their clients professionally. 
It lets businesses send newsletters, promotions, and other vital information quickly and easily. Plus, it allows firms to track client interaction and measure campaign success. This simplifies the procedure and ensures that everyone is on the same page.
However, handling daily email inquiries is such a tedious task. It can take time to keep up with the influx of emails that come in each day, and it can take time to prioritize which emails need to be answered first. 
Fortunately, with the help of an email management virtual assistant, you can make email handling much more effortless.
Virtual assistant defined
A virtual assistant (VA) is a professional who works remotely to offer administrative, technical, or creative help to clients and customers. They are frequently self-employed or distance working. 
Virtual assistants are growing more popular as organizations strive to cut expenses and improve productivity.
Some of their tasks include the following:
Appointment scheduling

Email management 

Content creation 

Customer service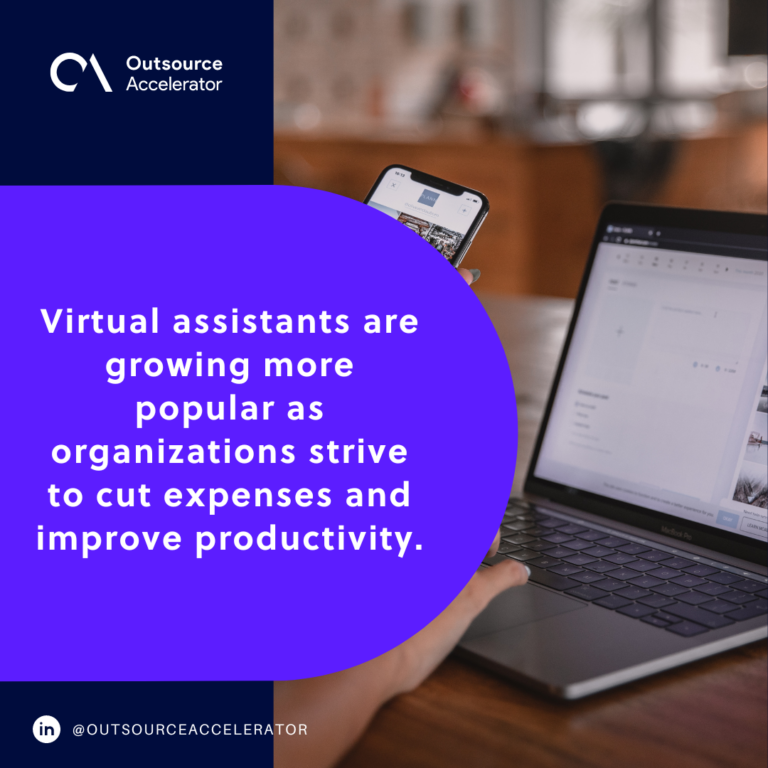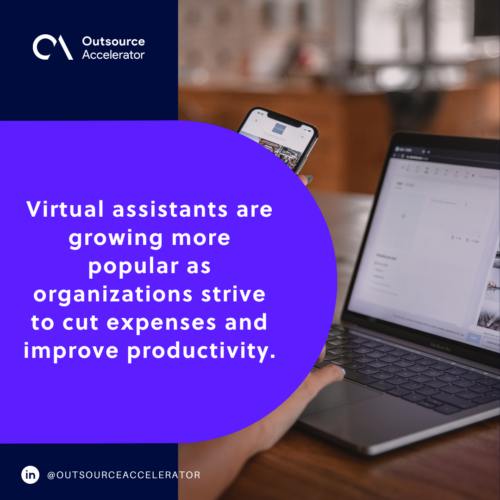 Specialized services such as site design, social media management, and data input can also be provided by virtual assistants.
Further, businesses may save employees time by outsourcing jobs to virtual assistants.
What is the role of email management in your business?
Email management systematically administers incoming and outgoing emails, their storage, and categorization. It assists firms in handling inquiries diligently while also projecting a professional image using proper communication tones.
This internal business function is critical for firms since it helps them remain organized and efficient. 
However, as mentioned earlier, keeping track of daily emails may be tough, and responding to VIP clients may be challenging. This might result in missed opportunities, client loss, and ineffective brand promotion.
Businesses may avoid losing or forgetting important emails with the help of an email management virtual assistant. 
There are effective virtual assistants you can hire from different outsourcing firms like GetCallers. They can offer you their virtual assistants' service in this field to assist your firm
in keeping track of client concerns and responding to them on time.
How can an email management VA help you?
An email management virtual assistant may save you time and effort by automating tedious tasks like:
Sorting emails

Handling customer questions

Scheduling emails
You can effortlessly categorize your emails into folders and labels with the help of an email management virtual assistant, making it simple to look for the emails you need.
Most virtual assistants are experts in AI tools, so you may also request them to set up automatic responses for your organization's email — eliminating manual work.
GetCallers personal VAs can act as your dedicated email management virtual assistant and provides you with complete email assistant services. They help you keep your time and develop flexibility while they sort through and respond to your emails.
Why should you hire a VA for your email management needs?
To provide more freedom in your organization, an email management virtual assistant can help streamline your email requirements and marketing procedures.
If you're looking for a way to streamline your email inbox, hiring a VA from GetCallers may be an excellent option for your email management needs.
Here are other significant reasons you should consider hiring an email management virtual assistant:
Faster response time
Email management virtual assistants take the time to meticulously study and compose intelligent replies using your tone and style.
Similarly, when you hire GetCallers' virtual assistant services, you will get a staff that follows your company process so that every task is completed efficiently.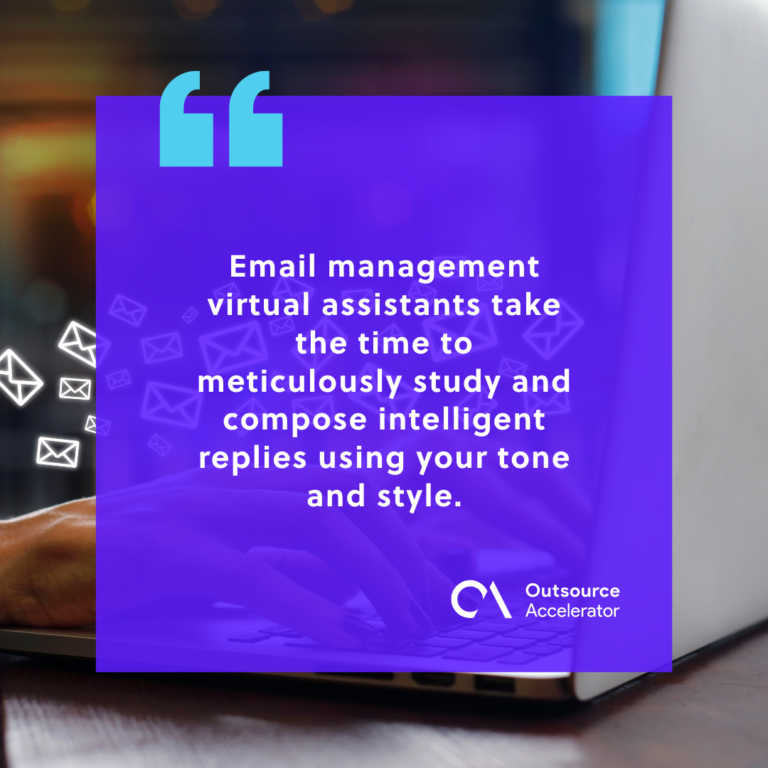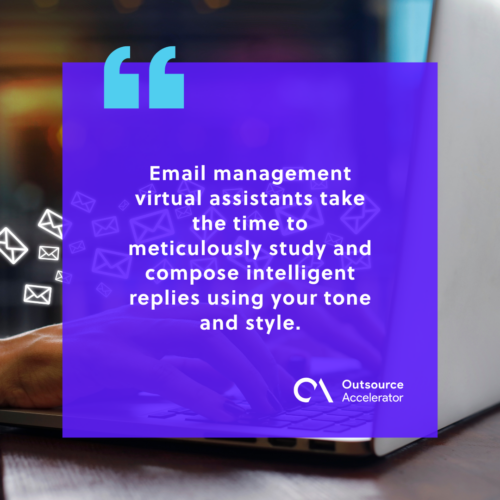 Help desk client support
When you hire an email management virtual assistant, handling business inquiries becomes seamless. 
GetCallers' virtual assistants collaborate with you to serve as your customer support agents, answering any queries or problems that senders may have.
Lead follow-ups
Finding leads in your email and keeping in touch with them is vital but time-consuming. 
An email management virtual assistant takes the initiative by conducting proactive research to look for new clients and follow up with them regularly.
Social media messaging
Businesses also need to promote their product and services on different platforms. Another area of business operations that may be time-consuming is social media direct message interactions. 
Fortunately, GetCallers provide a cost-efficient answer for your lead-generating efforts through excellent administration of your company's social media presence.
Hire an email management virtual assistant from GetCallers
If your firm is searching for an exceptional email management virtual assistant, look no further! 
GetCallers is a virtual assistant services provider that may help you with email marketing and appointment planning. It offers cost-effective solutions for your organization's daily operational needs.
You can rely on them during peak seasons or for one-time projects when you need additional help in your email management and other administrative tasks.
Connect with GetCallers today to get started!