Improving ecommerce experience through outsourcing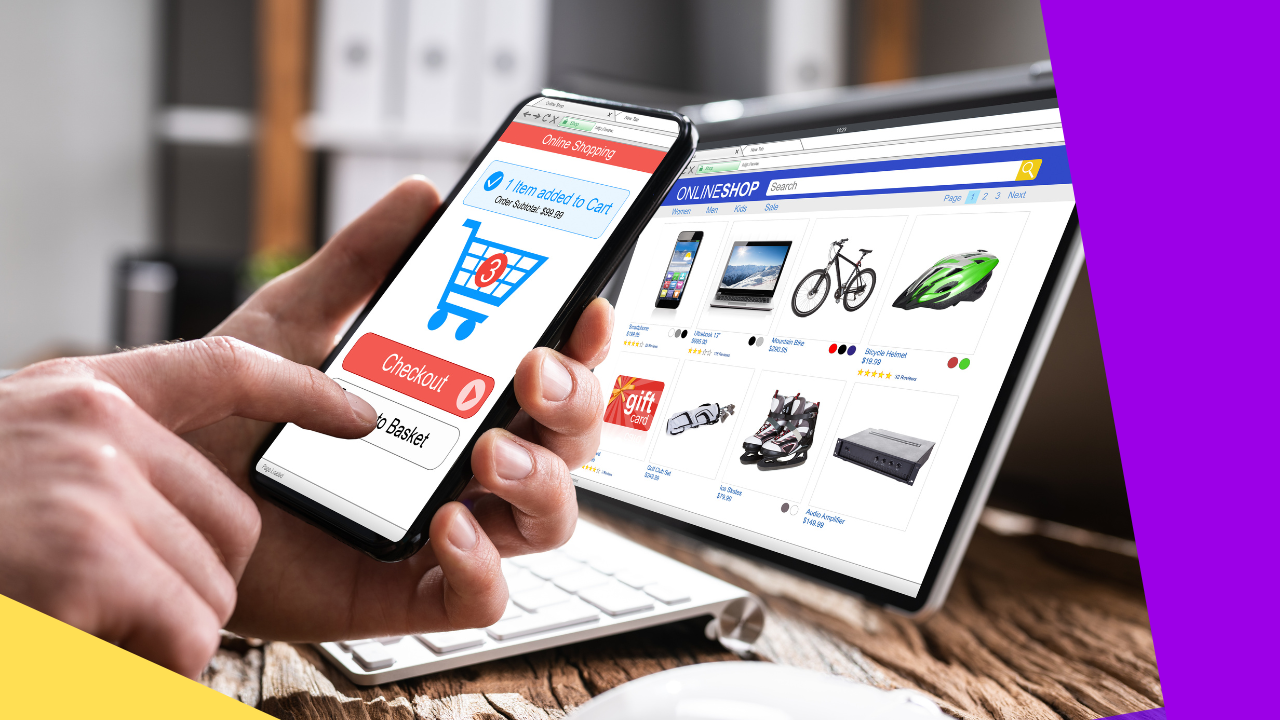 The ecommerce industry has become even more popular during and after the initial hit of the COVID-19 pandemic.
Even as the world slowly returns to normal, the allure of the convenience that ecommerce offers hasn't diminished.
By bringing shopping into the comforts of people's houses and at the tip of their fingers, the ecommerce experience hooked consumers. More importantly, it transformed the industry into one of the most profitable in the world.
As with all booming sectors, competition in this industry is fierce.
Even minor mistakes and advantages can make ecommerce platforms rise above or sink below their competitors.
Tapping into outsourcing firms like Peak Support to provide ecommerce solutions is a sure-fire way of gaining a competitive advantage over other ecommerce platforms.
The ecommerce experience plays a critical role in determining the future of an ecommerce platform.
Definition of ecommerce experience
Ecommerce experience is the totality of every marketing touchpoint, engagement, and other factor consumers encounter while using an ecommerce platform.
Thus, it is equivalent to user experience, specifically towards ecommerce platforms.
It is a part of the broader umbrella of customer experience.
Ecommerce platforms that consistently satisfy customers with a positive user experience are more likely to retain clients and attract new ones.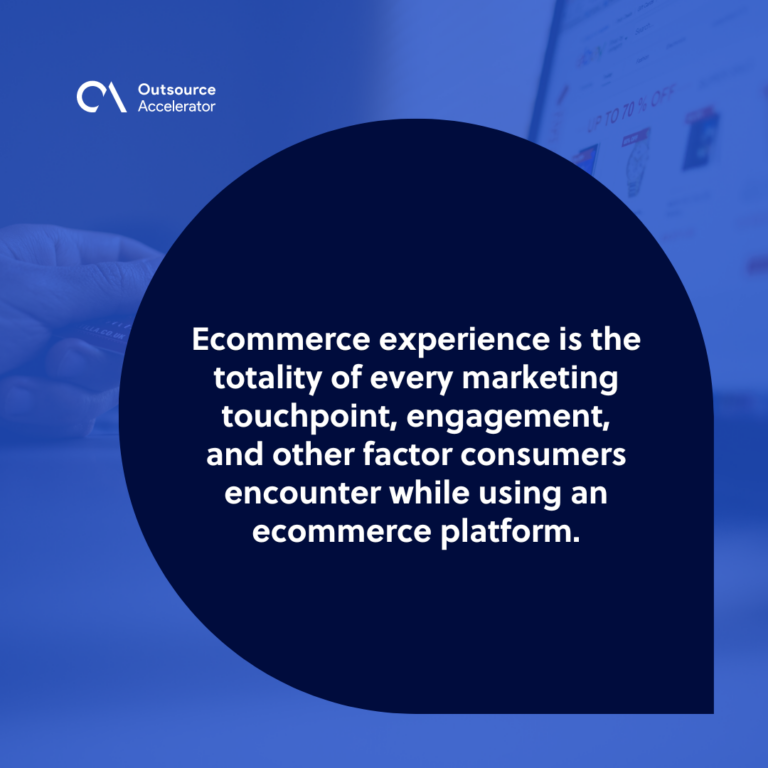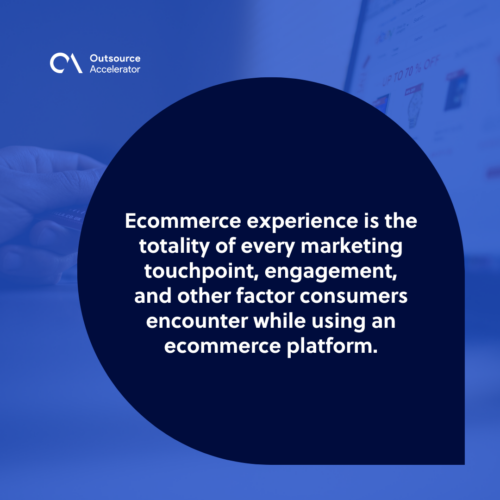 Factors affecting ecommerce experience
Here we have the essential factors that contribute to the overall ecommerce experience:
Ease of use
An intuitive and user-friendly interface goes a long way in ensuring customer satisfaction.
Customers wouldn't want to be bogged down with trying to figure out how to navigate through an ecommerce platform instead of going straight to ordering their wanted items.
Thus, a straightforward and easy-to-navigate platform will be more preferred by e-shoppers.
Customer support availability
A good customer support system is also one of the main contributors to a positive ecommerce experience.
Customers will feel more valued if they can quickly get in touch with support personnel when they encounter issues or need assistance.
It's also important to have customer support available through different channels, such as email, social media, or live chat. This way, it will be easier to accommodate clients in the channel most convenient for them.
Personalization
A personalized customer experience can turn casual users into loyal customers.
Showing casual users products that may appeal to them (based on their engagement history, stage in the buyer's journey, etc.) can entice them to browse similar products and stay on the platform longer.
Constantly meeting customer satisfaction through personalized experiences will often lead to them using the platform for future purchases.
How does outsourcing improve ecommerce experience?
Outsourcing companies like Peak Support are well-equipped to handle ecommerce operations and leave customers happy and satisfied.
Below are some ways outsourcing firms can help improve ecommerce experience:
24/7 availability
Outsourcing firms typically have 24/7 uninterrupted operations supported by personnel on rotating schedules. For businesses, this means customer support staff can take care of their customer issues no matter when they initiate contact.
Leading-edge tech
Outsourcing firms invest in the technology they use to provide services for their clientele.
Thus, these service providers have access to leading-edge industry technology. Examples of these technologies are database management (DBM) software, customer relationship management (CRM) software, and data analytics tools.
With such tools at their disposal, outsourcing firms can use data gathered from ecommerce platform users' activities to create content specifically tailored to their preferences.
Access to experts
Outsourcing firms can provide ecommerce platforms with skilled, well-trained, and well-equipped agents adept at various ecommerce-relevant functions.
These functions include providing customer and technical support services, UI/UX designing, data aggregation and analysis, or billing.
Delegating ecommerce operations to these professionals drastically reduces the chances of errors occurring and improves the platform users' experience.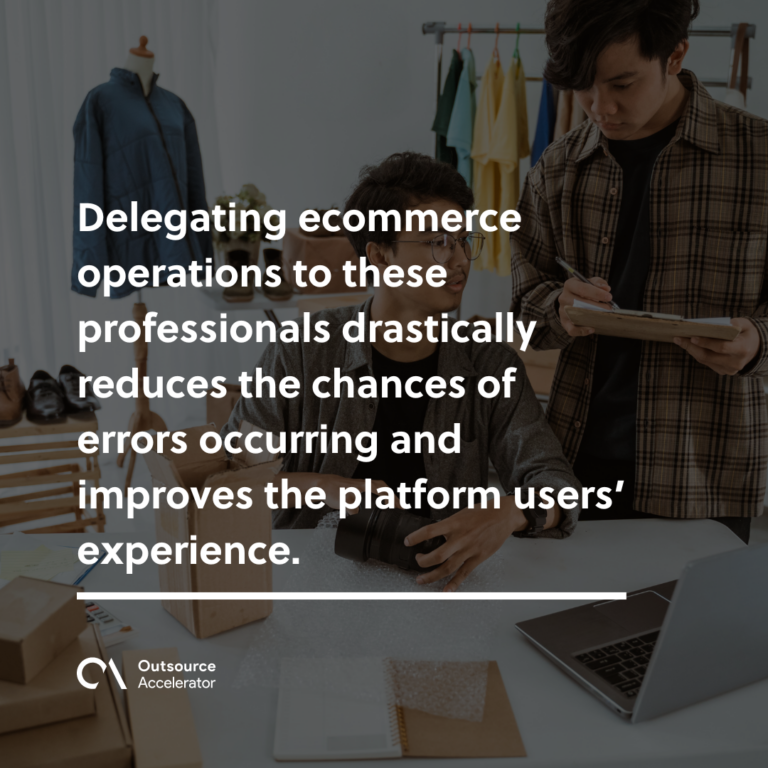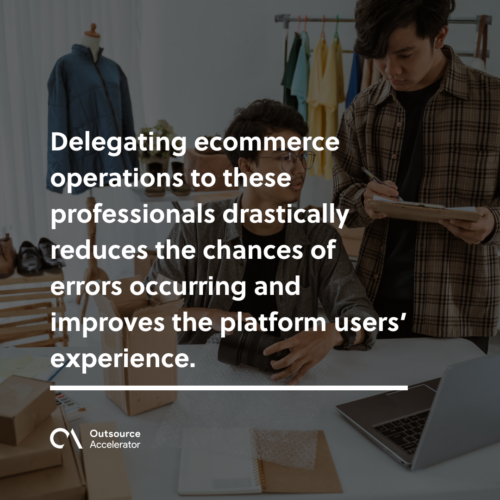 How outsourcing via Peak Support can boost your customers' ecommerce experience
Peak Support can provide you with all the advantages discussed above and more.
As one of the leading outsourcing firms in the Philippines, Peak Support knows the ins and outs of ecommerce operations.
Its management understands the sometimes seasonal flow of ecommerce business and is well-positioned to meet the ebb and flow of demand.
Peak Support's reliable team of experts is always ready to familiarize themselves with your brand's products and services to better represent and market it to your customers.
Contact Peak Support now and provide your customers with an ecommerce experience like no other!