What is Blockchain in e-Commerce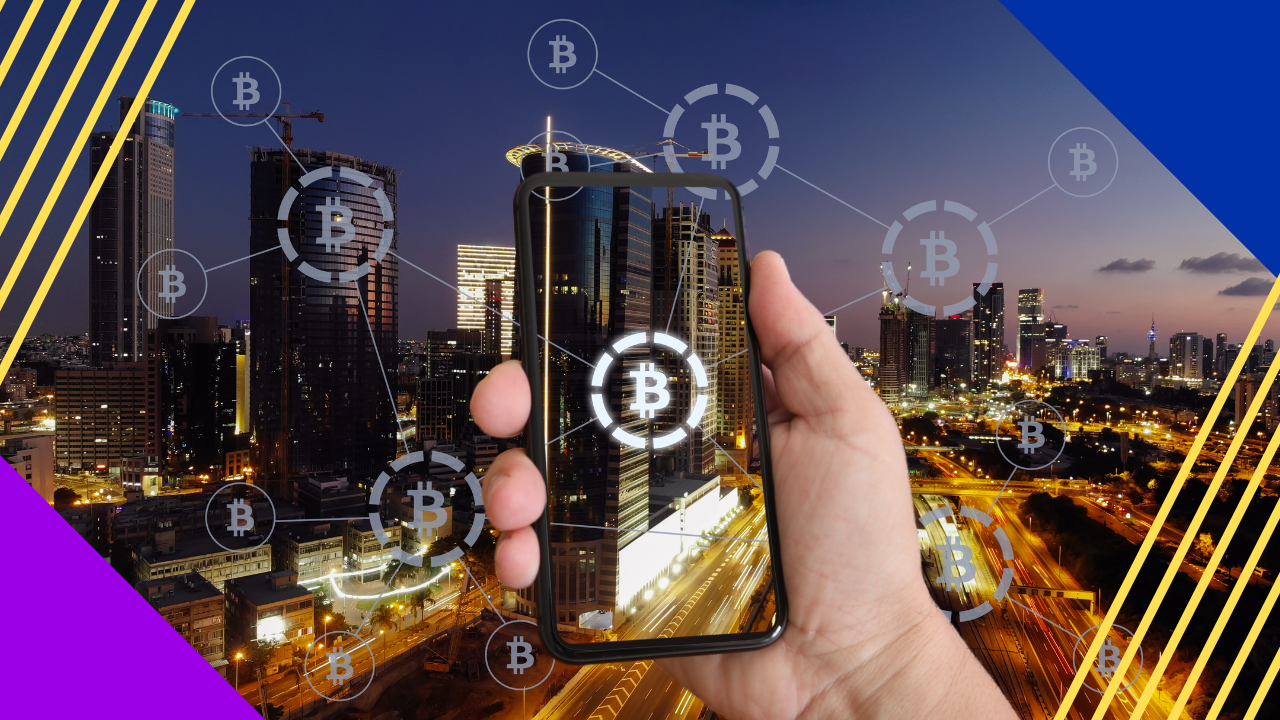 Blockchain serves as the foundation for the brand-new internet. It is no surprise that e-commerce titans like Walmart and Unilever are embracing the technology, given its interesting use cases in online retail and a wide range of other industries.
What is blockchain, and how does it apply to e-commerce? Take a closer look at it through this article.
Blockchain in e-Commerce
The e-commerce sector is constantly changing as technology continues to innovate and new channels for buying and selling goods and services are established.
Blockchain technology provides a more secure and effective way to conduct transactions, potentially revolutionizing the e-commerce industry. This technology can build a decentralized database that houses data on goods and clients.
Customers could access product details, including the product's origin and source, and there would be less chance of fraud. Blockchain can be used to build a safer payment system that would lessen the risk of payment fraud.
This technology also enables safe, open, and unchangeable transactions. By enhancing transaction security and expediting the fulfillment process, blockchain has the potential to transform the e-commerce sector completely.
Additionally, it fosters greater transparency and trust between buyers and sellers.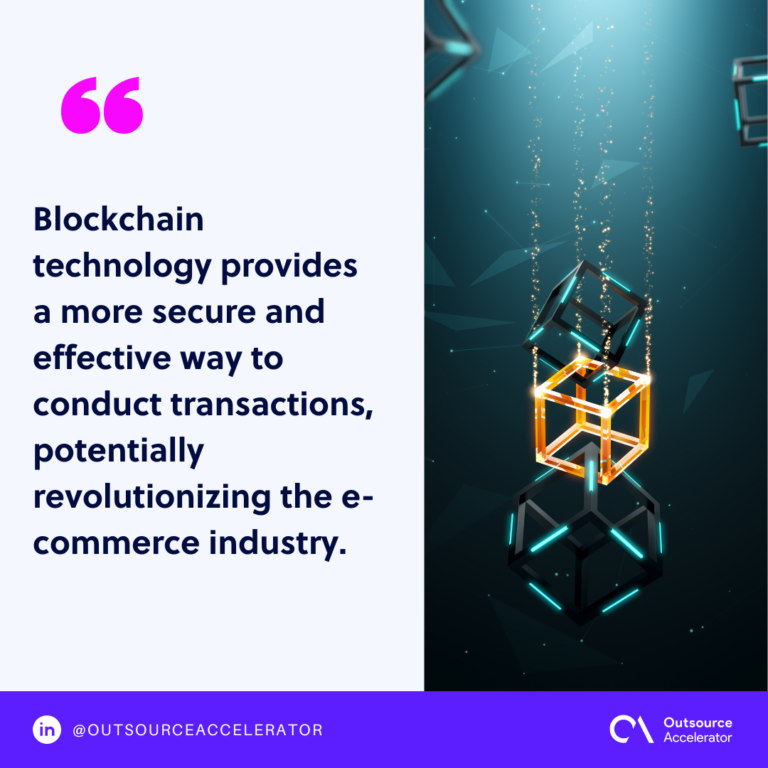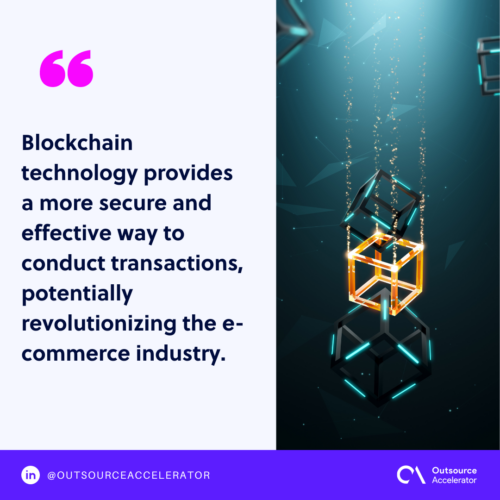 Advantages of blockchain in e-commerce
Over the past several years, interest in blockchain has exploded, with major corporations looking into how they can integrate the technology into their ecosystems.
Undoubtedly, blockchain in e-commerce offers plenty of benefits that can really change the game. Here are some of them:
Improved security
Reduced risk of fraudulent transactions and data breaches are the topmost priorities of online retailers. PWC's annual crime and fraud survey in 2020 reported that fraud had cost nearly half of online businesses a whopping $42 billion 24 months prior.
Blockchain technology ensures excellent customer databases and CRM systems security by enabling trusted identities that numerous other authorized parties can verify.
Cost reductions
Using blockchain technology, retailers can integrate services like payment processing, inventory management, and product descriptions with blockchain technology to save money on purchasing and maintaining separate systems.
Additionally, there is no need to use banking systems because peer-to-peer transfers using cryptocurrencies like Bitcoin may be done in real-time. This lessens the costs related to issuing or collecting monies from banks and processing payments from credit card providers.
Quicker and Easier Transactions
There are no processing or pending transaction delays with blockchain transactions because they occur almost instantly and outside of traditional banks. Instant purchases allow for quick order fulfillment for clients.
Enhanced Operational Procedures
Blockchain systems can store more than just transactional data.
E-commerce stores can keep smart contracts, which can automate procedures like automatic payments or inventory management based on established rules and if-then statements. Smart contracts are also referred to as smart properties and chain codes.
In addition to reducing paper records and making it easier to validate ownership, blockchain can store digital documents like customer receipts and warranty information.
Decreased Complexity and Cost of Supply Chain Management
Blockchain in the e-commerce supply chain allows firms to lessen the paperwork and labor-intensive manual tasks related to the shipment. 
Bills of lading for freight can be stored on the blockchain, which makes it easier to trace shipments, verify product information, and saves on administrative costs and time.
Blockchain technology can assure clients that they are getting what they paid for by guaranteeing the validity and quality of inventory for products with expiration dates or certificates of authenticity.
How Can Blockchain Be Applied to e-Commerce
As the e-commerce industry continues to adopt blockchain technology and benefit a lot from it, the ways in which this technology can be applied also multiply. Here are some of them:
Inventory Management
Inventory control is one area where blockchain technology can be advantageous.
By integrating blockchain into inventory control, businesses can reduce things from inventory as with some common shopping carts, but they can also order replacement stock when predefined thresholds are achieved. 
This guarantees that the online business never runs out of stock while preventing excess inventory accumulation.
Digital Ownership
The countless high-quality images, videos, product evaluations, and other content essential to any e-commerce website are often produced at a considerable expense to the business owner. Still, the e-commerce platform is the rightful owner.
With blockchain, however, retailers can fully own all digital assets, such as online stores, product images and videos, and customer feedback. This ownership will be entirely transparently tracked on the system.
Loyalty Reward Programs
Through blockchain technology, customers may be eligible for customized offers and loyalty reward schemes. Personalized recommendations and loyalty reward programs can be fully automated within the blockchain by securely storing purchasing history and preferences.
Since every purchase is recorded in the chain, creating a smart contract for discount or reward points is simple.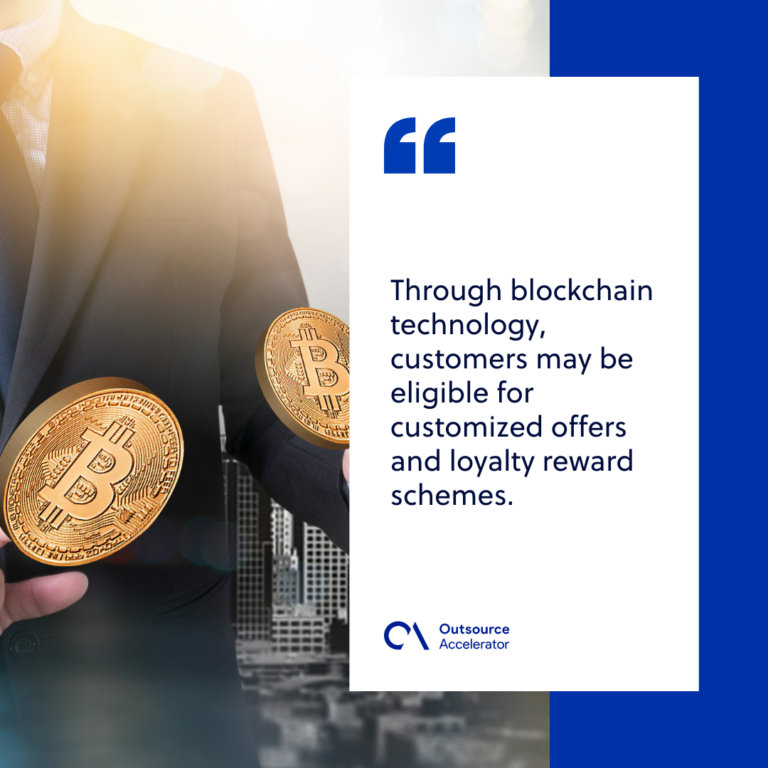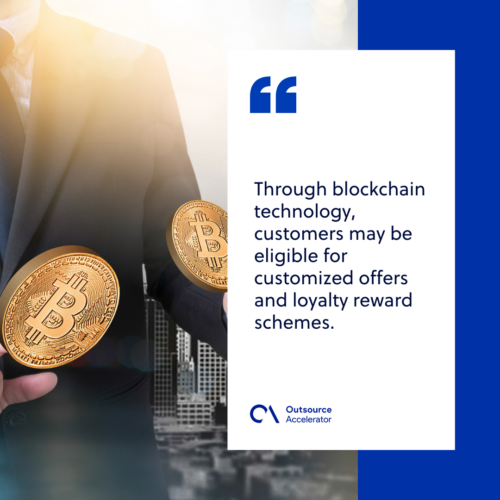 Identity Management
The more people use the internet, the digital footprints they leave behind also become overwhelming.
Customers' personal or financial information is stored on several internet databases susceptible to security problems every time they enter it on an e-commerce website for payment purposes. 
Blockchain can assist businesses in creating reliable authentication processes and encrypted digital identities for better identity management by preventing identity theft and misuse.
Supply Chain Tracking
Every e-commerce site relies on the consistency of its supply chain to function. A consistent supply chain process informs the store operator of the current inventory status and the arrival date of new stock and ensures that suppliers deliver the precise goods required.
E-commerce enterprises may verify that vendors adhere to agreed-upon criteria and not substitute products without notice by utilizing blockchain to trace the supply chain. This maintains transparency throughout the process.