The power of disruptive technology: How innovation changes the game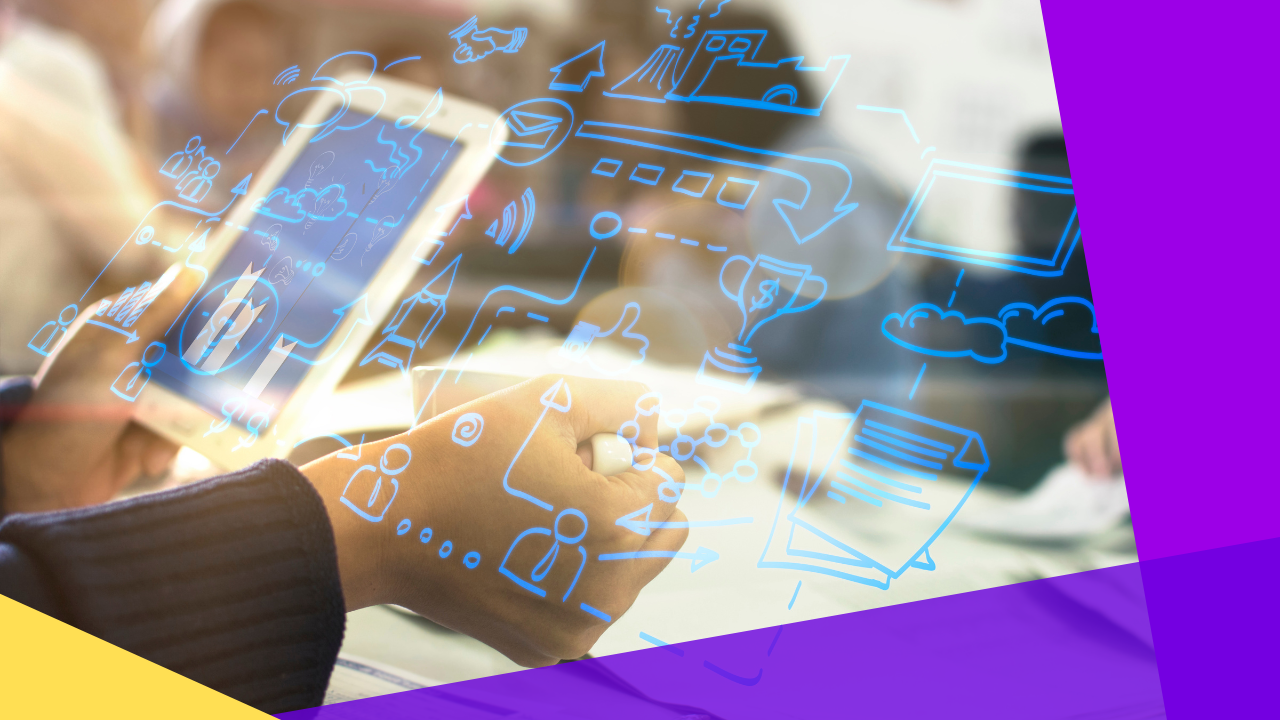 Technology has undergone tremendous transformations throughout the decades. Each breakthrough throughout history has shaped the way everyone works, lives, and accomplishes their daily tasks.
From social media to blockchain and AI, disruptive technologies reshaped entire industries and created opportunities for growth and innovation. And it is expected to do so for years to come.
This article explores the concept of disruptive technology, its characteristics, and how it impacts the world.
What is disruptive technology?
Disruptive technology is a product or service bringing changes to a certain market. It has the ability to disrupt, transform, or even create new markets as possible.
The term was first coined by Clayton Christensen, a Harvard Business School professor, in his 1995 article. He later expounded its definition in the book "The Innovator's Dilemma."
According to Christensen, disruptive technology differs from sustaining technology, which improves existing products or services.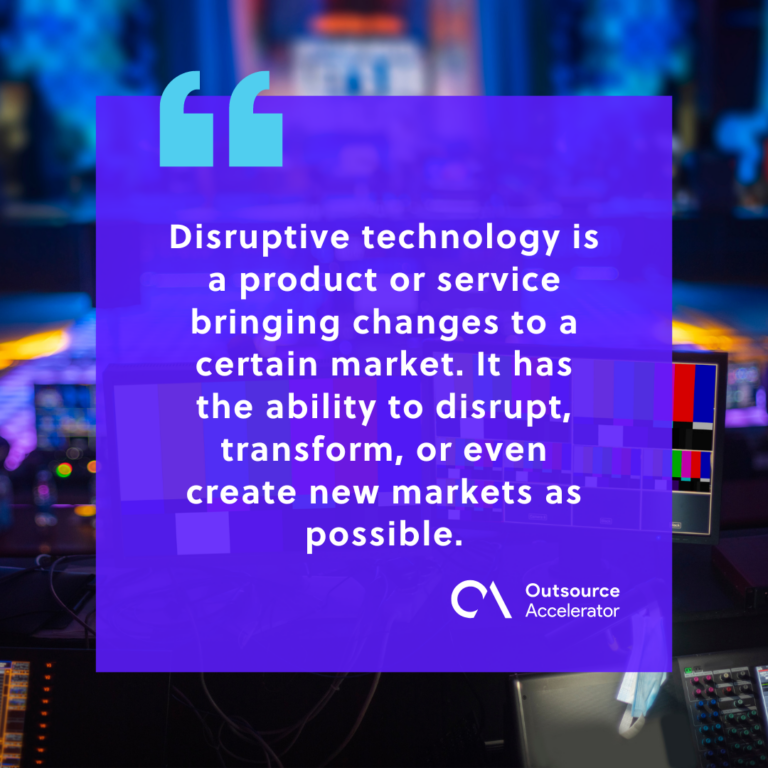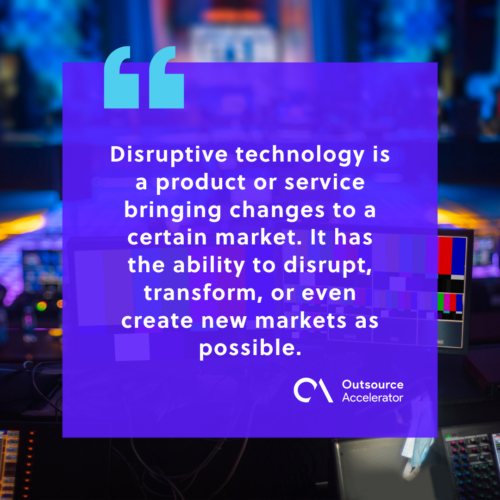 Characteristics of disruptive technology
Disruptive technology possesses characteristics distinguishing it from sustaining technology. These include the following:
Increased accessibility
Disruptive technology promotes increased accessibility by making products or services available to a larger audience.
For instance, smartphones helped everyone access the internet and communicate with each other. Today, there are around 6.8 billion smartphone users worldwide, accounting for around 85% of the world's population.
Changes in the value network
Disruptive technology creates new players in the market and shifts the balance of power. 
Ride-hailing apps including Uber and Lyft are perfect examples of this. They disrupted the taxi industry by creating a new market for ride-hailing services, shifting the power from taxi companies to individual drivers.
Redefining the market
Most crucially, disruptive technology creates new products or services that were previously impossible, redefining the market in return.
Streaming services Netflix and Amazon Prime have transformed the entertainment industry by creating new ways for people to consume media.
Disruptive technology examples
There are several examples of disruptive technology that have transformed industries and created new markets.
Some of these examples include:
3D printing

. 3D printing has changed the way businesses present layouts and product designs. More powerful printers can now print solid models in an instant.

Augmented reality

. Users can have an initial look and feel of a product virtually through augmented reality. All they need is a smartphone or dedicated device.

Cloud computing

. Instead of traditional paper records, everyone can store documents, images, and other forms of data in a cloud system.

Blockchain technology

. Bitcoin, Ethereum, and other cryptocurrencies have further disrupted the e-commerce and finance markets by decentralizing currencies and money exchange.

GPS systems

. Almost everyone has veered away from relying on solid maps with the help of GPS systems. Nowadays, getting to another location can be easier through live mapping features.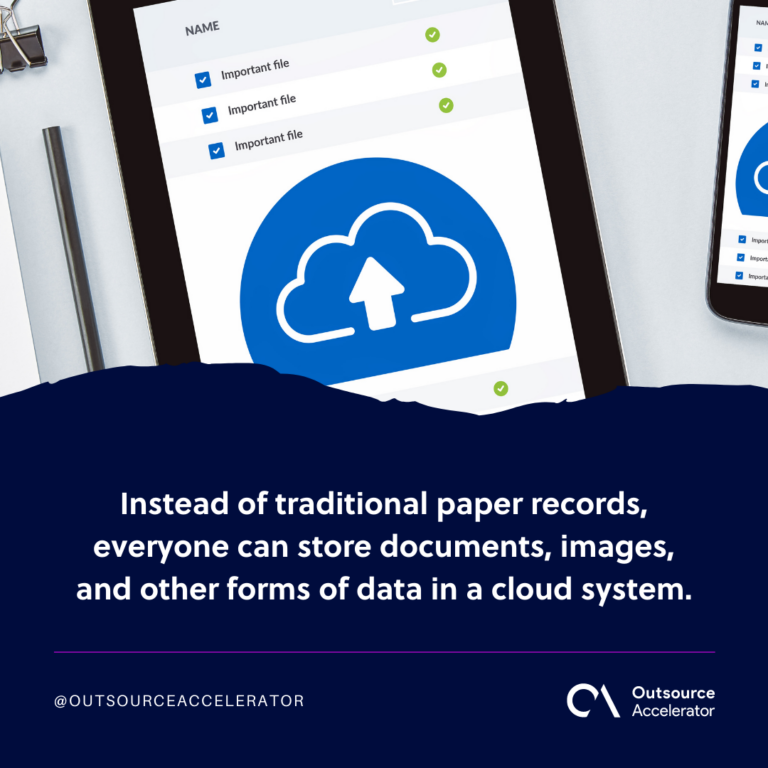 How disruptive technology impacts the world
Disruptive technology creates an impact on the economy, society, politics, and the environment worldwide.
Economic impact
The economic impact of disruptive technology can be both positive and negative.
On one hand, disruptive technology creates new jobs and industries, generates economic growth, and improves productivity.
Online collaboration tools are the perfect example of this, where teams can easily monitor and track performance. In addition, everyone can easily share documents online.
On the other hand, it led to the displacement of workers, the closure of businesses, and the shift in the concentration of wealth. Automation of processes has led to the loss of jobs in manufacturing and other industries.
Social impact
Disruptive technology impacts our social and daily lives through the way we live, work, and interact.
Social media allowed everyone worldwide to connect, share insights, and interact with a simple tap. It further shaped consumer behavior and demands, paving the way for the rise of on-demand services and the sharing economy.
However, it has also been linked to issues such as cyberbullying and spreading misinformation.
Political impact
Disruptive technology not only affected the way governments work through optimized processes. It even shifted the power dynamics and helped highlight the power of the citizens in voicing their advocacies.
Social media, blog sites, and news streaming enabled citizens to organize and mobilize protests, as seen in several movements worldwide. It helped spread news worldwide through virality and other ways..
Disruptive technology also led to the rise of new political actors, such as tech billionaires and social media influencers focusing on politics.
Environmental Impact
Through disruptive technology, everyone gains consciousness on better and more efficient ways to consume natural resources. This triggered the rise of alternative means to reduce greenhouse gas emissions.
Great examples for this are the rise of electric vehicles, solar panels, and green cities.
On the downside, disruptive technology brings unintended consequences, with long-term effects on the environment. This includes the use of disposable products and the generation of electronic waste.