What companies need to know about disguised employment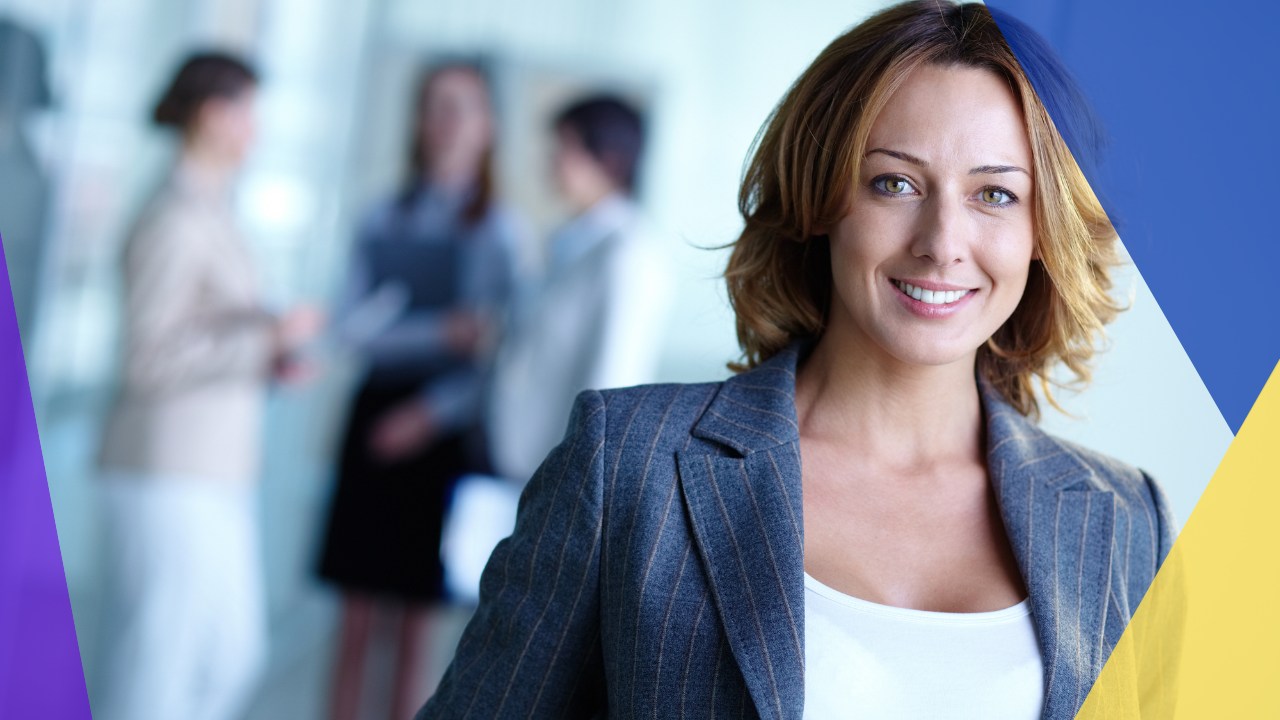 What companies need to know about disguised employment
In today's economic situation, people would go for anything that will help them earn more money. 
Employees will always find a way to juggle multiple part-time, flexible, or full-time jobs. Companies often allow contractors, too, as it can speed up the workflow.
Contractors becoming rampant has opened doors for businesses to create new opportunities for job seekers. Sometimes, they find it advantageous, especially in budget restraints. 
But have you ever heard of disguised employment? It is a common solution for business owners to lighten up their workload. 
This article will discuss everything about disguised employment and its characteristics.
What is disguised employment?
Disguised employment is when an employee is considered a contractor for tax and legal purposes. 
"Fake freelancing," "sham contracting," "forced entrepreneurship," or "employee misclassification" also correlates to disguised employment. 
Unlike a regular employee, an individual worker dubbed as a disguised employee is hired as a contractor or freelancer without receiving the usual benefits from the employer. 
The government requires a proper classification for businesses, so a company resorting to disguised employment may experience significant tax revenue losses. Often, employers may not be aware that they engage in disguised employment.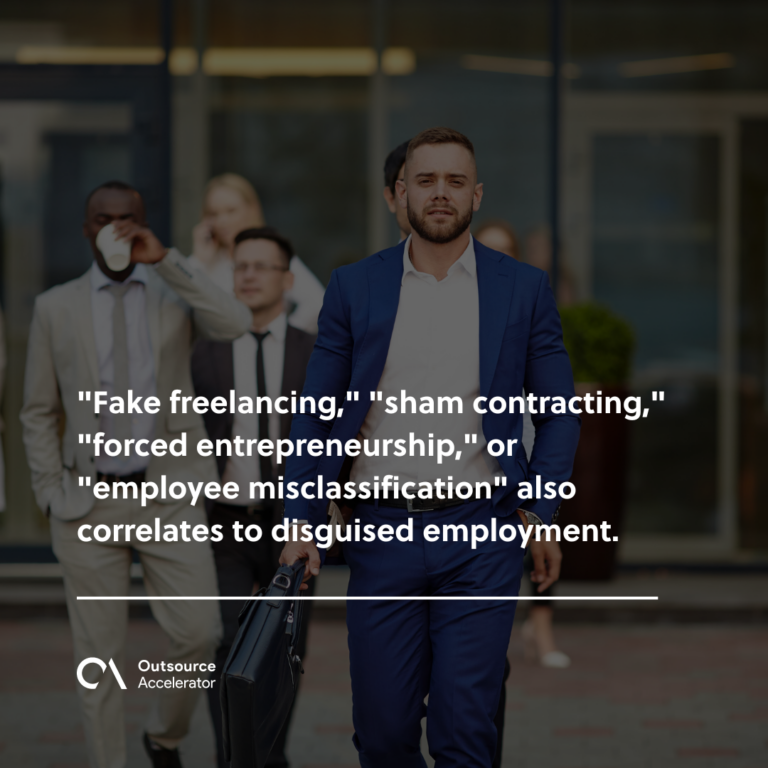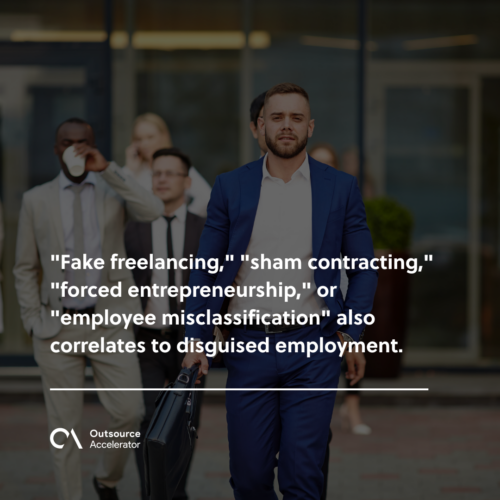 Below are the reasons why companies resort to contractors:

Convenience

Financial Considerations
These are all considered as the recruitment processes may take time and resources–especially for NGOs, startups, or even large enterprises.
Classifications of disguised employment around the world
Different jurisdictions from across the world have different specific laws governing disguised employment. While it is sometimes referred to as "forced entrepreneurship," employee misclassification is more commonly used in the USA.
"Sham contracting" is the term used in Australia to describe the intentional misrepresentation of an employee. 
The phrase "false freelancers" or "Economically Dependent Self-Employed Workers" is used in Spain. These contractors may qualify under Spanish law if they perform 75% of their services for a single business. If they miscategorize themselves, they could face severe consequences. 
When hiring in Australia or Germany, where the idea is known as "fake self-employment," a similar strategy is used.
What happens when a company hires a disguised employee?
There are high risks when resorting to disguised employment. Failure to classify employees can have consequences like penalties, back taxes, or damages.
Every country has its penalty for charging a company if they find out that there is a disguised employee. 
For example, in the UK, businesses with disguised employees must pay back what they owe based on the workers' salaries. It should cover the employees' taxes, national insurance contributions, and added penalties.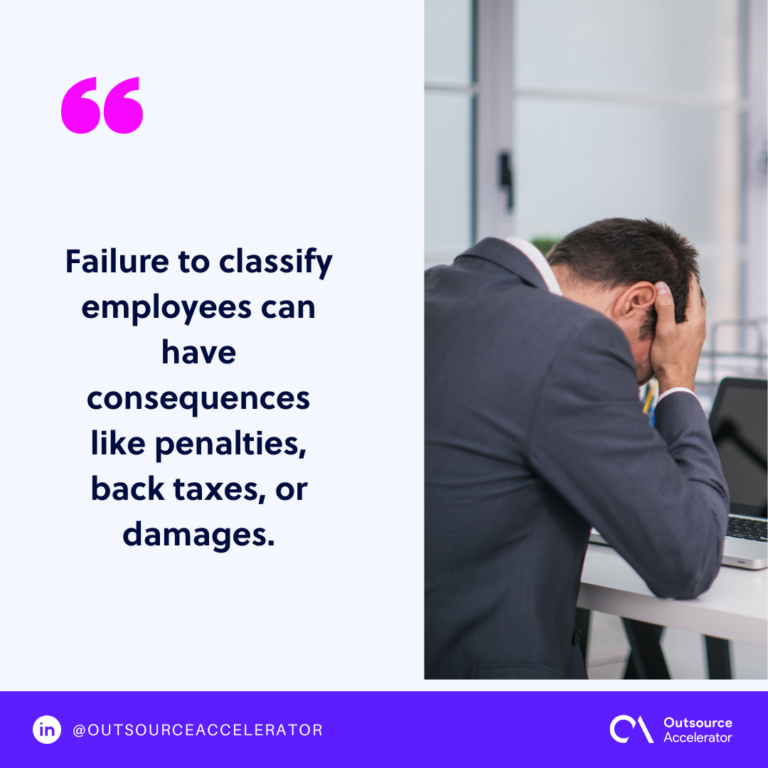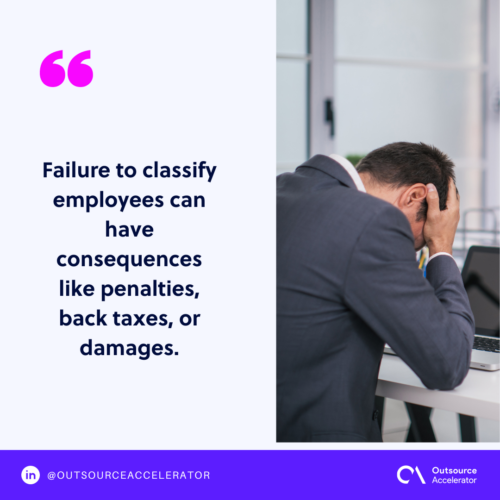 How to detect a disguised employee?
Some companies may find it hard to check if a disguised employee exists within the organization. Fortunately, different categories can aid in distinguishing one. 
Control
Control is the most important test to identify a disguised employee among the three considerations. 
The final hirer's level of control over the employee should be reasonable in an employment arrangement. It is necessary to consider who decides where, how, and when a contractor completes the work.
A disguised employee usually performs the following tasks:

Reporting to a supervisor or manager

Identifying the specific location for the services to be carried out without a sufficient reason

Providing a set of working hours, where a legitimate contractor would arrange their hours to suit the task and accommodate their current schedule

Clients will not be responsible for giving out instructions on how a contractor carries out tasks
Substitution or Personal Service
Since there is a limited engagement possible for contractors, there should be a suitable replacement or substitute to finish the work. 
Providing a personal service signifies employment. Thus, if the end hirer engages personally instead of the business, there is an established employment relationship.
Mutuality of Obligation
This test reckons the relationship between the contractor and the client they work for. It is to see if it is similar to the relationship between an employer and an employee. 
It is a norm for an employment relationship for a company to provide work, whereas the employee is obliged to accept and complete it in a given time. 
How do contractors hide their hidden employment? 
Here are the common signs that separate a contractor from an employee.
Shows uniqueness
Being different from the rest will make a contractor stand out. Disguised employees will perform eagerly at work to assure the client that everything's fine, but there is a difference in some areas. 
Usually, they have a more flexible schedule where they can adjust anytime. They are also free to work remotely since they do not work on-site. 
Lastly, they agree on a substitution process and output-based projects.
Has their own equipment
Since contractors are not officially a part of the company, they must have work equipment. Permanent employees are usually provided with these pieces of equipment. 
One more thing is that the government often checks this in the contract to see if the employee is indeed a part of the company. 
Contract length
A long-term contract indicates an employment relationship. Disguised employees often have short-term contracts with limited benefits offered.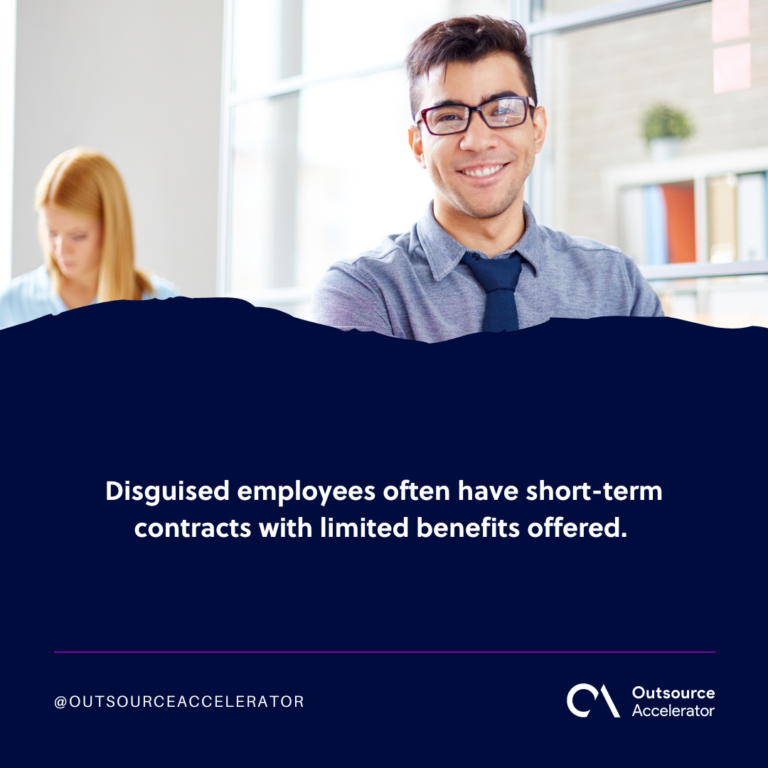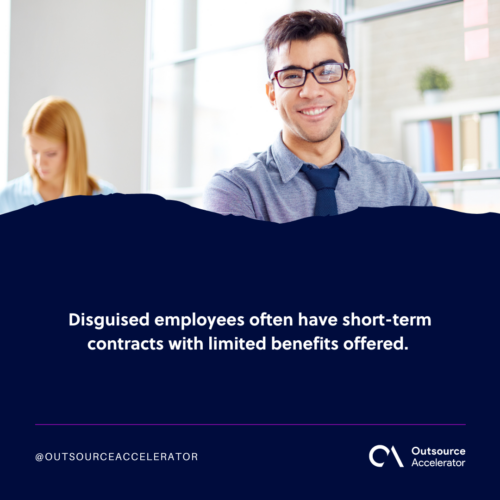 Disguised employment is common in today's business market
Most businesses strive to progress as quickly as possible, so they turn to unique solutions like hiring a contractor to speed up the work process. 
Although it has become standard for employers, there are possible risks to this type of employment. Still, the business is responsible for hiring the best fit for its team.
Disguised employment can have repercussions if not avoided. It may require more than just a written independent contractor agreement. 
Outlining the exact specifications, including the work conditions, schedule, compensation, and other factors will be necessary to prove that an employee is not a contractor.