Using direct sales outsourcing to achieve success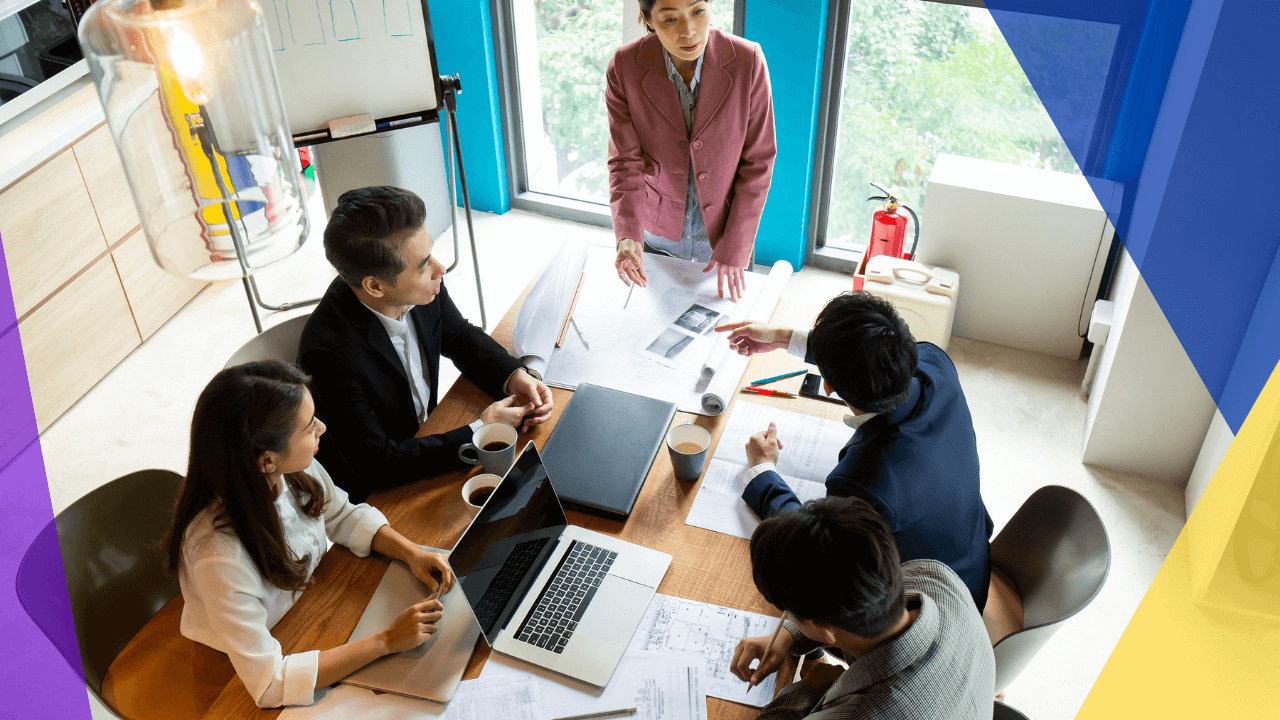 In the world of business, competition is tighter than ever, meaning leaders have to come up with new strategies to increase sales.
One way to achieve this is through direct sales outsourcing, which improves customer satisfaction, minimizes cost, and increases profit.
Learn more about how direct sales outsourcing works in this article.
What is direct sales outsourcing?
Direct sales outsourcing is when businesses partner with outside firms to handle their sales operations.
These third-party companies consist of sales professionals who create and execute various strategies to improve sales and overall customer satisfaction.
By delegating your sales processes to another company of experts, you can focus on your business's core competencies and cut down on costs.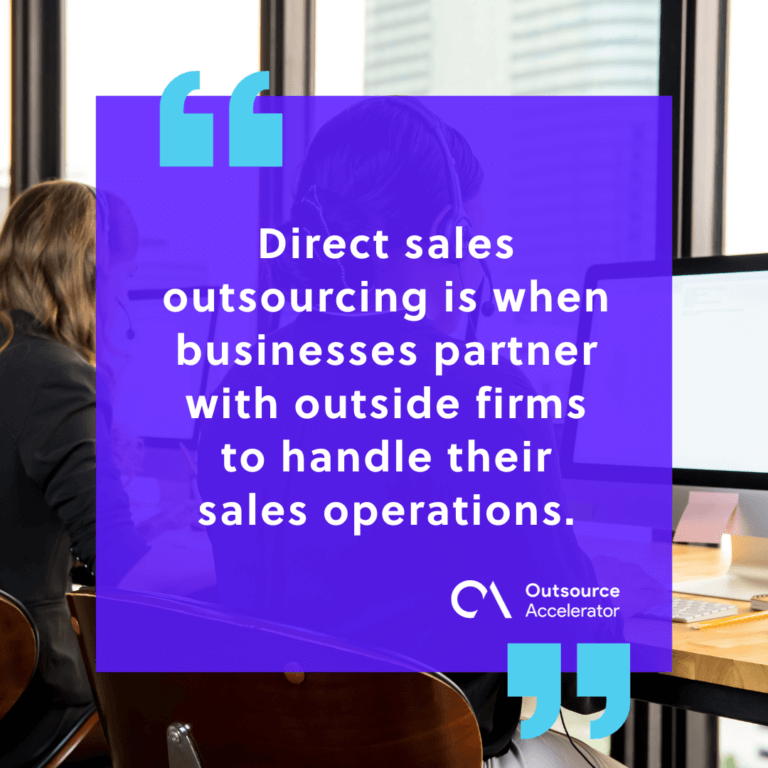 5 metrics of direct sales outsourcing
To measure the effectiveness of direct sales outsourcing, you can refer to these five metrics:
1. Lead conversion rate
Lead conversion rate is the measure of the percentage of leads that are successfully converted to customers.
This percentage highlights the effectiveness of your sales strategies as it takes out the guesswork of how many customers you gained.
2. Customer lifetime value
A customer will keep buying from a brand that they like, meaning they generate more revenue as time goes on.
Customer lifetime value is measured in terms of how much revenue they bring in throughout their time as a buyer of a brand.
3. Sales cycle length
Sales cycle length is essentially the customer's journey. It is the amount of time it takes for a lead to make a final sale from the first point of contact.
Sales cycle length is measured from when consumers are first contacted by an outsourcing sales team offering them a product until they officially purchase. 
Short cycle sales are better as they result in faster sales and revenue.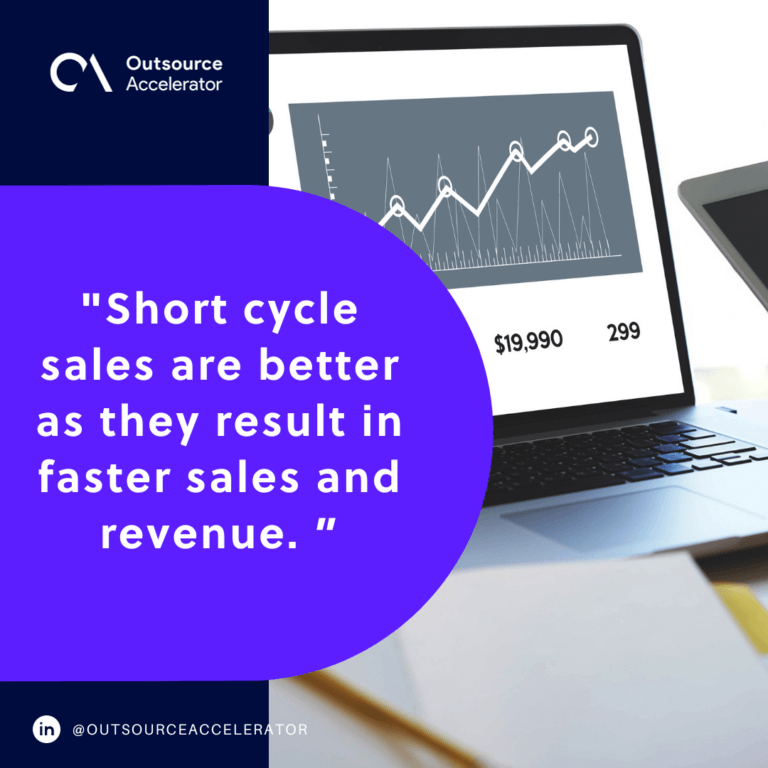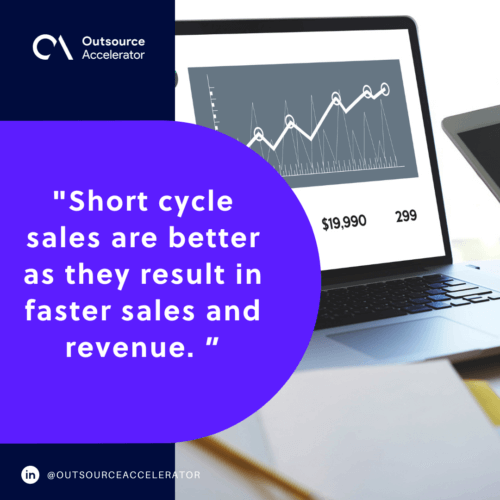 4. Cost per acquisition
Acquiring customers comes with a price tag known as the cost per acquisition. The total cost of acquiring customers divided by the total number of customers acquired gives you your CPA. 
A low CPA is better than a high one as it shows your sales solutions are effective.
5. Customer satisfaction scores
Customer satisfaction can be measured through surveys, asking for feedback on the brand's product and services. 
Naturally, good reviews mean satisfied customers. Otherwise, you may have to rethink your outsourcing sales strategies.
Benefits of direct sales outsourcing
Outsourcing your direct selling operations could benefit your business in several ways.
Access to expert knowledge
If your sales team is struggling with meeting expectations, you can enlist the help of specialists who bring a lot of knowledge to the table.
By outsourcing to professional salespeople, you are gathering ideas and creating strategies with the help of experts with a lot of experience versus employees who lack firsthand experience.
This eliminates the need to train new hires and allocate new resources to them. Instead, having professionals by your side already puts you a step ahead of the competition.
Cost-effectiveness
Outsourcing direct selling allows you to save money that would otherwise be used for recruiting and training new employees. Businesses save on overhead costs from having an in-house sales team, such as equipment and employee benefits.
Instead, these funds can be used to implement innovative selling strategies to increase sales dramatically. 
Market expansion
Outsourcing direct sales allows companies to reach out to new markets instead of limiting themselves to a specific demographic.
Doing so allows brands to gather new customers faster than other companies since they have a specialized sales team.
Tips for direct sales outsourcing
If your business is considering outsourcing direct sales, follow these tips to ensure a smooth process:
Set clear goals and expectations
Your company has a mission and vision, and it is your responsibility to align these goals and expectations with that of your outsourcing partner.
By having mutual objectives and staying on the same page, you can work harmoniously on improving the business' direct sales.
Open communication
Maintaining communication via different channels is the only way for both sides to discuss their ideas and prevent mistakes effectively.
This is especially useful if the two firms are based in different locations. No matter where they are, they can freely discuss work and ensure nothing gets lost in translation.

Remain flexible
The market is always evolving, and you never know what new developments may affect your operations. Businesses and their outsourcing partners must remain adaptable and adjust to these changes to stay afloat and not get left behind.
Overseeing results and quality
Working with a sales outsourcing partner does not mean handing them complete control over your sales. You are simply seeking their help and guidance on improving your numbers.
That being said, make sure to keep a close eye on quality. Regularly check for updates and conduct assessments to ensure your outsourcing partner meets your expectations.
This includes hitting KPIs and utilizing the five metrics to measure the quality of your sales operations.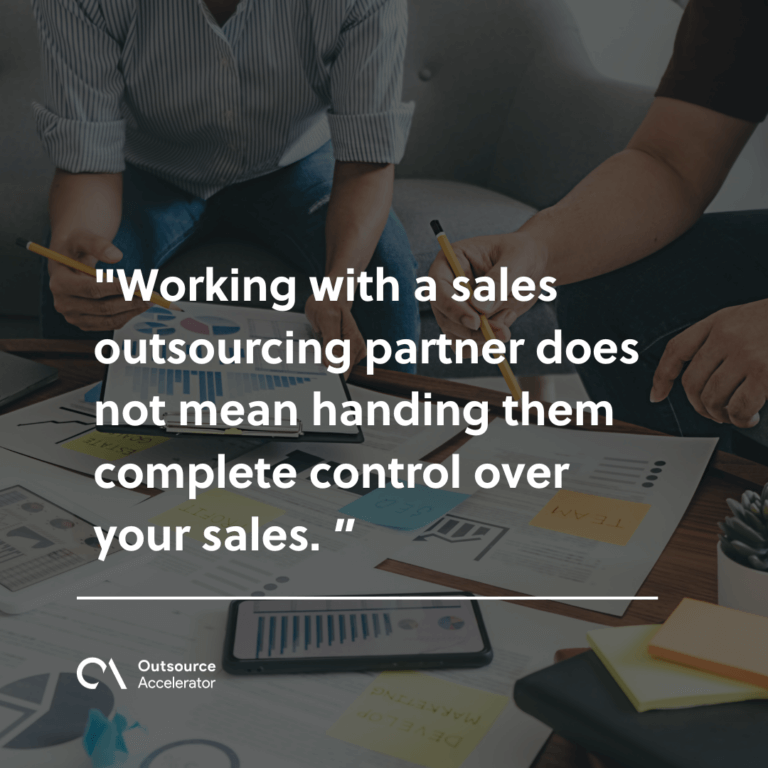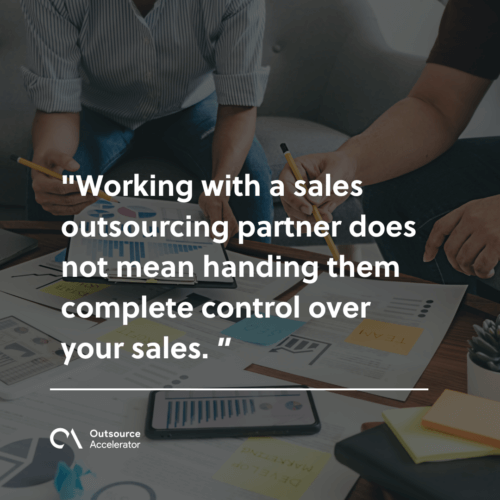 The power of direct sales outsourcing
Business leaders have much on their hands apart from managing sales, so working with an outsource partner provides a lot of flexibility.
An ideal sales outsourcing partner assists in reaching objectives by providing relevant knowledge and expertise while the company can focus on its core competencies.
It is a very cost-effective solution as companies do not have to spend on recruiting and training new hires. Instead, they can implement unique marketing strategies that help boost sales with the help of their partner.