The pros and cons of direct hire agreement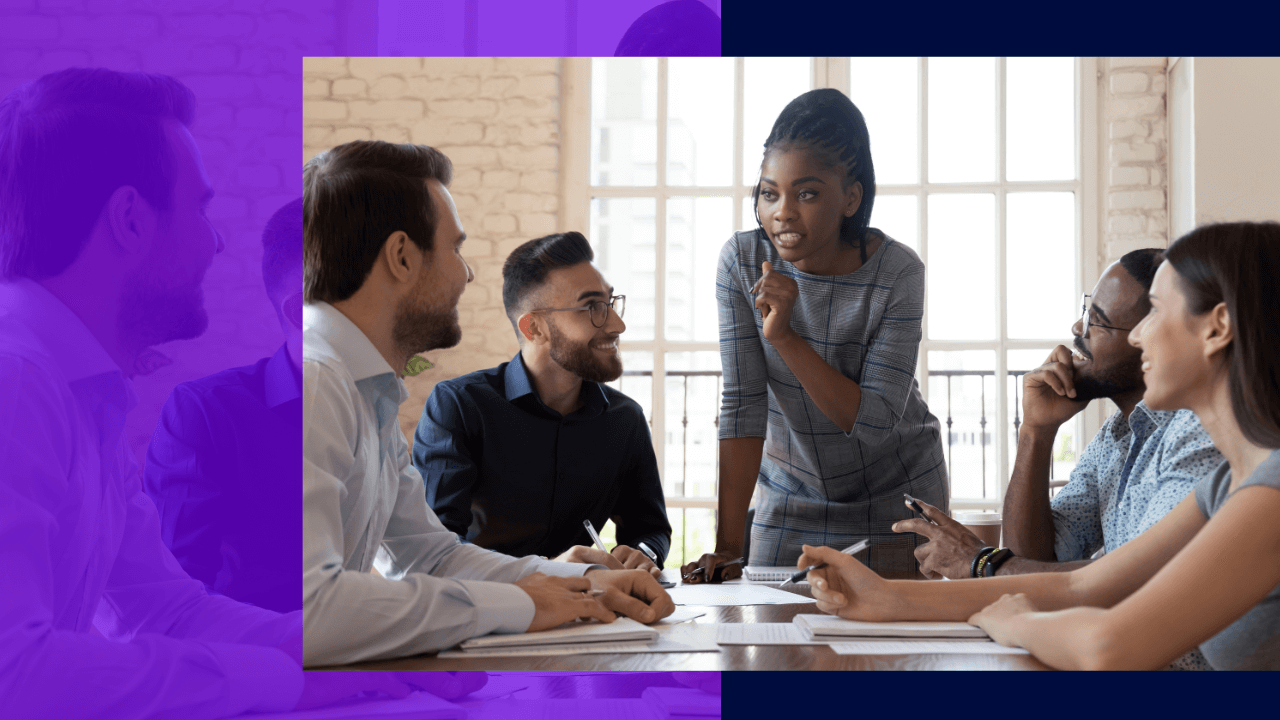 Direct hiring agreements are beneficial and detrimental in shaping the employment landscape of a company. It has served as the primary employment process since the pre-industrial revolution in the 18th century.
While this agreement is a standard procedure for human resource (HR) practitioners, it can pose difficulties in selection and evaluation due to the time it consumes. Employing an alternative method for hiring personnel, such as outsourcing, can offer advantages.
This article will let you explore the pros and cons of a direct hire agreement while uncovering its distinctions from other alternative mediums in making strategic hiring decisions.
What is a direct hire agreement?
Direct hire agreement is a practice performed by many companies, where job offers and onboarding of employees are done without involving third-party recruiters or agencies.
It is often referred to as direct placement. It involves the process of sourcing qualified employees for the position of a full-time or part-time position with benefits and an employer-employee contract agreement.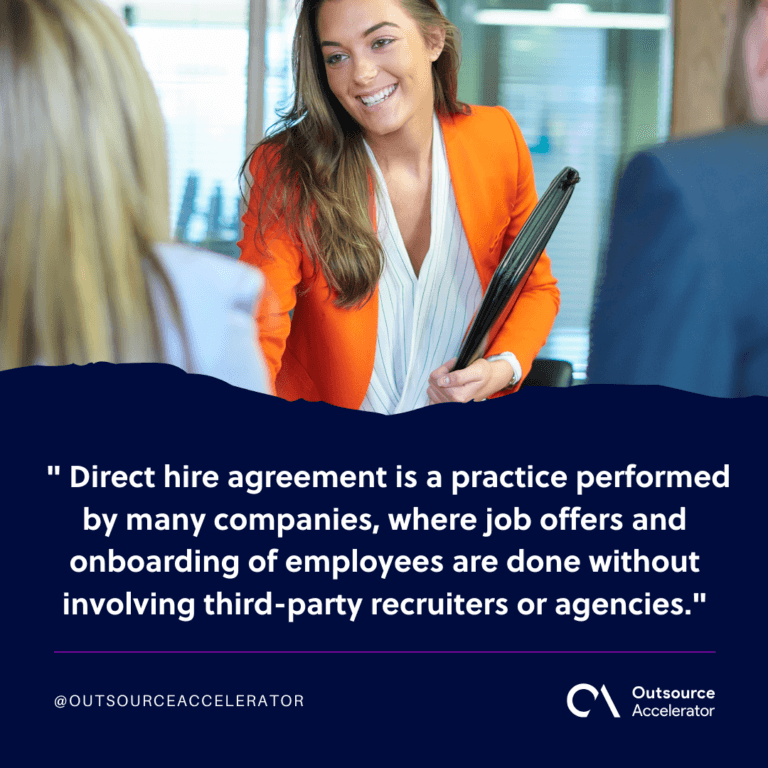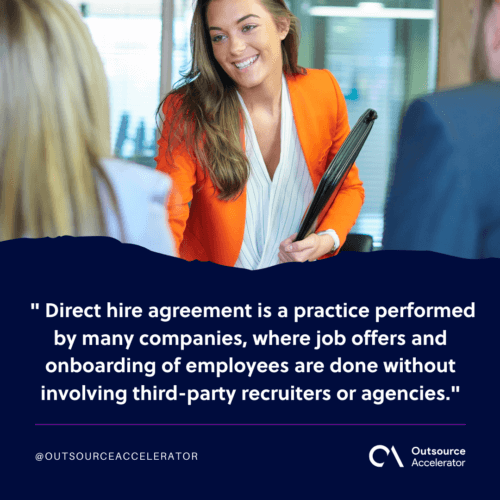 Direct hire vs. Outsourcing
Direct hire employees are fully committed to the company's long-term goals and objectives. Outsourced personnel, on the other hand, are temporary and provide their services for a specific duration, often until the completion of a project.
These two categories of employees often approach their work with different levels of determination. 
Direct hire employees invest maximum effort into their work, which they strive for successful completion. In contrast, outsourced personnel may exert a limited effort to fulfill their work responsibilities, which can affect their overall output.
The decision to employ either a direct hire employee or outsource personnel may vary on the specific work and qualifications required for the output of the position. 
Many factors can help determine the best decision to achieve company objectives.
Pros of direct hire agreement
A direct hire agreement is the preferred hiring method for many companies engaged in long-term project contracts. Assessing the advantages of direct hiring can provide valuable insights for those contemplating this approach. 
Long-term economical solution
Opting for a direct hire can be a cost-effective and time-saving long-term solution. A company doesn't have to pay any fee associated with the recruitment agency, which leads to increased savings and profit generation.
Direct hire employees will be permanent staff of the company. It means lessening the need for frequent retraining in the onboarding process. 
Direct hire agreement also reduces the need for constant recruiting, which can be costly and time-consuming. 
Long-term commitment
Commitment to work stands as a paramount requirement for any company. Direct-hire employees are driven to sustain a long-term commitment to the company. 
Firms must plan their career development and establish retirement strategies, reducing employee turnover.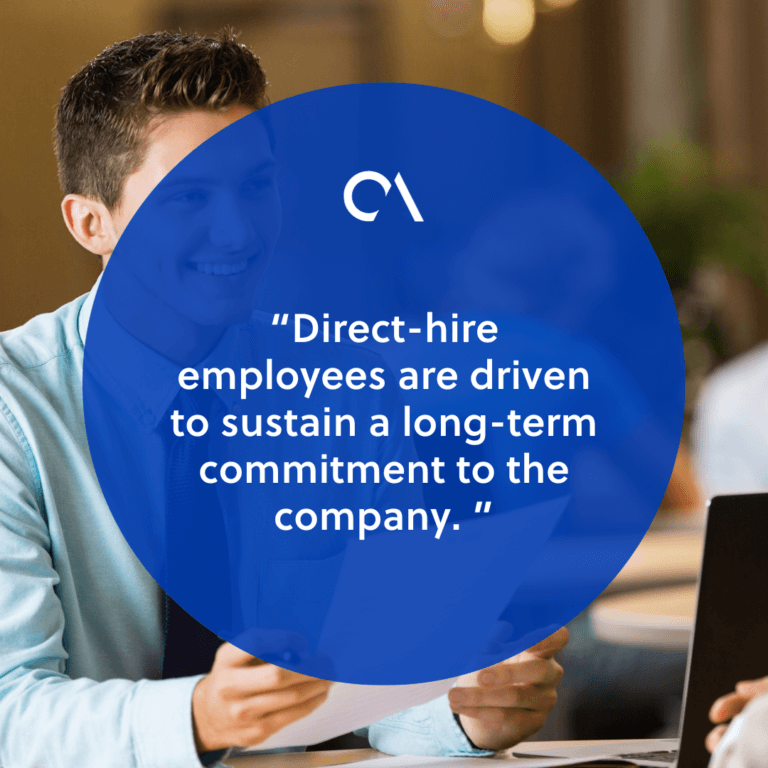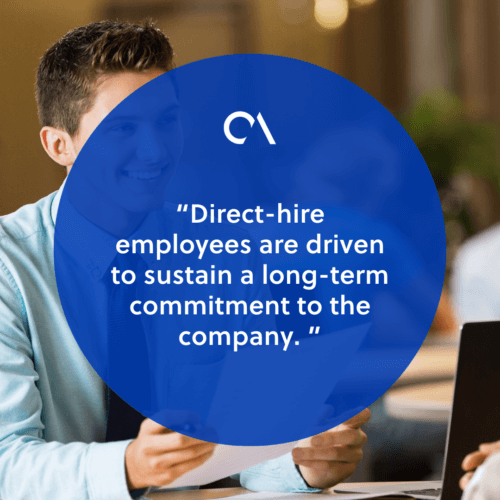 Mastery of skills and expertise
Over time, as these employees remain with the company, they will have the opportunity to continually enhance their skills, becoming experts in their respective fields. 
Their expertise is often the result of hands-on experience, ongoing learning, and a deep understanding of the company's specific processes and industry complexities.
Direct hire employees make substantial contributions to the company's success with their mastery of skills and expertise. As a result, they have increased job satisfaction along with career development.
Cons of direct hire agreement
Although direct hire has benefited many companies over the years, it also poses some drawbacks that firms must consider.
Here are some of the cons of having a direct hire agreement:
Prolonged hiring process
Direct-hire agreement is sometimes time consuming for the hiring staff due to various processes involved in recruiting procedure, including the approval of company heads.
The hiring team invests a great deal of time and effort in carefully assessing every candidate's resumes and conducting thorough interviews.
Unfortunately, this can drain the recruiting team, redirecting their focus from more pressing matters as they earnestly seek the perfect fit for the position.
Costly skill development
Permanent employees represent a valuable asset in the organization and may come with higher ongoing costs.
Nowadays, employees seek developmental programs to enhance their expertise and grow professionally. Developmental programs in companies have their drawbacks, including resource-intensive implementation and maintenance, which may not yield immediate returns.
These programs can temporarily impact productivity as employees divert their focus to training. Furthermore, there's a risk of increased employee turnover as they become more marketable with newly acquired skills.
Employee fluidity concern
In today's workforce landscape, many individuals, particularly from the younger generations, have tendencies of job hopping. 
This trend can present challenges for organizations when relying on a direct hiring approach. It brings fresh perspectives and skills to employees seeking new opportunities.
However, this constant turnover can be a double-edged sword, as it often necessitates more frequent hiring and training processes. It could lead to increased recruitment costs and disruptions in team dynamics.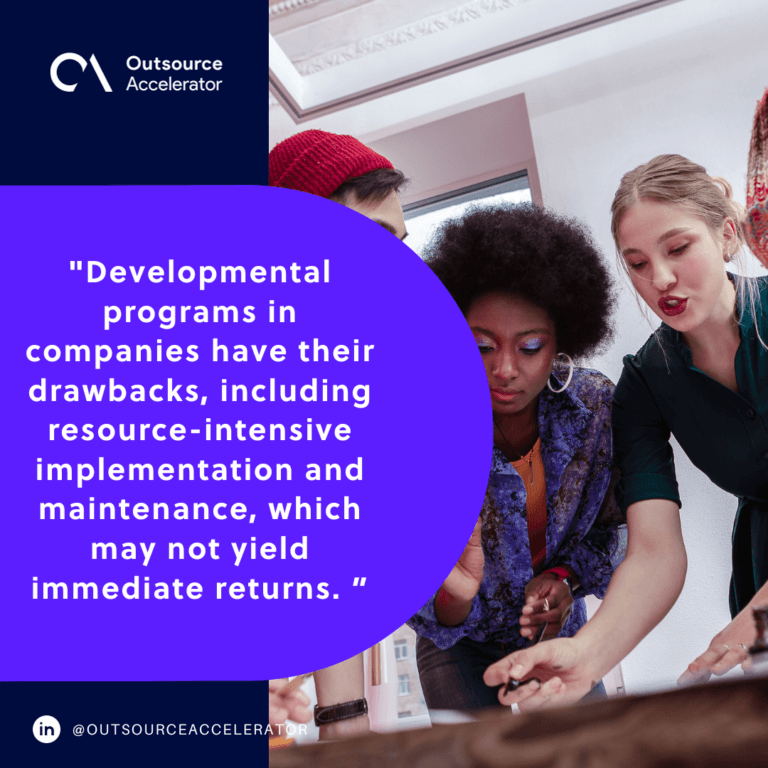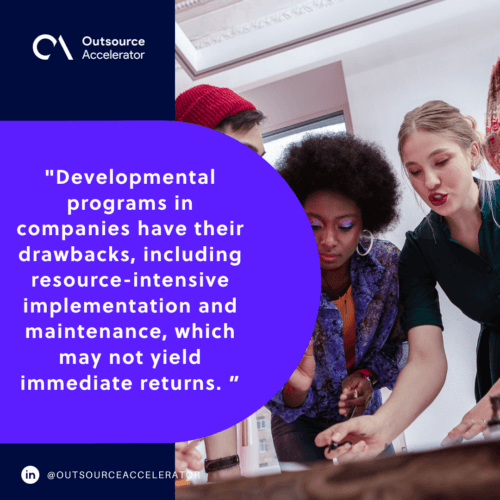 Direct hire agreement vs. Outsourcing: Which is better?
Key considerations include the project's scope, duration, and complexity, as well as the specific skill sets required. 
Direct employees, for instance, are often brought on board when the project demands long-term dedication and a deep integration into the company's culture and mission.
On the other hand, outsourced personnel are a flexible solution for temporary or specialized projects, offering their expertise for the required period. 
The Philippines and India are listed as top outsourcing destinations for global talents. Some of the most outsourced services worldwide connect with customer service, IT, and software development.
An ideal workplace for a direct hire employee
Workplaces are designed to accommodate the preferences and career choices of direct hire employees. For direct hires, a steady, long-term commitment often feels like the right fit, as it promotes a strong sense of belonging through extended tenure with a single company.