Pros and cons of a digital workplace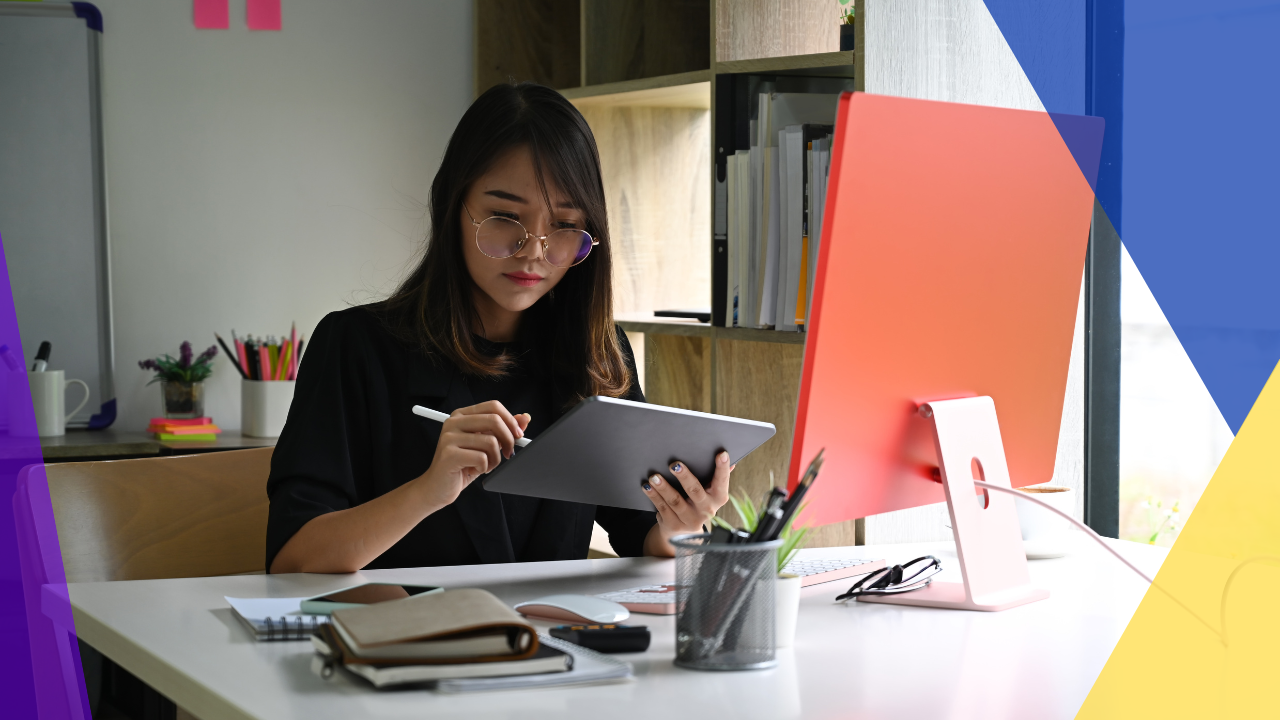 Technology has tremendously influenced the business world. Different organizations have welcomed the widespread adoption of the digital workplace. Employees in this modern work setting can operate remotely while utilizing digital technologies. 
Although there are several advantages to implementing a digital workplace in a business, it is equally critical to recognize its drawbacks.
Definition of a digital workplace
A digital workplace is a virtual work environment that allows employees to operate from anywhere while utilizing authorized and compatible work tools.
The following communication and task manager tools are often required for this virtual work setting:
Email

Project management software

Cloud-based storage solutions
This maintains communication between employees and employers while also improving access to tasks and information.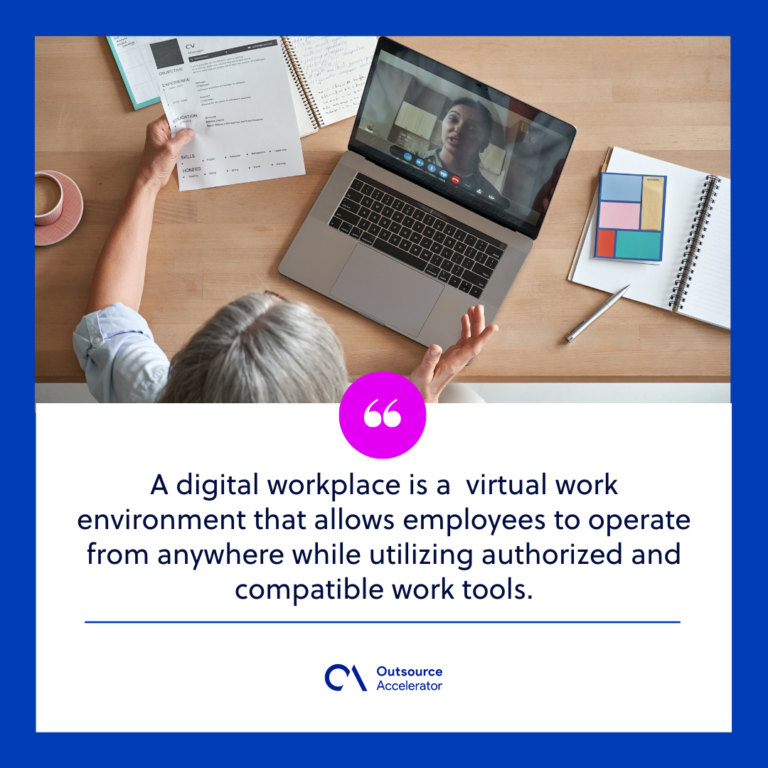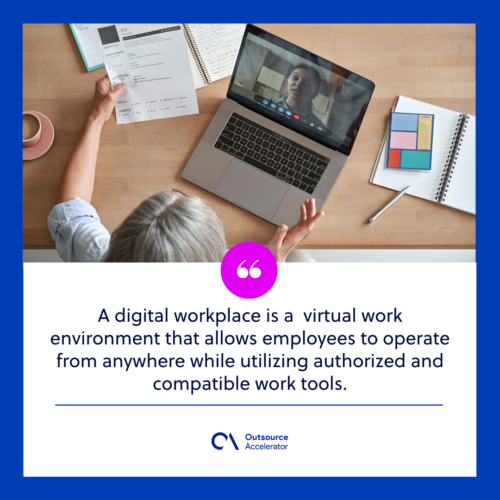 Pros of a digital workplace
A digital workplace offers advantages for corporations and workers. Through digital technology, businesses can increase productivity, collaboration, flexibility, data management and security, and sustainability.
At the same time, workers may have a better work-life balance, greater workplace diversity and inclusion, and a more satisfying experience overall.
To further explain, here are the leading benefits of a digital workplace:
Increased productivity and efficiency
Productivity and efficiency are among the most significant pros of transitioning to a digital workplace.
When employees have the flexibility to work from anywhere, they can reduce the amount of time spent commuting and focus more intently on their work.
Since a digital workplace offers digital tools and paid-by-organization applications, remote workers have access to the resources necessary to execute jobs promptly and effectively.
Improved collaboration and communication
Employees can collaborate in real-time, discuss ideas, and offer feedback via video conferencing, instant messaging tools, and applications designed to co-manage projects.
Thanks to digital work technologies, firms can make smart decisions, contribute innovative ideas, and work together more effectively.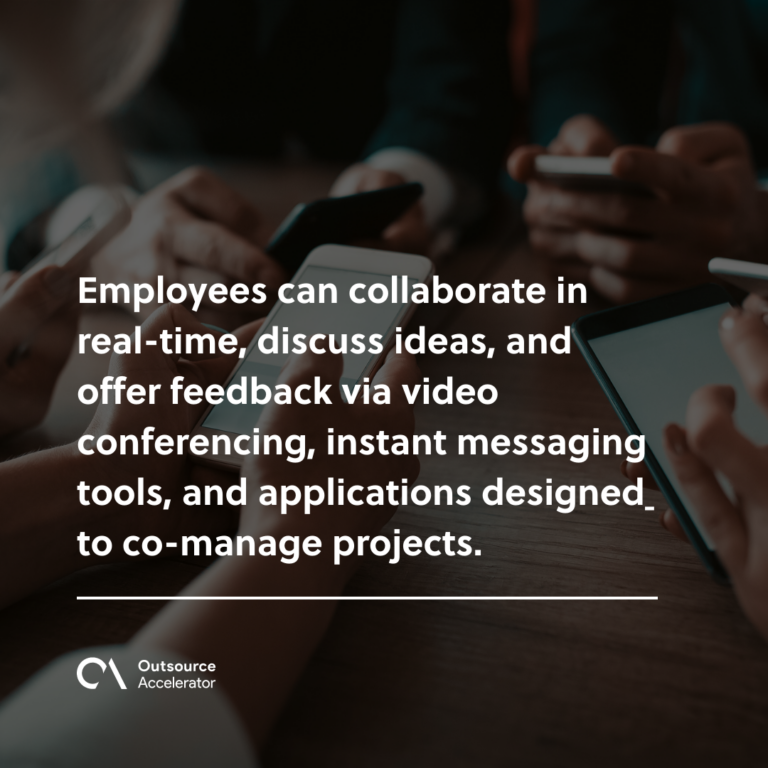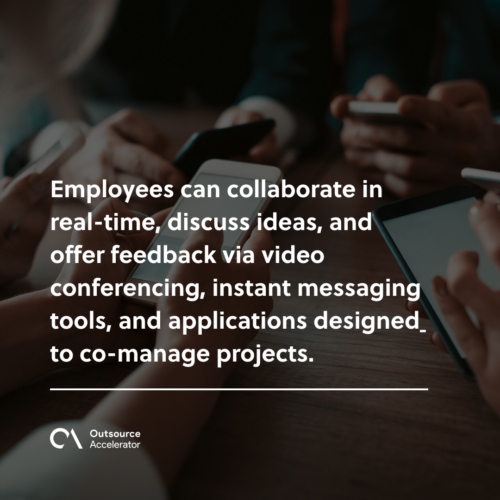 Enhanced flexibility and work-life balance
As noted earlier, a digital workplace allows employees to work from any location. This means that remote employees can also work around their personal obligations.
Since employees can avoid the stress and hassle of long-hours commutes,  a digital workplace allows for greater flexibility and a better work-life balance. This can help increase workers' job satisfaction, decrease pressure, and improve their mental health.
Better data management and security
A digital workplace improves data management and security because all the data is kept on the cloud and accessed securely.
This eliminates the need for physical storage solutions and lowers the likelihood of data being lost, stolen, or damaged.
Additionally, it makes it easier to comply with data protection requirements — which is becoming an increasingly important need in today's digital world.
Cost savings and environmental benefits
Businesses can definitely achieve cost savings and environmental advantages by adopting a digital workplace. Firms can reduce their spending on overhead expenses like rent, utilities, and office supplies when they have fewer employees onsite.
As a result, employees no longer have to print paperwork or spend money on cafeteria lunches, reducing the company's carbon footprint while enabling financial savings for workers.
Cons of a digital workplace
Now that you know the pros of adopting a digital workplace in an organization, let's head on to its cons. This virtual workplace can also negatively influence enterprises if not deployed correctly. 
Here are the following cons of a digital workplace:
Isolation and lack of face-to-face interaction
Lack of human connection is a danger in today's increasingly virtual workplaces. Employees may feel isolated from one another and the company without regular in-person meetings. This might lead to isolation, disinterest, and dissatisfaction on the job.
Tech distractions and interruptions
A digital workplace can also lead to technological distractions and interruptions, as employees may be tempted to check their email or social media during work hours. These types of disruptions can negatively impact employee productivity.
Potential for information overload and burnout
A digital workplace can also contribute to information overload and fatigue for remote employees. 
Employees may feel overwhelmed by the number of activities due to the continual flow of information in the virtual environment. This can result in increased stress, reduced work satisfaction, and burnout in the long run.
Security and privacy risk
Since all information in a digital workplace is kept on the cloud and can be accessed from anywhere, this may pose security and privacy concerns. It makes the system more vulnerable to hacking and other forms of cybercrime.
Businesses must implement stringent security procedures, including two-factor authentication and routine data backups, to counteract these threats — which could be expensive. This contrasts the advantage of the digital workplace on cost savings.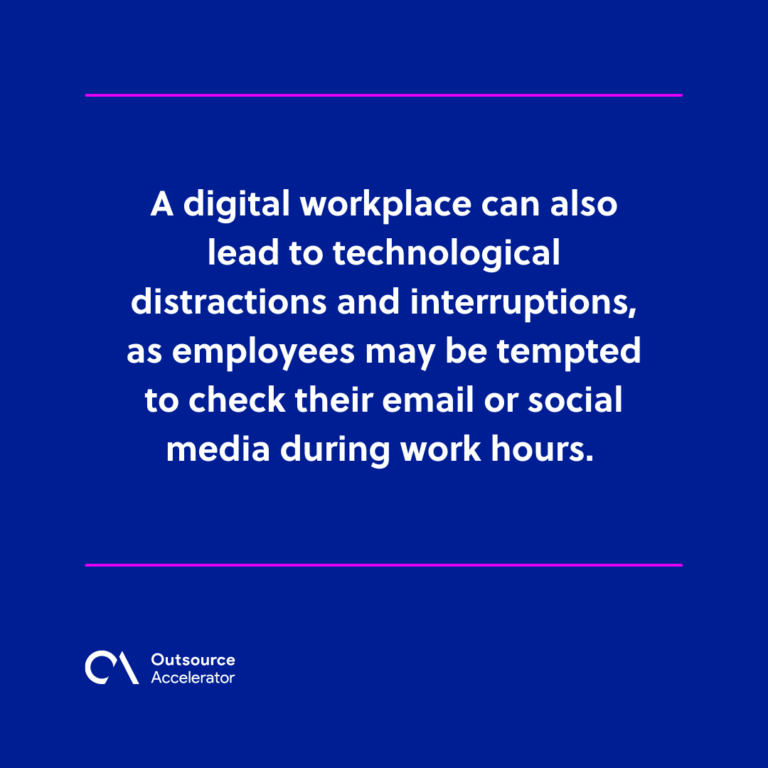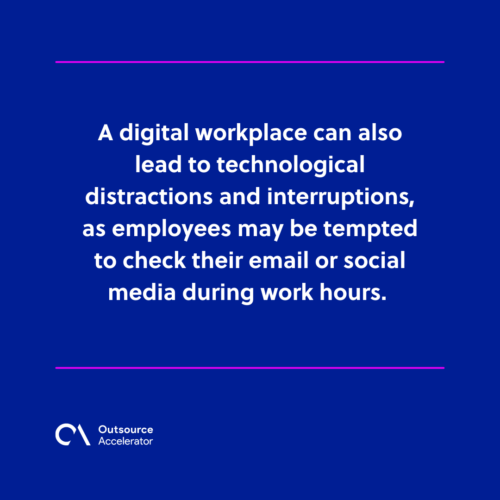 Is tapping into a digital workplace a smart business move? 
Organizations need to assess what works best for their operations and employees. While there are countless advantages, organizations must be mindful of the possible downsides of a digital workplace.
This way, businesses can make smart decisions if they consider the benefits and drawbacks of a digital workplace before fully adopting this work setup.