Diving into digital transformation statistics of 2023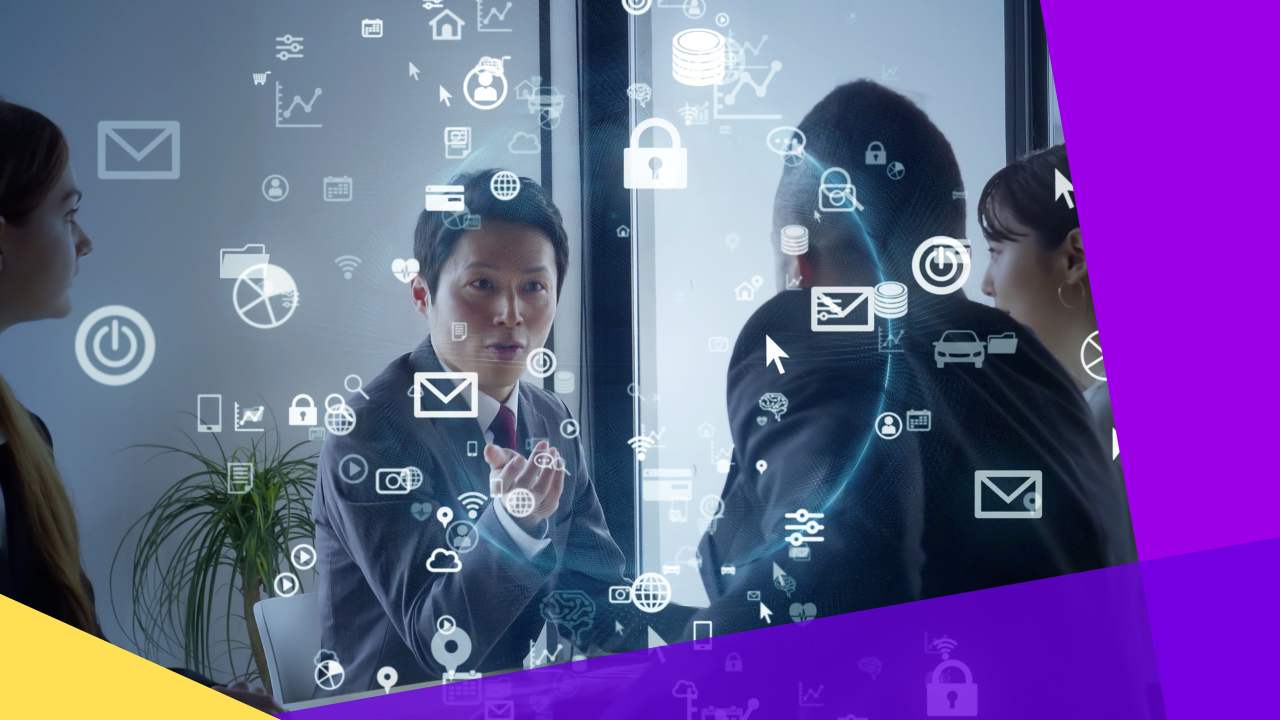 In an era of unprecedented technological progress, businesses are undergoing a profound metamorphosis driven by digital transformation. 
Digital transformation has been one of the most significant buzz phrases in the business landscape for several years. Companies across various sectors embrace digital technology to transform their traditional models and processes. 
This sweeping revolution has transcended buzzword status to become an indispensable strategic imperative. 
To understand the true essence of this paradigm shift, we turn our attention to the realm of digital transformation statistics.  
An overview of digital transformation
Digital transformation refers to leveraging digital technologies to fundamentally change how businesses operate and deliver value. 
It's an approach that goes beyond simply adopting new technologies. Digital transformation encompasses a complete rethinking of business strategies, processes, and culture. 
Digital transformation enables organizations to harness the power of emerging technologies like:

These tools drive innovation, improve efficiency, enhance customer experiences, and provide a competitive edge. 
Digital transformation requires integration at all levels of a company. These aspects cover internal operations and employee workflows, product development, marketing, and customer interactions. 
By embracing digital transformation, businesses can stay relevant, agile, and responsive in today's digital environment.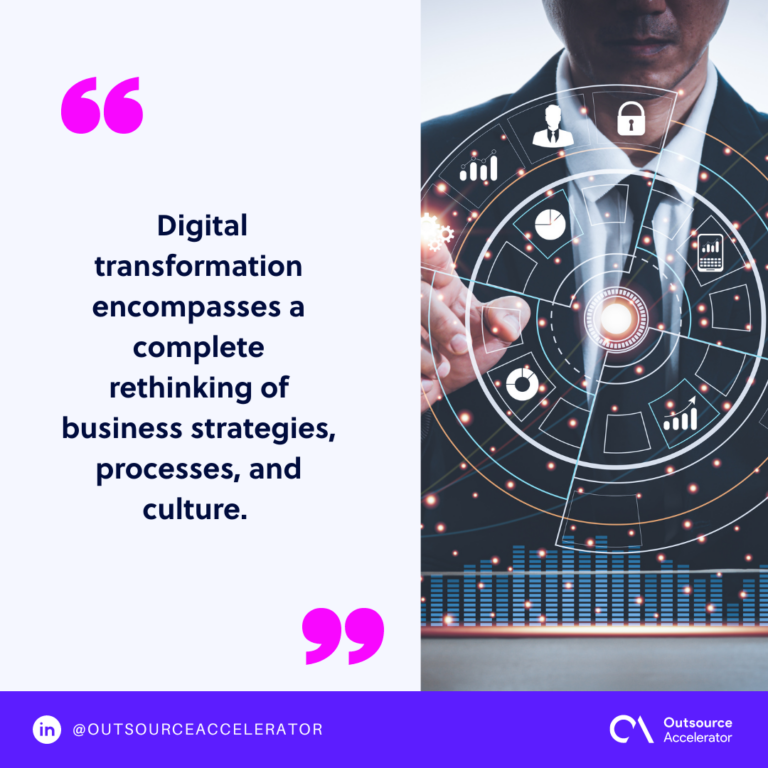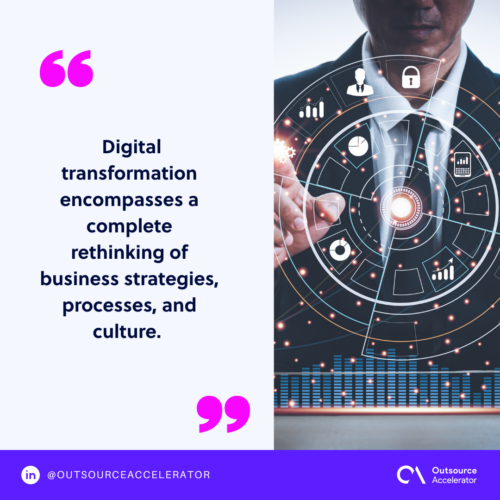 Key digital transformation statistics
Here are the most notable digital transformation statistics: 
"The market value for digital transformation is poised to reach $3,739.06 billion by 2030." 
"Global digital transformation is worth $588 billion." 
"By 2026, the world will collectively spend $3.4 trillion on digital transformation."
"97% of enterprises believe that the COVID-19 pandemic sped up digital transformation efforts."
"Digital transformation plans are already being accelerated and scaled in 77% of organizations."
"Market pressures lead the cause for digital transformation. Growth prospects account for 51% of efforts while rising competition counts for 41%."
"60% of business leaders credit digital transformation as their most critical growth driver." 
Global impact of digital transformation statistics
The global impact of digital transformation is profound and far-reaching. 
The initiative has touched virtually every aspect of modern society and reshaped the way businesses, governments, and individuals operate.

Digital transformation is a top priority
According to Flexera, 74% of businesses claim that digital transformation is one of their top priorities. 
This is an increase from the 56% of IT leaders surveyed in 2021. Digital transformation has now overtaken cybersecurity (73%) and cloud implementation (65%) on the priority list (although they contribute to the overall transformation strategy).
Most companies have planned a digital transformation strategy
According to an early Tech Pro Research report, 70% of companies are currently working on a digital transformation strategy or have already implemented one. 
The COVID-19 pandemic accelerated many organization's efforts to transform. With many operations being suspended in that period, more and more companies realized that digital transformation was necessary. 
Leaders are getting involved in digital transformation
To emphasize just how powerful an initiative digital transformation is, a large part of business leadership has personally stepped in. 
Gartner's survey revealed that 72% of data and analytics leaders are heavily involved in their organizations' digital transformation approach. Of that percentage, 24% are directly leading the efforts. 
Digital transformation market is expected to grow
The digital transformation market looks very promising. Markets and Markets reports that the market size is projected to grow at a compound annual growth rate (CAGR) of 24.1%. 
North America is foreseen to hold the largest market share, leading technological advancements.  
Digital transformation is set to produce great value
The World Economic Forum notes that digital transformation will add $100 trillion to the global economy by 2025. Additionally, two-thirds of that value will be enabled by interactions from technological platforms.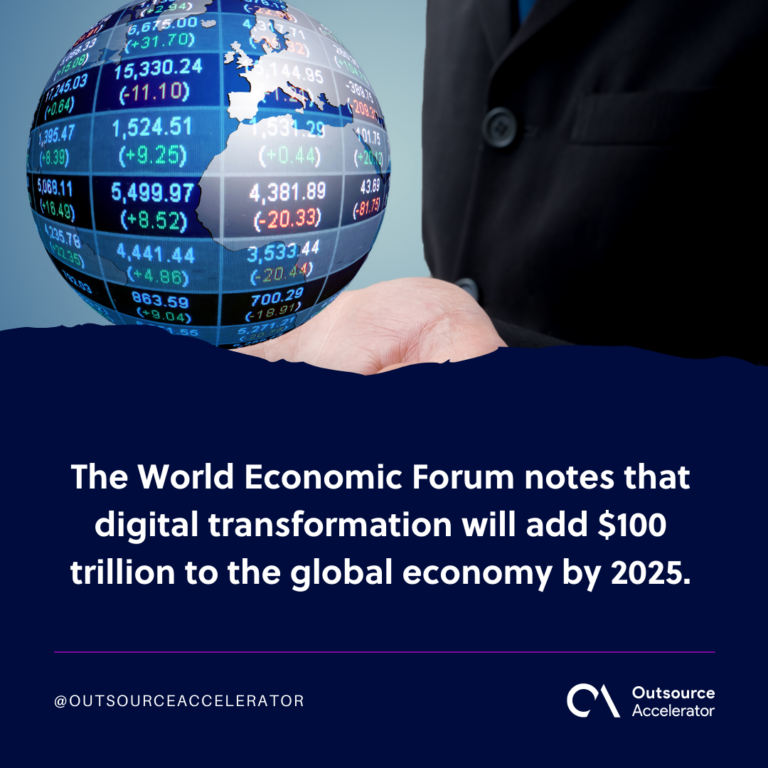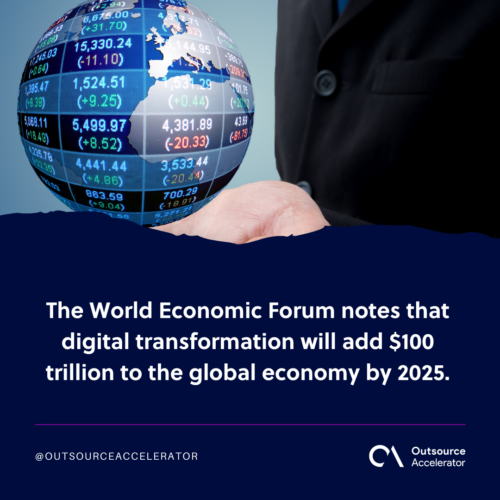 Technology has been overly beneficial 
A PwC survey of 1250 global executives found that 53% of them have furthered their digital transformation strategies within two years. 
In the same survey, 57% of respondents said that technology has been critical and beneficial to their overall business performance. 
Digital transformation helps sustainability
Fujitsu found in their own global survey that a digital transformation strategy helps to develop sustainability, both for their own business and for the greater society. 
41% of executives cited sustainability as among their top management priorities. 67% concurred that digital transformation would immensely benefit this effort. 
Digital transformation statistics: Top technological trends
Technology acts as the catalyst and enabler of digital transformation. Technological innovations provide the building blocks that organizations use to reshape their strategies. 
Modern trends have shifted to maximizing the full potential of the online landscape to achieve agility, competitiveness, and sustainable growth. 
Cloud, AI, and IoT
Cloud, artificial intelligence (AI), and the Internet of Things (IoT) are the primary technologies to implement for digital transformation. Companies are scaling these areas accordingly. 
Take a look at the following digital transformation statistics on these tech innovations:
Closely behind in development are newer technologies like AR/VR technology, 5G, digital twins, and robotic process automation. 
Hybrid cloud integration 
A Technavio study found that the global cloud market is forecasted to grow massively. The study primarily focused on the healthcare industry, where the market is expected to reach $42.21 billion by 2027. 
A hybrid cloud approach is the most prominent. IBM reports that 74% of Chief Supply Chain Officers (CSCOs) assert that hybrid cloud integration is crucial for the digital transformation of supply chains. 
53% of those CSCOs believe digital supply chain transformation plans can keep them competitive over the next three years. 
IT infrastructure upgrades 
IT budgets have increased, especially to upgrade obsolete infrastructure. SWZD finds that 56% of organizations plan on growing their IT spending for this purpose. 
Companies are also spending more to accommodate new IT projects (45%) and supporting remote workforces (36%). 
AI and customer experience
An IDC report says that by 2025, 90% of new enterprise apps will contain AI technology. 
Currently, AI has mostly been applied to elevate customer experiences. According to IBM, 70% of leaders see their businesses as ready to adopt AI for CX purposes, according to IBM.
However, the potential is there for more. Gartner's survey reveals that 80% of executives believe that AI and automation can be applied to any business decision.  
Growth of AR/VR technology
A newer technology, AR/VR, is slated to have the fastest growth until 2025. Research and Markets also noted that Internet of Things technology will command the largest market share.
Digital transformation statistics: Current challenges 
Embarking on a journey of digital transformation is a strategic imperative for businesses in the modern era. However, this transformative path is not without its share of challenges.
Organizations must grapple with a range of obstacles that can impact the success of their digital transformation initiatives.
Digital transformation is competitive
McKinsey found that things will only get more competitive from here. 64% of businesses admitted that they would need to build new digital businesses to stay ahead in 2023 and beyond. 
In a post-pandemic world, only 11% of companies believe their current business models can keep them afloat, hence the need for digital transformation. 
Few companies have digitally transformed
Scientists at the MIT Center for Information Systems Research released a study that found that only 22% of 1.311 global firms are "future-ready." 
There is still a long way to go, as many companies have yet to display significant digital transformation. 
But these firms can be encouraged by the results of the future-ready ones. These companies showed higher financial performance, with average revenue growth of 17.3% and net margins that were 14% above average. 
Companies are still struggling to transform
Many companies are experiencing difficulty in their digital transformation attempts, particularly larger enterprises. 
Another McKinsey survey shows severe results, with only 30% succeeding. Of those surveyed, only 16% say that their operations have improved.  
On a large scale, successful digital transformation still has many hurdles to overcome. 
Not all attempts are successful 
Research from BCG follows up on the struggles to successfully implement digital transformation. The firm reports that only 35% of their 850 respondents achieved their digitalization objectives. 
While the failure rate is high, it's at least trending in the right direction. This was an increase from 30% of the previous year. 
A major lack of skills and expertise
Many businesses cite a lack of skills and expertise as the most common digital transformation obstacle. 
Veeam recorded that of 1,500 global enterprises, 44% credit the lack of IT skills and expertise to blocking their digital transformation.  
Similarly, an EY and iMOcha report found that 28% of companies believe they need to upskill tech roles for as much as a third of their workforce by 2025. The same report says that 81% of organizations feel this tech shortage.  
Digital transformation as a cost center
Additionally, digital transformation comes at a noticeable financial cost, at least initially. 
According to Prophet, 28% of companies still perceive digital transformation as a cost center. At the moment, data to prove ROI is still relatively rare. 
It seems that while the world is excited for and eager to invest in it, the true value of digital transformation will be observed in the long run. 
Importance of continuous digital transformation
A continuous digital transformation is crucial for businesses in today's interconnected world. 
The rapid pace of technological advancements, changing customer preferences, and the emergence of new competitors necessitate an ongoing commitment to digital transformation.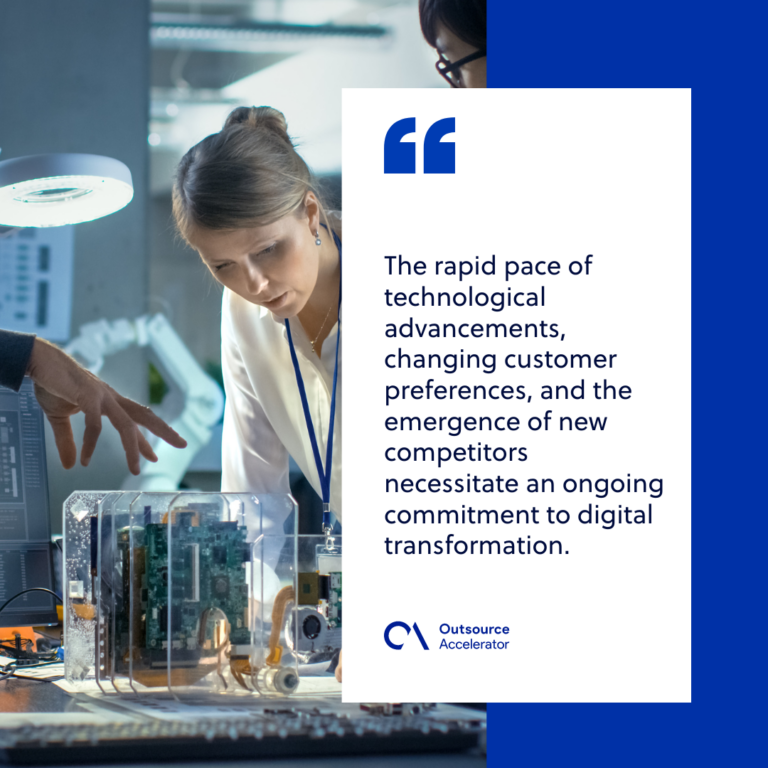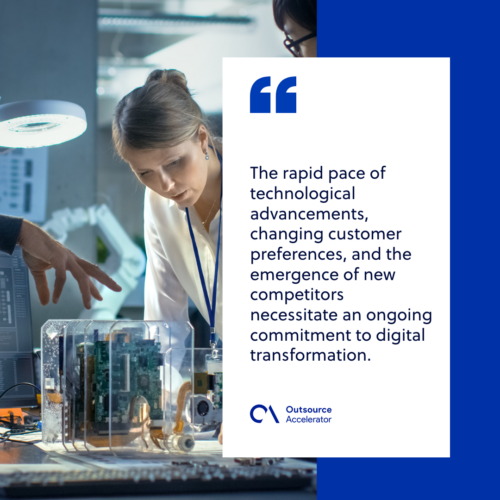 Here's why continuous digital transformation is important: 
Adaptation to changing environment 
The business landscape is constantly evolving due to technological shifts, market trends, and global events. 
A continuous digital transformation enables businesses to remain adaptable and responsive to these changes, ensuring they stay relevant and competitive.
Sustaining competitiveness
In an era where innovation is the key to gaining a competitive edge, businesses that stagnate risk falling behind. 
Continuous transformation allows companies to innovate and stay ahead of the curve, constantly exploring new technologies and strategies to meet customer needs effectively.
Meeting customer expectations 
Customer expectations are evolving rapidly, driven by their experiences in various sectors. A seamless, digitally enhanced customer journey is becoming the norm. 
Businesses that embrace ongoing digital transformation can consistently meet these expectations and deliver superior experiences.

Seizing opportunities
New technologies and trends bring opportunities for growth and efficiency. By staying in continuous transformation, businesses can promptly identify and capitalize on these opportunities promptly. 
This helps them expand their market presence and revenue streams.
Risk mitigation
New risks, such as cybersecurity threats and data privacy concerns, accompany the digital business world. A continuous transformation allows organizations to stay vigilant and adopt measures to mitigate these risks effectively.
Employee empowerment
Employees thrive in environments that foster innovation and offer opportunities for skill development. 
A continuous transformation strategy encourages a culture of learning and growth. It makes the workforce more adaptable and equipped to handle evolving challenges.
Data-driven decision-making
Data is a powerful asset for businesses. 
Through continuous transformation, companies can implement advanced analytics tools and methodologies to gain valuable insights. This enables informed decision-making and strategic planning.
Future-proofing 
Technologies like AI, IoT, and blockchain are shaping the future. By continually transforming, businesses position themselves to harness these technologies, ensuring they remain relevant in the years to come.
Operational efficiency
As processes become more streamlined and automated through digital transformation, operational efficiency improves. This leads to cost savings, optimized resource allocation, and improved overall performance.
Cultivating innovation
A culture of continuous transformation fosters innovation as teams are encouraged to explore new ideas, experiment, and seek novel solutions to challenges. 
This spirit of innovation can lead to breakthrough products, services, and processes.
Digital transformation is not just a strategy; it's a necessity for businesses looking to survive and thrive. It's a commitment to evolution, innovation, and staying attuned to the dynamic needs of customers and the broader market.