The power of digital thread in business processes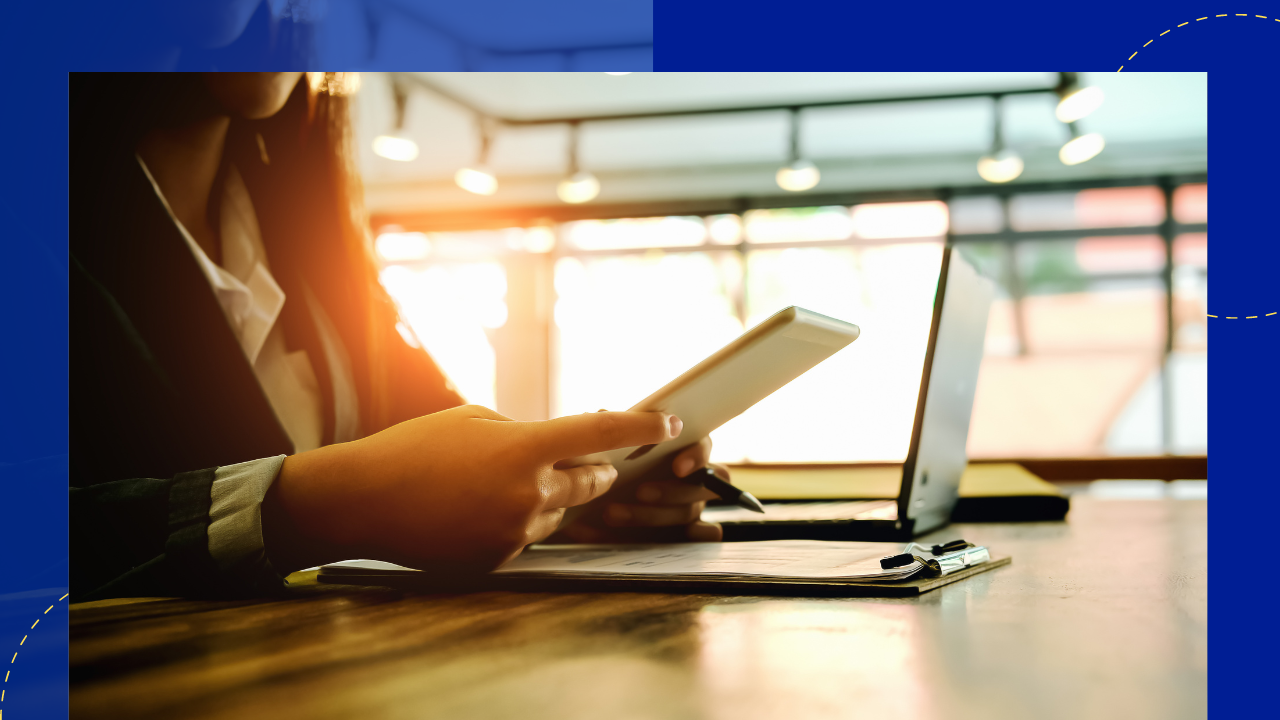 Digital thread is the new paradigm of how you deliver your message and how people consume it. It's not just one message but a continuous flow of information relevant to their lives.
The concept is a foundational piece of digital transformation, integrating various technologies to move your company forward. 
But what exactly is it, and what can it do? Read on to find out. 
What is a digital thread? 
A digital thread is an emerging concept that refers to the seamless flow of digital information throughout the entire lifecycle of a product or process. It ensures that relevant data is captured, integrated, and accessible across different systems. 
A digital thread uses various technologies like the Internet of Things (IoT), cloud computing, data analytics, and automation to establish a cohesive digital ecosystem. 
By implementing a digital thread, organizations can streamline operations, enhance efficiency, and gain a competitive edge in today's fast-paced and data-driven business landscape.
The following are examples of digital threads:

A customer's purchase of a product or service and a subsequent return.

A customer's interaction with a technical support agent.

An interaction between two employees in a customer service department.

A change in an employee's status in the company, such as when someone gets promoted or leaves the company.

The information needed to complete the transaction, such as shipping address, billing address, and credit card information.
Digital thread and digital twin 
A digital twin goes one step further than the digital thread by creating an identical virtual version of the physical object or product. 
The goal is to accurately represent a real-world system that can be used for analysis and simulation purposes before and after it's constructed.
To create a digital twin, you must collect all relevant data from your products and systems and store it in a central repository. Then, you can use this information to create virtual versions of your products and systems that can be used to analyze, predict and optimize their behavior.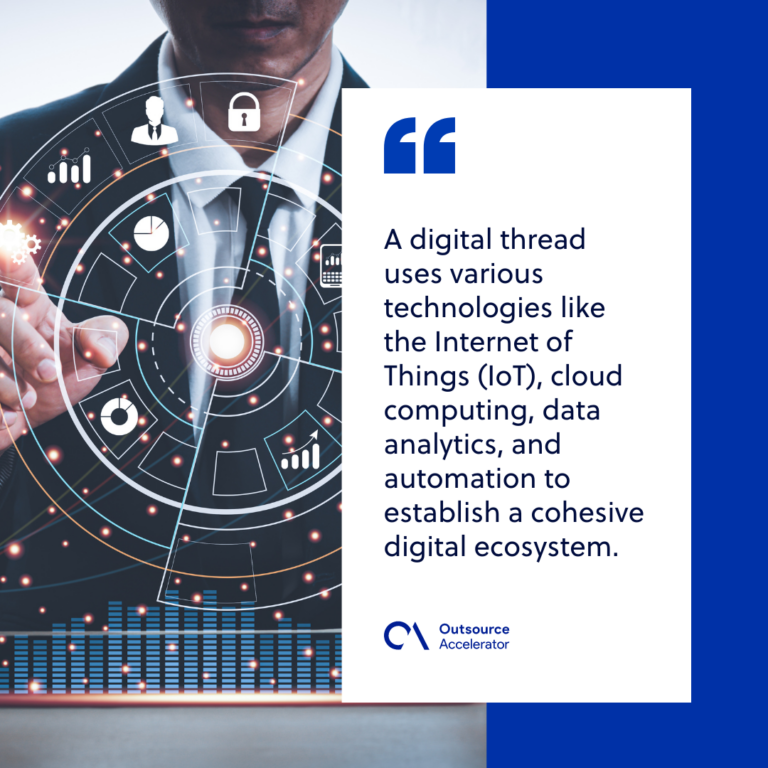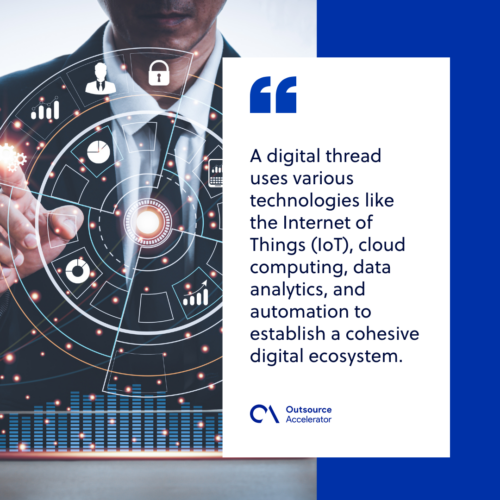 4 key components of a digital thread 
A digital thread is not complete without these key components:
Data-driven architecture
A digital thread uses technology to collect and analyze data and use it as the basis for business decisions. It also means making decisions based on real-time information about how customers behave and what they want from you — which can be difficult when data isn't available.
A data-driven architecture allows real-time access to data from all your systems, including network analytics, CRM systems, point-of-sale software, and e-commerce platforms. 
Links of significant information 
For the digital thread to be effective, it has to be organized so that people can follow what you're doing without feeling overwhelmed by information overload.
Significant information is anything that has to mean for your business or its customers. It could be a product listing, a shipping label, or even a sales quote from an order form — anything that will change how things work once it's been added to your application.
System of record 
A system of record (SOR) is a database where all customer information is stored. The SOR holds all customer data, such as:
Name

Address

Credit card details

Purchase history 
These are all stored in one place for easy access by employees across departments and functions. The system of record lets you see every step of the customer journey so you can make better decisions as your product moves through life. 
Reflection of the product development process 
A digital thread focuses on what customers want and need from their products. 
It starts with understanding your customers' needs and goals. Next, you identify ways to address those needs in your products, evaluate them against other options, validate them with customers, and incorporate feedback into future iterations.
Your digital thread should reflect this and ensure all aspects of the product are considered – from technical considerations to business strategy. 
Benefits of implementing a digital thread 
A digital thread can be a powerful tool for organizations looking to grow, innovate and compete in today's market.
Here are the benefits you'll see from a digital thread:
Engineering excellence 
The digital thread is a single source of truth for all design, manufacturing, and supply chain activities. This creates an environment where teams can collaborate effectively and focus on optimizing the design process.
An enterprise-wide approach makes it easier to ensure that software development is consistent across product lines and that quality is built in from the beginning. This means fewer bugs and a faster time to market for new features.
Manufacturing efficiency 
The ultimate goal of the digital thread is to increase productivity and efficiency. By using digital thread technology, manufacturers can eliminate bottlenecks and inefficiencies built into their processes by manual processes. 
This allows manufacturers to meet customer demand at a faster pace, which increases revenue. They can also reduce the time spent on error checking, further increasing productivity and efficiency.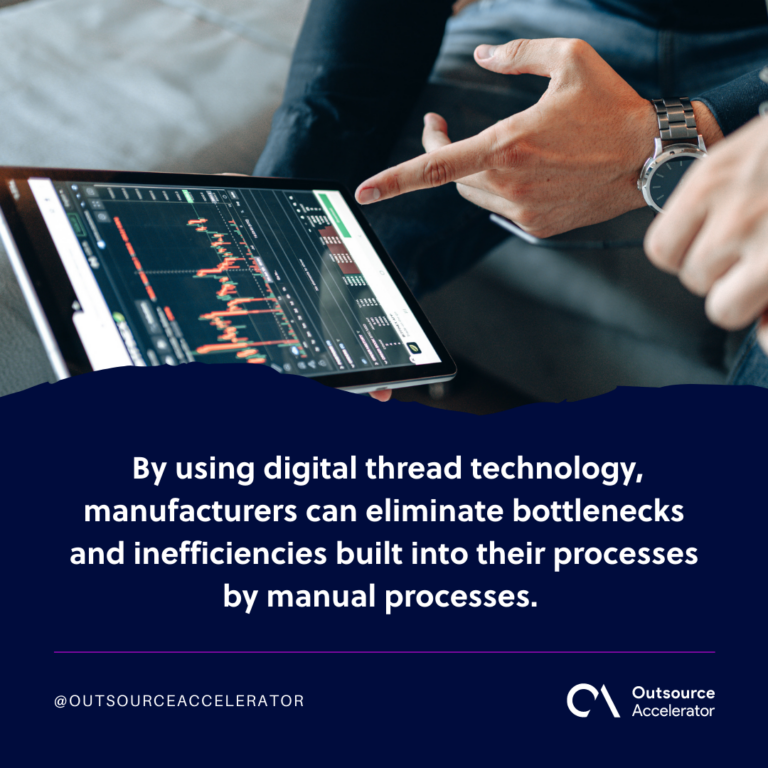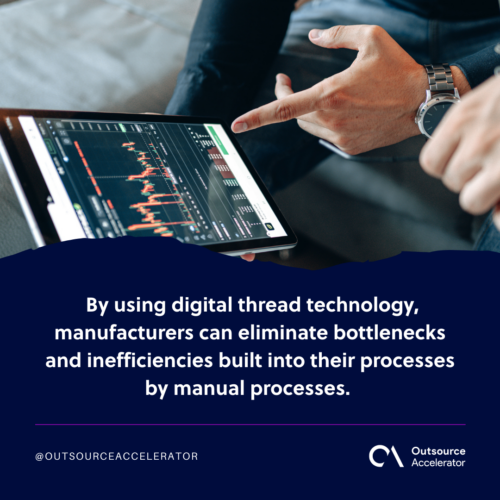 Product and service innovation 
A digital thread allows you to have a more agile approach to product development. At the same time, it ensures consistency across all channels. 
With a digital thread in place, organizations can innovate faster. Everyone can work together on new ideas for products and services that are true to the brand and customer expectations across all channels.
Service optimization 
In a digitally connected world, the customer experience is no longer limited to one interaction. 
Customers can interact with brands on multiple channels, which makes it possible to optimize the customer experience on each channel. This helps brands improve the overall quality of their service and ensure that customers receive an optimal experience across all touchpoints.
A digital thread gives them the ability to personalize customer journeys based on real-time data analysis.
Sales and marketing experience
A digital thread results in a greater experience for the customer when it comes to your brand's sales and marketing efforts. You can personalize experiences and cause higher conversion rates. 
This leads to more engagement as customers feel you are listening to their needs.