Understanding the role of a digital experience manager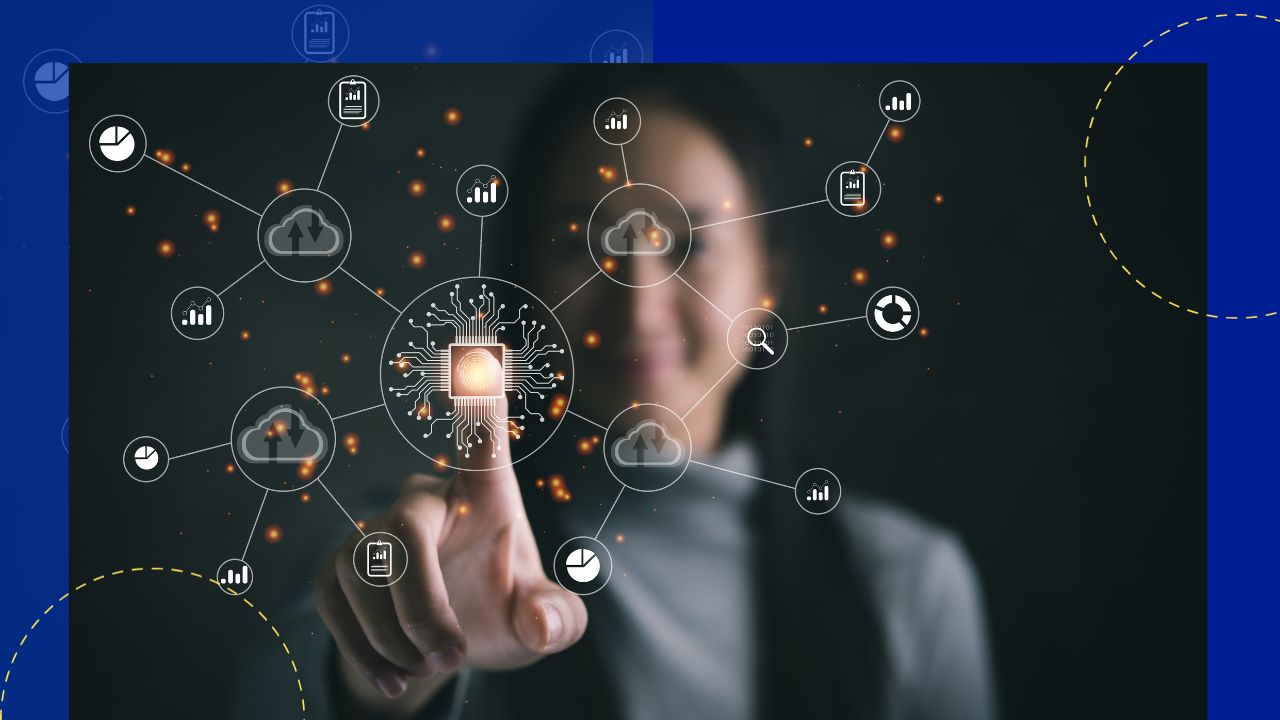 Digital experience is a seemingly new function in customer care.
The more businesses use digital presence for customer engagement, the more they should focus on improving the experience for their clients. A digital experience manager can help them achieve this.
This article will explore what a digital experience manager is and when to hire them.
What is a digital experience manager?
A digital experience manager is a professional responsible for designing, implementing, and optimizing the overall digital experience of customers across various digital touchpoints.
The role's primary focus is to ensure a seamless and engaging digital journey that aligns with the organization's objectives and meets user expectations.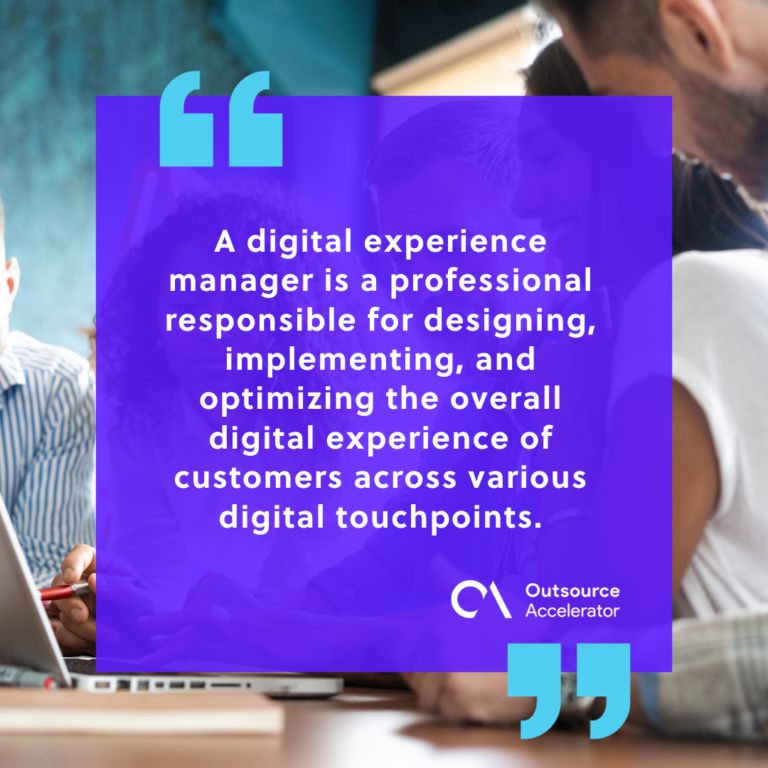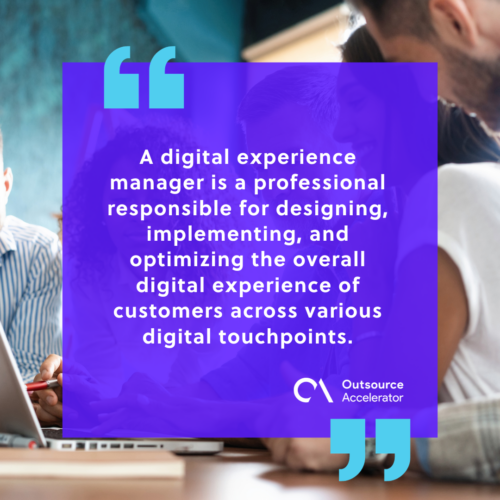 Benefits of having a digital experience manager
Having a digital experience manager can bring numerous advantages to a business. Here are some key benefits:
Enhanced user satisfaction

. Digital experience managers work towards delivering a delightful experience. They drive customer retention and loyalty by ensuring a user-friendly interface, personalized content, and effective navigation.

Increased conversion rates

. With their expertise, digital experience managers optimize the user journey to

maximize conversion rates

. They create compelling digital experiences that lead to higher conversions.

Competitive advantage

. Professionals in this role help organizations differentiate themselves by crafting unique and memorable experiences that set them apart from their competitors.

Improved brand perception

. A seamless digital experience contributes to a positive brand perception. A digital experience manager ensures brand consistency, cohesive messaging, and an intuitive digital interface, leaving a lasting impression on users.
Duties and responsibilities of a digital experience manager
The role of a digital experience manager encompasses several key responsibilities. Here are five essential duties this specialist typically performs:
User research and analysis
Firstly, managers focused on digital experience actively engage in user research to gain insights into user preferences, behavior, and pain points.
This information helps them design and improve digital experiences that resonate with the target audience.
UX/UI design
Digital experience managers collaborate with designers, developers, and other stakeholders to create visually appealing and intuitive user interfaces.
They focus on user experience (UX) and user interface (UI) design principles, ensuring a seamless and engaging digital experience.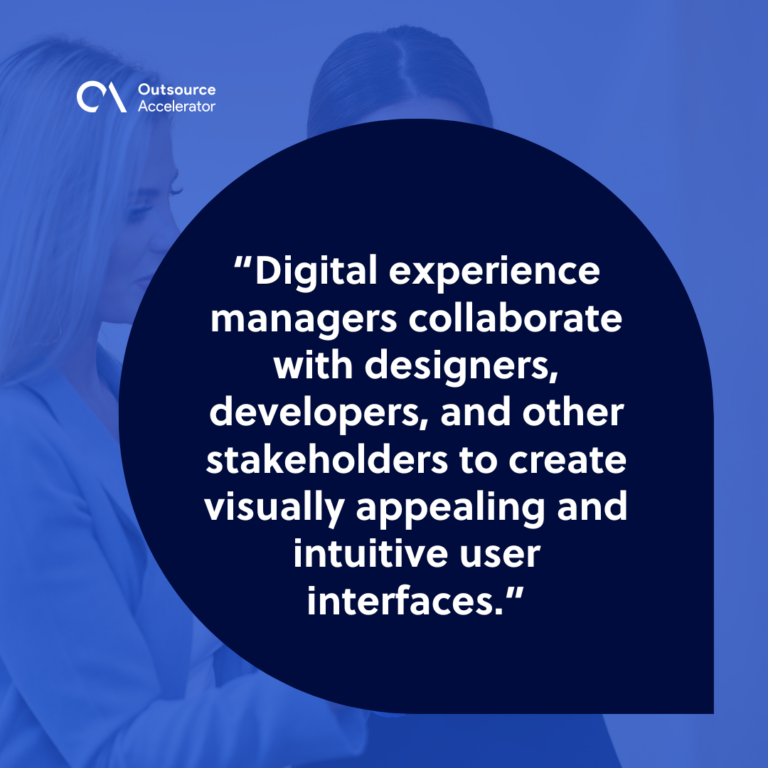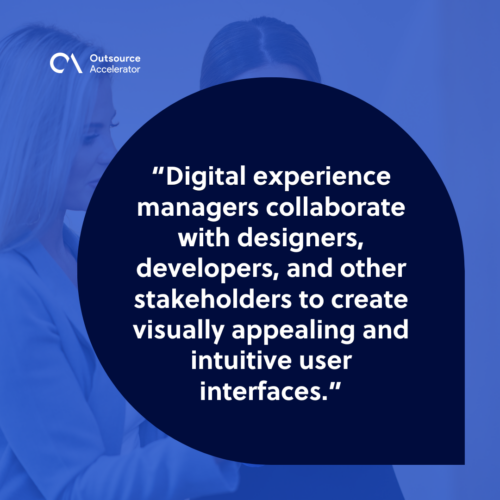 Content strategy
With the marketing team's help, they contribute to developing a content strategy that resonates with the target audience. They create and optimize content to deliver relevant and valuable information to users at various touchpoints.
Performance optimization
Continuous improvement is a core responsibility of a digital experience manager.
Digital experience managers analyze website performance. They identify bottlenecks and implement strategies to optimize page load speed, optimize mobile experiences, and improve website performance.
Collaboration and coordination
Collaboration is key to successful digital experience management.
These professionals work closely with various teams, such as marketing, development, and customer service. They ensure a consistent and seamless digital experience across all touchpoints.
Skills and qualifications to look for in a digital experience manager
Efficient digital experience managers possess certain skills and qualifications needed for their work. Here are some skills and qualifications they possess:
Technical proficiency

. A digital experience manager should have a strong web technologies and content management systems foundation. Managers know how to code and modify their work according to their systems.

UX/UI design skills

. Proficiency in

UX/UI design principles

is vital for this position. They should understand user-centered design methodologies, wireframing, and prototyping and have an eye for visual aesthetics.

Analytical mindset

. They should be comfortable with Google Analytics,

A/B testing

, and user testing, allowing them to gather insights and make data-backed decisions.

Project management

. A digital experience manager must be organized, detail-oriented, and efficient in managing resources and priorities.

Communication and collaboration

. Digital experience managers should be able to articulate their ideas, collaborate with different stakeholders, and build strong relationships across teams.
When to hire a digital experience manager
A digital experience manager is vital in designing, optimizing, and enhancing the overall digital experience of users.
By bringing this profession's expertise to the table, organizations can achieve higher user satisfaction, increased conversion rates, and better engagement through their platforms.
Firms can hire digital experience managers through direct hiring, freelancing, and delegating the function to reputable outsourcing firms like Sourcefit.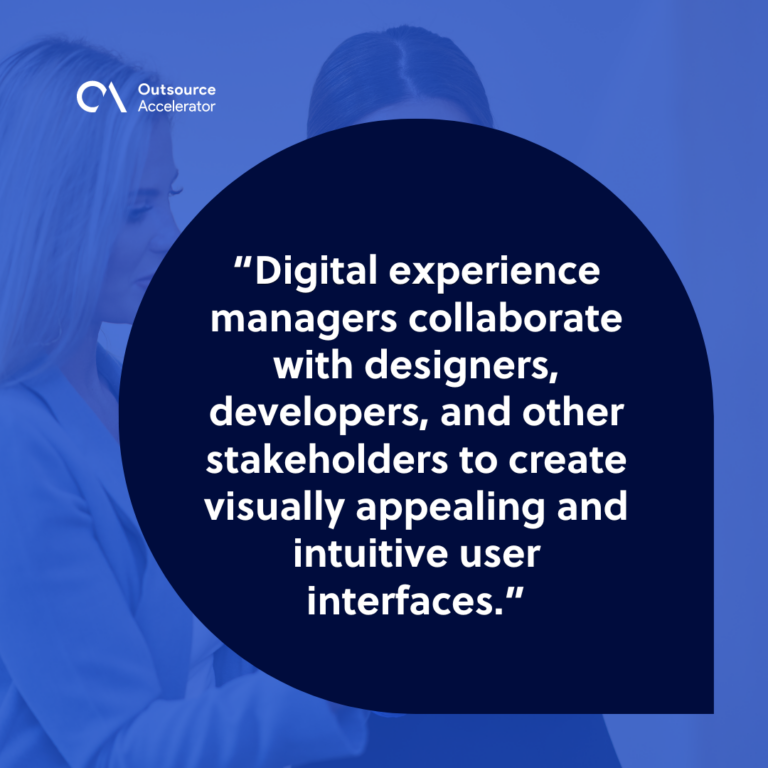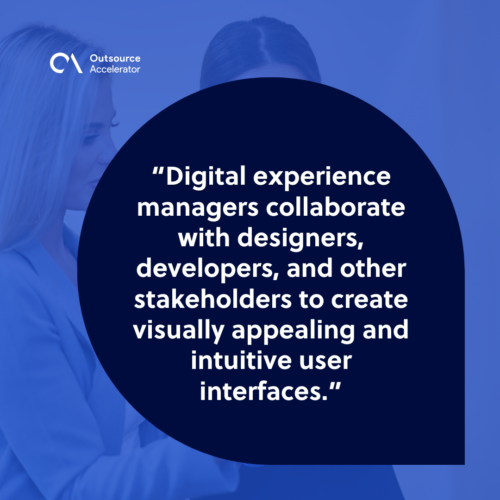 Determining when to hire this staff depends on various factors. Here are three scenarios where it may be advantageous to bring them on board:
Digital transformation

. If your organization is undergoing a

digital transformation

or planning to enhance the overall digital experience, hiring a digital experience manager can expedite the process.

Declining user engagement

. Digital experience managers can analyze the underlying issues and implement strategies to reinvigorate user interest. They can identify pain points, improve usability, and optimize experiences to drive engagement and boost user satisfaction.

Expanding digital presence.

If your business is scaling up its digital presence with new touchpoints, hiring these professionals can help ensure a consistent and cohesive user experience across these channels.
They will guide the design and implementation process, ensuring a seamless and integrated digital ecosystem.