The value of having a dedicated workspace at home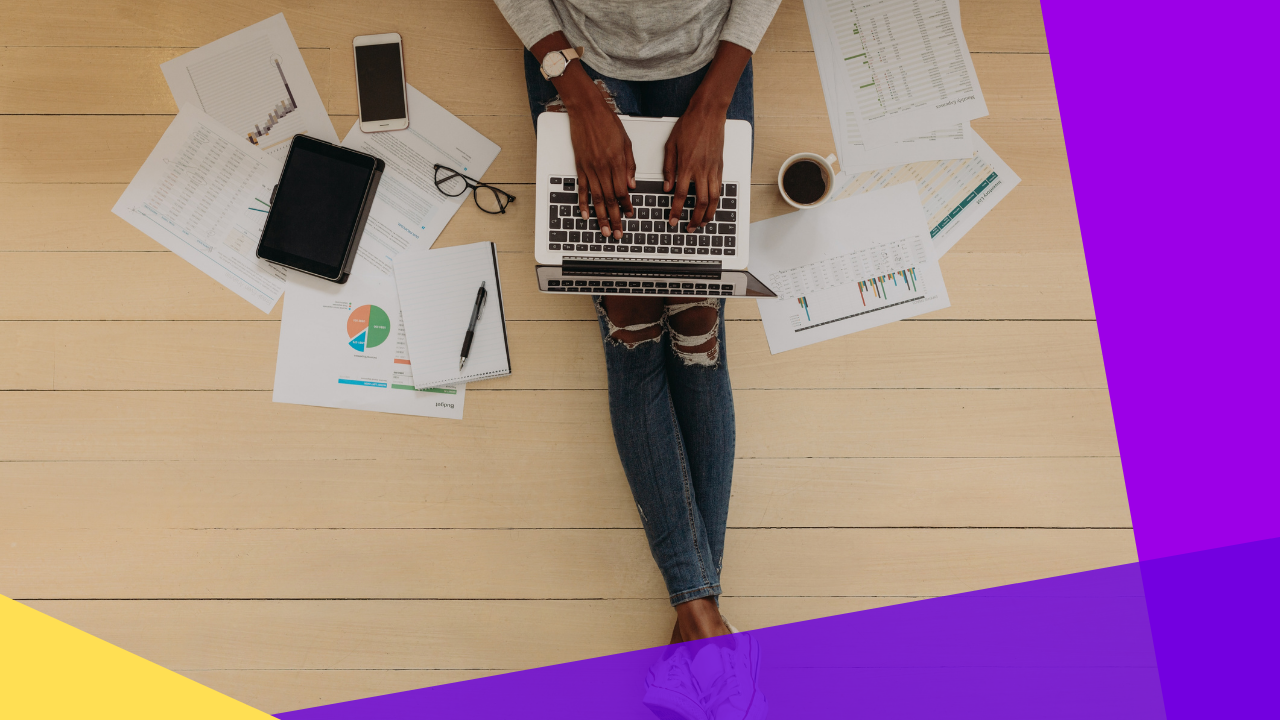 Remote work has proven to be of great value for both organizations and individual workers. Over the past two years, many organizations and employees have fully embraced working from home to perform their daily operations. 
Meanwhile, it is easy to lose track of time when you're working from home, especially when people are fully engrossed in a very important task or project. 
People who work in the comforts of their homes need their dedicated workspace. This helps remote workers to set boundaries between the personal and work aspects of their day-to-day living. 
Now that work from home has pretty much been a part of the new normal, how can having a dedicated workspace benefit the remote workers? More so, how can you build your ideal dedicated workspace? 
Read along to find out! 
Dedicated workspace: Benefits of working from home 
Although working from home has been an ongoing practice even before the pandemic, a lot of businesses were not very welcoming of the work arrangement. 
According to organizations, working from home breaks the traditional working environment. Not to mention, there were also remote work myths that many business leaders strongly believed in. 
Now here we are, two years into the global pandemic, and companies have now incorporated remote work into their business landscapes. More and more companies are now also eyeing a more flexible workforce even in the post-pandemic time. 
This change of heart comes from realizing how this type of work arrangement has been beneficial for companies and their employees. 
Advantages of working from home for employers
Here are some of the benefits that employers take full advantage of when they implement a work-from-home model:
Cost reduction
Employers can save massively on their overall costs when they've gone fully remote. Not working in a physical office lets business leaders reduce their expenses on office rental, utilities, building maintenance, equipment, office supplies, and office WiFi. 
Lower absenteeism rate 
Employees required to commute for long periods end up choosing to be absent for work when they are feeling under the weather. 
In contrast, remote employees only have to move from one area in the room to their dedicated workspace when they have to start work. They are also more likely to still go on with their daily work schedules even if they feel ill. 
Wider talent pool
With remote work, business owners can hire employees beyond their local region. It gives them access to a much larger talent pool as they are able to hire remote experts from another location or country. 
More time allotted for work
Employees working from home means they won't have to consume precious time for preparing, dressing up, and traveling for work. In turn, they are able to utilize their time more productively at home. 
More so, working from home avoids tardiness, time spent in coffee shops, and time-waster activities in the office like gossiping.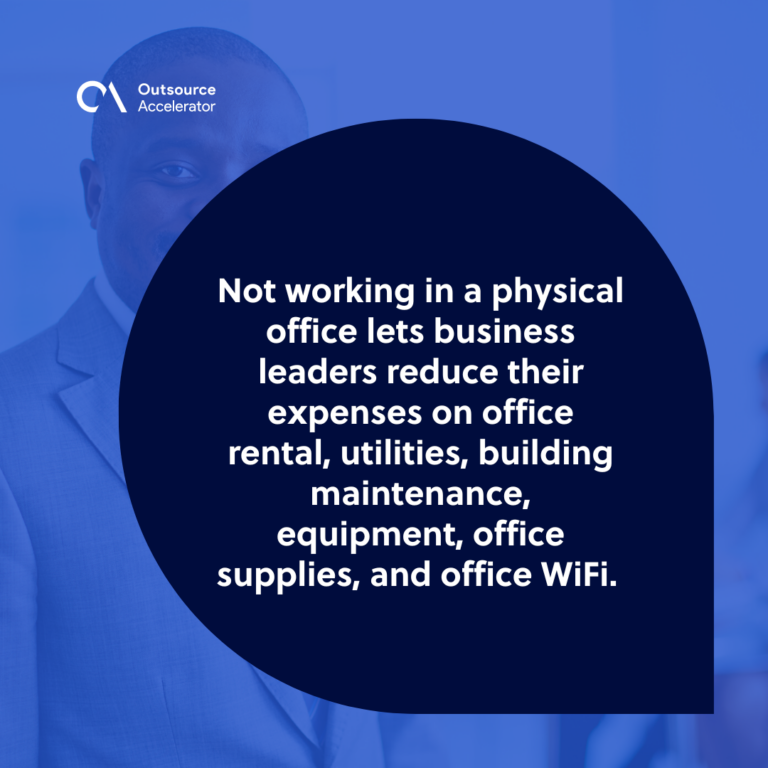 Advantages of working from home for employees
It's not only the companies that can benefit from a work-from-home policy. Employees themselves can also experience its advantages, which can also affect their morale and satisfaction.
Cost savings
Just like employers, the remote staff is also able to enjoy the cost-effectiveness of working from home. For one, they do not have to spend on their daily commute, buying work clothes, eating out during lunch break, and even coffee breaks. 
Work-life balance 
Remote employees are more in control of their personal and work life. They are also able to take quick breaks whenever they please. This helps them shun stressful incidents that may arise in the office, especially office politics. 
Peaceful and quiet working environment 
A typical office environment often includes noisy colleagues, phones ringing on different desks, and other forms of distractions. In working from home, staff can enjoy working peacefully and quietly within their own dedicated workspace. 
Flexibility and freedom
Remote workers are given enough freedom and flexibility to perform their daily tasks as long as they are responsible enough to meet their deadlines.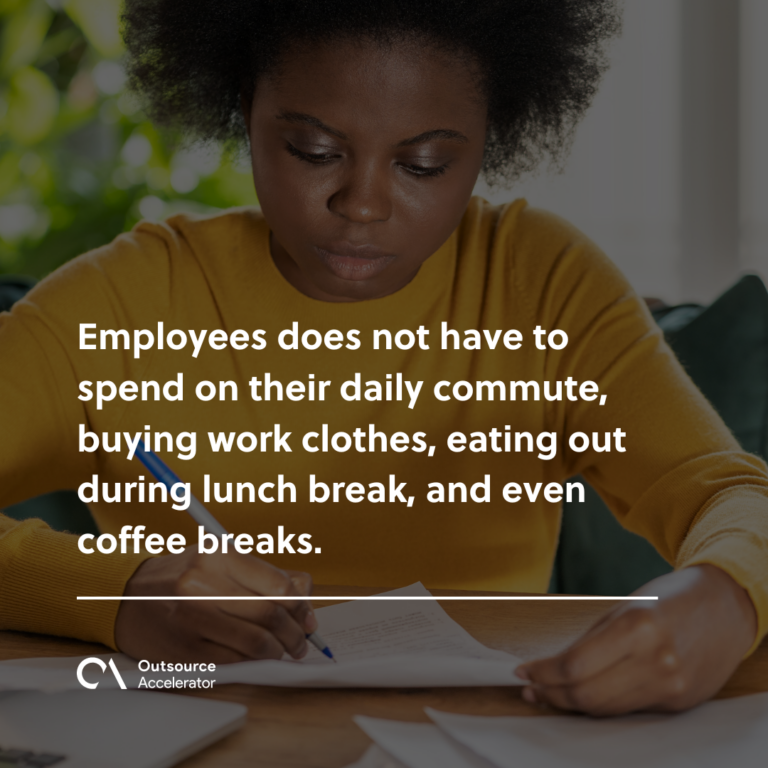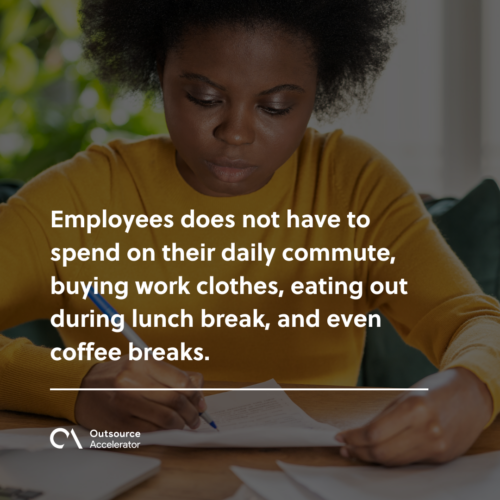 Why is a dedicated workspace a must for remote workers?
All perks we have mentioned above can be entirely achieved if employees have their dedicated workspace at home. 
Without a dedicated workspace, you may end up with a wandering mind from time to time. As a result, you may struggle with meeting deadlines.
On the contrary, a dedicated workspace at home can help you with the following:
It helps avoid distractions 
Having a dedicated workspace gives you a sense of office environment at home. This helps you avoid the temptation of doing other activities that may cause disruptions to your tasks. 
A home office lets you naturally think about your work and focus on what you have to do. This also helps you circumvent other happenings around your houses, getting lost in social media, or having to snack all the time.
A proper workspace boosts productivity
A dedicated workspace serves as an exclusive part of the house for work-related activities. It should be where you can access the kind of work resources that you need to fulfill your job. 
Having a home office setup is better than going somewhere else every day for work. It brings consistency and routine like what it's like in an office to remote employees.  
A dedicated workspace gives you a sense of discipline
A dedicated workspace will encourage you to be more disciplined since no higher-ups are present to check on you. More so, since you are also unlikely to get distracted, you will be more determined to get your work done properly. 
Physical boundaries are instinctively adapted into mental boundaries. So having a dedicated workspace will automatically set boundaries to one's daily pursuits.  
It promotes work-life balance
Working in bed or the living room can usually lead to doing more work nonstop. A dedicated workspace can help you detach from your workstation as soon as the workday is over. 
This will also help you avoid getting burnt out as you can set barriers to your work and personal life even at home. 
Working from anywhere can impact physical health
People who do their work from the couch, a bean bag, or on the bed do not usually watch their posture. A survey from Cincinnati University revealed that 75% of remote workers at home hunch over their laptops. 
The wrong posture will result in neck and back pain, headaches, and cramps. This health issue will then impact your daily work routine, causing you to lose focus on your tasks and be unproductive. 
This is why it is vital that you have a desk and a comfortable office chair in your designated workspace to help keep your grinding.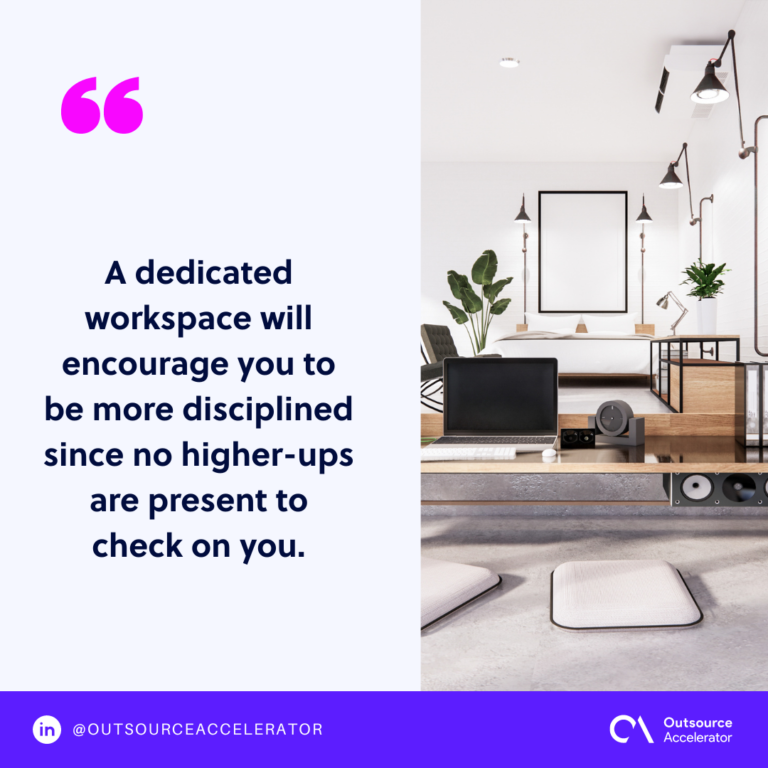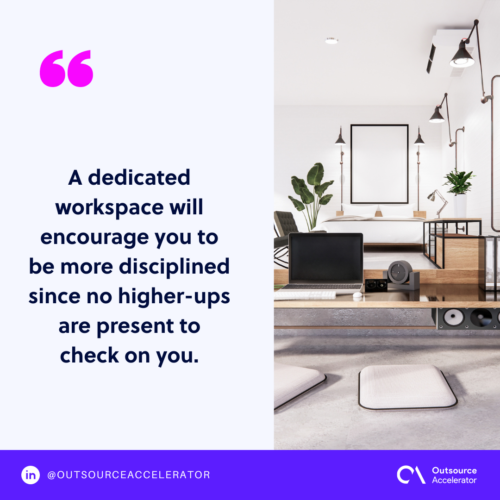 Essentials of a dedicated workspace 
Now that you have a better understanding of why you need a dedicated workspace at home, it is time to set it up! 
Here are the things you need to do in preparing your dedicated workspace: 
Keep it cozy 
Of course, you should always be comfortable in your workspace. Considering that you will be sitting for long periods, you should invest in an office chair that's not just comfortable but also ergonomic so that it can support your posture. 
A headphone with noise cancellation is also good to keep you away from outside noise, especially if you are in an important meeting. 
For added inspiration, you may also put a picture of your family, loved one, or pets beside your laptop.
Ensure proper lighting 
It is best if you have your dedicated workspace close to a window. This way, you will have natural lighting throughout the day. Natural light can help lift your mood and boost your energy to keep you going daily. 
If you are not able to position your home workspace near a window, you may opt to use a desk lamp that mimics daylight.
Separate your workspace from your living space
The area where you work should be separated from where you relax. As we have mentioned, there should be a proper boundary between your resting and working areas. 
Stock up on supplies 
Have everything you need ready within arms reach and stock up on work supplies like sticky notes, pen, paper, and snacks. This way, you will not have to search for things you need as you go on with your daily work. 
Organize your space
And of course, keep your dedicated workspace well-organized so that you know where everything is when you need it. Besides, no one wants to work at a dirty and messy desk. 
You can also set up a tiny desk organizer where you can store your essentials like pens, notes, tapes, or clips.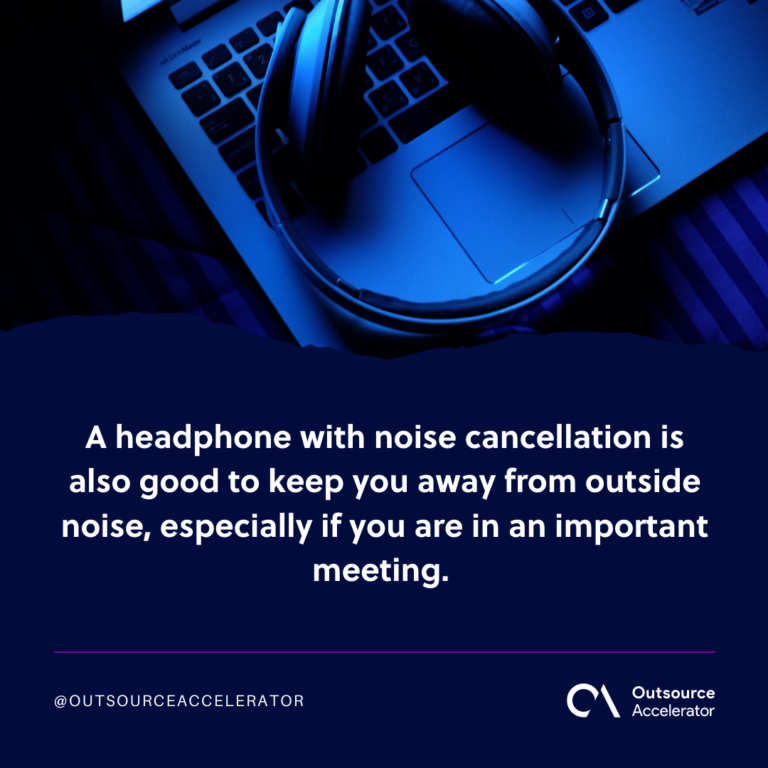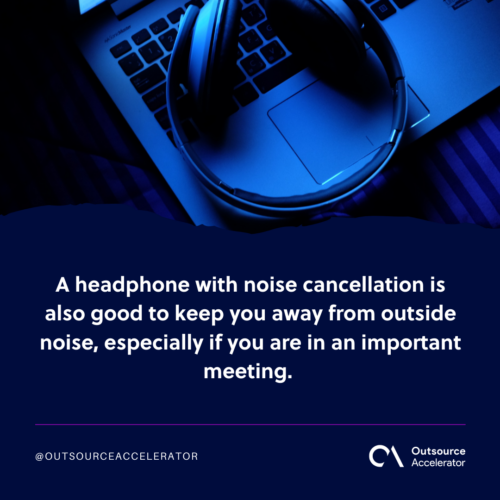 Final thoughts on creating your own dedicated workspace
Your very own dedicated workspace allows you to create your version of an environment you want to work in. A kind of working environment that is, even though not in a traditional office, will encourage you to strive more, finish your tasks, and deliver quality work.