Why businesses need a dedicated development team in 2024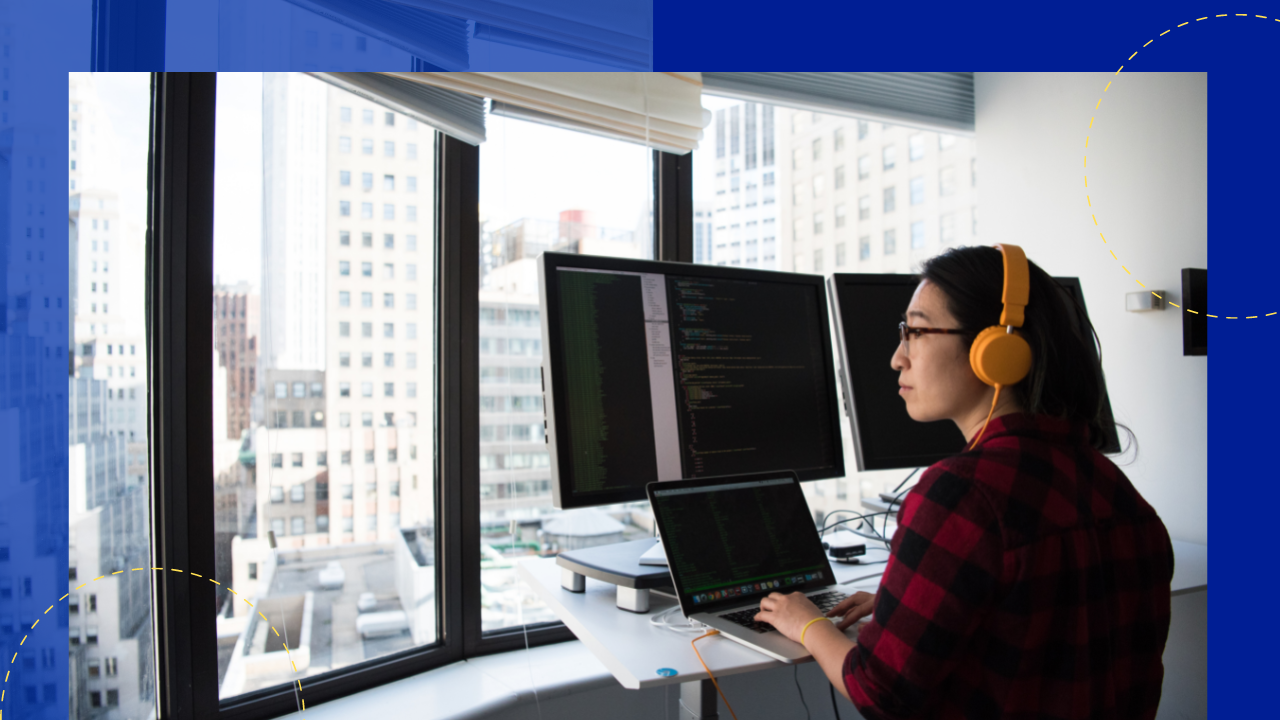 It is not a secret that technology continues to grow every year. Software development teams should constantly adapt to innovations to work with new technologies. 
However, with all the complexity of software development[1] today, business owners need dedicated teams to develop their content, software, and applications.  
That's where a dedicated development team can come in handy.
Hence, businesses need a dedicated development team of experts to undergo continuous changes and high scalability. They will look at the overall design aspects and determine how to personalize those across all pages.
This article will feature what dedicated development teams are and their key benefits for business. 
What is a dedicated development team? 
A dedicated development team is an outsourced group of software developers[2] who work together with clients to create a project until its completion. 
This has become an ideal way for companies when doing complex projects because it allows in-house staff to focus on what they do best: creating and growing their business.
A dedicated development team is usually comprised of:
UX/UI designers

DevOps engineers

Front-end developers

Back-end full-stack engineers

Mobile developers

Tech lead

Quality assurance specialists

Business analysts

Product managers

Project managers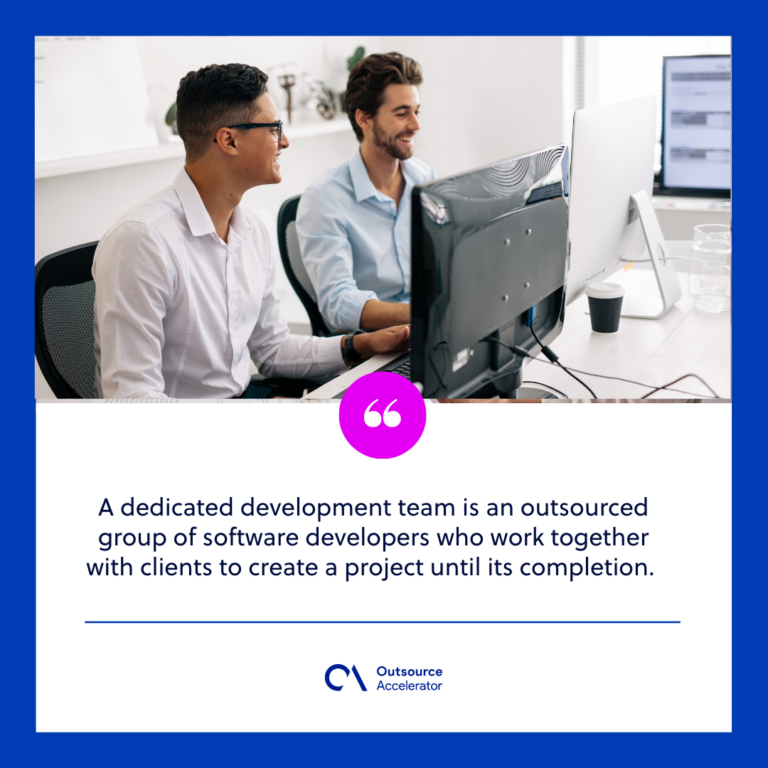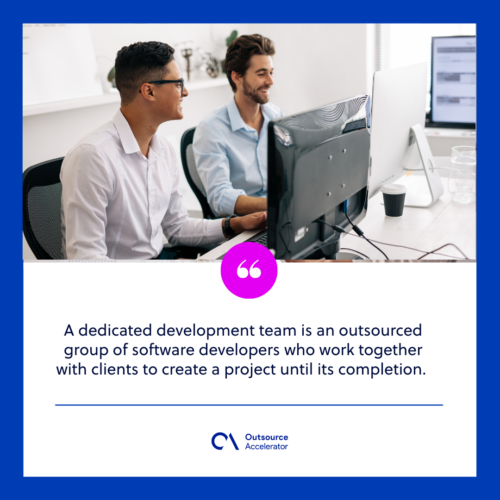 According to Grandview Research, the global demand for IT development outsourcing is projected to grow 7.7% year on year from 2021 to 2027.  Thus, the sector's revenue will be worth $937 billion in six years.
The idea behind a dedicated development team is to create a team solely focused on a product's success. 
These teams are working on projects in various fields, including IT and telecommunications, robotics, transportation, cryptocurrency, trade, banking, finance, and medicine. 
Developers can take care of the day-to-day tasks with specific software. Thus, this frees up more time for businesses to spend on other important things like SEO, design, or user experience. 
Leveraging an outsourced development team can be done by creating a team within an organization or hiring a third-party company to assist in the development process.
Businesses have always needed to have their own specific teams to succeed. A dedicated development team ensures that they are getting the best results possible regarding building their products and services. 
A dedicated development team is acquired by companies that have difficulty hiring experienced developers or don't have enough money for developers with various specializations.
When is a dedicated development team needed? 
A dedicated development team is crucial for companies that:
Are fast-growing startups 
If a startup is growing fast and doesn't have the resources to build and maintain software, then it's time for a dedicated team.
Since the market is vastly changing, businesses must stay ahead of the competition and continuously offer new features or products. 
Have no outline requirements
When a company doesn't exactly know what type of software they need, then outsourcing a dedicated development team is a great option.  
Having a dedicated development team means working with a company with experience developing software. 
This gives the team more freedom and flexibility when designing software. It can be very useful if there are no specific requirements other than the general functions and features needed in the software itself. 
Have long-term projects 
Most often, a project requires extensive research and planning when building software from scratch. This is where dedicated development comes into the picture. 
To ensure that the software developed by a dedicated team is of high quality and meets all the requirements, they perform several tests on different stages of development. 
Companies need people on board who understands all aspects of software engineering. They can guide the process from start to finish instead of just providing technical expertise as needed during different stages. 
Key benefits of hiring a dedicated development team 
Here we have the advantages of having a dedicated development team:
Cost efficiency 
When an enterprise has an in-house team, there is always a high chance that it be distracted by other tasks, which means that a specific project could take longer than expected.
This can be avoided by hiring a dedicated development team that has the skills necessary to complete projects on time and within budget.
Expertise 
A dedicated team has the necessary skills required for a project, which could significantly help avoid delays or even failure of the project altogether. 
They bring with them expertise in different areas, such as software development, coding languages, design, testing, and project management, among others. 
They know what works best for your website or software so that it can run smoothly without any glitches or bugs. 
There is no risk of incomplete or defective products being produced at any point during the process. It also saves time and money for both parties involved in making changes to websites or software. 
Flexibility and high scalability  
A dedicated team will work throughout the entire lifecycle of a project. This means from initial product development and then scaling up as the business grows. 
This level of service is impossible to achieve with just one developer or even with a group of developers working on multiple projects at once.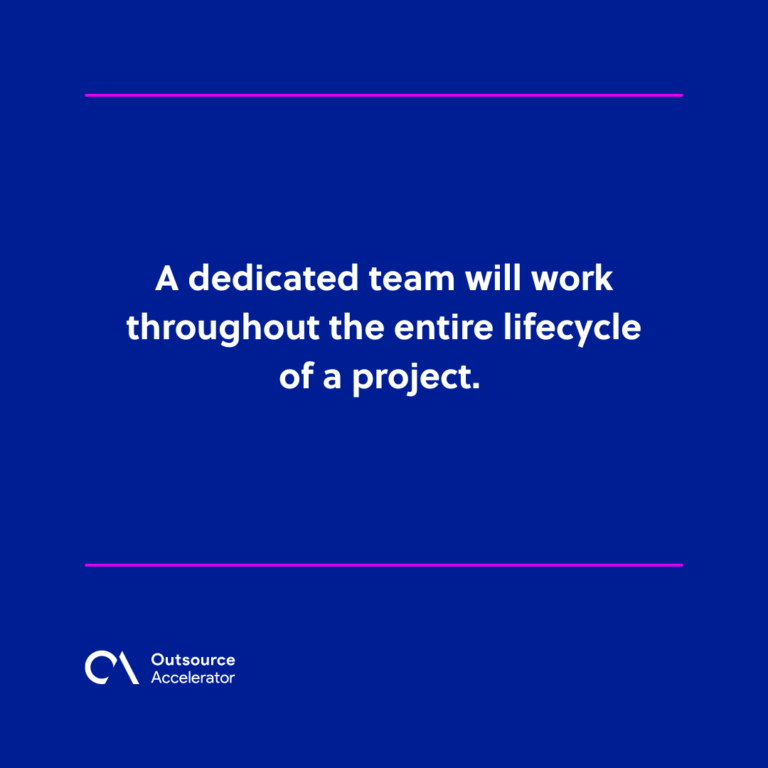 No more struggle with recruitment 
Recruiting developers is considered difficult and hassle. 
For instance, if an enterprise is looking for someone who has experience with the technology stack that can be used within the business. 
With a dedicated development team, businesses have access to an entire pool of skilled professionals who are able to take on any project at any time. 
Companies may focus on the core operations without worrying about whether or not a dedicated team is available or up to date with the latest trends in technology.
Access to global talent 
This is one of the most significant benefits of hiring a dedicated team over freelancers or agencies. It allows businesses to access talented developers who are based all over the world.
The global workforce is made up of people with diverse skill sets, knowledge, and expertise. A single company cannot afford to hire all these people as it is neither feasible nor practical. 
In order to utilize their skills and expertise, businesses need to outsource their work to third-party companies or developers.
Complete control 
Once a business outsources its project, they do not have complete control over it. Hence, there are chances that things may go wrong according to their expectation. 
However, having a dedicated development team for your project gives you complete control since all the decisions are taken by your management alone. 
The team can also fix any issue immediately without affecting the timeline or budget of a certain project.
Predictability
Businesses that outsource their software development to third-party companies are ensured that projects can be completed on time. Hiring a dedicated development team guarantees predictability and reliability when setting deadlines. 
Developers know exactly what the budget is and how long it will take to complete certain projects. This makes it easier to make strategic decisions about where to invest money, time, and resources.
Transparent communication 
It is important for them to communicate clearly and openly with everyone involved in the project. 
They are trained in technology and collaboration since sometimes, clients make sure that everything is done as it should be.
The development team hired for a project works closely with an in-house team that might have different levels of knowledge about programming languages or other technical matters. 
This ensures that everyone understands what is happening at all times and no one gets confused about their role in the process.
With a dedicated development team, there's no guesswork about how projects will be managed or what kind of effort each task is likely to require.
Moreover, it also means that businesses and developers can have more open conversations about what they're doing and why it's important.
Streamline business processes with a dedicated development team 
The role of technology in business has grown significantly over the years, and it shows no signs of slowing down. 
With the rise of mobile devices and cloud-based services, businesses must adapt quickly to meet customer demands.
Businesses need to have a dedicated development team to survive and thrive in the future.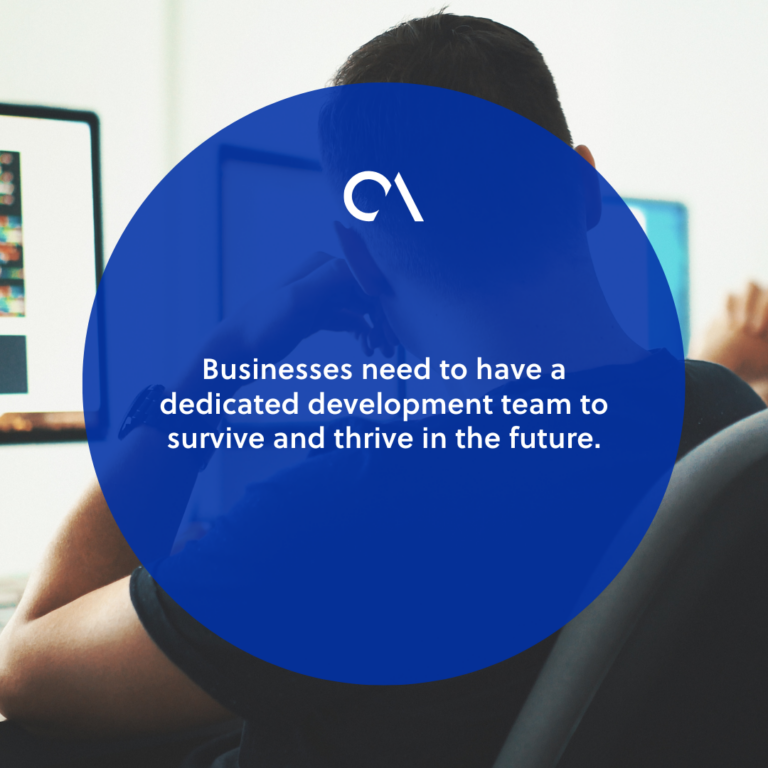 Businesses that leverage a dedicated development team have a chance to reach out to their customers through digital media. This means that if they are not online, they may lose out on valuable customers and revenue.
A dedicated development team can help businesses achieve success by streamlining business processes, improving efficiency, reducing costs, and overall business growth. 
Article References:
[1] Software development. Wallin, C., Ekdahl, F. and Larsson, S. (2002). Integrating business and software development models. IEEE Software, 19(6), pp.28–33. ‌
[2] Software developers. Illahi, I., Liu, H., Umer, Q. and Zaidi, S.A.H. (2019). An Empirical Study on Competitive Crowdsource Software Development: Motivating and Inhibiting Factors. IEEE Access, 7, pp.62042–62057.