Data processing stages: How data is put to use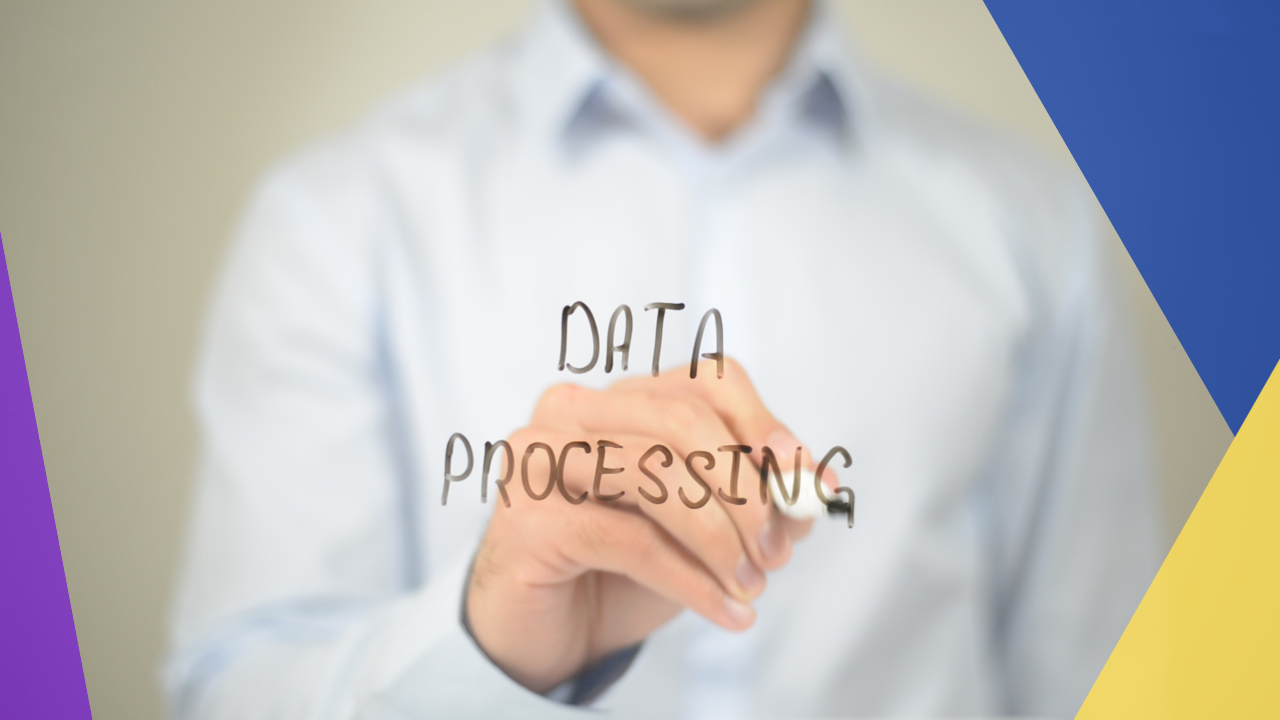 Data processing stages How data is put to use
Data is the currency of the current global economy. From basic personal information to the usual search and spending pattern, all of these are tracked, stored, and analyzed through a series of algorithms by data mining companies. 
Data processing stages' salience is banked on the actionable insights it provides to businesses. These insights enable enterprises to come up with a diverse set of strategies to launch new campaigns or projects. 
For users, data is used in various ways. The recommendations provided by algorithms are helpful in arriving at informed decisions for their purchase decisions. 
Indeed data has different uses for various segments of society. However, due to its ubiquity, it is taken for granted. Many are oblivious to the fact that data undergoes a rigorous process of refining before it becomes useful information to everyone.
This article tackles the various data processing stages in detail.
What is data processing? 
Data processing is a series of operations usually performed through a computer that aims to collect, convert, and classify data to make them into useful information. 
The process of converting data into information is conducted by data scientists to make sense of the various trends in the pile of data. Its end products are graphs, tables, and charts that provide the trend and glaring movements observed on the ground.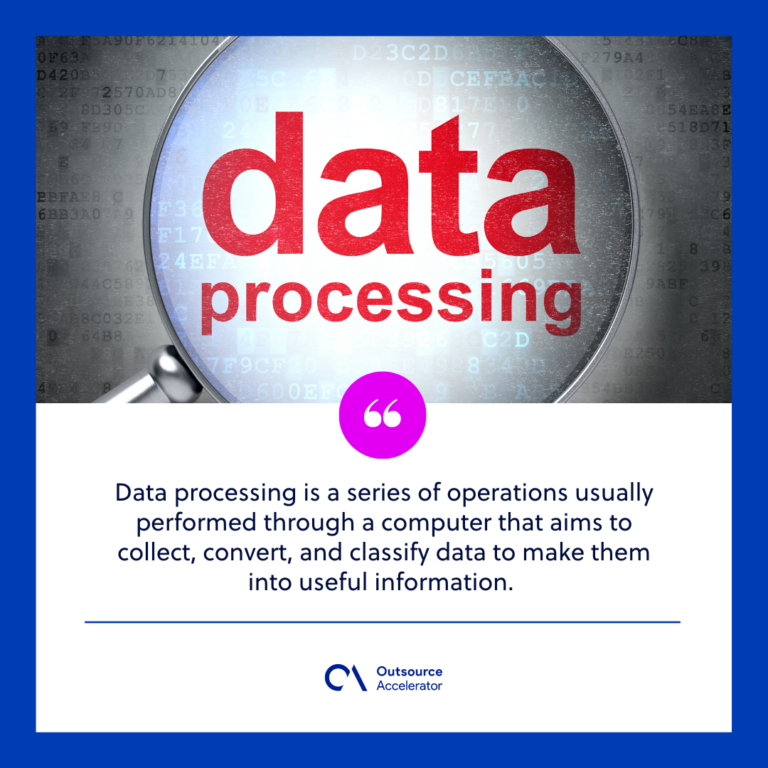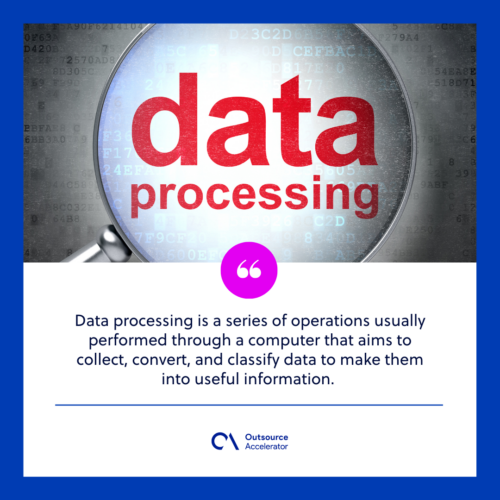 Reasons to have proper data processing stages. 
Data processing stages are an expensive and time-consuming endeavor. It requires a team of experts to process the data and discuss the observed patterns. 
With the various technicalities of the process, it is not for everyone. There are a lot of formulas involved, analysis of trends, and, most importantly, comparative analysis required to make sense of the data. 
Below are three key reasons why proper data processing is essential for businesses:  
Reason #1 Better decision-making
Data in its raw form does not provide any actionable insights for enterprises to adapt. Even with observed trends, if not backed with concrete data, it will be difficult to ascertain if the decision to be undertaken is worthwhile or not. 
Polished data can provide concrete evidence for business leaders to back up their important management decisions. It roots out all the possibilities and points out the best possible route that will bear results. 
Reason #2 Keeping in trends
Data is always present. With everyone hardwired to the internet and their smartphones, enterprises have access to this surge of data and information. However, without prompt processing of these, businesses will not be able to harness this advantage. 
Data processing stages ensure that companies are kept in the loop of the changing market preference. Allowing them to update their business strategies and launch interactive and alluring campaigns.  
Reason #3 Cost and process efficiency
In-house data processing is inefficient and impractical when you have tons of data to be processed. It cannot be performed by one or two teams. It will require groups of data entry experts and software that will do all the time-consuming tasks. 
It is advisable to outsource this to allow the company to focus on its core competencies and just make use of the data and information provided.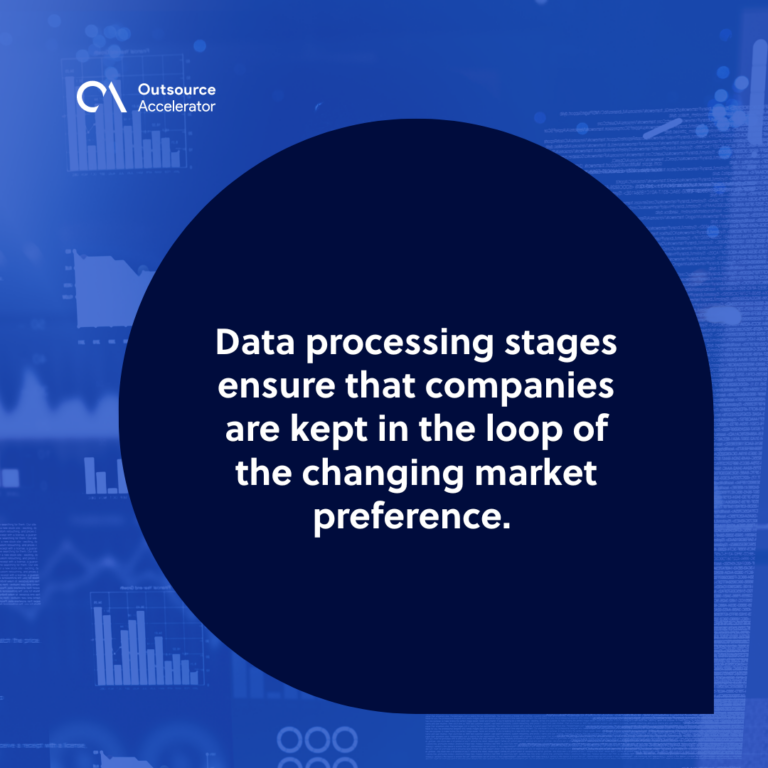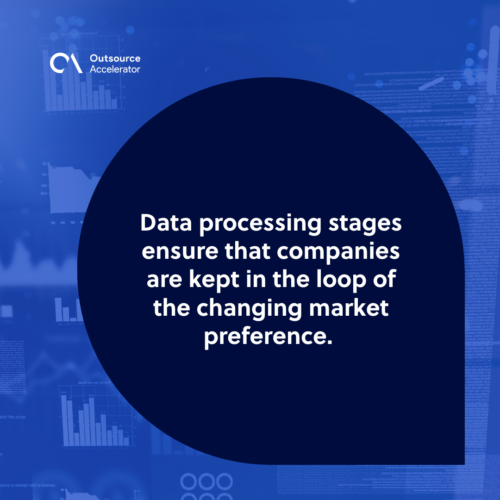 What are the different stages of data processing?
Generally, there are six data processing stages which are: data collection, data preparation, data input, data processing, data interpretation, and data storage. 
Data collection
This is the first data processing stage. Data is extracted from all available sources, such as data warehouses or data lakes. It is crucial that data is collected from veritable sources. Data extracted from random sources will make the veracity of the findings questionable. 
Data preparation
This is one of the grueling phases of the data processing stages. It requires a huge deal of physical effort and mental patience to sort and prepare the data. 
Known as pre-processing, this stage requires the diligent counter-checking of all documents. From sorting through the pool of data, organizing them to categories and looking for redundant information, this phase takes a huge amount of time. 
The main purpose of this data processing stage is to prune the undesirable data early on to ensure that the findings are reliable and business intelligent. 
Data input
This process of the data processing stages is referred to as data entry. The cleaned data will be fed into the software, usually Salesforce or any data warehouse. These data are turned into an understandable language, which is considered to be the first step to turning it into a useful insight.  
Data processing
This phase is where the raw insights created in the early phase are made sense by machine learning algorithms. The generated report is designed based on the actual purpose of the information needed. 
Data interpretation
This data processing stage is where the data is made intelligible for non-data scientists to understand and interpret the data. More often this comes in the form of graphs, tables, videos, or images. With this, the company can use if to launch campaigns or make a go signal to engage in an activity. 
Data storage
This is the final and most important data processing stage. Actionable data are stored in cloud systems which can be pulled out and used by companies or individuals. 
Storage is essential as there are a lot of data protection laws that require the proper storage or disposal of data and information. Additionally, since most of these interpreted data possess confidential information, it needs to be secured properly. 
From data to insights
The current business landscape requires companies to be more proactive, aggressive and responsive to market needs. With the rapid developments in technology, it will be difficult for traditional business models to compete. 
Business leaders need to adapt and make use of the available trend-setting business approaches which can only be pinpointed through data processing. The information elicited from this will be invaluable as companies can scale better and wiser through concrete information.