Utilizing a CX platform to improve your customer experience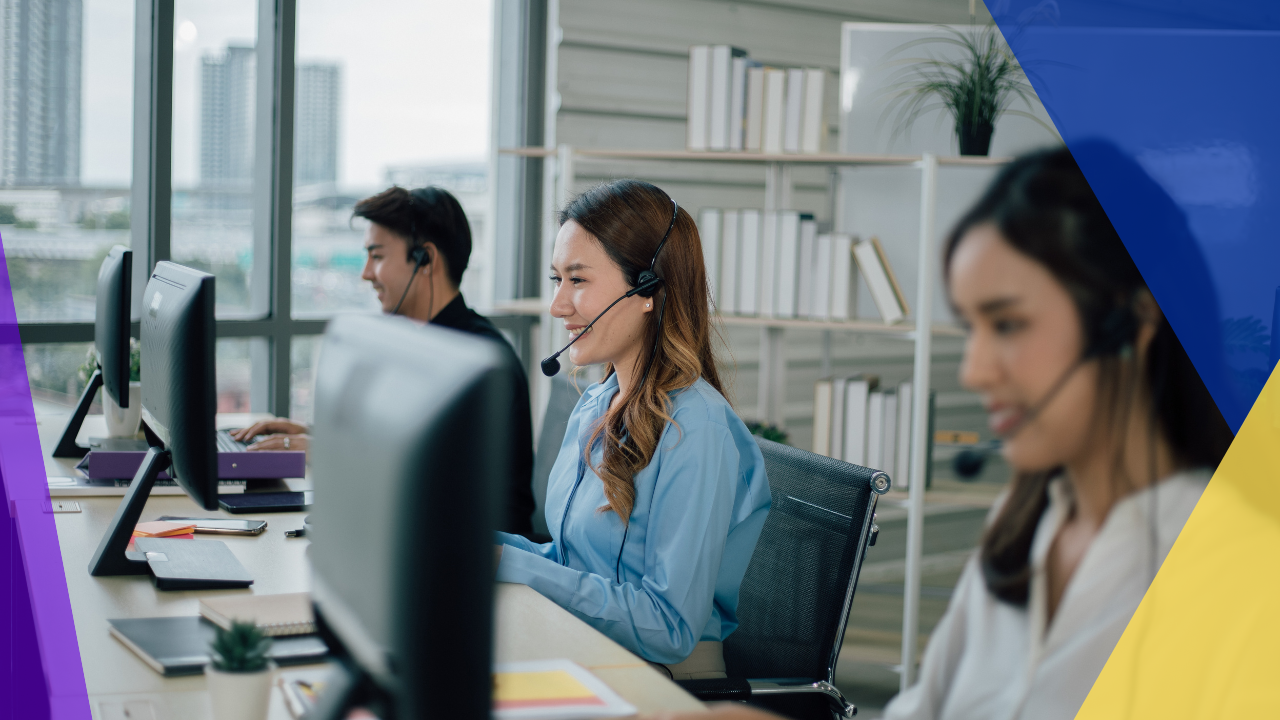 The most valuable asset in a business is not just the products but also the customer experiences it creates. As customer expectations increased dramatically, customer experience (CX)[1] became imperative for organizations that want to grow and innovate faster. 
Businesses are now moving towards digital transformation[2], and CX platforms are becoming increasingly important. It allows them to build a customer-centric business model that delivers personalized experiences across multiple channels. 
With a CX platform, firms can have an insight into what customers want and how they interact with the organization, which helps improve their services. 
This article will feature the fundamentals of a CX platform and a list of the best CX platforms for 2023. 
What is a CX platform?
A customer experience (CX) platform is a new breed of technology. It helps organizations improve their customer experiences with automated, real-time data collection, analysis, and insights.
CX platform is a valuable asset for businesses because of the actionable information on customer sentiment, needs, and behaviors it provides. These sets of data hold the key to better customer service as they can be used to improve the overall experience for the entire customer base.
Businesses can leverage a CX platform to cultivate and double up their customer base. Grand View Research's latest report revealed that the global customer experience management market was valued at USD 10.65 billion. Further, it is projected to grow at a CAGR of 15.4% from 2023 to 2030.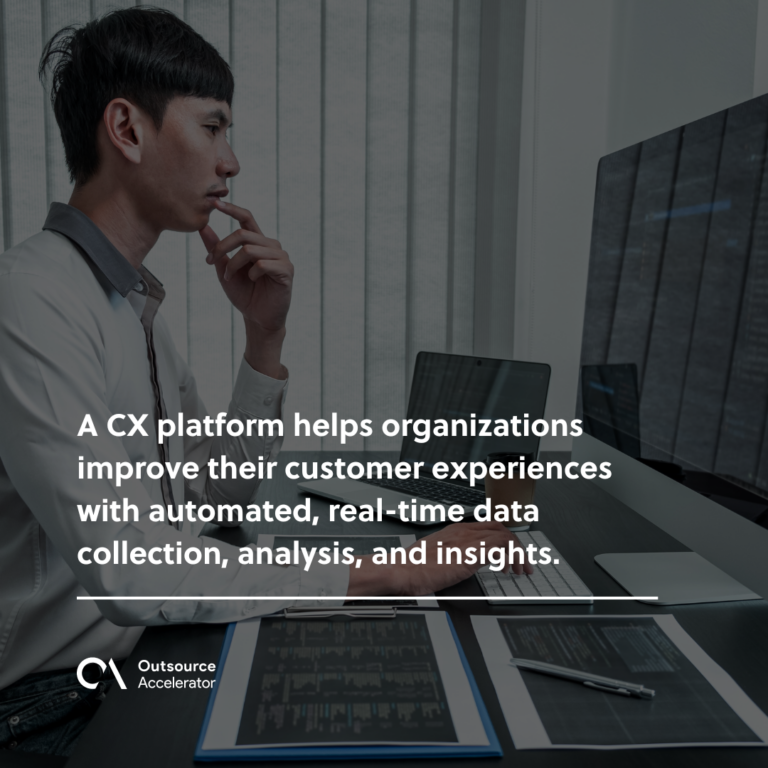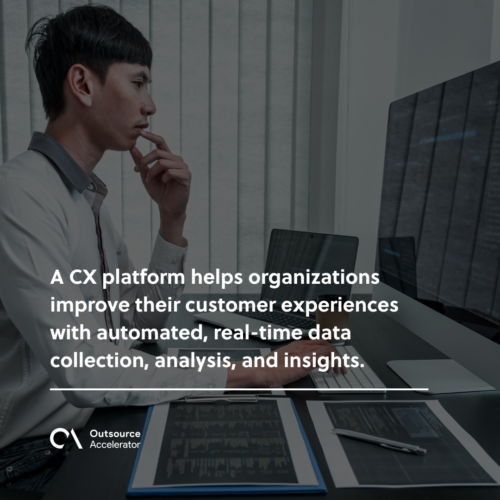 Why is a CX platform critical for your business?
Every great business has is an excellent customer experience. A company's ability to deliver consistent, personalized experiences across channels is critical to its success. 
But creating and managing those experiences can be complex and expensive and might lead to revenue loss. In fact, Emplifi's report found that 86% of customers will leave the brand after two poor experiences. 
With a CX platform, businesses can manage these interactions by bringing together all of their customer touchpoints into one unified tool. The core of a CX platform is its CRM, but it goes beyond just having data in one place. 
A good CX platform includes all the tools needed to understand, track and improve customer experience. Utilizing a top-of-the-line CX platform results in improved customer experiences across multiple channels, customer satisfaction, and revenue for the business.
Key features of a CX platform
Overall, CX platforms are designed to help companies manage consumer interactions. Some of the key features of these platforms include:
Analytics and reporting
In today's competitive market, tracking customer service metrics is one of the essential practices for improving customer experience.  
A good CX platform has robust analytics capabilities that can tell what's happening on the website, mobile app, and call center. It should also provide actionable insights into where problems lie to address them quickly. 
For instance, if customers are having trouble completing transactions online during peak hours, whether it's due to site traffic or performance issues with the servers.
This data can be used to identify opportunities for improvement, as well as measure progress against goals.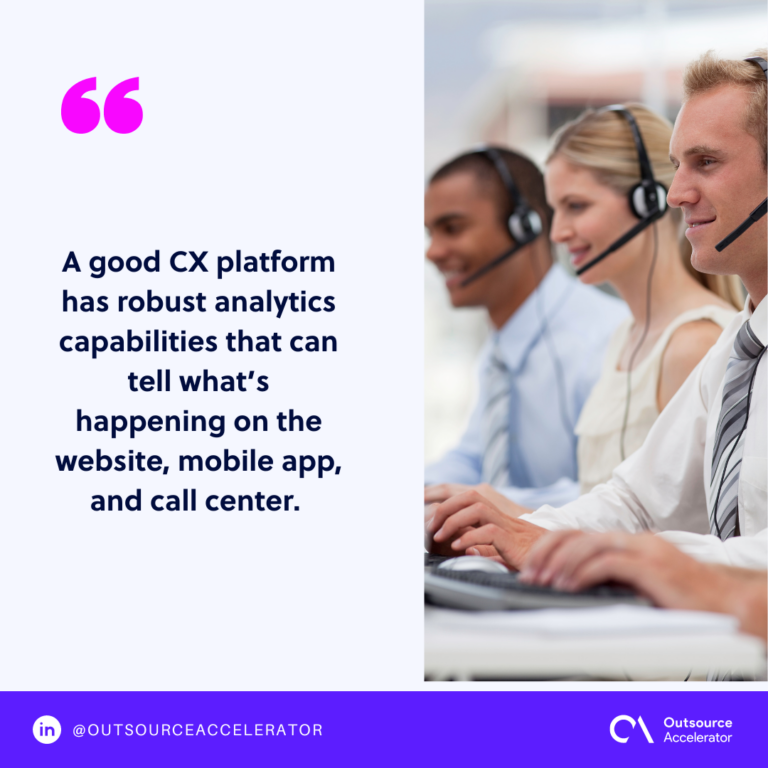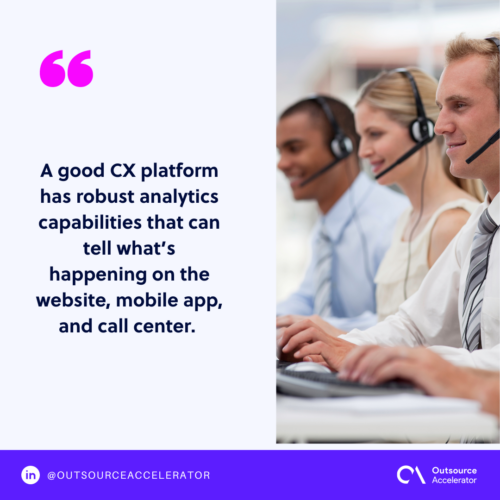 Collaboration tools
One of the most important features of any CX platform is the ability to facilitate collaboration. This involves working together on projects, sharing knowledge, and communicating with the customer between members of an organization. 
Whether working in a large enterprise or small business, employees must be able to collaborate seamlessly, regardless of their location. 
A CX platform has tools, such as video conferencing, document sharing, and whiteboards, that allow employees to work on projects and share ideas. The goal of this is to help teams collaborate efficiently so they can provide excellent customer experiences. 
Feedback collection and curation
We all know that feedback promotes growth and offers opportunities for a business. With the CX platform in place, businesses can organize feedback into categories. 
The CX platform collects feedback from consumers in multiple ways, including surveys, social media listening, and chatbots. The platform then analyzes the data to identify trends and patterns, which can be used to drive future product development and marketing efforts.
Ticketing software
The ticketing system is also one of the core functionality of a CX platform. This is what allows users to create, track, and manage their customer issues and requests. 
This feature is easy to use, and employees don't have to spend too much time learning it. A ticketing software is intuitive, users can easily find what they need without having to dig through multiple layers of menus or drop-downs.
In addition, it can integrate with many different business applications, including CRMs, Helpdesk systems, Work Management systems, and more.
Omnichannel 
Omnichannel is not just about using multiple channels but also about creating an integrated experience. PWC's report found that the businesses investing in the omnichannel experience have jumped from 20% to 80%. 
Companies can achieve this through a CX platform. It enables them to deliver consistent, seamless, and personalized customer experiences across all channels.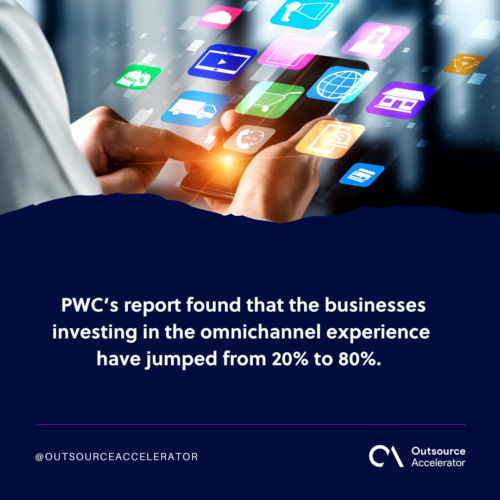 Best CX platforms for 2023
There are many tools designed to help companies manage customer experience. Selecting the right one will depend on a business's needs and goals. 
Here are some of the best CX platforms for 2023:
Zendesk 
Zendesk is considered a leading cloud-based customer service platform that offers firms all the tools they need to provide top-level support. 
The company comes with an open API and provides clients with free training materials to help them get started with the platform. 
This CX platform's unique key features are: 
Tracking and measurement 

Customizable ticket routing, tagging, and categorization 

Native integrations and API

Native automation

Integrated customer view

Knowledge base 
When it comes to their plans, Zendesk also offers an enterprise-level plan for larger companies that need more advanced features. 
HubSpot
HubSpot is one of the most popular SaaS software for B2B marketers, with more than 61% of its revenue coming from consumers from the enterprise market. 
HubSpot's CX software enables marketers to create personalized customer interaction based on their past behavior. Its key features include:
HubSpot CRM 

Simple ticket automation

Shared inbox

Knowledge base functionality

Conversation routing

Team email
Since its founding in 2006, HubSpot has become a leading marketing platform offering a wide range of solutions. It helps customers better connect with their customers and grow their businesses.
Adobe Experience Manager 
Adobe Experience Manager (AEM) is an end-to-end customer experience management system that helps businesses create, deliver and optimize digital experiences across all channels. 
AEM allows marketers to easily manage content in one place and streamline their workflow from ideation to deployment. The software includes several capabilities that enable marketers to create responsive web experiences that are optimized for mobile devices and tablets.
AEM offers the following features:
Personalization

Automated tools

Analytics

Automated experience management

Smart tools
ClickTale 
Another popular CX platform is ClickTale. It is a platform that provides real-time insights into customer experience, allowing marketers to quickly identify improvements in their user experience. 
Just like the two mentioned above CX platforms, ClickTale also has key features, such as; 
API

Customer segmentation

Multi-channel data collection

Text analysis

Sentiment analysis

Predictive analytics

Reporting/analytics

Dashboard

Survey/poll management
These enable them to optimize their marketing campaigns and measure the impact of changes they make. ClickTale also allows creating an A/B test with two different versions of the website or app to see which version performs better with customers.
Tealeaf by Acoustic (formerly IMB Tealeaf)
Tealeaf is the industry standard in CX management. It's a CX platform that helps collect, analyze, and act on data from every customer interaction.
It also lets firms personalize content for each individual visitor by using data from third-party sources like Adobe Analytics or Google Analytics to build dynamic campaigns based on customer behavior.
With this platform, businesses can implement:
Unique replayability for diagnosing disruptive touchpoints 

Advanced filtering

Conduct analysis based on a page-by-page recording of the actual customer experience with customized metric capabilities
Through its AI-powered insights engine, marketers can surface personalized content, including recommendations and promotions. 
These insights can be used to drive e-commerce sales by optimizing search engine rankings (SERPs), product pages, and recommendations. In addition, IBM Tealeaf also offers a free trial period for businesses to test it out before committing.
Optimize your customer service with the best CX platform
Customer experience is your brand's tone, personality, and attitude toward customers. It's also how well you deliver on your promises and how consistently you delight them.
With so much at stake, you need to ensure that your business is equipped with the right tools to deliver an exceptional customer experience.
Thus, investing in a good CX platform for your business is worth considering. With a great CX platform, you can gain valuable insights about your customers, create a more personalized experience, and improve your bottom line. 
Article References: 
[1] Customer experience. Behera, R.K., Bala, P.K., Rana, N.P. and Kizgin, H. (2022). A Techno-Business Platform to Improve Customer Experience Following the Brand Crisis Recovery: A B2B Perspective. Information Systems Frontiers. [online]
[2] Digital transformation. Negricea, C.I. and Purcarea, I.M. (2017). Digital Marketers at the Intersection of Digital Transformation with CX. Holistic Marketing Management Journal, [online] 7(4), pp.20–26. [online]
‌