Why customer support outsourcing is beneficial for your business
While startup businesses often take care of their customer support needs in-house, turning to external companies for help becomes necessary if and when these startups want to scale.
These external companies provide startups with the human and material resources they need for scaling their customer support functions.
Customer support outsourcing has been a common practice in the past years, especially for companies looking to expand their operations and keep up with the increasing number of clients.
Along with other business process outsourcing practices, customer support outsourcing has been lucrative for the outsourcers, the outsourcing companies, and the agents they employ.
Read on below to learn more about customer support outsourcing and the advantages your business can gain from it.
Customer support outsourcing definition
Customer support outsourcing is the process of delegating a company's customer support functions to another third-party company.
These outsourcing companies can be onshore, nearshore, or offshore companies. However, offshore outsourcing is the most commonly practiced.
With offshore customer support outsourcing, the outsourced staff is usually from developing countries, such as India or the Philippines, where the cost of living is lower than the outsourcer's country.
Once commonly used only as a tactical business strategy, customer support outsourcing – and the entire BPO industry – has become a go-to for companies seeking cost-effective scaling solutions.
Customer support outsourcing isn't just limited to businesses selling consumer products or services; companies in industries ranging from healthcare, insurance, and telecommunication to legal firms also utilize this practice.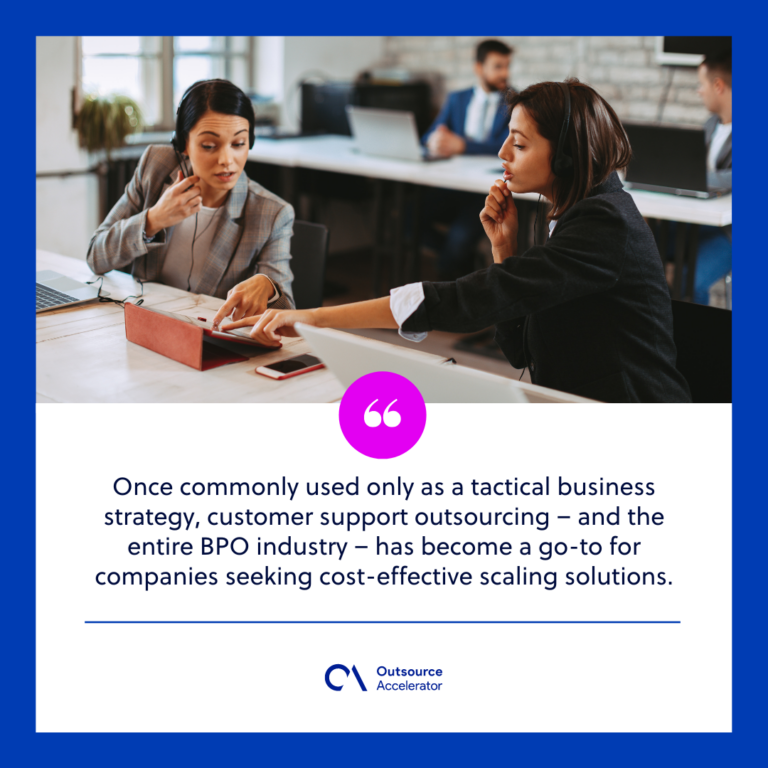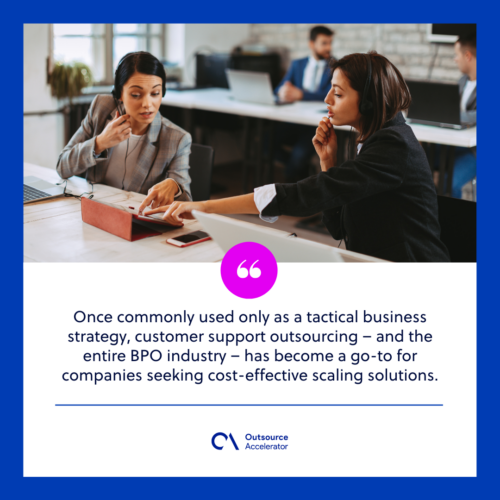 Customer support outsourcing services
By itself, customer support is a broad term that encompasses the various services offered by agents to provide support to customers and the different channels used to provide said support.
These roles include inbound and outbound services, help desks, technical support, and virtual receptionists.
Agents provide these customer support services through different channels, such as live chat support, email support, live phone support, and social media support.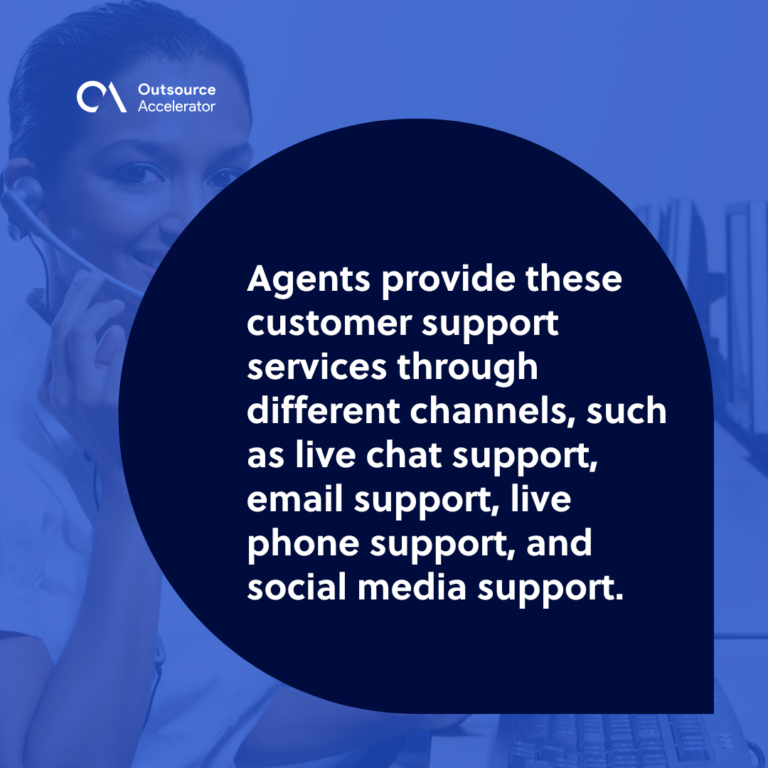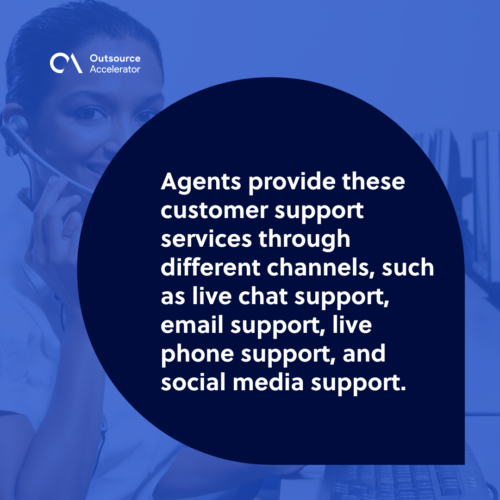 Each service and the channels used for them are briefly described below.
Inbound and outbound services
Inbound services include handling customer queries, complaints, and feedback.
On the other hand, outbound services include reaching out to customers to remind them of due dates, missed payments or appointments, or conducting satisfaction surveys.
Help desks
Help desks are a more specialized form of inbound service. This service caters to customers who contact the company due to product or service issues.
Help desk services assist clients in resolving problems and provide a different level of service than standard inbound services.
Technical support
Like help desks, technical support is a specialized inbound service. However, it focuses on assisting customers with issues related to software, hardware, or websites.
These issues may include problems logging into accounts, proper software installation and configuration, server problems, and proper device usage.
Live chat support
Live chat support, or simply chat support, is one of the most common and preferred customer support channels.
Typically, clients initiate live chat support by clicking on designated buttons or typing their concerns in chat windows on a company's website.
Though some businesses use chatbots for automated and 24/7 customer support availability, the human aspect is still indispensable in providing this type of customer support.
Email support
Email support works similarly to live chat support, with the exchange platform being the difference.
While email support usually has a longer turnaround time than live chat support, it's a more convenient channel for more extended exchanges. It also allows the sending and receiving of photos, audio files, etc., which live chat support channels don't support.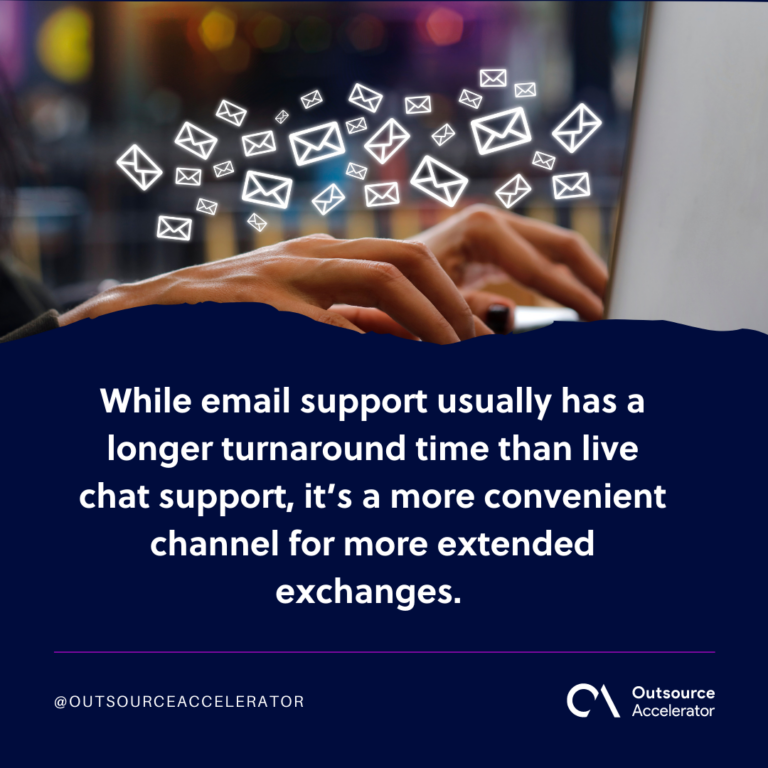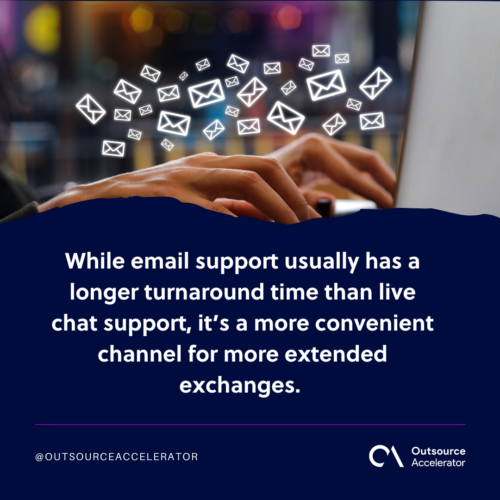 Live phone support
Live phone support is a powerful channel for customer support as it allows more direct communication between the customer and the agent.
A company's voice support team handles calls from customers reaching out to resolve product or service issues.
Although both phone and chat support are provided in real time, phone support offers a more direct connection. It also allows for more in-depth conversation, especially when dealing with complex issues.
Social media support
The prevalence of social media networks necessitated the creation of social media support channels.
With social media support, customers can air their concerns with a company or its products and services without leaving the social media platform they're currently using.
It also allows companies to address customer concerns posted on social media directly.
Benefits of customer support outsourcing
As mentioned earlier, customer support outsourcing provides companies with numerous short and long-term advantages.
Cost reduction
Because most outsourcing companies operate in developing countries with a much lower cost of living than in developed countries, outsourcers can save as much as 70% on salary costs for their employees.
Moreover, since outsourcing companies have their own human resources department, outsourcers are spared the additional expenses incurred by recruiting, hiring, and training customer support staff.
Customer support outsourcing also eliminates the need for outsourcers to rent additional facilities and purchase needed equipment, as the outsourcing companies also cover these.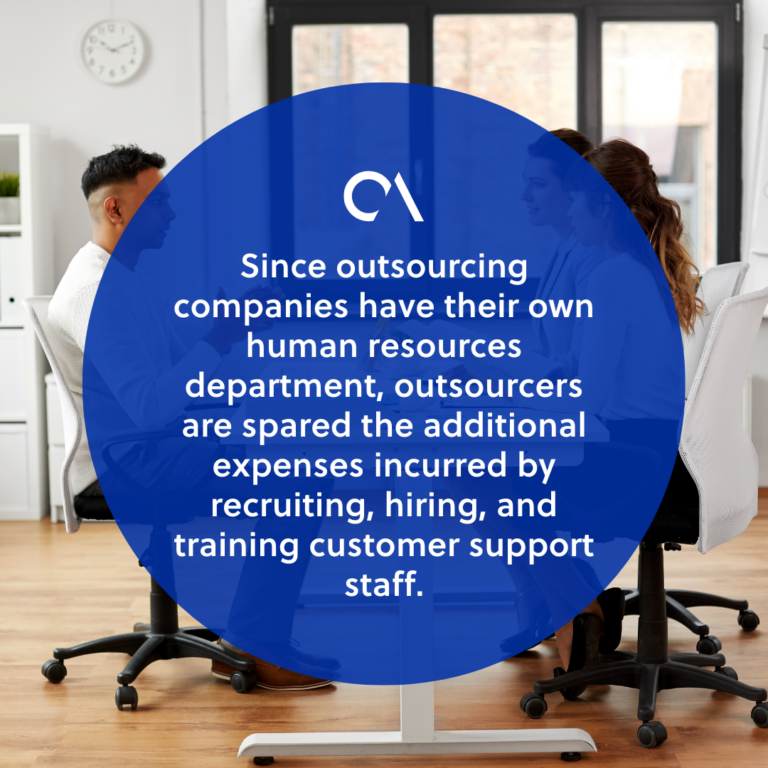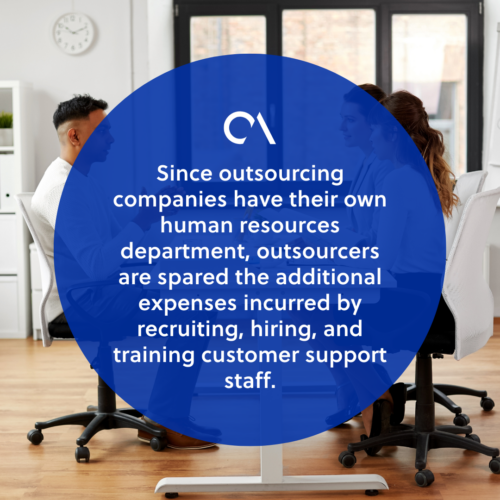 Improved customer satisfaction
Outsourcing companies give outsourcers access to a pool of well-trained agents equipped with the latest industry technology.
Additionally, these agents have extensive experience providing expert customer service to clients worldwide.
These factors will ensure that the level of service your company's customers receive will be better than if you settled with an in-house customer support team.
Shorter turnaround time
Outsourced customer support teams are solely dedicated to providing quality service to your customers and rarely have other tasks besides doing so.
Moreover, because you have access to an entire team of well-equipped and well-trained customer support experts, you can significantly reduce the turnaround time of your customers' queries and concerns.
Omnichannel support
When you outsource your customer support needs, you no longer have to worry about which customer support channel to invest in – your outsourcing partner will have all of them.
This lets you address your customers' complaints, feedback, and queries in the platforms most convenient for them.
24/7 customer support
Most outsourcing companies have employees on rotating shifts. This gives outsourcers access to round-the-clock customer support coverage.
Aside from the 24-hour staff availability, outsourced customer support staff also work on holidays, ensuring an uninterrupted customer service network.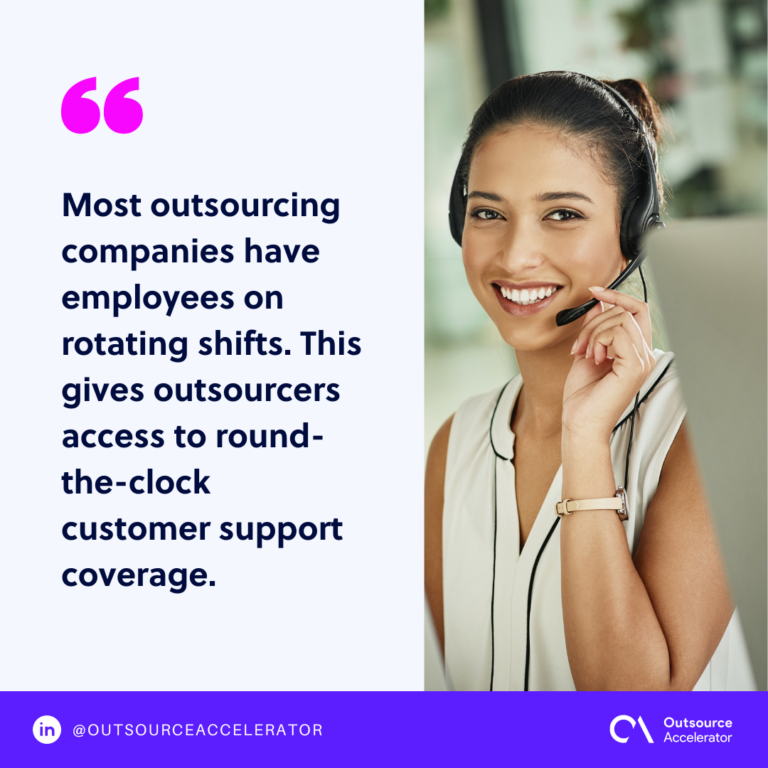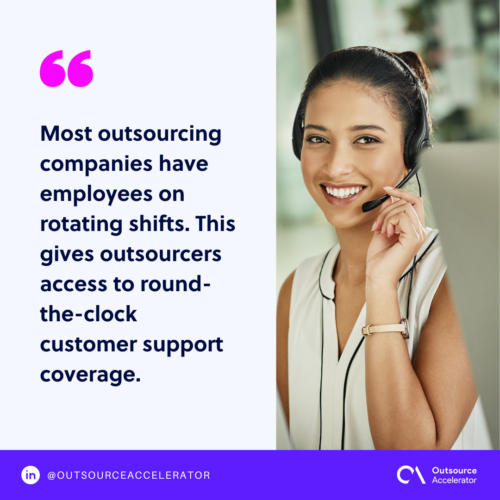 Skilled and multilingual staff
Customer support outsourcing lets you tap into an outsourcing company's pool of experienced and well-trained talents.
These talents often know the ins and outs of customer service and can professionally handle even the most irate customers.
Despite being fluent English speakers, most outsourced customer support staff are also fluent in another language, which is often their mother tongue.
Top 5 customer support outsourcing companies in the Philippines
The Philippines is the outsourcing capital of the world.
Among the reasons why foreign clients prefer outsourcing to the Philippines are the neutral accent of Filipino agents, not to mention their English proficiency, their level of empathy with customers, and their cultural adaptability.
As such, it's understandably home to some of the most competitive and successful outsourcing companies.
Listed below are some of the Philippines' top outsourcing companies, particularly when it comes to customer support outsourcing.
Founded in 2006 to cater to small and medium-sized businesses, 123Employee has since become one of the Philippines' leading providers of virtual assistants and other outsourcing services.
This premier outsourcing company offers its clients a competitive edge and quality service with its enterprise-grade network infrastructure at an affordable price.
Cloudstaff is an experienced player in the outsourcing industry.
With over a decade of excellent track record under its belt, Cloudstaff understands just how vital customer service is for any company wishing to grow.
That's why this outsourcing company, with more than 2,500 staff across the Philippines, makes sure to offer its clients only the best in outsourcing.
Cloudstaff's 98.1% verified retention rate is a testament to the quality service it provides.
ISO-certified and roughly 20 years in the industry, Outsourced delivers top-notch services to its clients.
Outsourced is aware of the make-or-break capabilities of customer service, which is why this reputable outsourcing firm ensures giving its clients only the top 5% of talents fully equipped with the latest technology in the industry.
Peak Support was launched in 2015 and has been on a sustained growth path since.
The increase in the company's clientele from three to 15 – through referrals and without spending a single dime on marketing – in its first four years speaks volumes about Peak Support's service quality.
Peak Support offers customer support outsourcing solutions and specializes in providing well-trained and equipped agents to handle its clients' customers via email, phone, chat, or social media.
Like the other outsourcing companies, StaffWiz banks on the qualities of its Filipino employees to provide excellent service to its clients.
StaffWiz caters primarily to startups and small to medium-sized businesses.
What sets this company apart from its competitors is its transparency in all business aspects, including its service prices.
With StaffWiz's wage calculator, clients can estimate how much they will be spending for any job requirements they'll demand from StaffWiz. This function is especially useful for startups working with a limited budget.