Customer service queue system explained
Probably the worst thing about getting a new product or service is the amount of waiting you have to do in line. There will be some waiting period, whether virtual or in-store.[1] 
Queuing is a trait of many parts of our everyday lives. There's no getting around it, but there is a way to reduce the discomfort and make it more efficient. 
The customer service queue approach does just that. 
What is a customer service queue? 
Customer service queue is also called a queue management system, a waitlist system, or virtual queueing. 
It takes a modern approach to waiting by prioritizing customers with greater needs[2] and optimizing agents. Customer services queues make sure that customers are served in the most efficient way. 
When customers reach out to a business's support team, their concerns are converted into tickets that are stored in a queue. This queue effectively becomes an inbox from which the support team can manage when serving customers. 
Customer service queues in the industry
Customer service queues contain both software and hardware aspects to help businesses manage waiting lines. 
These aspects facilitate a customer's access to service, regulate flow and staff, and optimize data to improve customer experience. 
Software aspects can include:
Online appointment booking 

Virtual queueing via smart devices

Staff apps to serve customers 

Customer notifications 

Real-time monitoring of operations 

Feedback surveys 
Hardware aspects can include:
Self-service kiosks

Ticket printers

Digital signage displays 

Media players 
People understand that waiting is unavoidable at businesses. It then lies to the business to make that experience as painless and streamlined as possible, both for their customers and their own operations.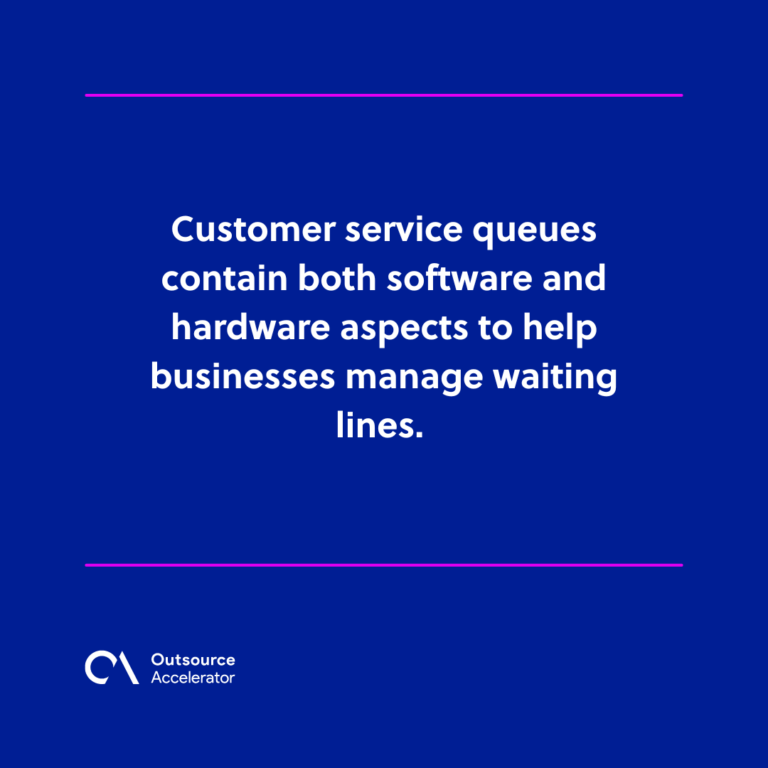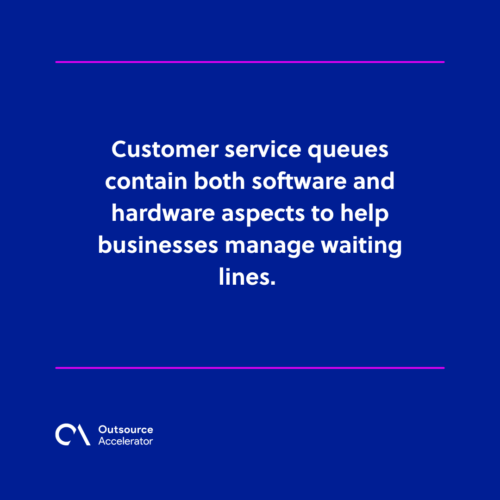 Key features of a customer service queue
A customer doesn't eliminate the queue itself, but it radically changes the circumstances of waiting.[3] 
Here are key features that support that experience: 
Allows multiple channels  
A single queue system can quickly become bogged down and cause long waits. Multiple channels also create multiple queue types, which quickens how customers receive their service. 
This feature also allows customers multiple methods to reach out on different platforms. The best queuing experience doesn't come from downloading a special app but from making your system as accessible as possible.   
Intelligent customer assignment
Weighted queue systems prioritize customer requests so that the most urgent concerns are handled first. AI also helps here. 
Customers can be inserted into the most opportune queues for their needs by factoring agent availability, appointment type, and queue length

Position management
This feature allows customers to also engage with the customer service queue system. Aside from the support team moving customers within the queue, customers can also move down the queue if they feel their request is less urgent. 
Display boards
These are physical displays that inform the customer of their position in the queue and the availability of support agents. 
In the absence of large display boards, customer service queues may also deliver notifications via smart devices. This way, customers are saved from the hassle of constantly checking their place. 
Analytics and Reporting
Data say a lot about customers' behavior. Statistics like the length of wait time, peak times, and how long the average service interaction is can be analyzed. 
Businesses can then use data reports to make operational and marketing decisions. 
Benefits of a customer service queue system 
There are many benefits from modernizing the queue system this way, all with the goal of providing better customer service:
Positive customer experience  
The main benefit of a customer service queue is its effect on a customer's perception of your business. Even with the understanding that a wait may be long, how a business structures its queues can be meaningful.
When handled efficiently, a customer walks away with good service and an attitude toward the business's operations. 
Reduced customer uncertainty
Notifications can reduce the uncertainty a customer can have when waiting. Information and updates can be shared so they are assured of service after waiting. 
Notifications can also be used to inform customers on what to prepare, which counter to go to, and other services offered.

Improved access to services
With appointment scheduling, queues can afford more access to different services. Because physical presence in a line is not required, customers can use their smart devices for ease in queuing.  
Better time management 
By matching customers to the right queues depending on their needs, overall waiting time is made more efficient. The customer service queue system streamlines the entire process and maximizes the time customers spend on-premises.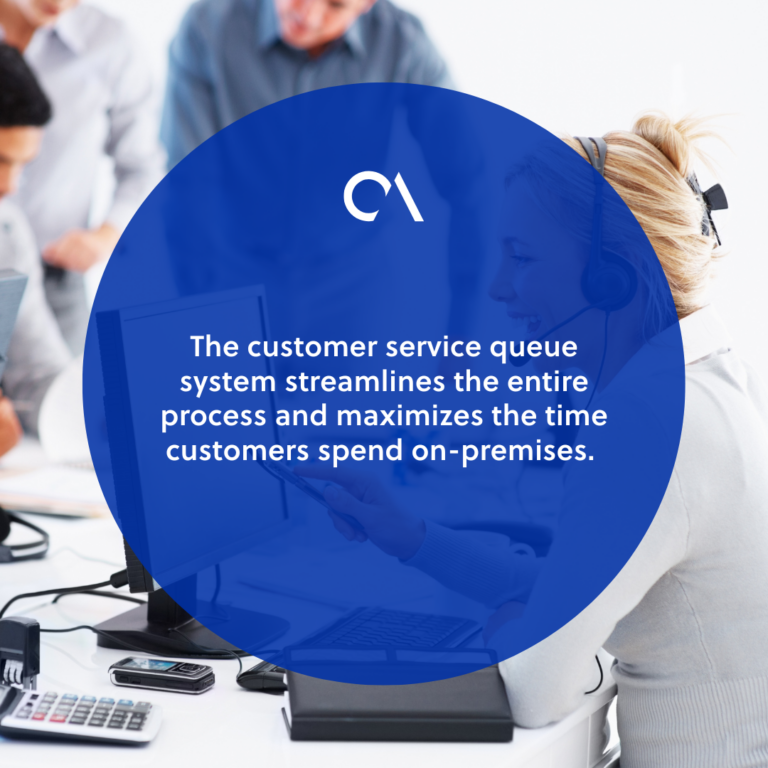 Better staff planning 
Customer service queues provide valuable data that can be used to plan and strategize. Bottlenecks can be identified and improved. 
Employees can be educated on these issues and be included in the solution to resolve them. The system gives data on what the customers need so employees can prepare their service accordingly.   
Freedom of movement 
When customers don't have to wait in a physical line all the time and are free to move around, their perception of the wait time is affected. Because they're able to do other errands while in the virtual queue, they perceive shorter wait times. 
Freedom of movement in a customer service queue also means people can regain control and spend their own time wisely. 
References
Virtual or in-store.

Burke, R.R., 2002. Technology and the customer interface: what consumers want in the physical and virtual store. Journal of the academy of Marketing Science, 30(4), pp.411-432.

Prioritizing customers with greater needs.

Silver, J.A. and Thompson, J.C., 1991. Understanding customer needs–a systematic approach to the" voice of the customer" (Doctoral dissertation, Massachusetts Institute of Technology).