Ultimate guide to creating a customer service knowledge base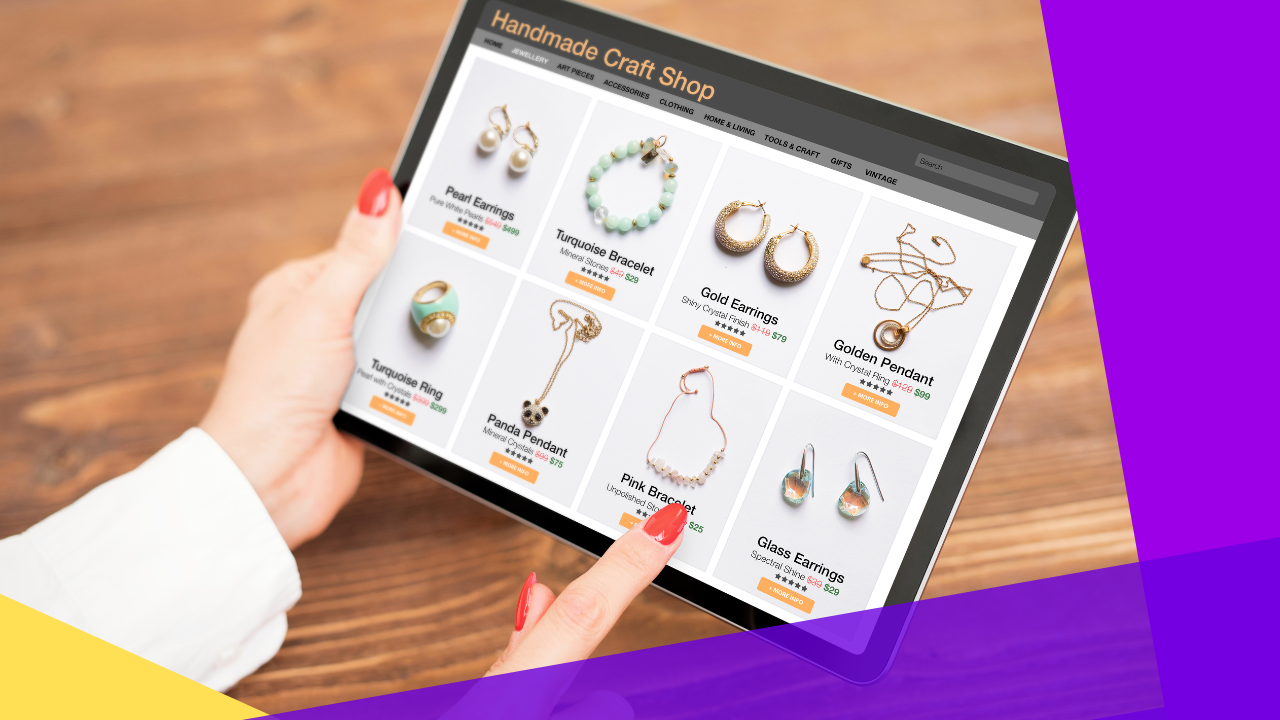 Customers want to know the answers to their questions or inquiries ASAP. Imagine if your customers need to click that "Contact Us" link for every question they have. What if they can find answers without assistance from customer support?
81% of customers prefer to self-serve over queuing on customer support agents. As a company scales, it needs a tool to improve customer satisfaction and reduce customer waiting time. 
Creating a customer service knowledge base is the best way to satisfy your customers' needs and let them have the answers themselves.  
What is a customer service knowledge base?
A customer service knowledge base is like a virtual library where customers can learn about your products or services. It contains Frequently Asked Questions (FAQs), video demonstrations, how-to guides, and other valuable documentation. 
Your customers can find the necessary information and answers to their inquiries without assistance from the customer support agent.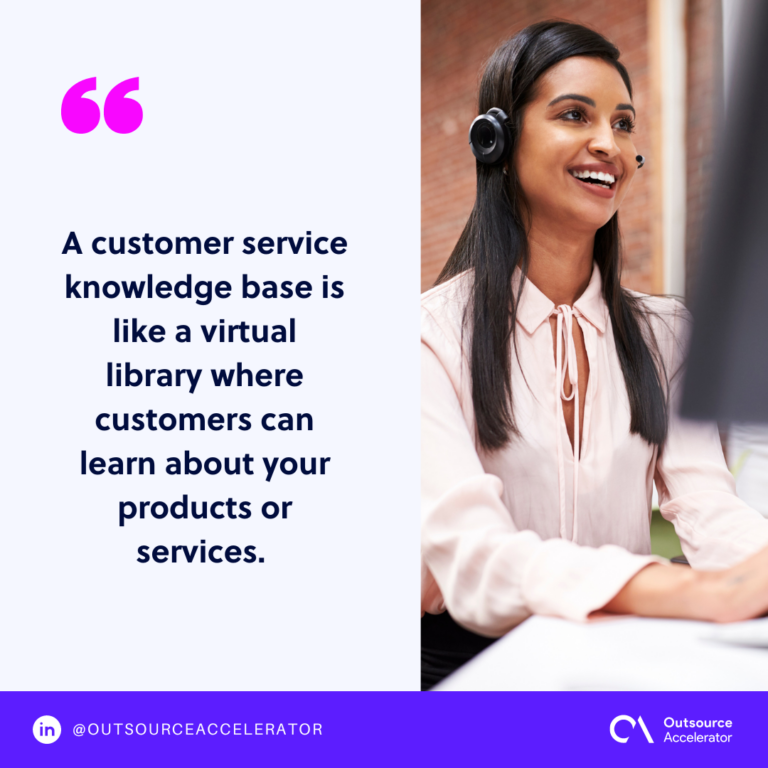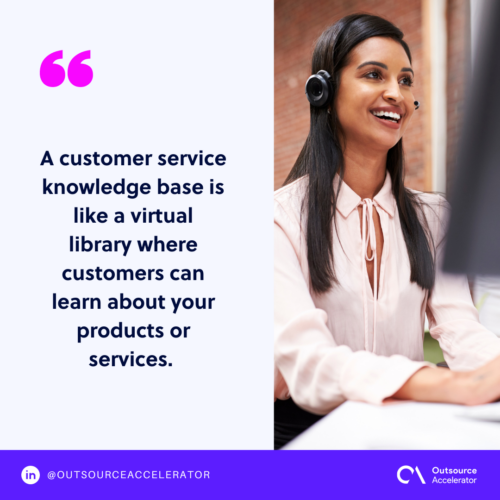 Why do you need a good customer knowledge base?
You might wonder why you need a knowledge base if you have a customer support team working around the clock. 
Did you know you can reduce ticket volume by 27% using AI-powered chatbots and self-service options? An effective knowledge base is a cost-effective solution for customers and employees.
Employees may use the knowledge base as a resource hub to store training instructions, guidelines, and onboarding materials. It enables the different teams to collaborate and share knowledge with their colleagues. 
Meanwhile, a good customer knowledge base provides immediate assistance to your customers. 
If they have problems or questions about billing, ordering, or other related details, this online help center contains most solutions and answers. It is 24/7 support that empowers them to find solutions independently. 
5 best practices to create an effective knowledge base
An effective knowledge base is more than just an online collection of informational documents. It is not as simple as uploading the information to the database and calling it a day. 
You must present the gathered information and answers accurately and in an organized way. Check out these five best practices to get started:  
1. Keep it simple
Any online repository of information should be easy to read and scan. There are several ways to write clear, concise, and digestible content. 
If you have long paragraphs with lots of information, you can break them into chunks. Doing this can improve readability and help customers process the information carefully. 
Another way to simplify the content is by adding in-page or anchor links. It allows customers to jump to specific information rather than scrolling several times. Using in-page links is great for the table of contents, FAQs, and indexes. 
Aside from writing clear content, you must implement document design principles. Make the texts larger, add margins, and avoid using images that would make the texts difficult to read. Moreover, adding headings and using visual content make the content readable. 
2. Include search bar
Your knowledge-based articles should be searchable. If your customers cannot find the answers, they might contact your customer support team. 
This will defeat the purpose of your knowledge base. You can optimize your knowledge base search by implementing several strategies. 
First, make sure that the search bar is easy to spot. Second, mobile responsiveness should be one of your priorities. According to Goodfirms, 73.1% of web designers believe that a non-responsive design is why customers leave a website. Thus, make sure to optimize your knowledge base for mobile users.  
Another strategy to maximize your search bar is to look for relevant keywords and use them in your titles and page copy. When the customer search for "How to return a product?" the server returns a list of links related to product returns.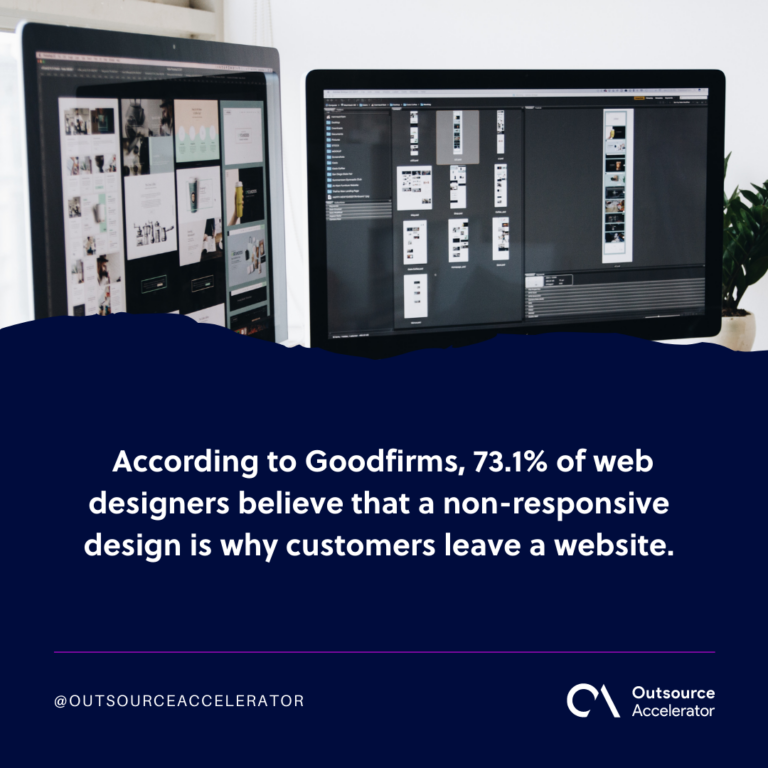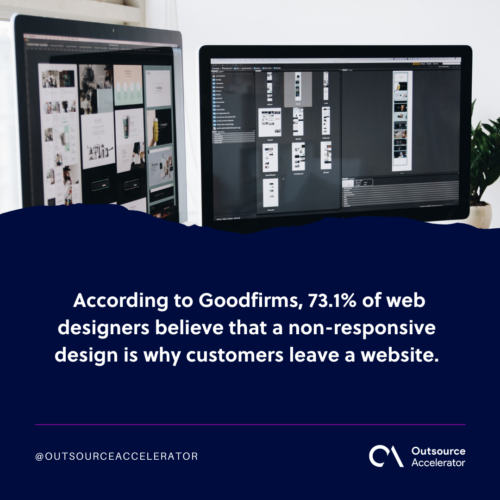 3. Conduct regular audits
Maintaining a knowledge base is a continuous process of revision and creation. Part of the maintenance is running a regular content audit. 
It can help ensure that the posted contents are still helpful, accurate, and relevant. You can start looking for a specific article and check for typos, hard facts, and unclear language. 
Relevance also matters, so you must evaluate if the existing topics in your knowledge base answer customers' inquiries and provide solutions. 
With the help of the audits, you maintain the integrity and quality of the knowledge base so your customers can continuously benefit from its value.
4. Update your knowledge base regularly
An updated knowledge base content is a must to ensure accuracy and relevance. Having outdated information can lead to customer frustration, increased live support inquiries, and decreased customer satisfaction. 
One way to keep it up-to-date is by identifying the gaps between what the customers know and what your business needs them to know. You can bridge the gaps by gathering feedback from:
Surveys

Social media posts

Emails 
Moreover, you can assign someone who can monitor all knowledge-based-related activities. Some responsibilities of the designated person include identifying the learning gaps and tracking the use of the knowledge base. 
5. Consider accessibility
Your knowledge base is jam-packed with information. Thus, you must ensure that your visitors can digest it. You can do this by striving for a more accessible knowledge base, ensuring all visitors have a seamless user experience. 
For instance, you should add alternative descriptions (alt text) for your articles' videos, images, and screenshots. Bullet points, table of contents, and large font sizes also help the readers navigate your contents, especially the long ones. 
You should also look for contrasting colors that make it difficult for customers to read the content. Lastly, you must ensure that your knowledge base is mobile-responsive.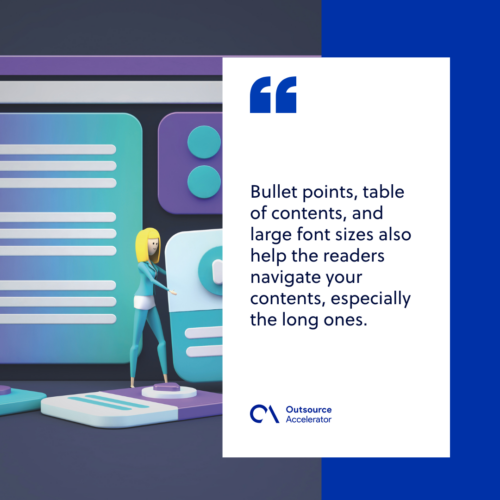 Improving customer experience with a powerful knowledge base
If you have a business and you keep getting the same questions from customers, you must build an online repository–one powerful knowledge base with all the answers. 
It is a place where your customers can find whatever they want whenever they need it. 
While a knowledge base is simple, its management and implementation should regularly be fine-tuned. It requires continuous time and dedication to maintain. 
Once you have identified the areas that need refining, you are a step towards an impeccable and improved customer experience.