What is customer experience optimization?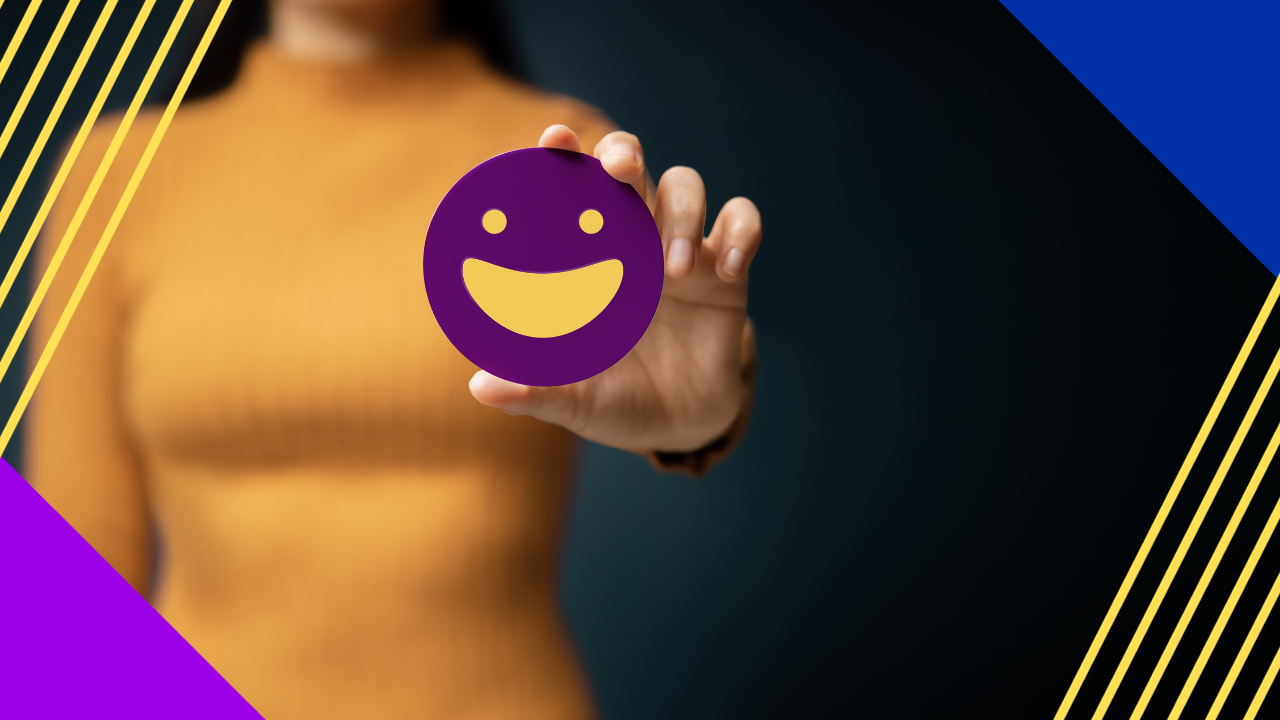 Delivering an exceptional customer experience (CX) has become a key differentiator for organizations worldwide. Firms strive to exceed customer experiences and leave a lasting impression.
CX is a deal breaker for patrons. According to PWC's report, 73% of consumers consider experience an essential factor in purchasing decisions, apart from price and product quality. 
Businesses that optimize customer experience can differentiate themselves from competitors by delivering experiences surpassing expectations.
Customer experience optimization is far from being a buzzword. It is a powerful strategy that can elevate your business to new heights. By prioritizing CX optimization, firms can cultivate customer loyalty, drive repeat purchases, and build a strong brand reputation.
But what exactly is customer experience optimization, and why is it so important?
Customer experience optimization defined
Customer experience optimization, often called CX optimization, refers to improving and enhancing every customer interaction with a brand.
It involves understanding customer needs, preferences, and expectations and tailoring touchpoints to provide a seamless, personalized experience.
At its core, CX optimization focuses on creating positive and memorable customer experiences throughout their journey with a brand.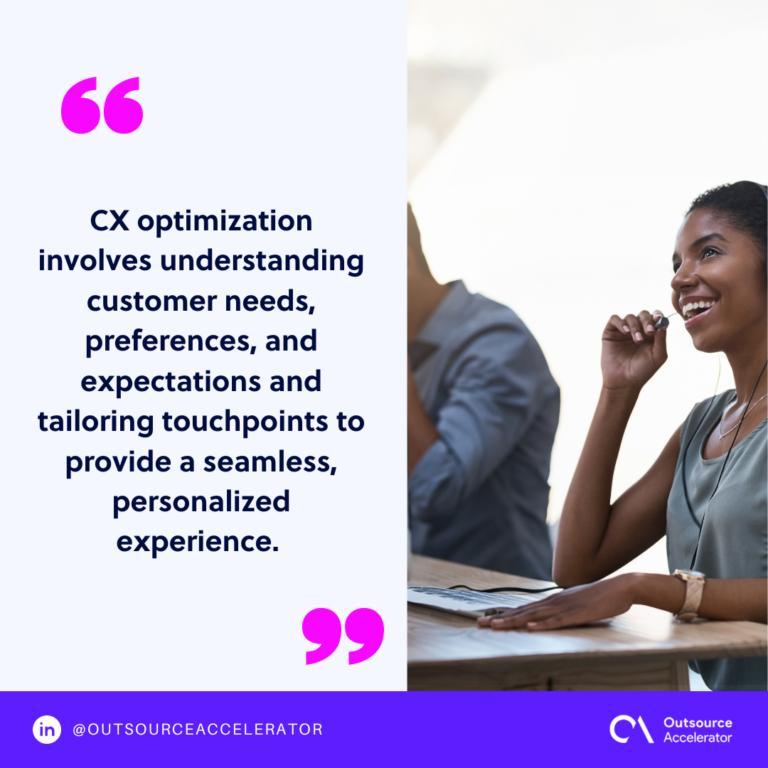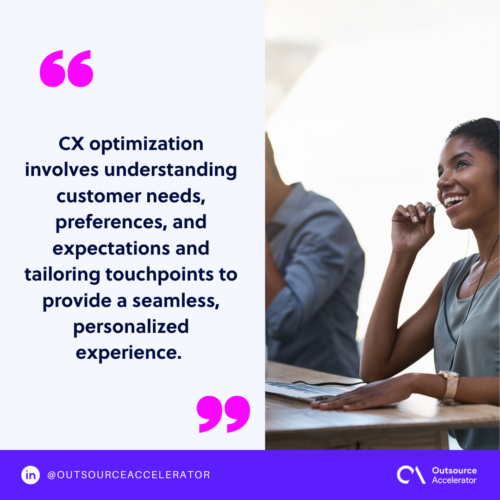 Importance of customer experience optimization
With consumers having more choices, providing a superior experience has become a prerequisite for success.
Here's why customer experience optimization should be a top priority for your business:
Differentiation from competitors
Standing out from the competition can be tougher nowadays when a business has worldwide online competition.
Businesses can easily make their brand stand out by delivering experiences that surpass customer expectations. They create a competitive advantage that sets them apart through this optimization.
Customer satisfaction and loyalty
By optimizing the customer experience, businesses can enhance customer satisfaction levels and build long-term loyalty.
One way satisfied customers can become repeat buyers and advocates for your brand is with a good experience. This can further amplify your reach and drive organic growth.
Positive word-of-mouth and brand reputation
Word-of-mouth marketing is a powerful tool. When satisfied customers become your ambassadors, they can significantly attract new customers.
Customers with exceptional experiences with your brand are guaranteed to share their positive experiences with others.
According to a study by Nielsen, 88% of consumers still trust recommendations from people they know over all other forms of marketing.
Increased customer retention
Enhancing customer experience can significantly improve customer retention rates. Companies can better form a loyal customer base that continues to do business with them, resulting in higher customer retention rates.
A report by Inc. revealed that returning customers spend, on average, 67% more than new customers.
Long-term business growth
Sustainable growth is best built on customer satisfaction and loyalty. With customer experience optimization, businesses' loyal customer base can drive sustained growth through their overall lifetime value with the brand.
Key components of customer experience optimization
To effectively optimize the customer experience, businesses should focus on the following key components:
#1: Customer needs and preferences
To provide a truly personalized experience, you must first understand your customers.
Conduct market research, gather customer feedback, and analyze data to understand their needs, preferences, pain points, and motivations.
This knowledge will allow you to tailor each and every product, service, and interaction to exceed customer expectations.
#2: Seamless and personalized interactions
Customers expect personalized experiences nowadays. Utilize the power of data and technology to deliver seamless interactions across multiple touchpoints.
Your customer data is your best tool to provide personalized recommendations, offers, and content that resonate with individual customers.
#3: Consistency and coherence
Consistency and coherence are essential for delivering a cohesive and unified customer experience. Ensure your messaging, design, and service standards align across all touchpoints. 
Consistency builds trust and confidence, allowing customers to feel confident in their interactions with your brand.
#4: Employee engagement
Your employees are the ones most involved in delivering exceptional customer experiences. Engaged employees are more likely to go above and beyond to exceed customer expectations when they experience your care for them firsthand.
Invest in employee training, empowerment, and recognition programs to ensure your team can deliver outstanding service and positive interactions.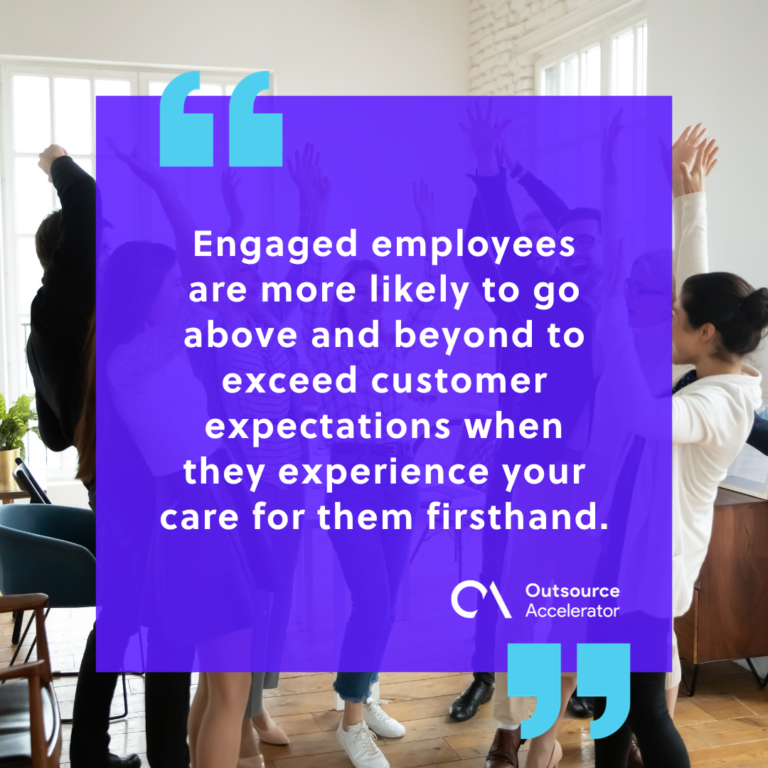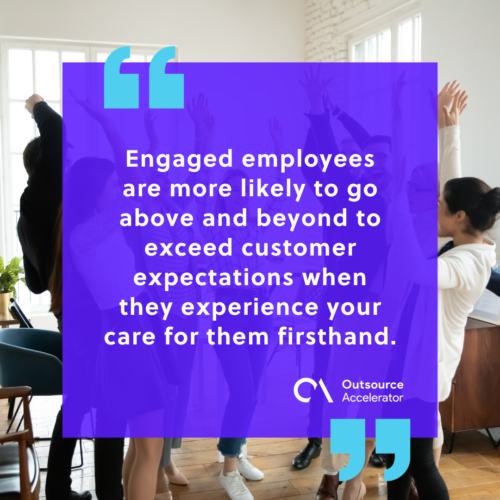 #5: Continuous improvement and adaptation
Customer expectations and market dynamics are constantly evolving. To stay ahead, businesses must continuously improve and adapt their customer experience strategies. 
Regularly evaluate feedback, monitor market trends, and embrace emerging technologies to optimize customer experience.
10 steps to customer experience optimization
Here are ten actionable steps to help you optimize your customer experience strategy:
1. Prepare tools for customer data
To optimize customer experience, start by equipping your business with tools and systems to collect and analyze customer data effectively. This data will give you valuable insights into:
Customer behavior

Preferences

Pain points
Make use of various tools such as CRM systems, analytics platforms, and customer feedback software to comprehensively understand your customers and their needs.
According to a study by Forrester, companies prioritizing data-driven marketing are six times more likely to be profitable.
2. Confirm your target market
Understanding your target market helps you better in tailoring your customer experience optimization efforts.
Conduct market research, analyze demographics, and gather customer insights to understand your target audience deeply. You can create personalized experiences according to your customers' needs by identifying their preferences, interests, and pain points,.
3. Define metrics for customer optimization
Define key performance indicators (KPIs) that align with your customer experience goals. These metrics will help you track and measure the success of your optimization efforts.
Some common customer experience metrics that marketers use nowadays include the following:
Customer satisfaction scores (CSAT)

Net promoter scores (NPS)

Customer effort score (CES)

Customer retention rates

Customer churn

Customer lifetime value (CLV)

Referral rates
Setting clear metrics lets you track your progress and make informed decisions to enhance the customer experience.
4. Consider customer feedback
Regularly collect and analyze customer feedback to gain insights into customer experiences and expectations. To gather valuable data, implement various feedback channels, such as surveys, interviews, and social media listening.
Actively seek and respond to customer feedback to address issues and identify areas for improvement.
Customers are even seeking out companies that listen to their patrons. Microsoft's 2020 Global State of Customer Service report revealed that 89% of respondents want opportunities to provide feedback.
5. Know their motivation in making a purchase
Understand the motivations and pain points of your customers throughout their purchase journey. Conduct market research, analyze data, and solicit customer feedback to uncover their triggers and expectations. 
You can create targeted marketing campaigns, personalized experiences, and relevant product offerings by understanding their needs and desires.
6. Formulate a journey map
Visualize and map out the entire customer journey to identify touchpoints and areas for improvement. 
Customer journey orchestration, starting from initial awareness to post-purchase support, allows you to optimize each step to create a seamless and delightful experience. Identify pain points, bottlenecks, and opportunities for personalization along the journey.
Most customers agree that a company's experience is as important as its products or services.
7. Test your products and services
Regularly test your products and services to ensure they meet customer expectations. Conduct usability testing, gather feedback, and iterate accordingly. 
Depending on your offerings, you can apply A/B testing, product surveys, and other forms of product testing. By making continuous improvements, you can enhance the overall customer experience and avoid potential frustrations. 
Fixing user experience issues early can lead to a 100x return on investment.
8. Collate their challenges in their buying journey
Customers may stop doing business with a brand they love after just one bad experience. 
You can prevent high customer churn by identifying and addressing customers' challenges and pain points throughout their buying journey.
Use customer feedback, analytics, and surveys to understand these challenges and find ways to overcome them. Proactively identifying and resolving issues can create a smoother and more enjoyable customer experience.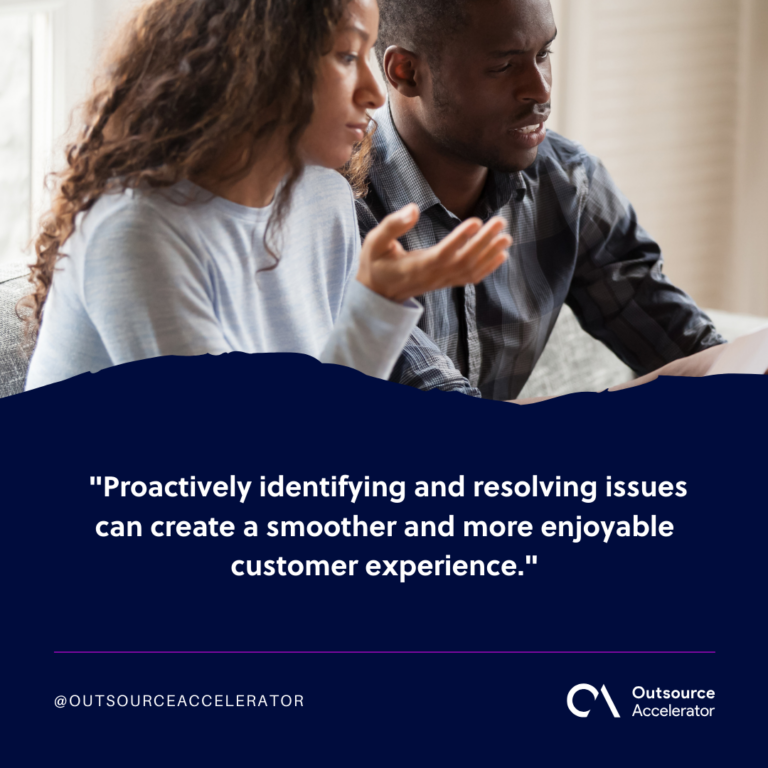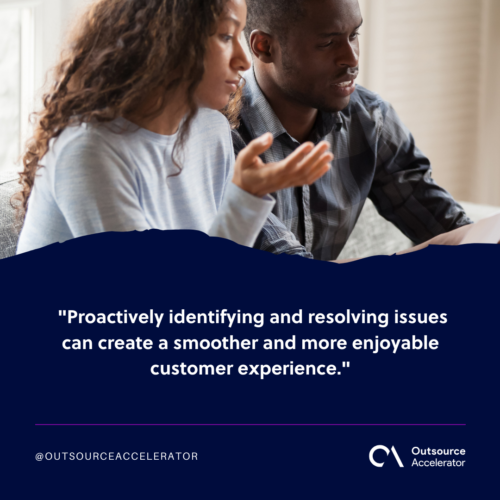 9. Refine your support services
Invest in customer support services to provide timely and effective assistance to customers. 
Train and empower your support team to resolve customer issues and inquiries efficiently. You can build trust, loyalty, and advocacy by delivering excellent customer service.
As per the latest statistics, 58% of customers are willing to pay more for a product or service if they receive excellent customer service.
10. Set up loyalty programs for existing customers
Reward and incentivize your loyal customers to foster long-term relationships. Implement loyalty programs that offer exclusive benefits, discounts, and personalized offers.
You can increase customer retention, drive repeat purchases, and create brand advocates by nurturing existing customers.
Research revealed that customers enrolled in loyalty programs spend 12-18% more than non-loyalty program members. Some of the most effective loyalty programs you can implement include:
Loyalty points

Subscription programs

Customer referral programs
Refining customer experience optimization
Exceptional customer experience is the key to unlocking your brand's true potential.
Customer experience optimization is an ongoing process that requires continuous effort, analysis, and adaptation. Stay agile and responsive to changing customer needs and market dynamics.
Regularly review and update your strategies, embrace emerging technologies, and listen to your customers.
Organizations can build lasting relationships, foster customer loyalty, and achieve sustained growth in today's hyper-competitive business landscape.