Most effective a/b testing tools for optimized marketing in 2023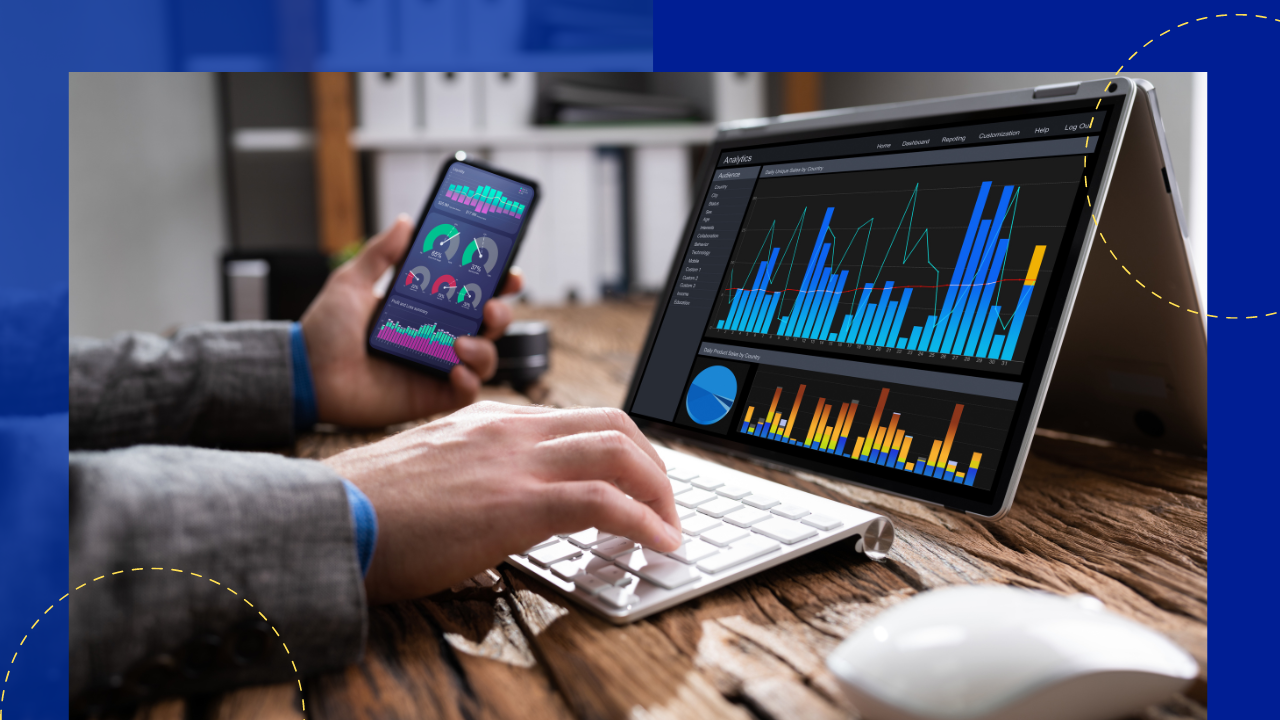 Top a/b testing tools in 2023
The digital marketing field is a dynamic and fast-changing industry.
Thus, marketers hoping to survive and thrive in this environment must be equally quick to adapt.
The same goes for their marketing strategies and approaches, lest these become obsolete in the long run.
Using a/b testing tools on their marketing campaigns helps marketers ascertain which strategies work and which ones don't.
Aside from optimizing their marketing campaigns, marketers can also use a/b testing tools to improve customer user experience in their platforms.
There are more than a few of these marketing tools available in the market.
To help marketers decide which ones they should consider using, we've compiled a list of the top a/b testing tools currently available.
What are a/b testing tools?
A/B testing tools are software solutions that help marketers compare two sets or variations of the same website, advertisement, or particular marketing strategy.
The comparison results are then used to determine which version resulted in the more favorable outcome.
The use of a/b testing tools is by no means limited to just the abovementioned examples.
In fact, these tools can be used to compare the effectiveness of virtually any two versions of marketing elements, such as:
Calls to action (CTA),

Published posts

Visual imagery

Overall appearance of web pages
A/B testing tools utilize statistical analyses to calculate which marketing element garnered better conversion rates.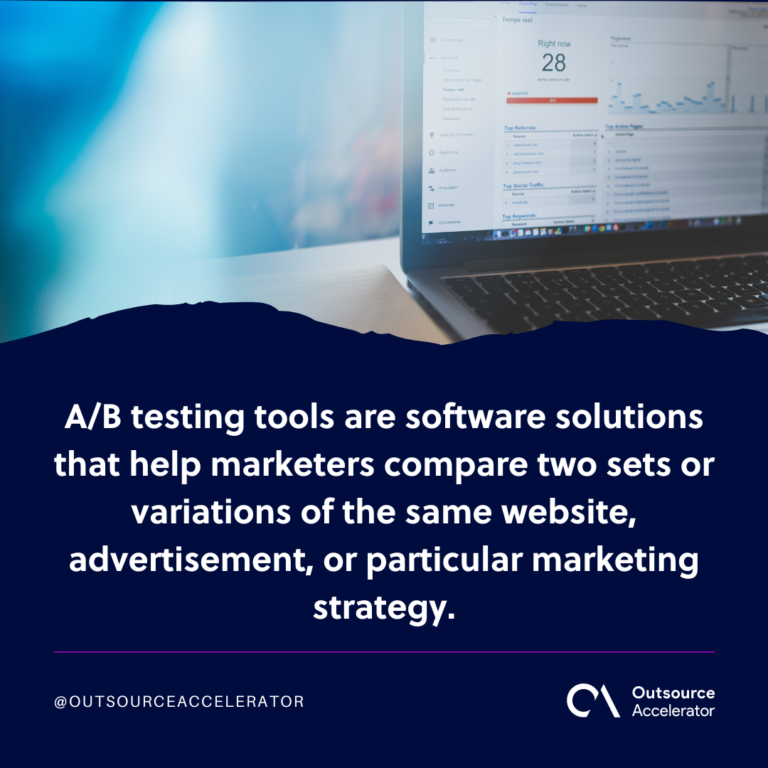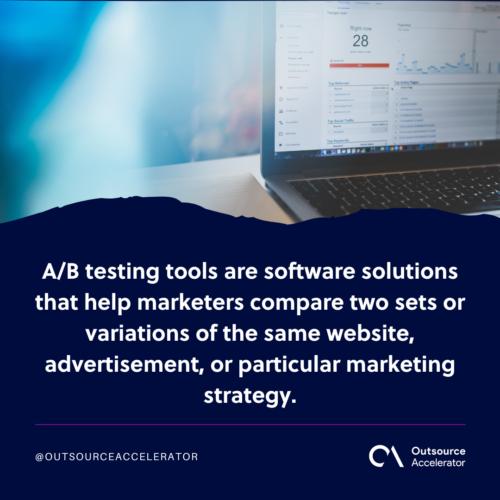 How do a/b testing tools help optimize marketing campaigns?
A/B testing tools transform marketing from an art into a science.
These tools help marketers make data-driven decisions and launch campaigns backed by statistics.[1]
Thus, using a/b testing tools allows marketers to create marketing campaigns with measurable success parameters.[2]
Being able to accurately measure the success of campaigns can help marketers analyze which strategies work, which ones don't, and why.
From these insights, they can create better campaigns that are more effective at generating and capturing leads.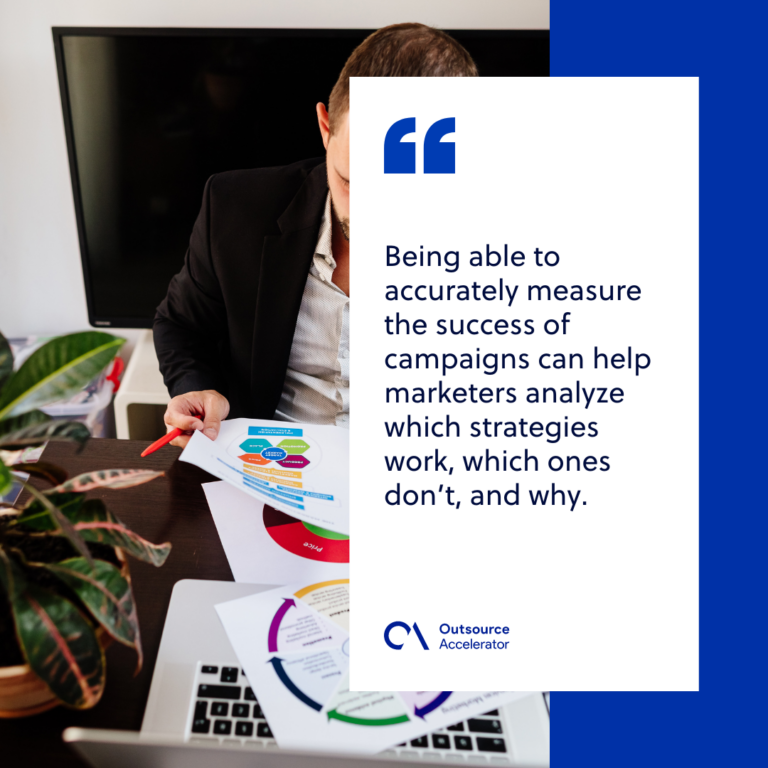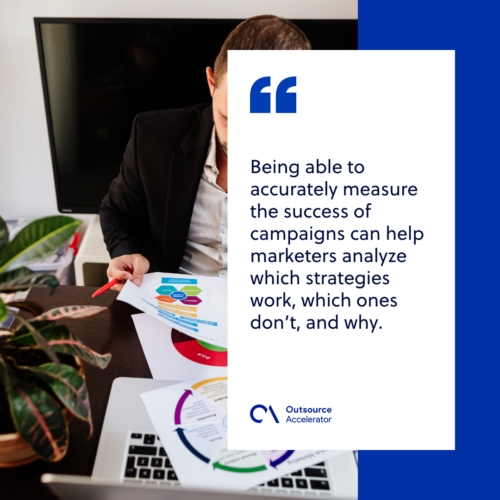 Top a/b testing tools in 2023
Here we have the leading a/b testing tools that marketers can use:  
Google's a/b testing tool, Google Optimize, is offered under the Google Marketing Platform.
This tool helps businesses optimize their websites and offers more than just the usual a/b testing capabilities.
With Google Optimize, users can simultaneously test more than two website versions. They can also run other tests, such as:
Multivariate testing

Split URL testing

Server-side experiments
The best part about Google's a/b testing tool is its pricing.
Despite its powerful functionalities, Google lets users use Google Optimize for free.
Optimizely is a digital experimentation platform that boasts 24 Fortune 100 companies in its list of clientele.
This platform's a/b testing tool allows users to simultaneously run multiple experiments on one page. Doing this lets users test different variations of their web design.
In addition, Optimizely's a/b testing tool can be used on dynamic websites, different experiment dimensions (e.g., ad campaigns, cookies, geography), and different experiment segmentation parameters (e.g., campaign, browser, device).
This tool's price is available upon request.
VWO is a marketing optimization suite that offers a wide range of services, including a/b testing.
Its suite is trusted by over 4,500 enterprises, including big names like eBay, Virgin Holidays, and Target.
VWO's suite offers more than just a/b testing to users. It also allows users to create Split URL and multivariate tests with a drag-and-drop editor.
It also comes with a reporting dashboard to help users gauge their tests' performance, as well as a SmartStats feature.
The SmartStats feature uses Bayesian statistics to enable running faster tests, give users more control over their tests, and get more accurate results.
VWO's pricing is also available upon request.
Zoho PageSense is a platform that offers a one-stop solution for a/b testing, conversion optimization, and personalization.
Its platform gives users access to a wide range of metrics they can use to understand and quantify their customers' behaviors.
They can also use Zoho PageSense's platform to create goals and elements and regulate CTA clicks.
Moreover, this platform allows users to develop a conversion funnel that can verify which of their web pages leads to dropoffs.
Zoho PageSense has three pricing plans – Standard (17 USD/monthly), Professional (79 USD/monthly), and Enterprise (419 USD/monthly).
HubSpot's a/b testing kit is an intuitive and easy-to-use tool that can guide marketers just beginning to a/b test.
Aside from an a/b test tracking template, the kit contains a statistical significance calculator to help users determine whether their tests are wins, losses, or inconclusive.
It also features a how-to guide with easy-to-follow instructions.
HubSpot lets users download their kit for free, making it one of the best tools for beginners.
Leadformly's a/b testing tool focuses on a particular feature of most websites – web forms.
This is particularly helpful for websites that use a lot of web forms.
Many web end-users abandon web form pages halfway through completion.
With Leadformly's a/b testing tool, marketers can create forms that can potentially capture 3-4x more leads.
It also helps them gather insights they can use to increase their conversion rates.
Leadformly is priced at USD 37 per month.
Unbounce is the a/b testing tool from the leading landing page builder of the same name.
Like Leadformly, Unbounce's a/b testing tool focuses on a particular aspect of websites – landing pages.
Aside from the basic a/b testing tools, Unbounce's platform's key features include:
A visual builder

Landing page personalization

Pop-up and sticky bars

Extensive integrations



Owing to the importance of landing pages in websites, Unbounce's a/b testing tools – which optimize landing pages – are helpful to any marketers.
Unbounce's pricing starts at USD 120 per month for plans that include the a/b testing tool.
Convertize is an affordable a/b testing tool that offers a wide range of powerful functions despite its relatively cheap price.
Its key features include:
A smart drag-and-drop editor for creating code-free experiments

Automatic traffic management that lets users shift traffic to their best-performing pages

Lightning mode that enables quick loading of pages during tests

Powerful statistics engine that provides insights that help users make meaningful design improvements

Dynamic text, which allows users to personalize their headings and key text

Nudges, social proof, and FOMO messages that help increase conversions
Convertize's basic plan allows analysis of up to 20,000 web visitors per month.
For marketers running bigger campaigns, Convertize's more expensive Team plan allows up to 100,000 visitors per month.
Its basic plan is priced at USD 49 per month, while the Team plan starts at USD 199 monthly.
Kameleoon's a/b testing tool takes advantage of artificial intelligence (AI) to help marketers create better digital experiences.
Kameleoon's platform allows users to trigger personalized experiences for every user based on their conversion probability. AI calculates this probability in real-time, using the web visitor's actions.
Despite its advanced and AI-powered a/b testing capabilities, Kameleoon has an intuitive platform that even beginners will find easy to use.
Kameleoon's pricing is available upon request.
Convert has an advanced testing platform built to cater to agencies and conversion rate optimization (CRO) professionals.
As such, this a/b testing tool is not recommended for beginners but specifically for veterans in the field.
While Convert features a visual builder that allows users to create code-free variations, it also lets users add custom codes and use developer shortcuts.
This results in a platform with more creative freedom in building variations and tests while still having access to visual builders for a faster process.
Convert's Kickstart plan – the lowest tier – starts at USD 699 per month (paid annually) and caps at USD 3,499 per month (paid annually).
Omniconvert is another relatively affordable platform that offers a/b testing capabilities and more.
Omniconvert's platform has been dubbed "the CRO tool for developers" due to the nature of many of its features.
These features include an unlimited CSS and JS editor, allowing users to have complete control over their variations' coding. It also lets them to optimize their codes for faster loading times while testing
Omniconvert's pricing starts at USD 167 per month, which covers up to 50,000 website visitors per month. It caps out at USD 4,568 monthly for up to five million tested users per month.
Why businesses should invest in a/b testing tools
Investing in a/b testing tools saves businesses from spending money on marketing strategies that aren't working.
As mentioned earlier, it also helps them create better and more optimized marketing campaigns. In turn, these campaigns bring in more leads and revenues for the company.
In a way, marketers can look at a/b testing tools as investments that pay for themselves.
References
[1] … backed by statistics. Burk, S. (2006). "A better statistical method for A/B testing in marketing campaigns." Marketing Bulletin, 17. Available at: http://marketing-bulletin.massey.ac.nz/V17/MB_V17_T3_Burk.pdf
[2] … measurable success parameters. Ambler, T. & Kokkinaki, F. (2010). "Measures of marketing success." Journal of Marketing Management, Vol. 13. https://doi.org/10.1080/0267257X.1997.9964503