Most effective customer experience management software in 2024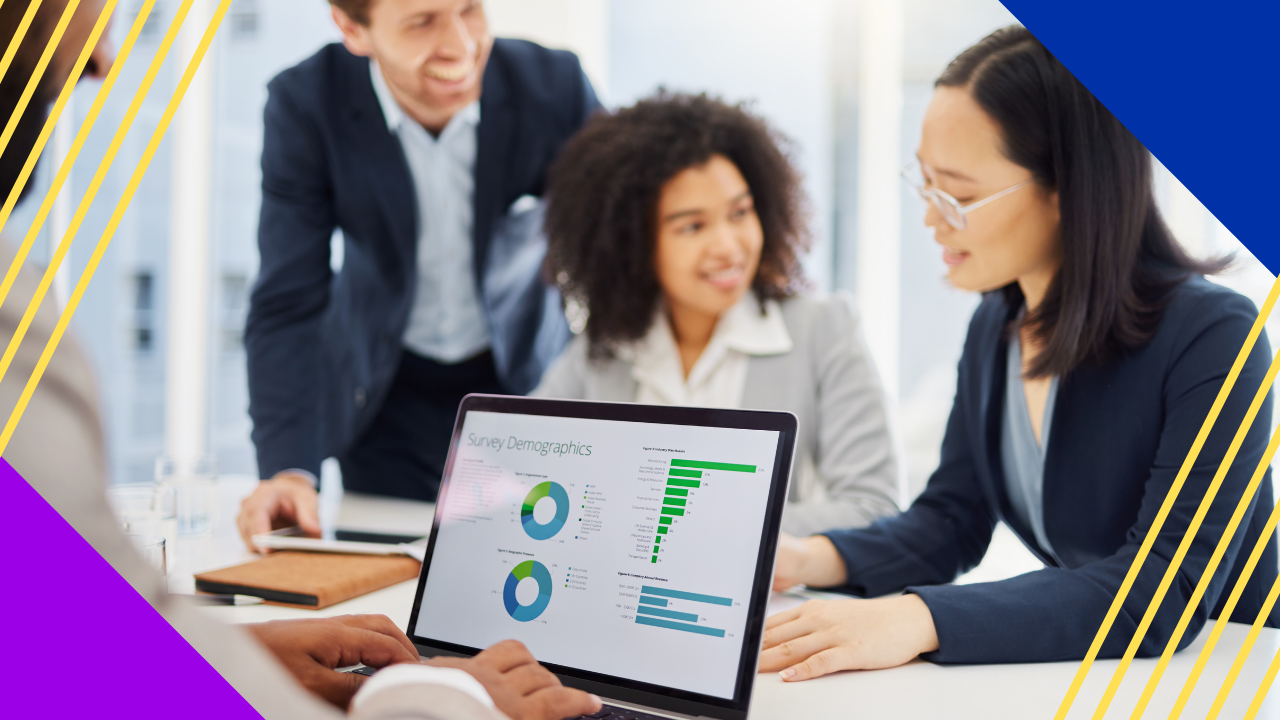 Best customer experience management software in 2024
A positive customer experience is always the key recipe for business success. Despite it being common knowledge, not every company can boast of having the capability to provide their customers with the best customer experience.
Many factors affect the way customers perceive their experiences when interacting with businesses. To better deal with these, companies utilize customer experience management software.
These software solutions help them understand and gather valuable insights into their customers. They can then use this series of information to make better and data-driven decisions.
Today, customer experience management software are abundant in the market. The wide range of options can make it hard for companies to choose which customer experience management software to invest in.
To help with this, we've compiled a list of the best customer experience management software in the market.
Check out the list below!
What is customer experience management?
Customer experience management is also called customer CXM or CEM. It refers to the processes businesses use to enhance customer interactions throughout their journey with a brand.
Customer experience management aims to create a seamless, personalized, and positive experience for customers. By doing this, companies can better ensure their patrons' satisfaction and loyalty.
CXM goes beyond merely using marketing tools and software. Rather, it focuses on helping businesses undergo a digital transformation that lets them put customers at the center of their operations.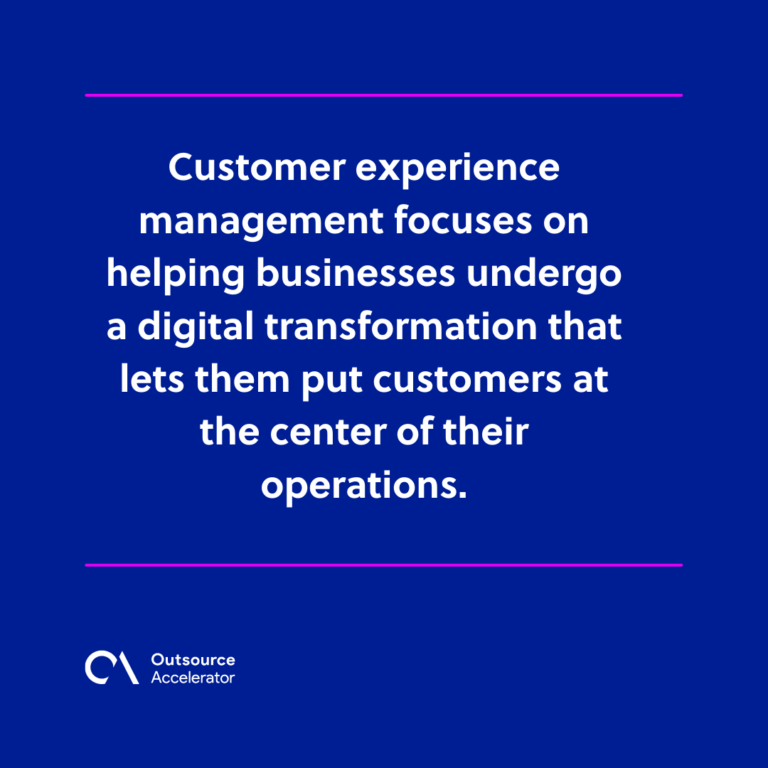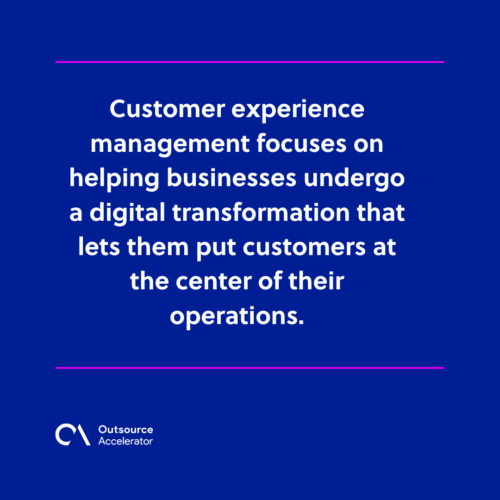 Customer experience management vs. Customer relationship management
Customer experience management is often confused with customer relationship management (CRM). While the two are closely related and have overlapping concepts, some distinctions differentiate them.
For one, customer experience management is concerned with optimizing the overall customer experience throughout the buyer's journey. This involves improving every touchpoint and interaction to create a more memorable experience.
On the other hand, customer relationship management is primarily concerned with managing and maintaining relationships with individual customers. 
It involves organizing and tracking customer data, communication, and activities to build and nurture lasting relationships. More importantly, customer experience management has a broader scope than CRM regarding data collection. 
CXM analyzes data from multiple sources, such as:
Customer feedback

Sentiment analysis

Journey mapping

Customer behavior from various channels
In contrast, customer relationship management relies more on data related to transactions, sales leads, and customer service interactions. The data used for CRM analysis is usually specific to individual customers and their interactions with the company.
Why businesses need a customer experience management software
Utilizing customer experience management software solutions allow companies to assess and improve customer experience continuously.
As CXM software often use customer-driven data (e.g., from feedback forms and customer interaction analyses), they help paint a more accurate picture of the buyer's journey for businesses.
Companies can then use these data to pinpoint pain points and make improvements that will actually give customers a better experience.
Qualities to look for in a customer experience management software
There are a lot of options you can choose from when it comes to customer experience management software. While many of these are effective and have their share of pros and cons, there are some qualities that a CXM software must have to be worth using.
These qualities are:
Scalability
Like other software solutions for businesses, scalability is also essential in CXM software. As your company grows and your customer base expands, the CXM software should be able to handle the increasing volume of data and interactions.
A scalable CXM solution ensures that the software remains effective and efficient even as your business's needs evolve.
Real-time analytics
Having real-time analytics capabilities is another crucial trait in CXM software. This enables you to stay up-to-date with customer feedback, behaviors, and preferences as they happen.
Conversely, immediate access to data can empower your business to make informed decisions, respond to customer needs, and promptly address emerging issues.

Integration capabilities
Another must-have feature of customer experience management software is integration with existing systems and applications. Most likely, your business will already have existing systems in place for different purposes.
An ideal CXM software should integrate with these existing systems to create a unified view of customer data and interactions.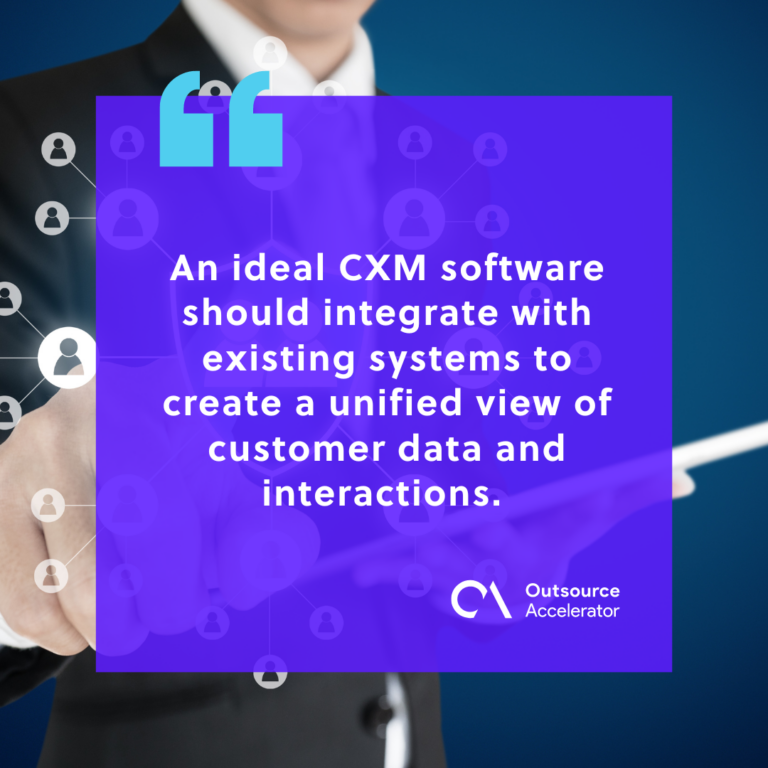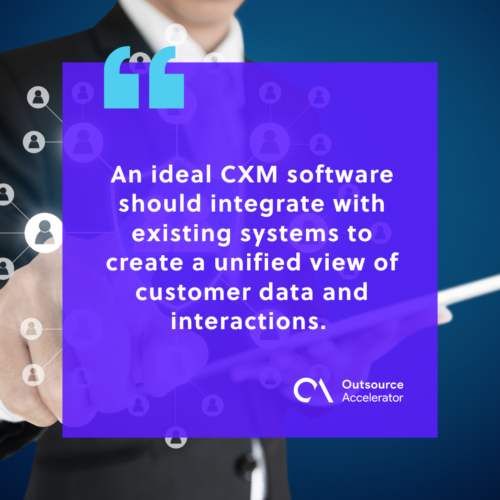 List of the most effective customer experience software in 2024
Outlined below are ten of the most sought-after customer experience software businesses commonly invest in:
Zoho gives businesses access to an all-in-one customer experience platform that lets them manage their patrons' engagement in real-time.
Its software features an AI-powered analytics engine for analyzing customer feedback, touchpoints, interactions, and developing the best marketing tactics to use.
Pricing: Zoho CRM has four pricing plans available.
Standard: USD 20 per user monthly

Professional: USD 35 per user monthly

Enterprise: USD 50 per user monthly

Ultimate: USD 65 per user monthly
Adobe Experience Manager is originally a content management platform. However, it also offers AI-powered tools that help marketers improve customer experience.
These tools have various helpful features, such as:
Automated insight and sentiment feedback

Automated content delivery

Automated customer segmentation based on behavior and history

Insight-based support recommendations
Users can easily integrate Adobe Experience Manager with other Adobe products and third-party software, such as Salesforce and Livefyre.
Pricing: Available upon request.
From the marketing and sales software giant, HubSpot comes an innovative CXM solution: Operations Hub.
With HubSpot's Operations Hub, users can:
Collect, organize, and analyze customer data

Identify pain points in the buyer's journey

Discover what drives customer loyalty and willingness to promote products and services
More specifically, HubSpot's customer experience management software helps businesses to:
Organize their gathered data

Automate the analysis of collected data
Pricing: HubSpot's Operations Hub has four tiers in its pricing structure.
Free

USD 45 per month (Starter)

USD 720 per month (Professional)

USD 2,000 per month

(Enterprise)
Oracle Service is another product from a household name in the software industry, Oracle. This customer experience management software has several powerful features that help businesses become more connected with their customers.
These features include:
Flexible data lifecycle management

Seamless integration with other Oracle products

Backward-compatible REST API

Identity and access management

Streamlined collection of specific and contextual data from business-to-consumer (B2C) interactions

Secure and reliable Cloud-based environment for customer transactions
Oracle's CXM software lets companies automate mundane agent tasks and leverages machine learning (ML) to help them deliver a more personalized customer experience.
Pricing: Oracle Service's pricing is available upon request.
Medallia is a popular customer experience management software for businesses that use experience survey tools on their feedback channels.
With this CXM software, users can easily identify dissatisfied customers, predict their needs and behavior, and develop necessary actions.
Its features include:
User-friendly and intuitive dashboard

Review-flagging capabilities

Performance benchmarking

Competitive analysis

Text analytics capabilities to help analyze reviews from surveys
Pricing: Medallia's pricing structure is available upon request.
Qualtrics is another popular choice for companies wanting to improve their customers'  experience. This CXM software allows users to collect feedback and analyze customer behavior throughout the buyer's journey.
Moreover, Qualtrics features content and promotion delivery automation to improve both the customer experience and your conversion.
Its text analytics and natural language processing capabilities also make Qualtrics a great tool for analyzing reviews.
Qualtrics' other features include:
Pre-designed and customizable templates

Predictive intelligence

Data visualization support for over 30 types of graphs
Pricing: Qualtrics XM's pricing is available upon request.
Salesforce's customer experience management software is heavily dependent on its highly popular CRM platform. It offers users many powerful features to help them build and foster better customer relationships.
This CXM solution gathers data from:
Customer feedback after using products or services

Reviews from websites and other customer touchpoints

Web navigation tracking

Agent interactions (including web, phone calls, and in-person)
It then uses AI to analyze these data and develop outcomes that can improve a business's existing customer experience processes.
Pricing: Salesforce CXM has four pricing plans.
Essentials: USD 25 per user monthly

Professional: USD 75 per user monthly

Enterprise: USD 150 per user monthly

Unlimited: USD 300 per user monthly
Despite being primarily a marketing software, the SAS Customer Intelligence 360 software gives users a variety of tools for optimizing the customer experience and buyer's journey.
Its features include:
Personalized customer journey creation

Advanced AI for deciphering customer feedback

In-calendar management and data contextualization
Pricing: SAS Customer Intelligence 360's pricing plan is available upon request.
Zendesk is one of the most widely used customer experience tools, largely due to the extensive number of integrations it supports. Whatever software your business uses for specific purposes, you can probably integrate it into Zendesk's platform.
Another reason for this CXM software's popularity is its extremely intuitive interface. New users will have no trouble navigating its user-friendly dashboard and familiarizing themselves with its tools.
Some of Zendesk's most popular features include:
Customer interaction analysis

Support for creating community forums

Analytics and reporting
Pricing: Zendesk's price plans start at USD 49 per user monthly
Like the other customer experience software in this list, Acquire offers users a unified helpdesk for their customer communication channels.
However, Acquire's package stands out because of its in-depth analysis of the effectiveness of self-service channels. This makes Acquire a great tool for improving chatbots and other self-service portals.
Acquire's features include:
Chatbot customization

Targeted messages based on behavioral triggers

Sending automated emails based on customer interactions

Browsing assistance to improve customer experience
Pricing: Acquire's pricing is available upon request.