Is having a customer engagement strategy worth it?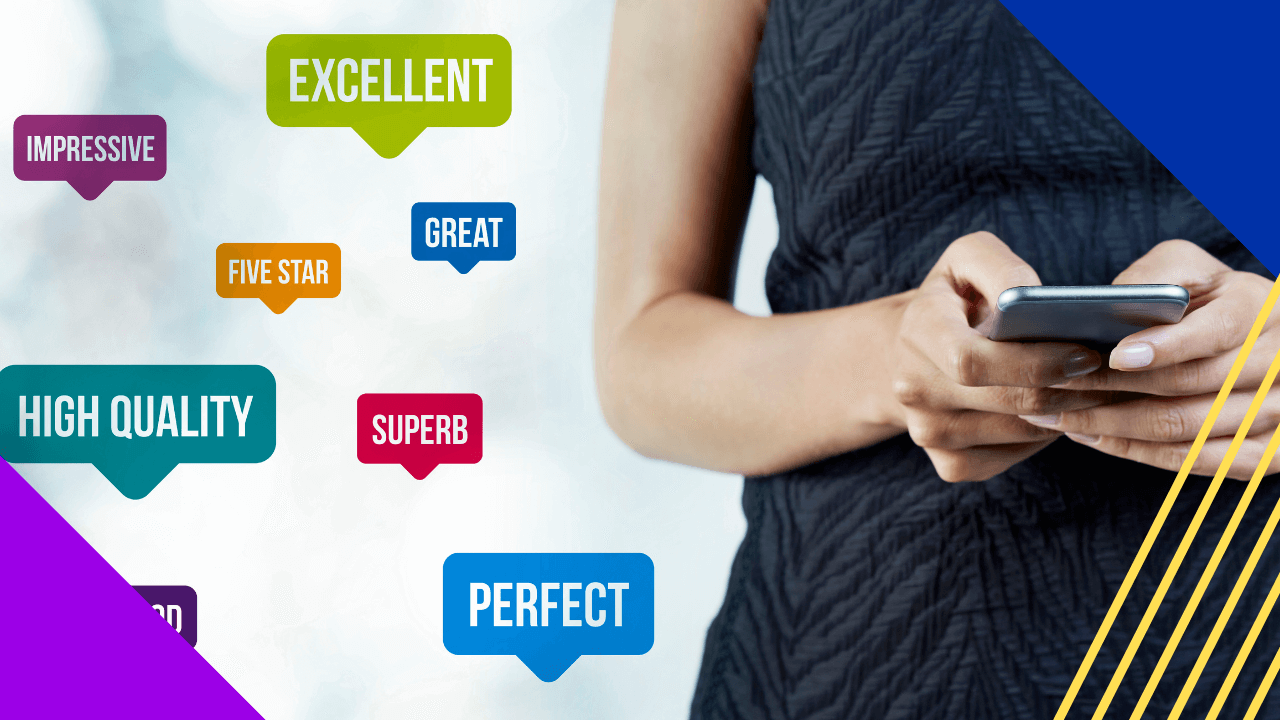 Is having a customer engagement strategy worth it
Before successful companies reached their strong standing in the market, they all had to build their community from scratch through hard work and persistence. 
These communities represent their well-established market, which consists of new and loyal customers. They mainly play the role of keeping a business thriving.
The secret to achieving this for your business is creating valuable consumer experiences with your customer engagement strategy. 
This article tackles the effectiveness of customer engagement strategies in businesses. 
What is a customer engagement strategy?
Customer engagement strategy refers to the development of positive experiences for the consumers of a company. As a brand, it is a company's job to make it easy for its customers to browse, shop, and interact with them, online and offline. 
Moreover, a customer engagement strategy focuses on building secure relationships to boost brand loyalty by understanding the market's pain points and addressing them through different methods. 
Aside from providing a seamless shopping experience, their strategy should also extend to giving great customer service, producing engaging content, and listening to grievances and feedback. 
This, however, doesn't necessarily fall under marketing tactics. The two have always been interchanged, but they have different functions. 
Customer engagement strategy banks on loyalty and a strong bond between the business and its market, while marketing tactics are mainly done to drive sales.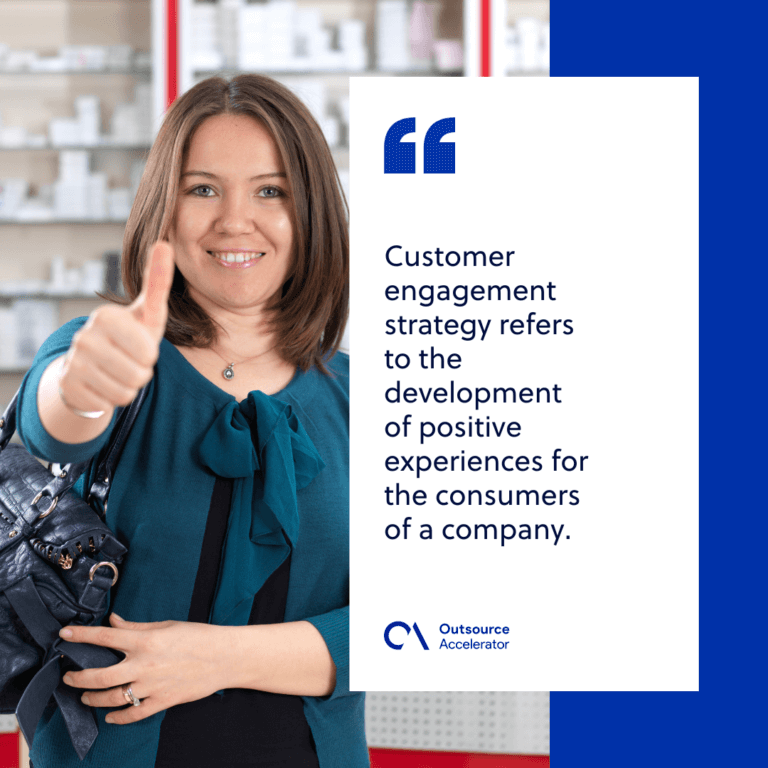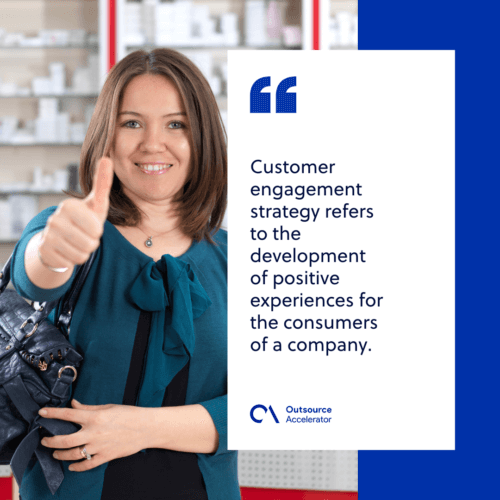 How does customer engagement strategy help businesses? 
A report by Forrester revealed that 72% of businesses mainly prioritize improving their customer experience. Customer engagement strategy greatly helps companies attain this through the following.
Improved customer experience
When customers are delighted with a business's service, they are more likely to repurchase and be loyal. However, when they receive a negative encounter, it can easily discourage them from coming back. 
A customer engagement strategy in place prevents this from happening. Strategies like an easy return or refund policy and fast customer support service allow a brand to improve customer experience through good assistance and addressing of concerns. 
Boosted customer relationships
A business can offer the nicest products or conduct the best promotional sales, but it won't matter if the market doesn't trust them. Customer engagement strategy contributes to gaining customer trust. 
Additionally, it helps form a connection with consumers through friendly and approachable services. A customer assisted with a smile will definitely remember his experience and perceive it as a positive one. 
Customer engagement strategies boost pleasant customer relationships that promote a reputable market standard, conversion, and loyalty.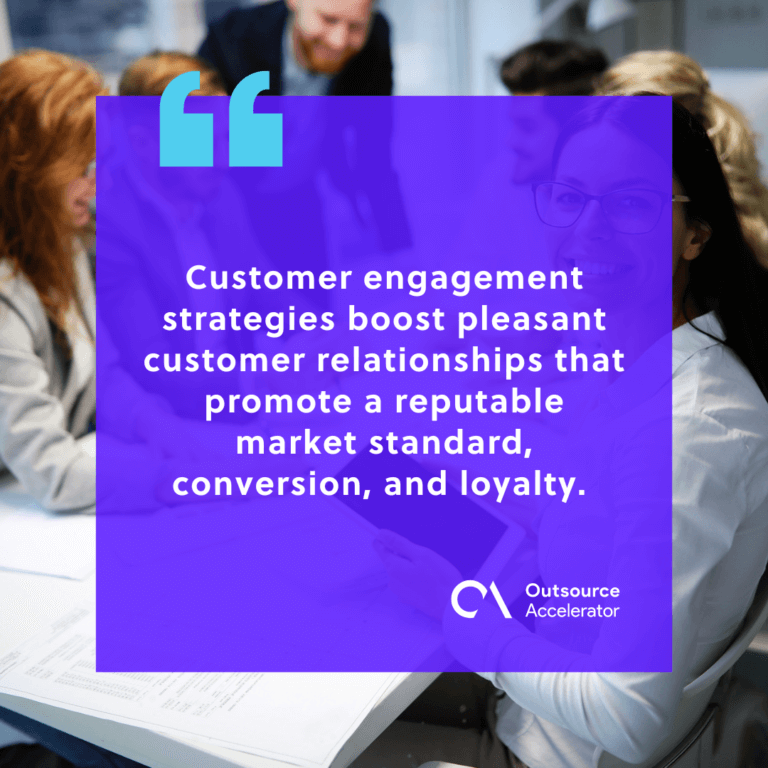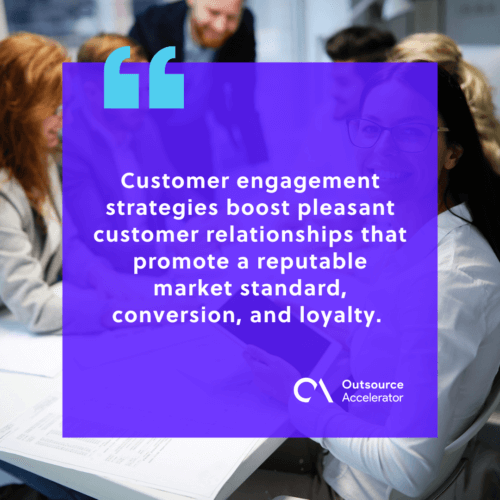 Increased sales and revenue
A customer engagement strategy helps a business increase its sales and revenue through loyal customers and repurchases. With an established connection and gained trust, it is much easier to upsell and convince consumers to buy from the company. 
Amplified brand value
An effective customer engagement strategy affects an entire business. It increases awareness, boosts sales, and develops meaningful bonds with customers. 
These, overall, amplify brand value. When the public starts recognizing the quality service a business provides to its market, it will push for an effortless market expansion, eventually increasing the brand's worth and financial standing. 
Four winning customer engagement strategies
Here are some of the winning ways to develop your customer engagement strategy: 
Include the company values, mission, and vision
Customers not only care about the "what" but also consider the "why" in a company. By indicating your company values, mission, and vision, you also give them a reason to believe in the social purpose of your company. 
This strategy allows your business to resonate with individuals who also share the same advocacy and goals. It also opens opportunities to entice an untapped market with humanizing stories and messaging.  
Engage on different platforms
One good customer engagement strategy is engaging on various media. Significantly when your business prioritizes boosting its online presence, interacting with the public creates an impression that your brand is responsive, attentive, and easy to transact with. 
However, this action plan may be a little challenging if you single-handedly manage every platform. Hiring an outsourced social media team can do the trick and ease the workload. 
Post helpful content
As Bill Gates said, "Content is king."
Most businesses compete online; to be frank, it is getting oversaturated. However, your company can still stand out on the Internet by producing relevant, helpful, and engaging content. 
Your content can be about anything–educational, memes, promotional, or engagement–and in any form (blog post, video, poster, etc.). As long as it addresses your products and services' problems and matches your brand tone and style, it can garner good consumer feedback.
Accept reviews and feedback.
The challenge in businesses involves more than making sales and closing deals. Instead, it lies in accepting criticisms and hearing negative feedback. 
Believe it or not, user feedback is an excellent customer engagement strategy. Collecting positive and negative criticisms for analysis and improvement of your operations boosts customer satisfaction. 
Remember, a business that listens to its customers is likelier to be the most successful.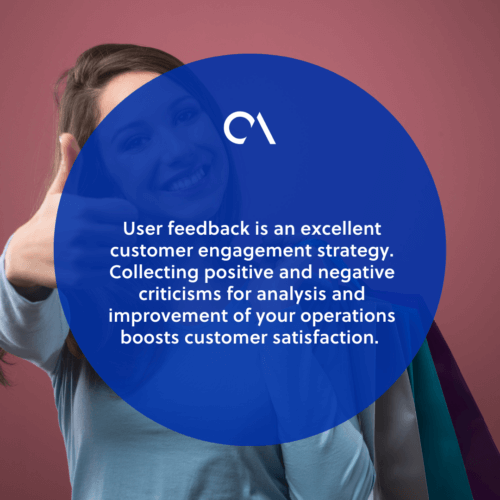 Customer engagement strategies to leave a mark on your customers
A customer engagement strategy is a proven approach to improve a business's relationship with its customers. From boosting their sales to creating valued relationships, it has helped companies retain their customers' loyalty. 
Running a business isn't limited to selling what you offer to the market. It extends to assisting the market and providing them with the best service for a pleasant shopping experience. 
It is time to leave a mark on your customers through customer engagement strategies.