Customer care: A quick guide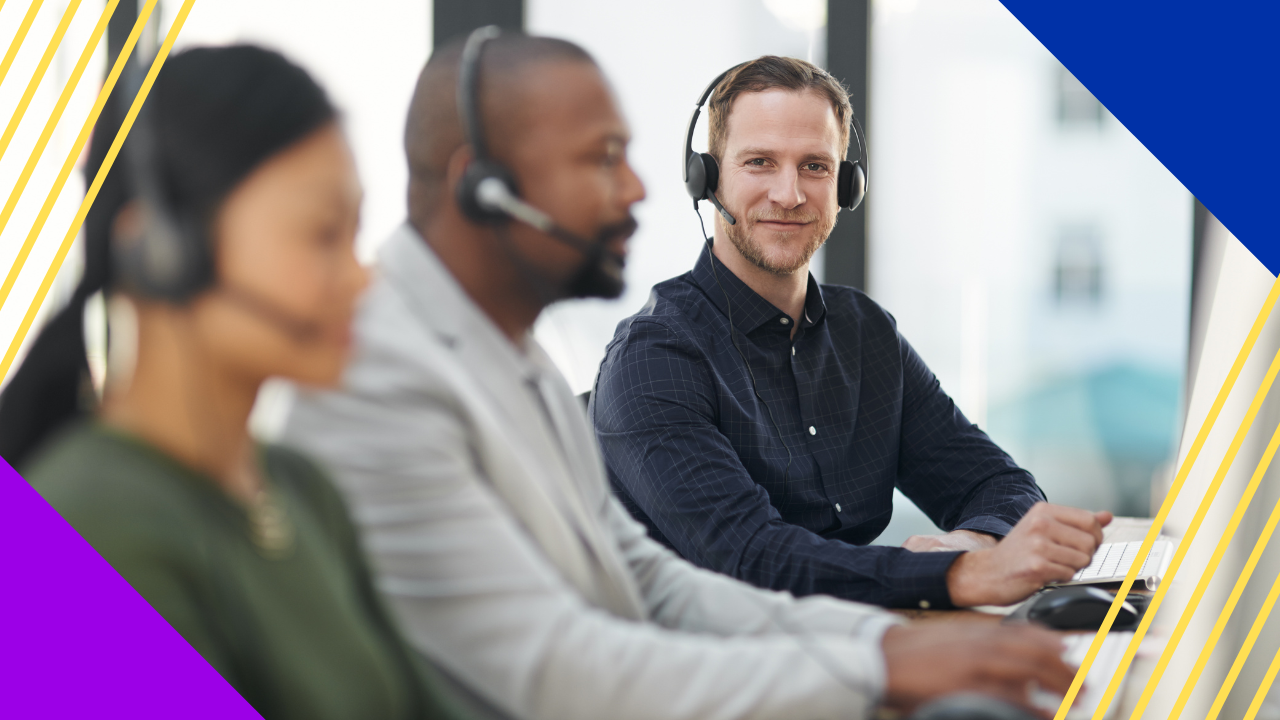 You ordered a new desk chair to finally let your back have some comfort. But when it arrived, one of the wheels had cracked through, and the headrest had snapped. Your back already feels worse. 
Thankfully, the furniture company is willing to help, offering to replace the damaged items free of charge and personally delivering an assembled chair right to your door. 
As a customer, you definitely felt the care. 
What is customer care? 
Customer care describes the way people are treated when they interact with a brand. All experiences with the company and its employees during the service period should include elements of customer care. 
In customer care, companies should make sure to deal with their customers in a way that the latter leave feeling happy and satisfied. 
The main objective is to make a good impression on your business. People who have had good impressions are more likely to return for more. 
Just because artificial intelligence is on the rise doesn't mean that your human employees should act as robots, only doing what they were told to do. 
Proper customer care involves treating customers with respect and kindness to build an emotional connection with them. And this goes for everyone in the company, especially those who meet the customers face-to-face. 
How a company deals with its customers can really distinguish it from its competitors. You're more likely to purchase from a brand that sees you as an actual person than a brand that sees you as a talking money dispenser. 
Customer churn is something all businesses want to avoid.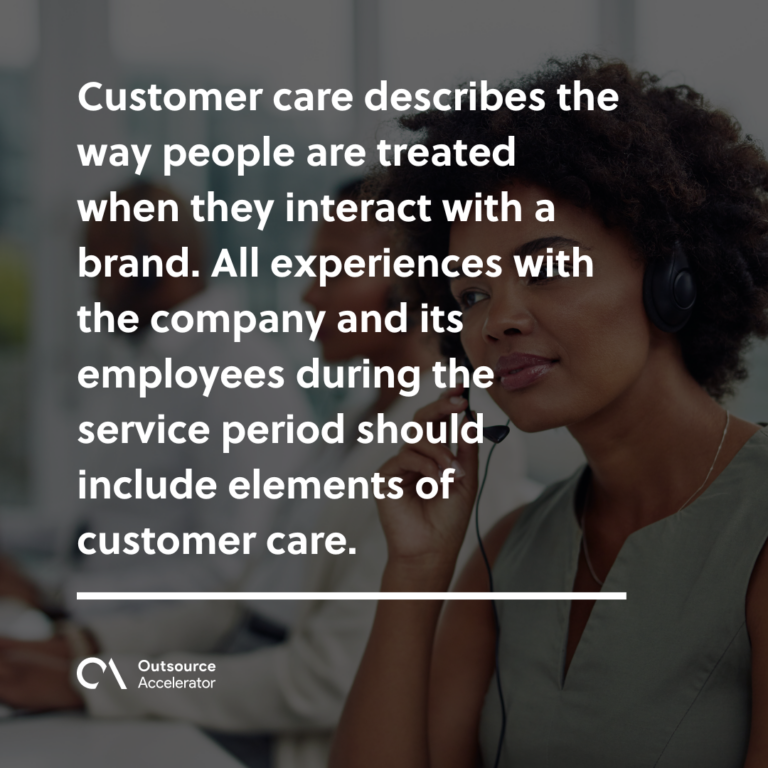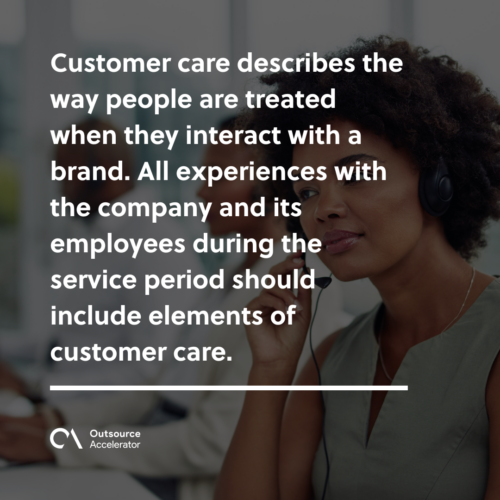 Customer care vs customer service, customer relations, and customer experience
Customer care is only one aspect of the overall interaction between customers and brands. Because it can be a subjective experience, many brands have found it hard to provide consistent customer care. 
Part of the problem may be that they don't know what it entails. There are other interactions and aspects that customer care may be similar to but not quite mean. 
Customer care vs customer service 
Customer service, also called customer support, mainly deals with assisting your customers as they purchase and use your product. 
It's more about solving a problem and is common in businesses with a learning curve, such as IT software providers. 
Customer care goes a step further by assisting the customers' emotional needs. 
Suppose customer service involves setting up computer hardware. In that case, customer care will ensure that the hardware is set up in a way that the customers' specific needs are met, and they won't have difficulty.  
Customer care vs customer relations 
Customer relations is the concept closest to customer care in practice. However, its main goal is from a business standpoint. 
Customer relations aims to quantify the relationship with the target audience. It intends to create loyal customers and patrons. Customer care is more concerned with the customers' encounters and feelings.  
Customer care vs customer experience 
Customer experience comprises the customers' journey with a brand, including the care they receive. 
Ultimately, it measures how customers feel overall about a brand, especially their connection with it. It should lie at the heart of everything a company does, and customer care is a big aspect of it. 
The importance of customer care
Even just one bad experience can be enough to keep a customer from visiting your business again. Every moment counts, and so does every customer, no matter how big the business is. 
This is especially true today with social media allowing us to share experiences. If your employee mistreats a customer, that can cause ripple effects that can close off big parts of your customer base. 
In most cases, you wouldn't even have met the people who the mistreatment had turned off. 
But this is why customer care should be a priority. 
Enhanced brand reputation 
By putting customers first and treating them with kindness and compassion, you make your brand look better. This applies not only to clients, but also other businesses that are interested in working with you. 
A company that practices great customer care reflects that in its internal business dealings.
Brands should be aware of their presence on social media. People actually do post reviews on sites like Yelp, TripAdvisor, and Google My Business, which have large audiences. 
You want a pretty brand? Then treat your customers well.  
Stronger customer trust
Brands that treat their customers like thinking and feeling human beings inspire greater trust. Customer experience is strengthened when customer care promotes trust in the brand. 
A company may have an impeccable product, but if their customer care is deficient, people will not want to invest their time in it. So pair your good product with consistent customer care practices all around.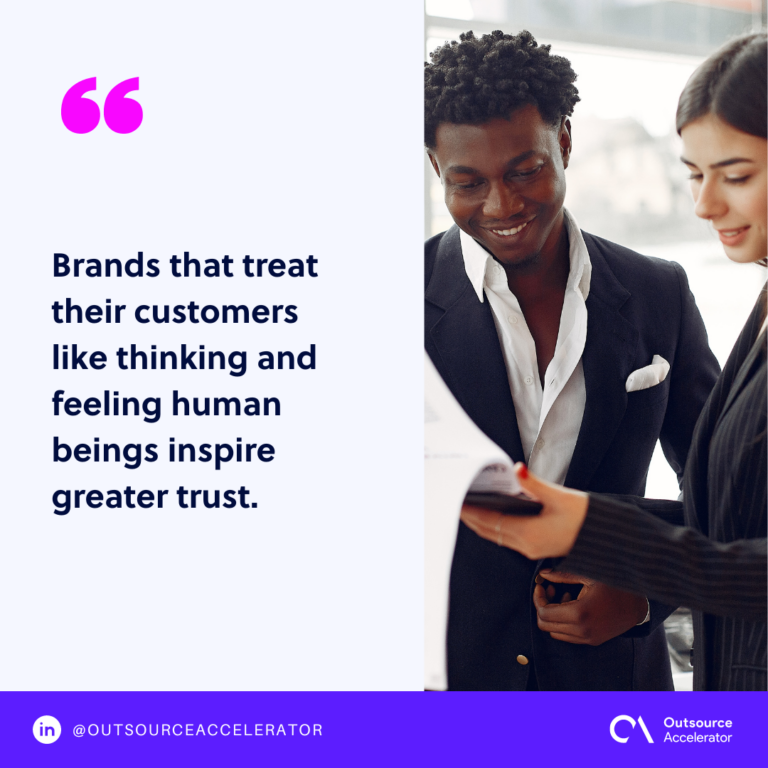 Reduces customer churn 
Customer churn happens when you lose clients. Losing your customers to competitors can be one of the most painful things to happen to a company, both emotionally and financially. 
One of the effective ways to prevent this is to set up a help desk, assisting patrons with a personalized and friendly approach. This will show that you genuinely care for your customers.
123Employee can help you with this service, ensuring that you and your customers are well-connected.
As a result, customers are encouraged to come back when they feel valued. Crafting a personalized response to a customer's needs is a good way to engage them. 
Higher revenue
Good customer care brings with it higher customer loyalty. More opportunities to upsell will increase your customer lifetime value and ultimately raise your bottom line. 
As a business, this should be your main objective, so arrange a customer care strategy that aids this. 
Greater business insight 
Part of customer care involves listening to the customers. Your clients can provide a source of data to help when making business decisions. 
Asking them for feedback on products and identifiable problems shows them that their voices are valued, and you achieve steps to your goal of improving your business.