Streamline your customer data with a CRM data entry VA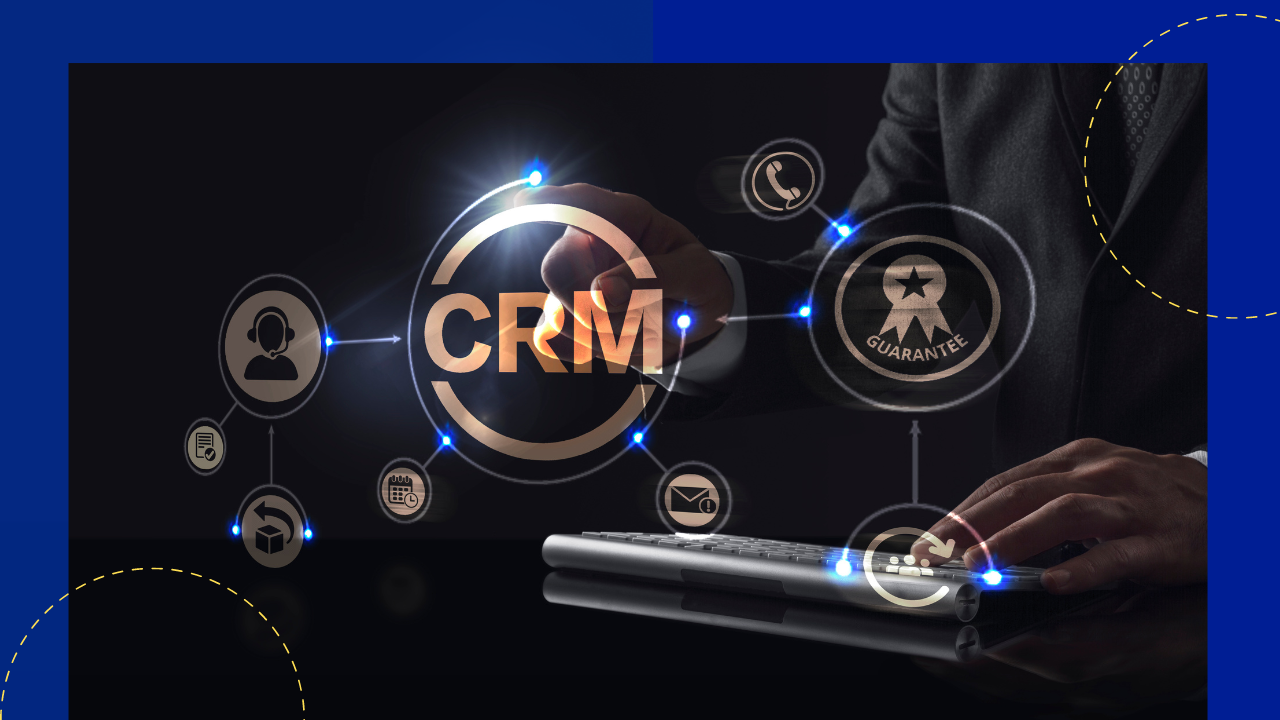 Companies of all sizes nowadays use customer relationship management (CRM) systems. CRM is software that helps manage customer data, orders, and issues. It can also provide insight into behavior that businesses can learn from to improve.
Even with the advent of automation, CRM data entry is still time-consuming if you do it yourself. Fortunately, this is a role that you can assign to a virtual assistant. 
Wing Assistant can be your partner in this process. It helps businesses grow by providing dedicated virtual assistants for various services, including CRM data entry. 
Defining CRM data entry  
CRM data entry, also known as CRM data immigration, is the input of data into a company's CRM software. 
This can be done manually or through automation, with the main goal of maintaining accurate records of all the customers a business serves. 
CRM data entry is a crucial part of business, particularly for sales teams. A CRM's efficiency relies on it being stocked with accurate data for easier management of your sales and other business purposes.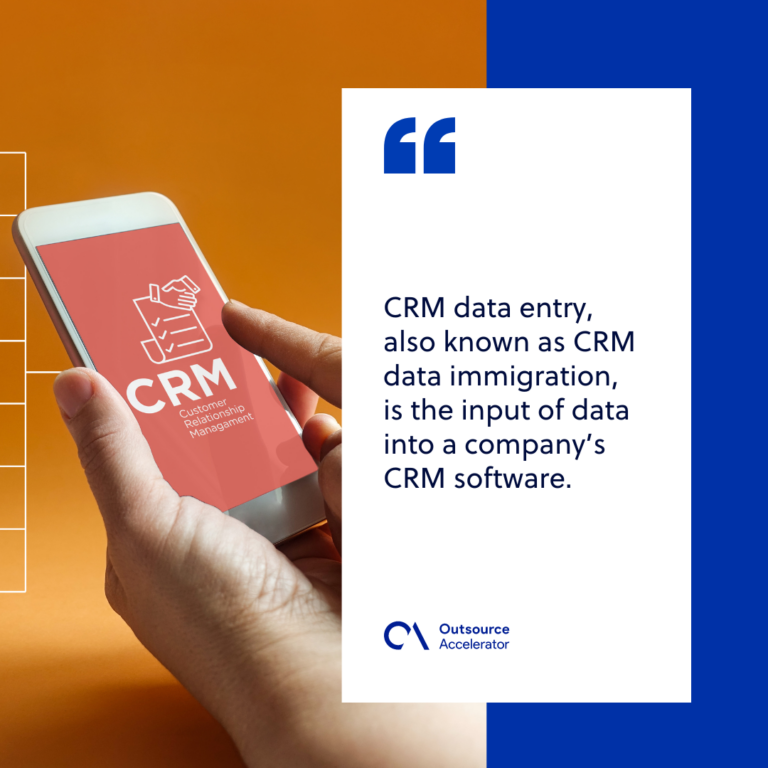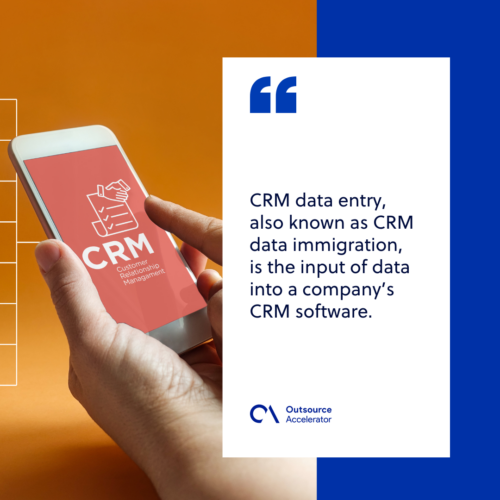 Tasks of a CRM data entry virtual assistant
Companies can strategically manage their CRM data entry by hiring a virtual assistant. These VAs are experienced in entering and updating customer data, as well as managing project tasks like adding new leads and following up on sales opportunities. 
Here are some of the common tasks you can assign to your CRM data entry virtual assistant: 
Data input 
Data input is the most basic task you can give to your VA. Your CRM data entry VA will input data from a spreadsheet of information that you'll provide according to your specifications and preferred format.
Data scraping
CRM data entry occasionally requires data scraping from different sources online. This involves extracting and entering data into a database, usually to obtain information unavailable elsewhere.  
It takes time to do this, but a dedicated VA can complete this task in no time. 
For those looking to enhance their VA's skills in data scraping, consider exploring the Selenium web scraping tutorial to understand effective methods.
Data cleanup
Data cleanup is a necessary part of the CRM data entry process. It involves correcting, updating, and removing any information that is irrelevant or inaccurate. 
A professional virtual assistant can identify issues like duplicates, invalid data, or informational gaps. Data directly impacts earnings. According to Validity's survey, 44% of companies estimate a 10% loss in annual revenue due to data decay.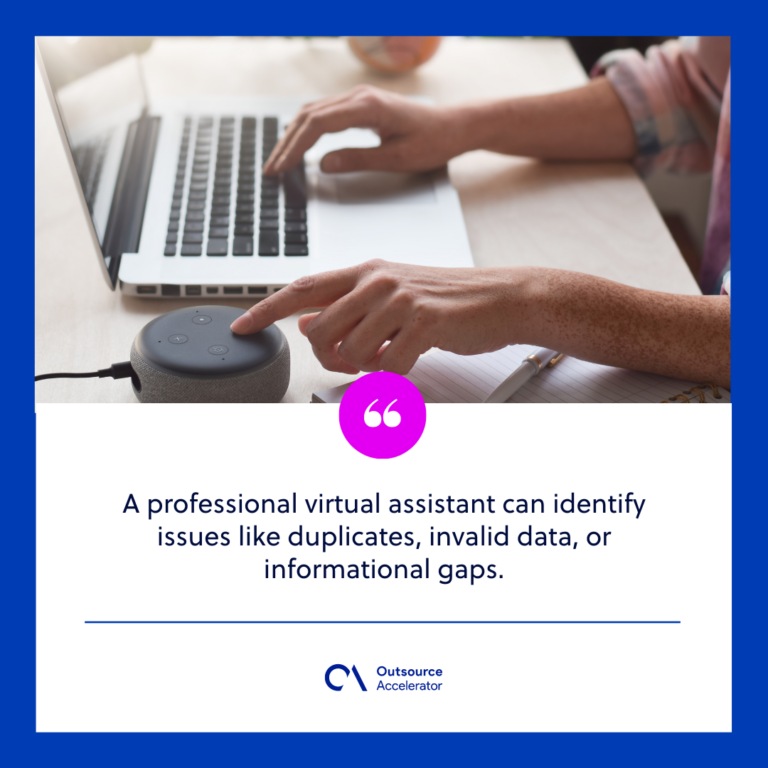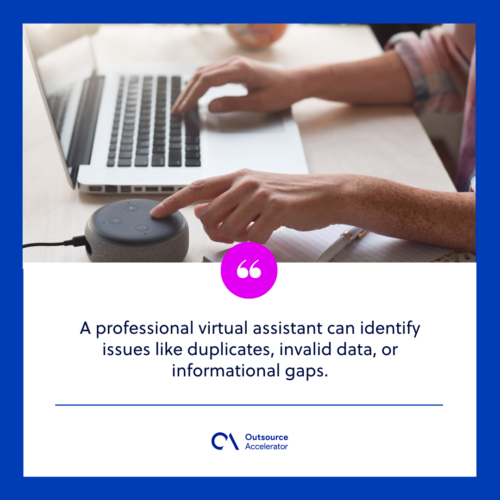 Data upkeep
Data upkeep is an endless job for CRM data entry VAs. This task ensures that all customer information is current and correct and verifies any new records for the same. 
VAs must make sure that CRM data stays consistent across all systems. 
Lead screening
Lead screening filters out irrelevant leads that don't meet your criteria. CRM data entry VAs can evaluate leads, determine if they qualify, and classify them. This saves time and resources by reaching out only to selected people. 
Lead enrichment
Lead or data enrichment ensures that your sales team is equipped with all the information about leads to make a sale. 
VAs assist in lead enrichment by adding necessary data to customer profiles. The more information about a lead, the better the chance of conversion.

Record updating
CRM data entry VAs must regularly update existing customer records with new information, like changes in personal details. This is crucial for future communications. 
Report creation
CRM data entry VAs may be tasked with creating reports for clients based on the information they manage. 
The most common reports expected are:

Lead generation reports

Customer-specific reports

Sales pipeline reports
Audio transcription
Finally, CRM data entry VAs can be assigned to transcribe audio into text. Audio is usually any call where information is gathered. This data is then transferred to the company's CRM.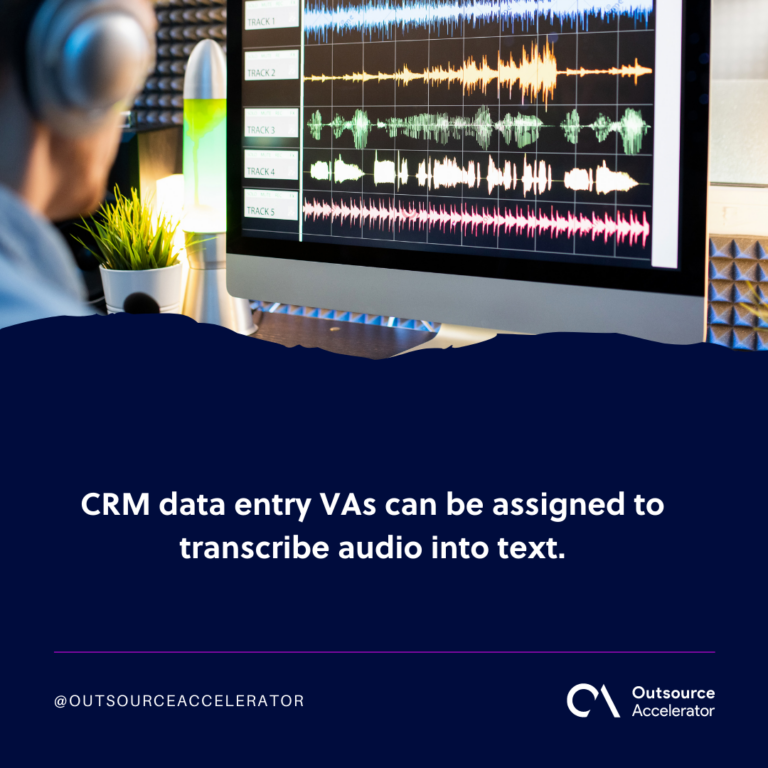 Get started with Wing Assistant for your CRM data entry
You can hire a fully managed CRM data entry VA from Wing Assistant. Wing's virtual assistants are trained in all the major tasks mentioned above to manage your pipeline and boost efficiency. 
Your VA is also trained to leverage AI to improve work quality further. Free yourself up from this task and leave the rest to Wing Assistant. 
Contact Wing Assistant today to get a dedicated CRM data entry VA.