Cost equation of outsourcing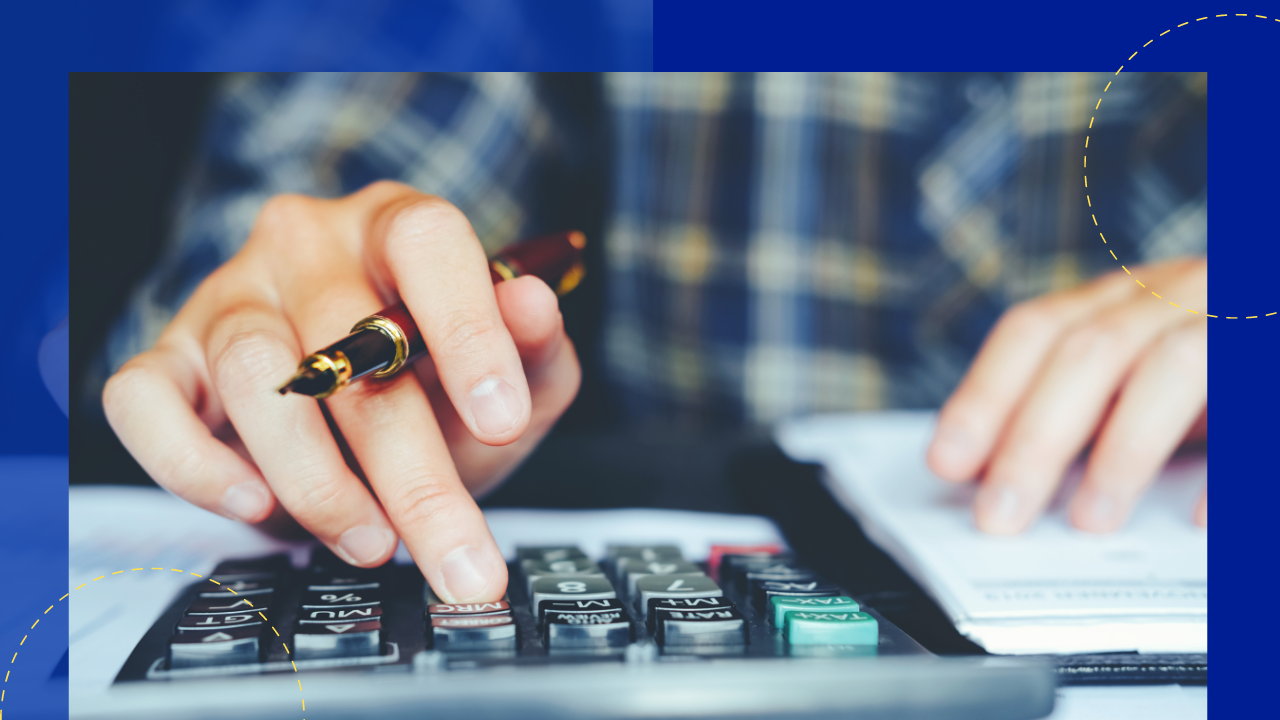 Here at Outsource Accelerator, we strongly believe that outsourcing is one of the best strategies a company can use when it comes to growing their operations and gaining a competitive advantage over their peers. There are many reasons for this belief, ranging from how outsourcing can quickly provide a company access to the resources it needs in order to grow, to how it can save a company a considerable amount of money when it comes to overhead costs.
As one of the biggest proponents of outsourcing, we'll continue to spread the word about this invaluable and critical business strategy for as long as we possibly can, until it is common knowledge that outsourcing is an option that companies of all sizes can include in their organizational toolbox.
However, it would be a disservice to our quest to provide information about outsourcing if we only extol its benefits and not speak of the potential issues that businesses may encounter should they choose to adopt outsourcing. In this article, we hope to bring to light those issues, so that those who are truly willing to take up outsourcing can know full well what they're getting into and prepare accordingly.
The growing pains of outsourcing
There is no doubt that one of outsourcing's biggest draw is its cost-effectiveness, especially when the service supplier is from a top outsourcing destination such as the Philippines. Without this particular benefit, outsourcing probably wouldn't be as popular as it is currently, or even get off the ground as a viable business strategy. After all, cost cutting is one of the most important tenets of keeping a business going. By keeping costs low and maintaining customer and employee satisfaction, a business will remain operational and profitable for the foreseeable future.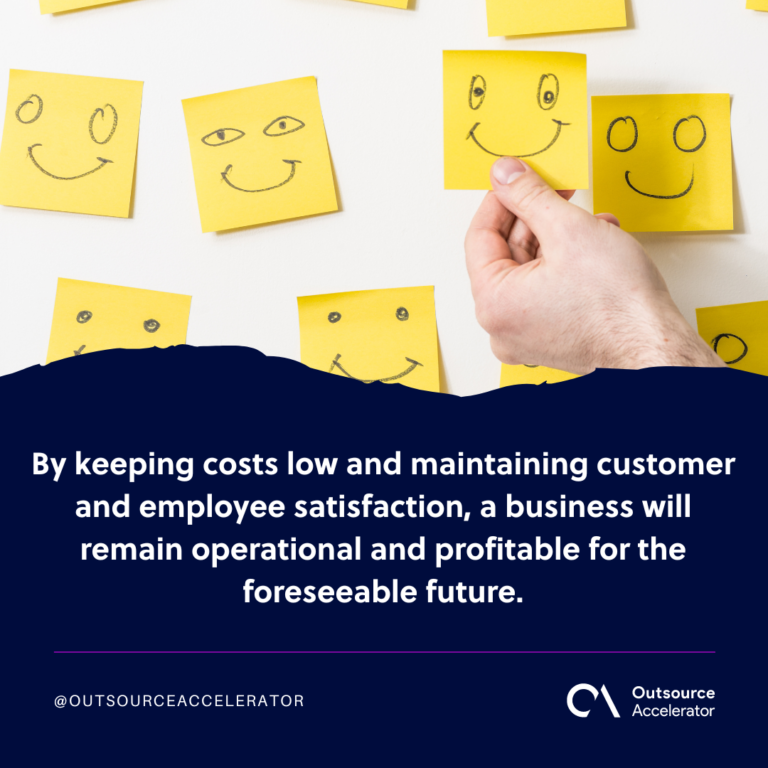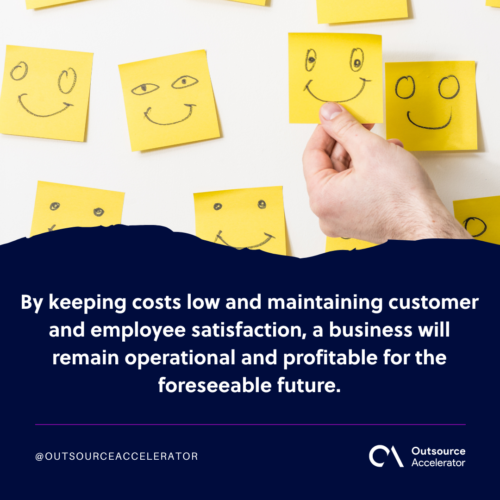 However, it must be acknowledged that at the earliest stages of its implementation, outsourcing may in fact cost a bit more than the enterprising business owner may like. This is because a business would have to invest quite a bit more money in setting up the "soft" infrastructure that would allow the outsourced personnel to seamlessly fit into the organization and contribute to work.
Let's illustrate this with an example scenario. First, let's say that an individual with enough resources at his disposal is trying to build a tech company with a medium customer service component. In an ideal setting, he would be building this company in Silicon Valley, allowing him to assemble his production team from the world's most talented and tech-proficient workforce pool. Logically, his customer service team will also be taken from that very same pool and will be working in the same building as his production. Such a setup would allow for the maximum amount of cohesion when it comes to understanding and addressing customer issues and complaints, which in turn create a high degree of customer satisfaction.
Now, working off the above ideal scenario, we can easily see that it would cost such a company an immense amount of money to stay afloat. Silicon Valley is, after all, set right at the heart of San Francisco, arguably one of the most expensive cities in the US when it comes to living and occupancy expenses. The bill for renting even a small office here would be huge. An office that can accommodate a production team and a customer service team would cost even more.
Then there's the fact that the company owner would have to pay out a salary commensurate to the average Silicon Valley tech employee's salary, which can easily balloon up to six or seven figures monthly. Combine that with other miscellaneous expenses and the salary/space expenditures needed for the in-house customer team, and you have an overhead cost that could easily bankrupt even the most moneyed and financed business owner.
As expensive as it will be, we should still point out that the result is a very well-oiled and efficient machine. Despite the high asking price, the business owner will still be getting what he paid for: the world's best employees on the job, and a highly-adept customer service team that has direct access to the people who can make things happen. This can easily translate to high profit margins if the business manages to carve out its own niche and set itself apart from its competitors early. Such a setup would have a lot less friction when it comes to setting and hitting goals and achieving success.
Now, let's compare that to a similar business venture, but with an outsourced customer service team instead of one that's developed and cultivated in-house. Specifically, the business owner chose to work with a competent firm in the Philippines that should be able to reliably handle customers.
Right off the bat, the tech company with the outsourced customer service team will be spending significantly less than the one with the in-house customer service in terms of overhead and salary costs. Not only will the former save money by not having to buy or rent the infrastructure needed for an in-house customer service team, its decision makers also won't have to worry about paying their own outsourced customer service team Silicon Valley salaries or get them health insurance. They will only need to worry about paying the outsourcing firm the price they agreed upon, which would be a flat service fee and nothing else.
So the savings that outsourcing promises will be there right at the outset. However, these enormous savings will be somewhat countermanded by the business owner having to spend a bit more on top of that outsourcing fee to get things going.
These extra expenditures are due to the inherent difficulties related to employing a team that's based overseas. These difficulties are as follows:
The team is in a different country, which means they will be operating in a completely different time zone.
Cultural and language barriers exist, which can make communication and collaboration a bit challenging at first.
Face-to-face meetings may be difficult to set up, which could result in miscommunication of instructions, company directions, and/or demands.
Production efforts facilitated through telecommuting or remote work may not be as efficient or adept as in-house production.
While these difficulties may sound serious enough to make anyone reconsider outsourcing, in reality they can be easily addressed through the investment of "soft" infrastructure, like we mentioned earlier. For example, time differences can be managed by hiring a few more in-house employees and using a shifting schedule. In this way, there would still be in-house employees to instruct and supervise the outsourcing team once they log on for the day, no matter what time of the day it is. As such, the business owner would have to spend a bit more, on top of the outsourcing fee.
The cultural and language barriers can be addressed by more meetings over VOIP, as well as hiring interpreters or other in-house employees that can understand the outsourced team's native language, and thus work as a middleman for instructions and demands. Again, these steps entail more spending on the part of the business owner.
Finally, to ensure that both the outsourcing team and the in-house employees are on the same page in terms of company direction and instruction, the company would have to invest resources and time on creating more policies, guides, manuals and other instructional/failsafe systems. This is the only way to ensure that no unfortunate mishaps due to misunderstandings or missed instructions happen.
All of these solutions will lead to the business spending quite a huge chunk of the money saved through outsourcing. Not to mention that the company will need to have a dedicated personnel who can facilitate and disseminate these solutions.
We can therefore conclude here that while outsourcing is a lot more cost-effective than in-house solutions, it can still cost business owners quite the handsome amount. This is arguably the biggest downside to outsourcing that many of its proponents often gloss over.
Outsourcing is still worth it
With that said, outsourcing is still something we heavily recommend. This is because of the following reasons:
These growing pains are simply that. Once the business owner pays all the "hidden" fees and his in-house employees get through the learning curve in dealing with their offshore counterparts, all the difficulties cease to exist. What results is a well-oiled machine geared towards profit. Communication between teams is normalized and made more efficient.
It forces the business and its employees to mature quickly. All companies will inevitably have to scale up their training resources and staff. With outsourcing, the need to scale up soft infrastructure is just presented a bit earlier than usual, which can be a great boon in preparing the company for any turbulent times ahead.
Ultimately, it's still a lot cheaper. Even if we sum up all the added expenses a business owner would have to pay when they dabble in outsourcing, it would still be considerably cheaper than if they had gone with an in-house team. There's just no contest, whether we compare GROSS values or NET.
But most importantly, we continue to recommend outsourcing because of the simple fact that the Philippines, arguably the best destination for business process outsourcing, still remains primed to help western companies get the business growth and success that they deserve.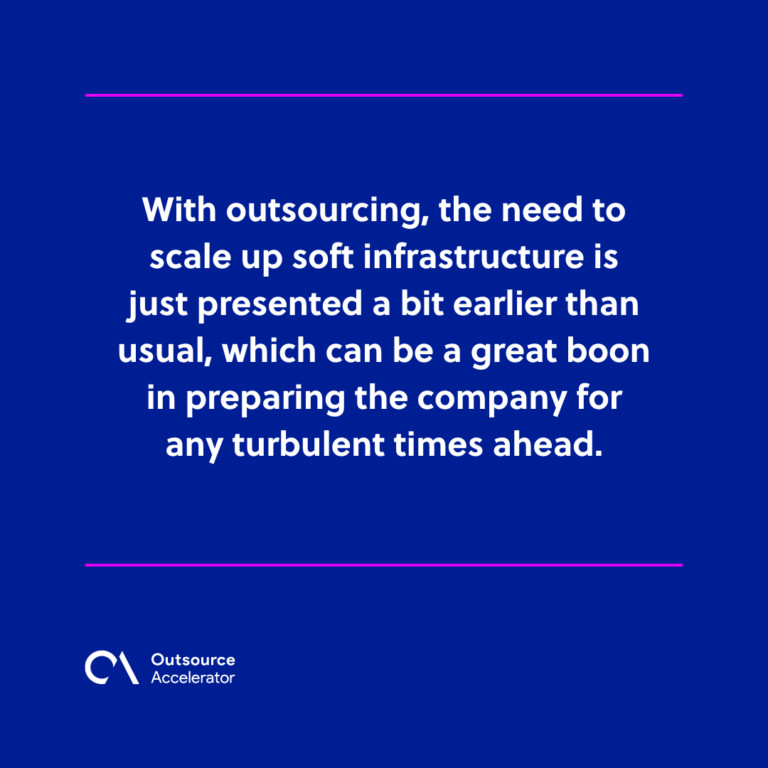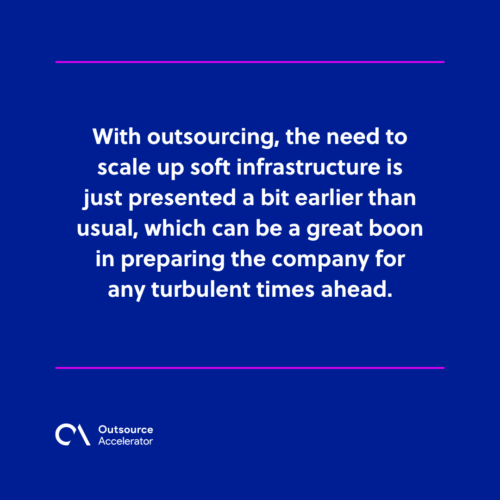 No better time to outsource to the Philippines than now
Outsourcing has long become an integral part of the Philippine economy. There's no ifs and buts about it. The industry contributes significantly to the country's economic health and standing in the world stage. Information technology businesses and organizations bring in 10% of the country's GDP, and outsourcing's importance comes to the fore even more.
As such, we can easily and safely predict that the cost of outsourcing to the Philippines will remain very affordable to Western companies. The government and the local BPO-related organizations know all too well that while the Philippines is currently at the top, its competitors are hot on its heels, itching to take the crown and the huge business that such a position entails. There is a need to price BPO services competitively to stay in that position. If the cost of services in the country gets too high, then companies may start looking four service providers from other parts of the world.
Pricing aside, what about the quality? Will that remain constant as well? We believe so. We must remember that the BPO industry has been responsible for the boom in the middle-class population in the Philippines, with many families rising out of poverty because one of their members gained employment into one of the many call centers that had sprung up in the country back then. Consider that every year, hundreds of thousands of fresh graduates are on the lookout for high-paying jobs. A large portion of those graduates will inevitably end up in the BPO industry regardless of their course, simply because BPO companies offer higher and more lucrative salaries, even in entry-level positions.
We must also consider that most Filipinos have access to Western culture and language. English is commonly used as the language of instruction in schools and colleges. Students thrive on the internet and social media where English is needed in order to communicate with others. Most TV shows feature English in one way or another, and local movies are always dubbed in. This will not likely change soon.
All these elements make the Philippines perfect as an outsourcing destination. There's just no contest.
Conclusion
Outsourcing is not something that a business owner or company manager should look into lightly. While it does offer enormous savings and other essential benefits, those seeking to adopt it should be prepared to shoulder the growing pains and costs needed to truly facilitate outsourcing. Once they manage this, the benefits—both in the short and long term—will pay off in a huge way.
So if you yourself are interested in outsourcing, then head on over to Outsource Accelerator and let us help you get started right. We have our outsourcing experts and consultants on standby, ready to answer your questions and connect you with the right outsourcing team for your needs. We also have a wealth of articles and resources about outsourcing that you'll no doubt find handy. Visit us today!