Definition
What is Cost-cutting?
Cost-cutting refers to measures done to reduce costs while increasing profit. Businesses look at their expenses and seek ways on how they can improve their spending. 
The definition of cost-cutting may come in the form of downsizing to a smaller office, closing down branches, or laying off excess employees.
Cost-cutting does not always mean that a business is failing. These measures apply to any stage, whether they are starting, expanding, or already maintaining their size. 
Usually, entrepreneurs who cut their expenses aim to increase their savings and profit since they have limited cash flow.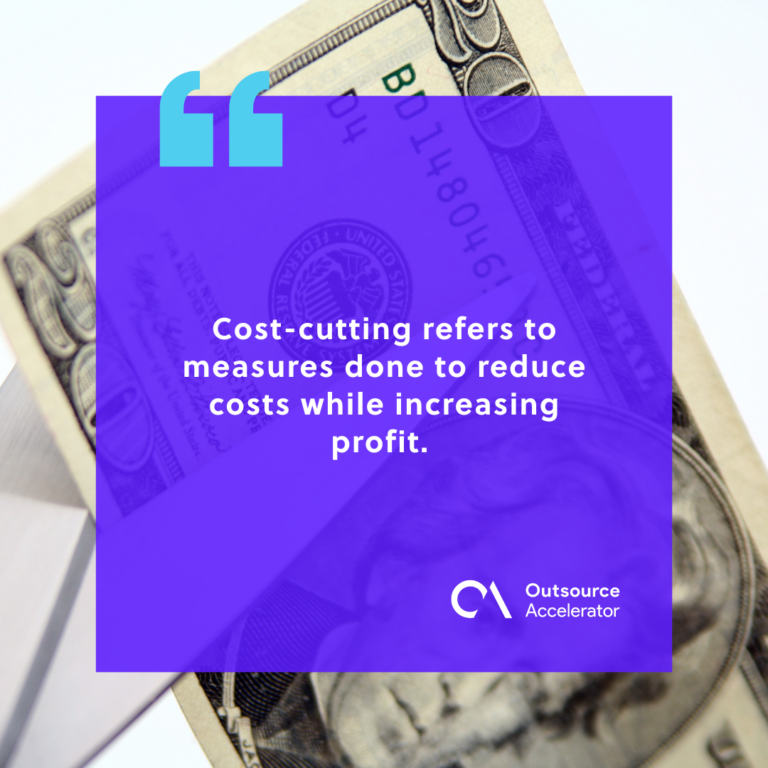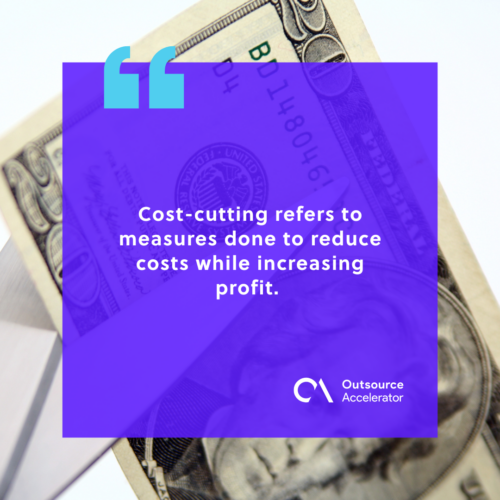 Cost-cutting strategies
There are different ways to cut costs, such as bartering and finding alternatives to availed services, finding a lower office space with better amenities, and going digital. Business Process Outsourcing (BPO) is also a good way to save costs without sacrificing service quality. 
India and the Philippines, the most popular outsourcing destinations, offer a wide range of services at a fraction of the cost versus hiring in-house employees.
Cost of hiring a BPO
Hiring a BPO provider can totally transform a company's revenue and free up working capital. However, the total cost of outsourcing varies depending on each job function and location of the outsourcing company. 
Outsource Accelerator helps you save up to 70% on costs compared to developing a fully-staffed in-house department. It covers all the expenses needed in setting up a team — such as office space, equipment, and tools — so that you do not have to worry about those things anymore.
Employee salaries, benefits, onboarding, and training are also managed already. The only thing you need to think about is the tasks that you want to delegate to your offshore team.