CSR 101: Why is corporate social responsibility important?
Corporate social responsibility helps society benefit from a growing business. It assists communities, forges a strong employer-employee relationship, as well as boosts morale in the organization. 
CSR takes many forms, depending on the industry that the company belongs to. The article below will discuss in detail the concept of implementing CSRs, how it could impact a brand and the different ways to showcase a company's corporate social responsibility.
What is corporate social responsibility?
Corporate social responsibility is a form of self-regulation that enables businesses to contribute, volunteer, and engage with communities outside of their organization. 
It allows employees to remain philanthropic, charitable, and socially accountable to the issues and people related to their line of work. 
Implementing a CSR initiative makes employers conscious of their business' impact on society — be it economic, societal, or environmental. It enables companies to operate in a way that improves not only their organization, but also the society as a whole. 
Large corporations are usually the ones who are practicing CSR in the workplace. After all, the more recognizable the brand is, the bigger responsibility they have to set an example to its workforce and peers in the industry.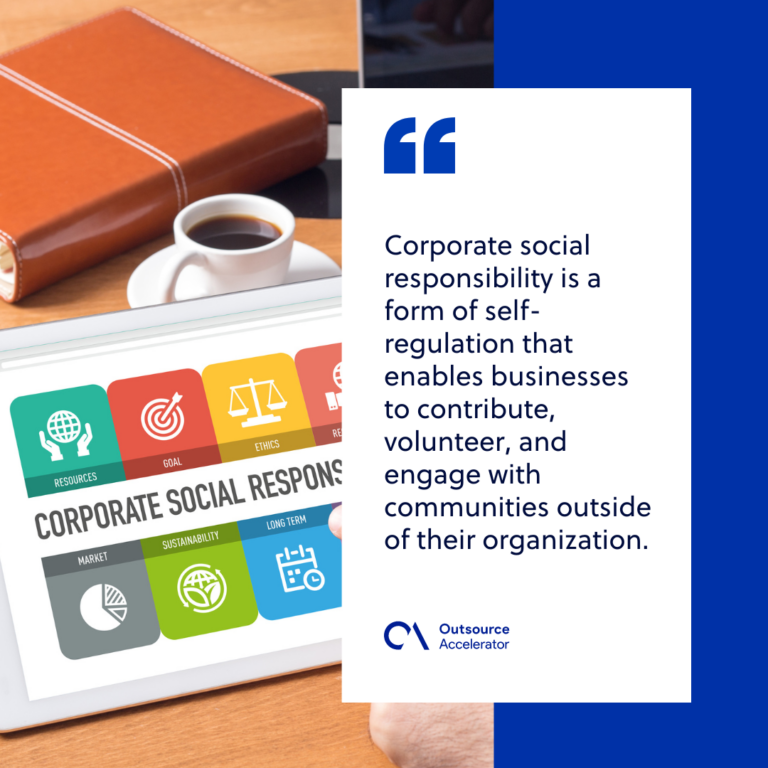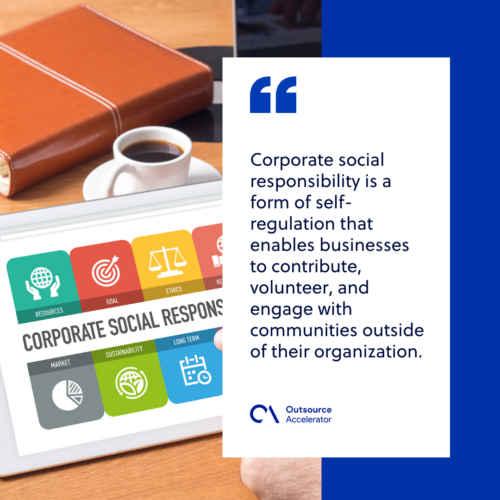 Is corporate social responsibility similar to charity work?
Corporate social responsibility helps businesses conduct their operations ethically while positively impacting society. While CSR can be closely attributed to charity work, these two things are definitely not the same.
Here are some differences between companies with CSRs and charity organizations.
Period of solutions.

Charities create long-term solutions to problems faced by the people. CSRs are considered immediate and short-term answers to current situations.

Goal.

A charity's main goal is to give part of its profits back to society. CSR is mainly about helping people while still gaining profits from other paying stakeholders.

Coverage.

CSR aims to positively impact society at large, while charities pick a small portion of humanity to assist.

Beneficiaries.

CSR takes a portion of a company's time and profit for the community that is close to its business model. Charity work can be given to anyone at any given time.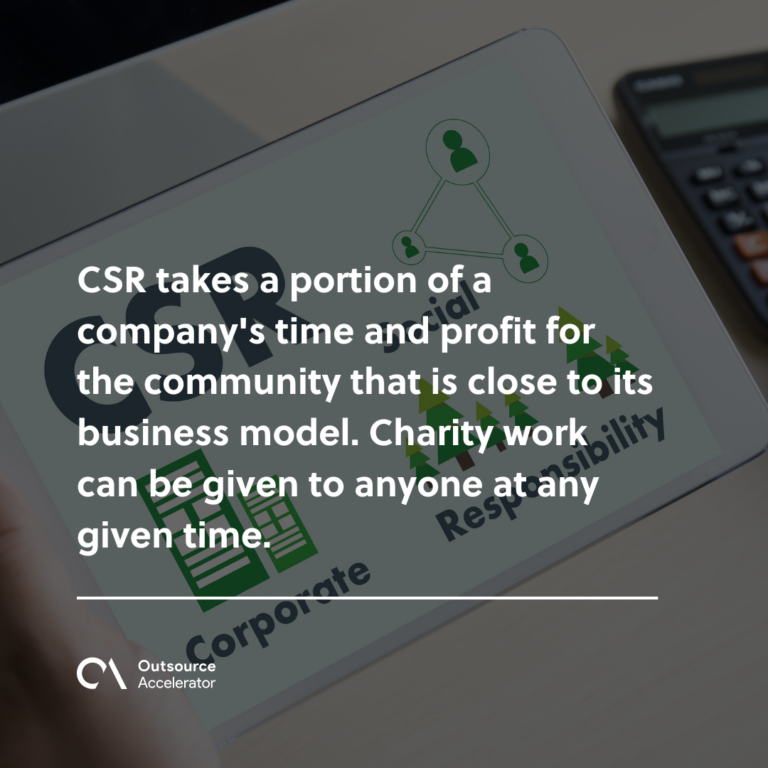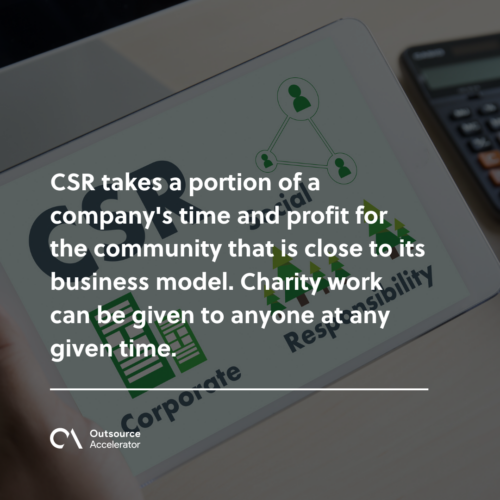 Why should a company implement a CSR initiative?
There are many reasons why a company should have a corporate social responsibility. Here are some of them:
Improves the brand image
CSR practices play a crucial role in attracting new customers, whose consumer behaviors are strongly influenced by the company's values, reputation, and activism. 
Stakeholders usually prioritize CSR when choosing a brand, and most hold companies accountable for effecting social change with their beliefs, practices, and profits.To stand out among competitors, your company needs to prove to the public that it is a "force of good" and it provides service to the community. 
Advocating and raising awareness on important causes is an excellent way to increase brand value in your business and build your audience awareness.
Increases appeal to investors
Just like customers, investors tend to look into a company's social responsibility before giving out their support. A well-planned and delivered CSR campaign is bound to attract their eyes and make them more interested in what an organization can do.
Attracts and retains employees
The modern workforce goes beyond prioritizing their finances when looking for a job. They are also looking into how their potential companies take care of the people and the community that they belong to. 
Most workers nowadays are purpose-driven, and they want that for their workplaces too. Top talents are attracted to companies that give back to the community. 
Thus, CSRs are an important factor in attracting and retaining employees in an organization.
Boosts employee creativity
The way a company treats its community says a lot about how they treat its employees. People who connect with their company's initiatives are the ones that feel supported and productive at their workplaces. 
CSR allows your employees to volunteer their work hours into something meaningful, creates a sense of community within your organization, as well as connects your team to the outside community. 
These personal-development opportunities give employees a chance to gain motivation and pride in their careers, work positions, and organizations.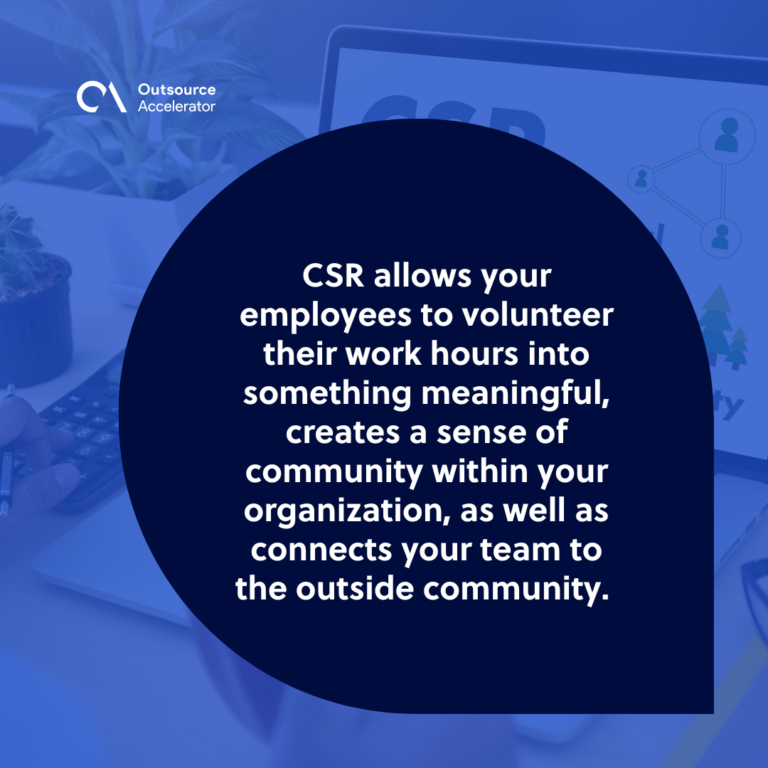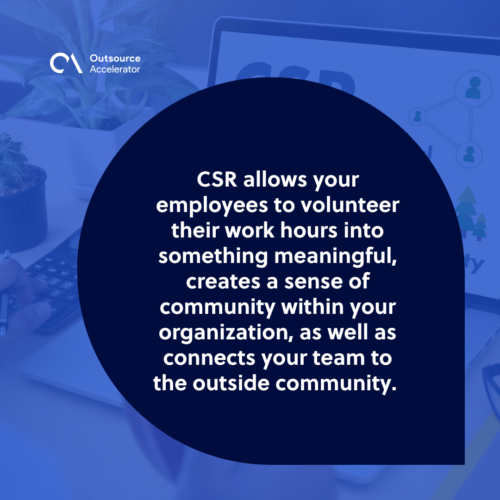 Explore these different types of corporate social responsibility 
Corporate social responsibility can differ depending on the company's industry. To be perceived as genuine, people believe that CSRs should be integrated into the company's culture and business operations.
Here are the different types of corporate social responsibility that each company could adopt:
Environment
Businesses contribute a large amount of carbon footprint no matter what their size is. That is why any steps taken to reduce this is known as a good initiative by the company toward the community.
Philanthropy
Businesses can practice corporate social responsibility by donating money, products, or services to social causes and nonprofits. 
Conglomerates and large corporations have the resources to donate big amounts to charities and local community centers. Small firms, on the other hand, can make small contributions to any charity that they have in mind.
Ethical responsibility
Treating workforces fairly and ethically is also an excellent CSR initiative. This may refer to any organization that follows labor laws no matter what country they operate in.
Volunteering
Aside from philanthropic contributions, companies can also volunteer their and their employees' time. Workers can devote a portion of their work time to help in any events or social causes in the community.