Exploring conversational AI: Types, functionality, and industry applications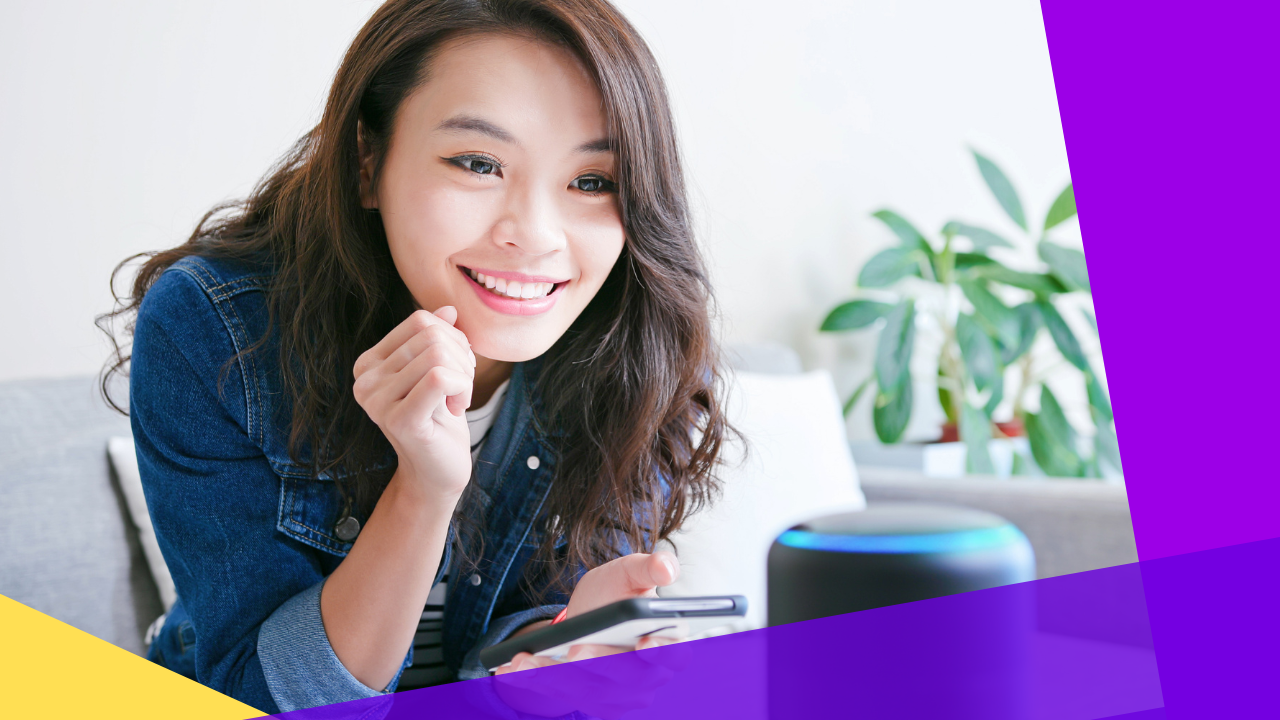 Artificial intelligence (AI) is a technological innovation transforming how we execute our day-to-day activities. Conversational AI is another type of AI that has emerged to make life and work easier.
This article discusses how conversational AI works, its types, and its applications to various industries.
What is conversational AI?
Conversational AI uses artificial intelligence to create software that mimics human spoken language. This form of AI most commonly uses sophisticated chatbots, sometimes known as AI chatbots.
Moreover, this system is designed to carry on natural responses via natural language processing (NLP) — an area of artificial intelligence that paves the way for computers to comprehend and act upon human language.
3 types of conversational AI
Conversational AI can be classified into three types:
1. Chatbots
Online chatbots are computer programs that aim to converse like human users. It is commonly used in customer service to answer FAQs, distribute data, and simplify operations. 
Natural language processing (NLP) may help chatbots interpret user questions and provide appropriate responses.
There are two kinds of chatbots:
Rule-based chatbots

–

programmed to respond to users' inputs in a predetermined way. For instance, this chatbot may provide fixed answers to queries about shipping, returns, and stock levels.

AI-powered chatbots

–

understands user input in natural language, respond to inquiries with readily relevant information, and can learn from user data over time.
2. AI virtual assistants
This conversational AI is built with natural language processing (NLP) used to interpret and respond to inquiries. AI-powered virtual assistants may also execute non-voice customer service activities on behalf of a human VA.
3. Voice assistants
This conversational AI uses speech recognition tools to understand user requests and respond to their inquiries.
Common examples of voice assistants are:
Google's mic assistant

Amazon's Alexa

Apple's Siri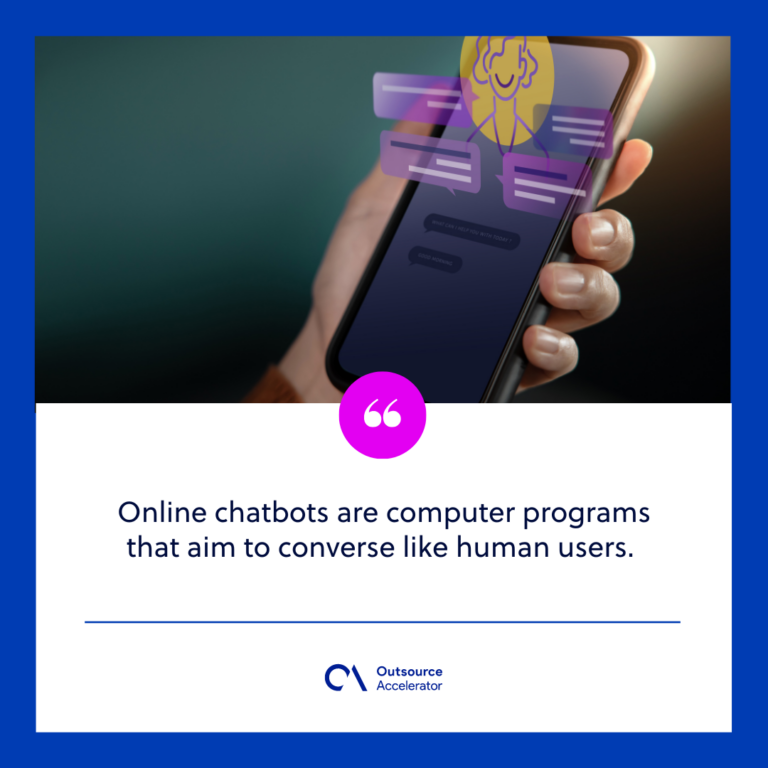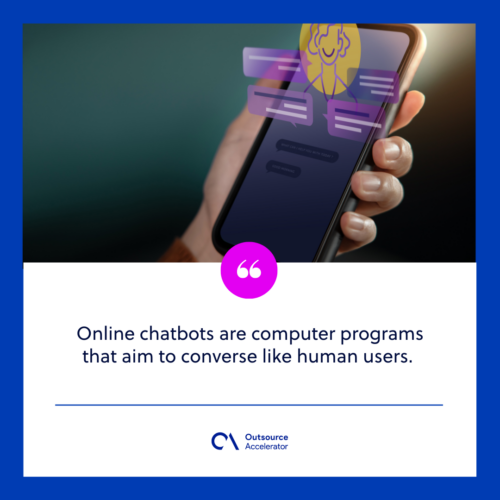 How does conversational AI work?
Because of technological advancements, robots continuously evolve and can now comprehend different human languages and respond accurately and naturally.
To further explain, here are the artificial intelligence systems that make conversational AI work:
Natural language processing
Natural language processing (NLP) is an area of conversational AI that enables computers to read, comprehend, and communicate effectively in human language. 
Analyzing the meaning and context of human language requires dissecting human words, phrases, and sentences into the components of AI.
A pizza delivery chatbot, for instance, may employ natural language processing to decipher a user's delivery request. It can then provide a confirmation message along with an estimated delivery time.

Machine learning
Machine learning (ML) is a subset of conversational AI that allows computers to gain knowledge and expertise via exposure to data.
For better language interpretation and answer production, conversational AI uses ML to remember the user's preferences and tailor its replies to them in the future.
Speech recognition
Machines can turn spoken words into text using speech recognition technologies. It entails processing audio signals and detecting the user's words and phrases.
Conversational AI employs speech recognition, allowing voice assistants and chatbots to interpret and reply to verbal requests.
For instance, a voice assistant in a car can utilize speech recognition to interpret a user's request to play a particular song or make a phone call.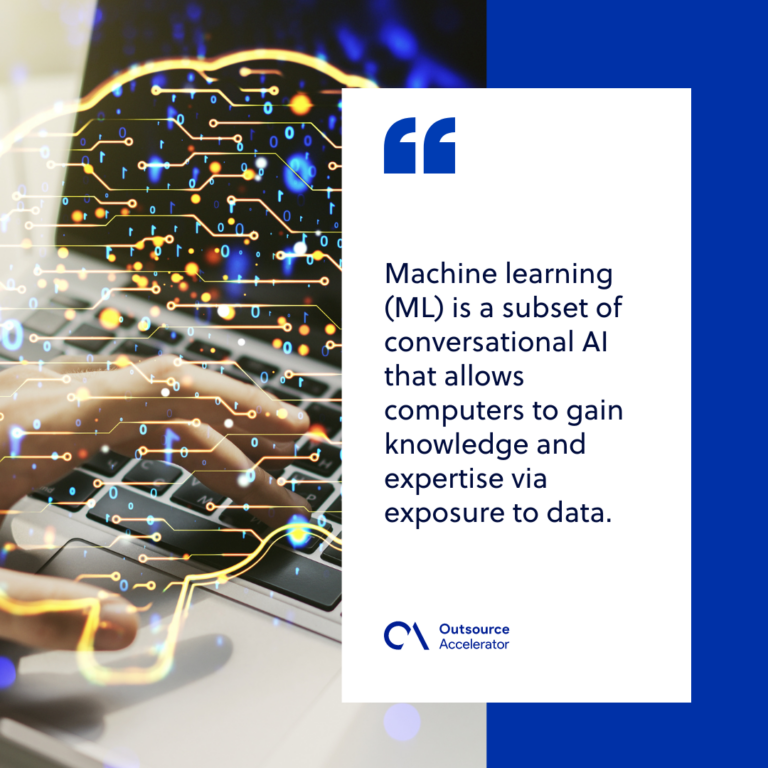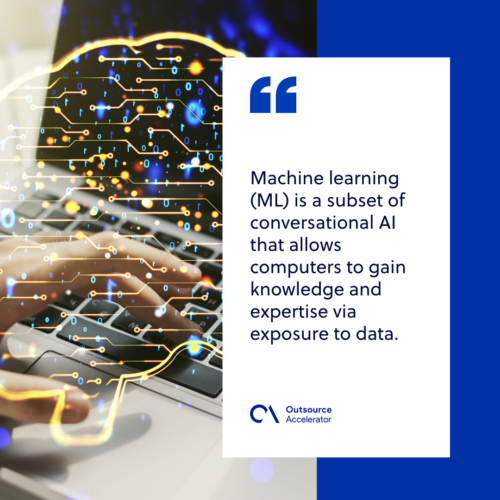 Applications of conversational AI in industries
The following are applications of conversational AI in various industries:
Customer service
Conversational AI is frequently used in customer service to answer consumer inquiries swiftly and efficiently.
Chatbots and AI virtual assistants may deliver information, answer FAQs, and aid with simple customer service tasks. This has the potential to boost customer satisfaction while reducing the workload of customer support employees. 
For example, a chatbot on a retail website may assist clients with:
Tracking purchases

Answering inquiries about product availability

Providing information on refunds and exchanges
E-commerce
In e-commerce, conversational AI may deliver tailored consumer suggestions based on their preferences and purchasing history.
Customers may also use chatbots and virtual assistants to help with product searches, purchases, and returns.
An AI virtual assistant on a fashion website may help clients select the proper size and type of apparel, recommend complementary goods, and offer shipping and return information.
Healthcare
Healthcare organizations may employ conversational AI to give patients individualized health guidance and assistance.
AI virtual assistants can plan appointments, remind patients to take their medications, and provide them with information about their medical issues.
Finance
Financial services may benefit from conversational AI by receiving customized guidance and assistance. This means that customers may get help with their banking needs, investment advice, and financial planning through chatbots and AI virtual assistants. 
A chatbot integrated inside a banking app might assist users in doing tasks such as: 
Viewing account balances

Making transfers

Learning more about available financing options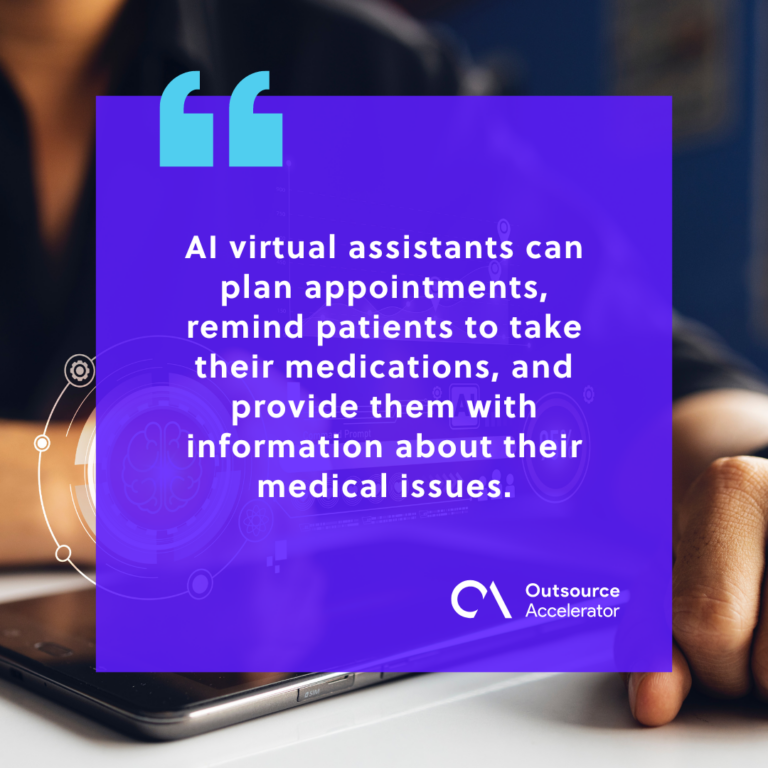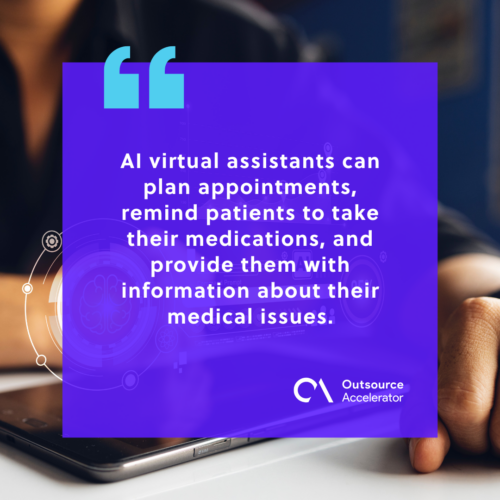 Conversational AI shapes the future of user experience
Artificial intelligence allows for more natural and intuitive interaction between gadgets and people. It also streamlines how individuals gain access to information, complete activities, and receive help.
Overall, conversational AI is truly revolutionizing the user experience and how we engage with technology with every seamless interaction.