Artificial intelligence in banking: How AI is revolutionizing the industry
Integrating artificial intelligence (AI) has significantly transformed most businesses worldwide, especially in the banking industry. Given that most banks are now aware of the benefits of AI in their field, they continuously utilize this advancement to improve user experience.
The banking industry has witnessed increased efficiency, accuracy, and cost-effectiveness in various areas with the advent of AI. From ATM transactions to digital banking, institutions and their clients have seen its gradual ease in all banking aspects.
This article will discuss the applications and benefits of AI in the banking industry and its future implications.
Understanding artificial intelligence in the banking industry
Artificial intelligence is the process of simulation of human intelligence in machines designed to understand, reason, and learn from data inputs. Through this, machines can perform complex tasks with increased accuracy and efficiency.
In banking, AI focuses on streamlining processes in line with a firm's customer-centric approach. Its common uses include automating operations, analyzing customer data, and providing personalized services.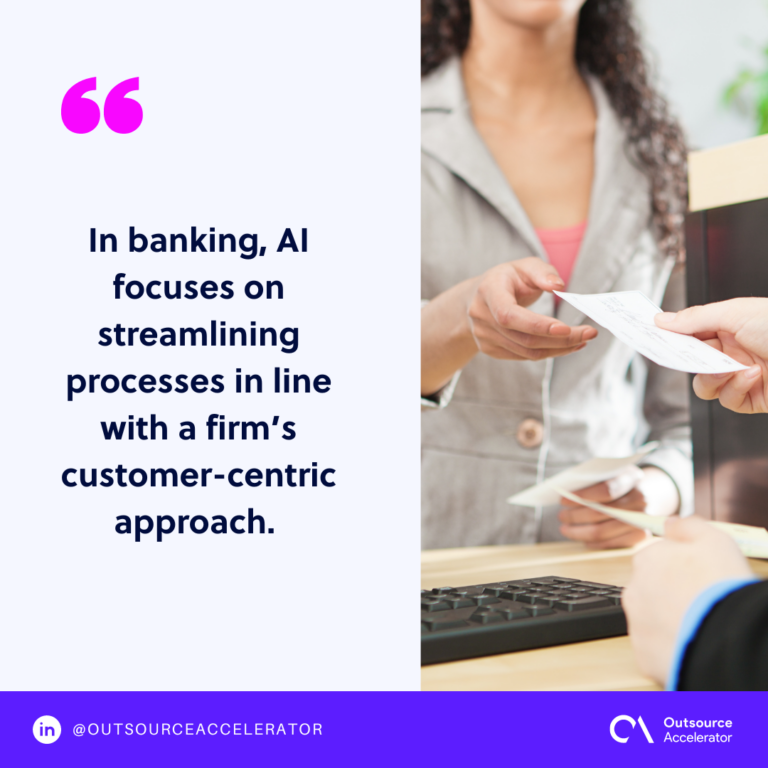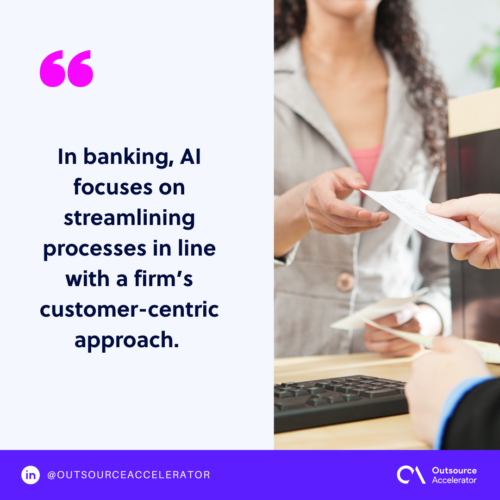 Applications of artificial intelligence in banking
AI can be applied in several aspects of the banking industry in the form of the following.
Chatbots and Virtual Assistants
AI-powered chatbots and virtual assistants (VAs) are common in the banking industry. They handle customer queries such as balance inquiries and assist clients in completing basic transactions.
Amy from HSBC is a perfect example of this. Launched in 2018, Amy is created to help customers with banking concerns such as opening an account online.
Chatbots have improved customer experience by reducing wait times, increasing accessibility, and giving round-the-clock services.
Credit scoring and underwriting
AI analyzes customer data to evaluate creditworthiness and automate the underwriting process. This technology enables banks to make quick and accurate lending decisions, reducing the risk of default and improving the overall efficiency of the lending process.
Personalized recommendations and marketing
At the same time, AI technology analyzes customer data and provides personalized product recommendations and marketing offers.
This technology enables banks to understand customer preferences and deliver targeted marketing campaigns that are more likely to result in sales.
Fraud detection
Fraudulent activities can even be traced and identified easier with the help of artificial intelligence in banking. 
Most banks now use measures such as automated Know Your Customer (KYC) and fraud detection functions to add layers of protection for their customers.
Trading and investment analysis
Investment banking in the past years has veered less from human bankers and more towards AI. JPMorgan, for example, now increases the use of machine-learning approaches to cope with market volatility and protect investments as well.
AI in trading and investment analysis has improved the accuracy of predictions and increased the profitability of investments.
Benefits of artificial intelligence in banking
AI technology in the banking industry provides several benefits, such as the following:

Improved customer experience
More banks and financial institutions intend to adopt the use of AI with the increasing perception[1] of their customers.
AI has improved customer experience by reducing wait times, increasing accessibility, and providing personalized services in banks.
Chatbots and virtual assistants have enabled banks to provide 24/7 service, improving the overall accessibility of banking services.
Enhanced fraud prevention and detection
Fraudulent transaction risk has been reduced thanks to fraud prevention and detection. Through AI, institutions have improved the overall security of their banking system.
AI technology can analyze large volumes of transaction data to identify patterns that indicate fraudulent activity, allowing banks to take proactive measures to prevent fraudulent transactions.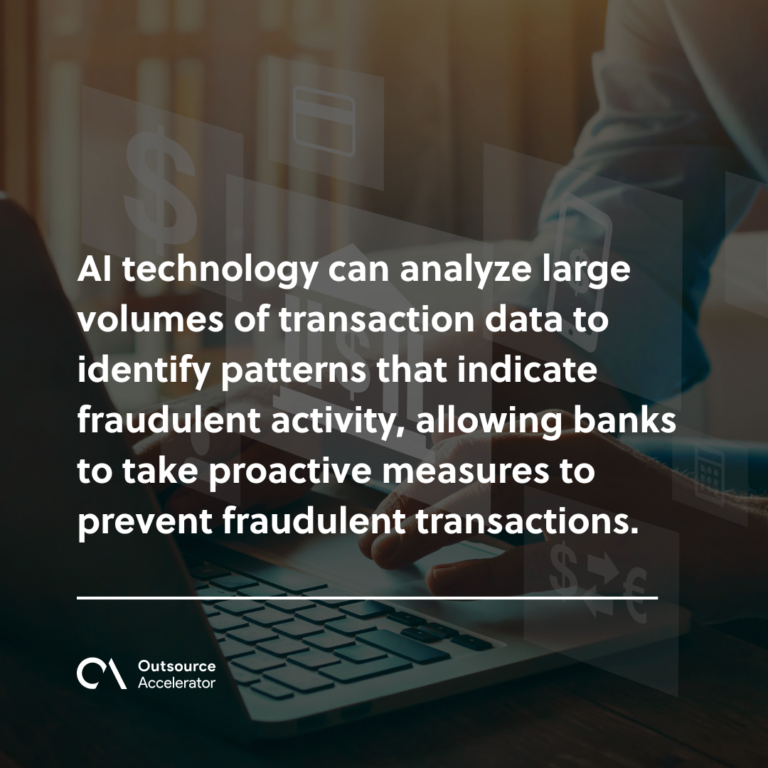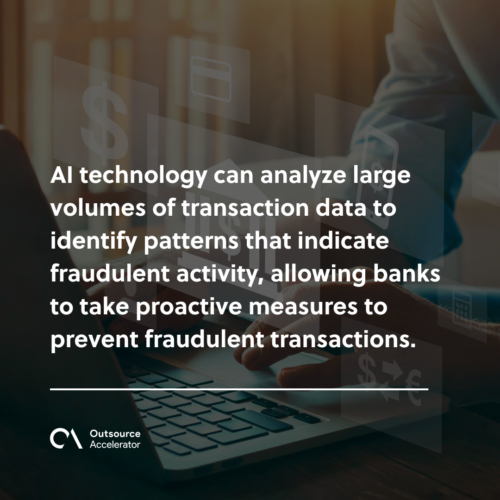 Enhanced risk management
56% of financial institutions today implement AI in banking on risk management, according to studies. Indeed, AI in the banking industry has helped firms manage risks in lending money and investing better.
For instance, automated credit scoring and underwriting have improved risk management by enabling banks to make quick and accurate lending decisions.
Future of AI in banking
The future of AI in the banking industry is promising. As technology advances, it is expected to play more crucial roles in the banking industry.
Majority of bankers nowadays believe that unlocking AI in the industry shapes the success or failure of an institution.
With most firms using this technology in at least one aspect of their organization, sticking to the traditional processes of running a bank can have setbacks in the long run.
Though for most traditional firms, combining outsourcing and automating processes is seen as a great option. They can hire staff to manage their AI operations and still provide assistance in case a live agent is needed for their customers' concerns.
Article references:
[1] Increasing perception. Noreen, U., Shafique, A., Ahmed, Z. and Ashfaq, M. (2023). Banking 4.0: Artificial Intelligence (AI) in Banking Industry & Consumer's Perspective. Sustainability, [online] 15(4), p.3682. doi:https://doi.org/10.3390/su15043682.