A two-minute guide into contact center as a service (CCaaS)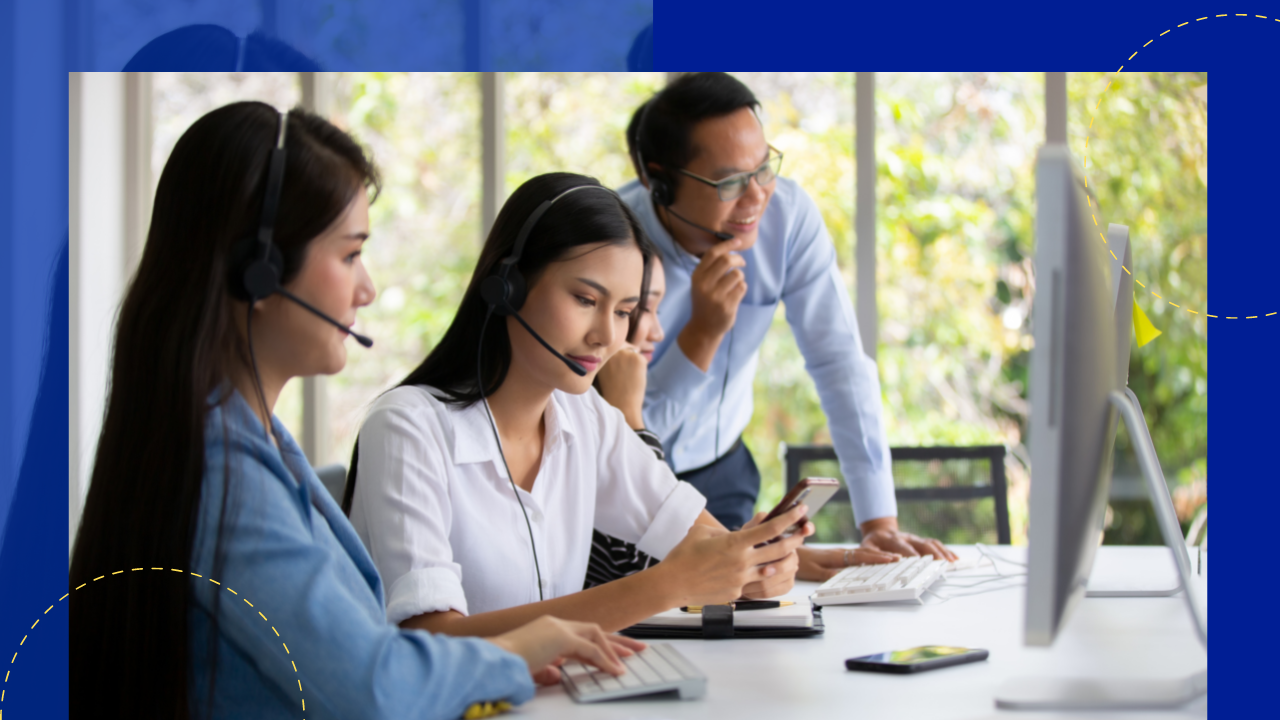 Moving to cloud call centers has become increasingly popular and helpful, especially in terms of omnichannel support. Aside from the lessened need for infrastructure, this setup makes it easier for teams to connect with clients anywhere, including social media.[1]
Contact center as a service (CCaaS) platforms are some of the tools making this possible.
Being used by call centers for years now, contact center as a service gradually opens their access to small businesses worldwide. 
Find out more about CCaaS through this quick guide.
What is a contact center as a service?
A contact center as a service (CCaaS) is a cloud-based solution that allows businesses to manage client communications through the cloud.
With a CCaaS, companies only need to purchase a single software to manage the overall customer experience.
A contact center as a service perfectly fits businesses wanting flexible expansion as it lessens the need for additional resources. This includes internal IT support, fixed office spaces, and physical networks.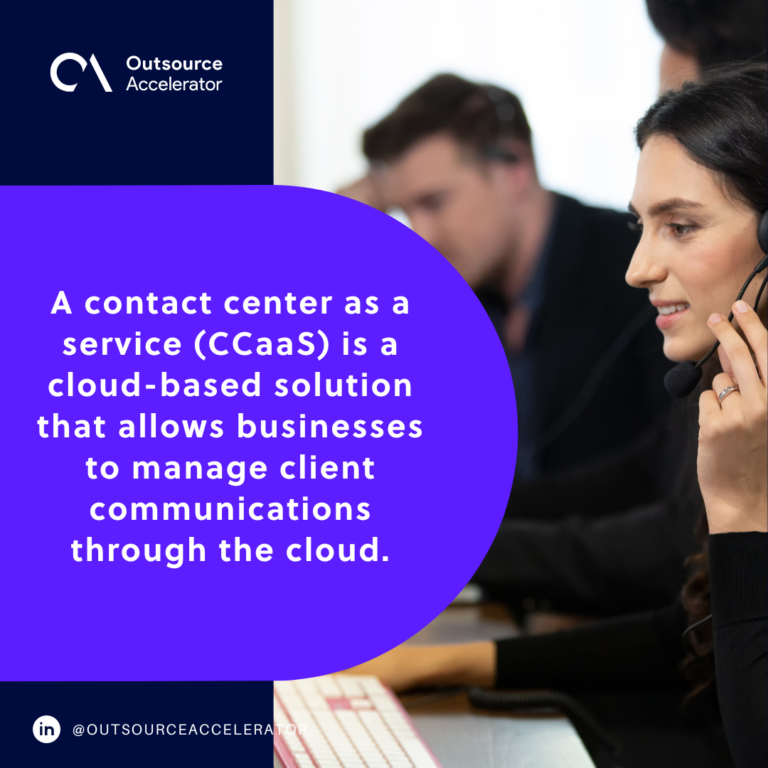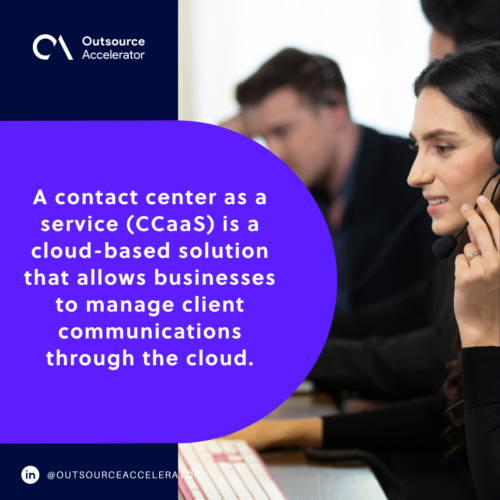 CCaaS vs. UCaaS
Both unified communications as a service (UCaaS) and contact center as a service (CCaaS) have similarities at some point.
Being cloud-based solutions, both systems provide flexibility, scalability, and streamlined processes for companies. They allow integrations with various communication channels for easier and unified tracking.
On the other hand, UCaaS and CCaaS differ in functionality.
UCaaS streamlines communication within the entire organization. Companies purchase this system to integrate employee communications, from email to messaging and video conferencing. This allows them to manage remote work better.
Meanwhile, CCaaS integrates communications between the company and its customers. It mainly focuses on streamlining customer interactions in one interface.
How does CCaaS help businesses?
Flexibility and scalability are the main reasons organizations use contact center-as-a-service. Apart from that, it provides other business benefits through the following aspects:
Omnichannel communications
Improving customer experience is a major challenge for contact centers and their clients. 
Some agents might still have to switch between multiple apps, taking more effort to resolve issues and wasting customer time.
CCaaS improves customer communications by allowing either an omnichannel or multichannel experience throughout the system. It eradicates the need to use multiple communication tools and makes it easier to pull up and resolve customer issues in time.
Improved service effectiveness
At the same time, traditional contact centers usually find their effectiveness hampered by limited systems and single-purpose networks. Transfers and long hold times are more likely to happen as a result.
With a CCaaS, contact centers can synchronize customer information in one system for easier access. Businesses can even match customers with respective agents based on their skill sets and expertise.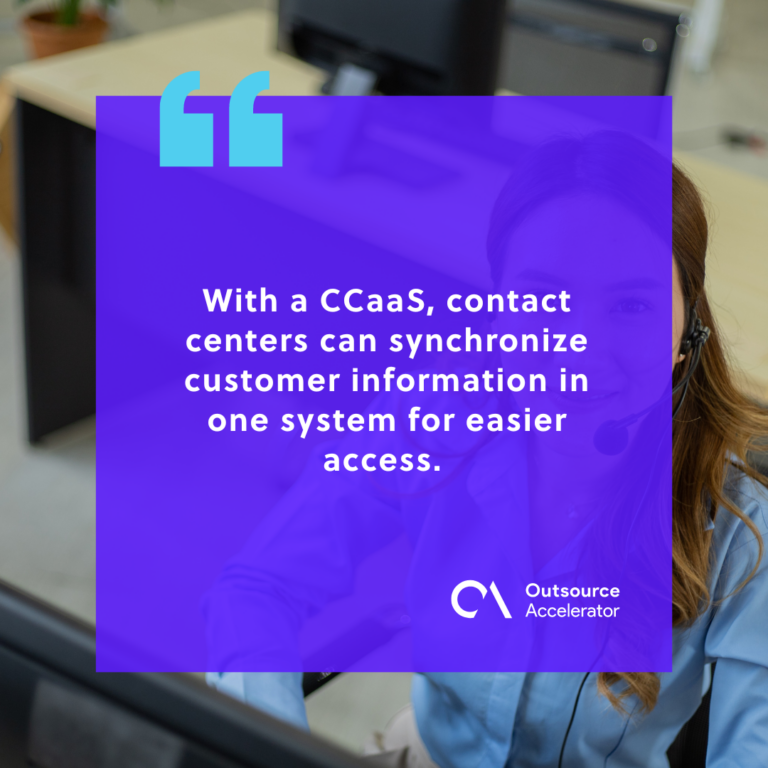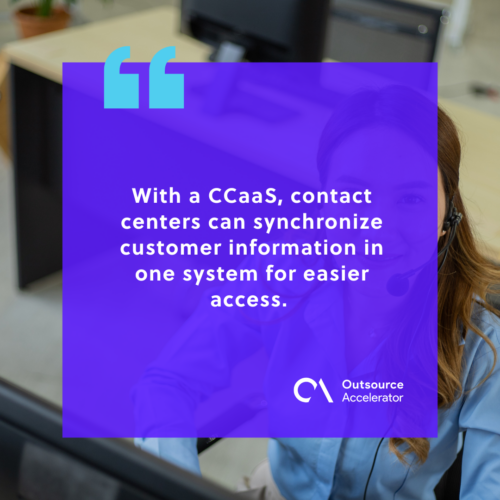 Integrated business data
A CCaaS also helps in capturing, storing, and analyzing data easier. Agents can easily collect customer information and behavior through reports and customer analytics. 
This also helps in updating business data across different sources. They won't have to worry about having outdated or inaccurate data since it instantly synchronizes into their CRM systems.
Increased availability
Most crucially, a CCaaS helps businesses ensure customer availability.
The system allows organizations to manage their operations at any time on their devices. It can be a great part of their business continuity plans in case of crises and other factors that limit them from operating in a physical office.
Top CCaaS providers in the market
Most CCaaS providers nowadays are more accessible to small and medium businesses with their low entry requirements and cloud-only nature.
Check out some of the top CCaaS providers in the market below:
Talkdesk is a global CCaaS leader for customer-centric companies. It creates a seamless customer experience through various tools, such as:
Omnichannel engagement

IVR

Self-service options
Talkdesk is widely used by organizations in various industries such as financial services, healthcare, and IT.
RingCentral is a leading provider of CCaaS and UCaaS for global companies and industries.
The tool integrates all communications, from phone to voice chat and messaging, into one system. One highlighted feature is its integration with Google Workspace and Microsoft 365 for basic collaboration.
With Twilio, organizations can connect with their customers across the globe on any platform they prefer.
Twilio is committed to improving customer experience and engagement for businesses. The platform allows flexible integrations, first-party data collection and analytics, and personalized interaction.
Aircall lets teams connect with their customers in minutes through cloud-based phone and CRM integrations.
It also makes it easier for businesses to increase their agent performance and productivity through real-time coaching, speed dialing, and other cloud-based solutions.
Lastly, Five9 takes customer and agent experience further through AI and open CCaaS systems.
Through Five9's intelligent solutions, teams can increase customer engagement with the help of streamlined workflows and omnichannel solutions. The platform is used by startups and established brands worldwide.
Deploying CCaaS to your team
It's easy to install and deploy CCaaS to your team. It only takes a few minutes to install the system and set up a basic account for some tools offering free trial services.
However, consider finding a suitable contact center as a service platform to make your agents more effective in connecting with your customers.
The following are some aspects to consider when choosing a contact center as a service platform:
Priorities

. Determine your priorities in deploying CCaaS. While most platforms already offer omnichannel features, some still offer cloud phone services for teams looking to enhance phone services alone.

Integrations

. Look for systems that can integrate with your existing tools for a smooth process.

Compliance requirements

. Consider what compliance requirements you need for your platform. For instance, many CCaaS tools comply with HIPAA or PCI in terms of recordkeeping and data protection.
Article references
[1] Social media. Suciu, G., Pasat, A., Ușurelu, T. and Popovici, E.-C. (2019). Social Media Cloud Contact Center Using Chatbots. Lecture Notes of the Institute for Computer Sciences, Social Informatics and Telecommunications Engineering, pp.437–442.