Cold callers for hire: A quick 101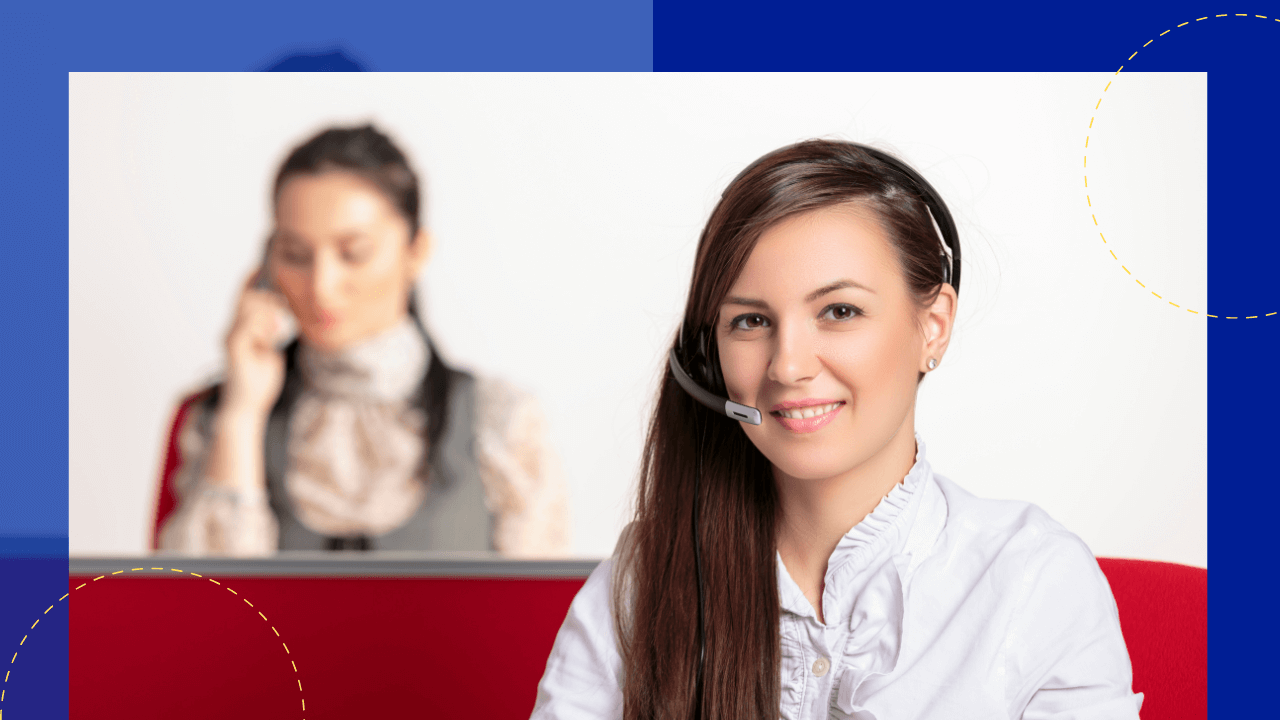 Cold callers for hire A quick 101
Cold calling has been the cornerstone of many companies. 
It is a sales technique where salespeople call potential prospects to sell a product or a service. However, some people are not a fan of random calls from strangers. 
Cold calling is evolving. It requires specialization and an optimized approach to make it work. A skilled and experienced sales representative can do wonders for your business. 
This is where you will see "cold callers for hire" posts online. Companies understand that the specialized skills of cold-calling professionals can generate sales because they know how to persuade prospects.  
What are cold callers for hire?
Whether you have a start-up company or a big-wig organization, finding fresh leads necessary for your growth is a top priority. 
This is where cold calling comes into play. It is an effective way to gain new prospects and get sales. However, it can be intimidating. 
According to LinkedIn's insights, 63% of sellers revealed that cold calling is the worst part of their job. This is because cold callers ask someone who has never been interested in the brand's service and product. 
They get mixed responses during cold calling–objections, angry and "not interested" replies, and sometimes no reply.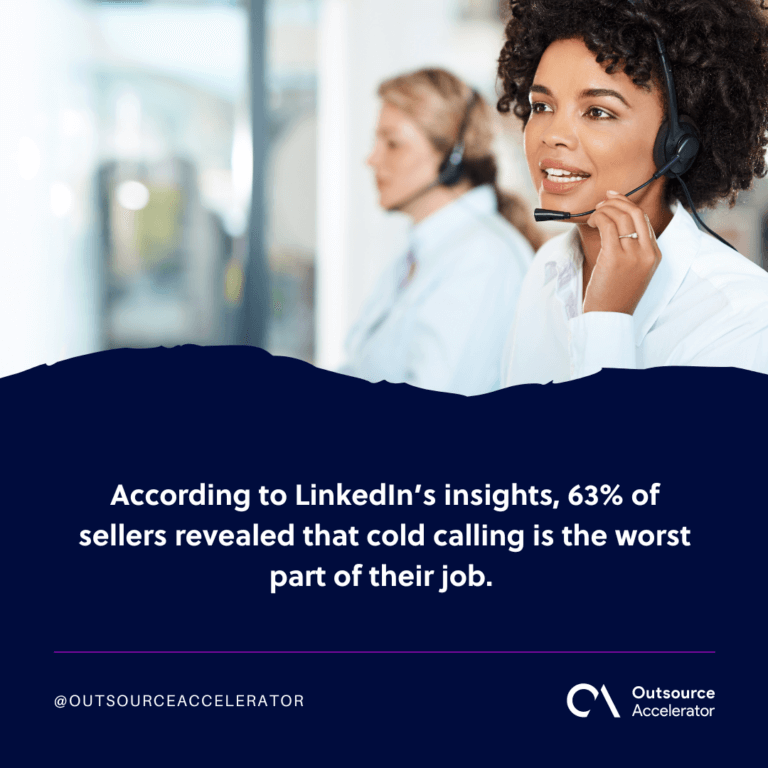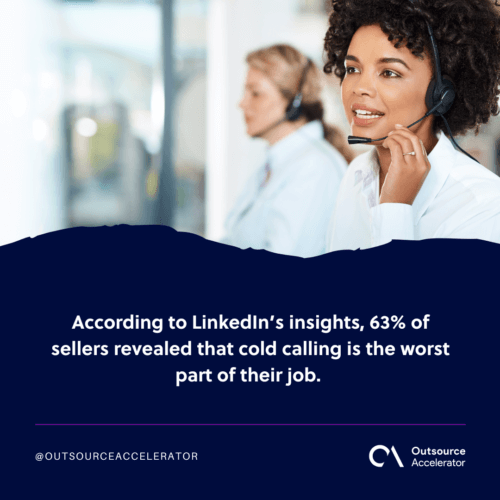 Skills to look for when hiring cold callers
Cold calling itself is a skill. Imagine contacting people you have never met and encouraging them to try a product or service they have never heard of. That is a challenging feat. 
Zippia's 2023 research shows that, on average, the success rate of cold calling is only 2%. It means that if you have 5,000 names on your leads list, you may only set up 100 appointments. 
Is cold calling dead? Not even a little. 
The success rate of cold calling will be higher when you combine the best sales practices with the right tools and a cold caller with the right skills. This mix will likely convert cold leads to warm ones. 
If you want to master the art of cold calling, hire cold callers with the following skills: 
Appointment setting
One of the objectives of cold calling is setting up a discovery call with the prospects. It is the first conversation after they show an interest in a product or service. 
This call would be an opportunity to wow the prospects and leave a strong impression. So when making cold calls, cold callers must know how to find a reason for a follow-up call.
Objection-handling
Dealing with objections is tough. It occurs because the prospects think these elements are lacking – urgency, need, budget, and trust. 
So what should cold callers say to prospects who said or hinted that they are uninterested? If they give reasons why not, give them reasons why to. 
Cold callers can overcome objections by actively listening, understanding the prospect's pain points, or providing social proof. 
Persistence
To be successful in cold calling, sales representatives should not feel down because of rejection. 
Instead, they must wear that patience and persistence to reach the prospect. Giving up after the first or second attempt would not get the company anywhere. 
Quick thinking
Time is a luxury, especially during cold calling. Sales representatives should know how to think faster, more efficiently, and more accurately. 
This ability to make sensible decisions and the best action is necessary to engage and convert prospects.
Confidence
When communicating, confidence is key. There is no shortcut to achieving a certain level of confidence. 
However, being confident does not mean being pushy or overbearing. It is about trusting the service or product offering. How would the prospects understand the offer's value if the cold call sales professionals cannot articulate it?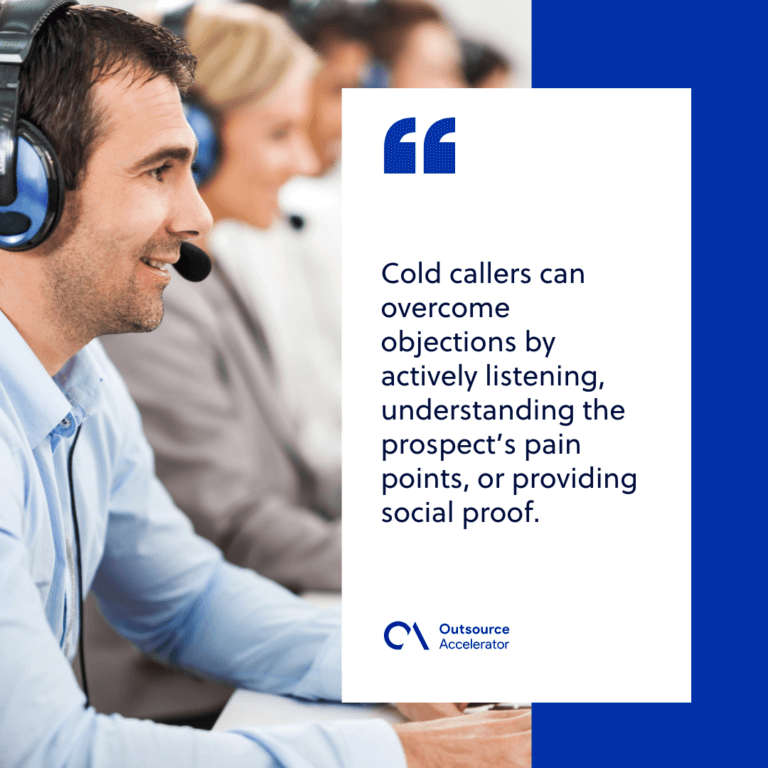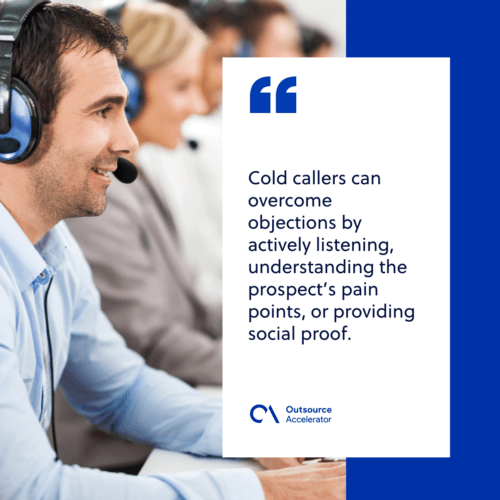 Why you should outsource cold calling services
Outsourcing cold calling services has negative connotations for some companies. But it has its fair share of advantages. 
Check out why you need to outsource cold call services today:
Time efficiency
Finding and nurturing leads can take up some time. You can outsource cold-calling to a dedicated team. They will be responsible for setting up appointments, calling prospects, and passing the details to your internal sales team. 
Measurable results and insights
Being successful in cold sales is one thing; generating insights is another. It is challenging for an internal sales staff to do both things.  
Aside from cold calling services, a dependable outsourcing company offers an in-depth customer analysis. You should get a consistent and updated telemarketing campaign performance regularly.   
Lowers operation costs
Cold calling is a money-burner. You need to hire and train new employees, which can take time. The staff might take months to contribute to the business's growth. 
If you do the math, how often do your sales representatives cold call prospects and set appointments? Now, figure out the cost of resources, hiring replacements, training, and sales they do not make. 
Outsourcing can save operation costs while ramping up sales efficiency. You can pay for the cold-calling agents based on their performance. 
The more sales they get, the higher their commission rate will be. 
Work with experienced cold-call sales representatives
Outsourcing cold callers give you experienced sales professionals. They specialize in doing this type of call. Moreover, these sales representatives handle calls efficiently, target decision-makers, and get positive results. 
Access to advanced technology and tools
Technology and tools are the bread and butter of a telesales company. It helps them keep up with the trends. For instance, you do not have to figure out how to generate leads since they have cold-calling software.
Moreover, they also offer training and coaching programs to cold-call sales representatives to improve their communication skills.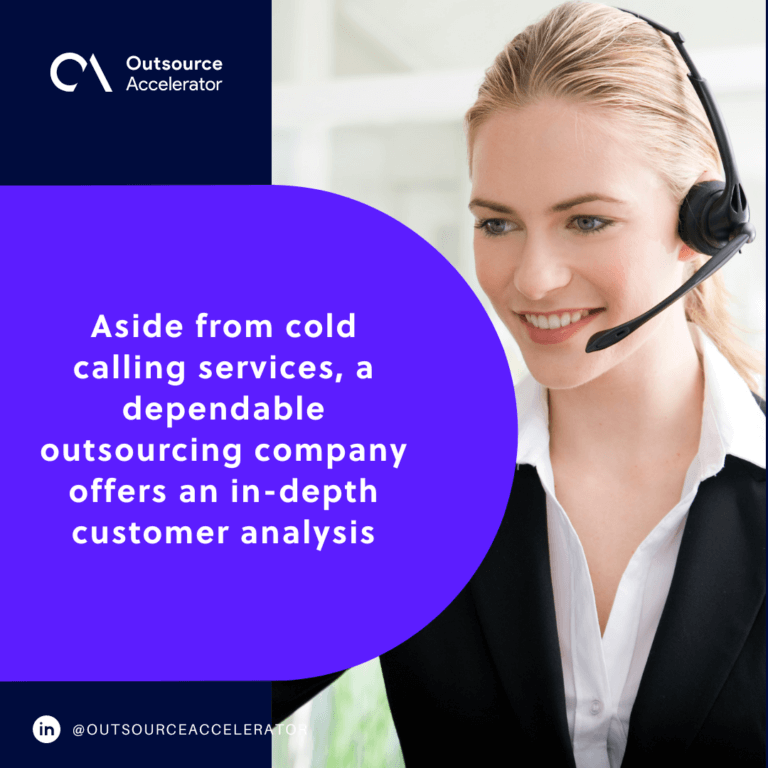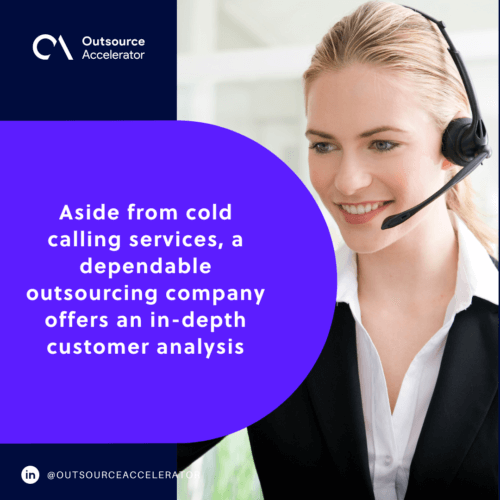 Outsource cold callers for your business needs
Should you outsource your cold calling? If you want to reduce the workload of your in-house team, then yes. 
If you need expert cold callers who know how to engage prospects, then definitely. Only you can decide whether your business is better off outsourcing to a third-party company or sticking with the in-house team. 
However, when a strategy does not work, it does not mean it is useless. It might mean that you need to consult professionals. 
Outsourcing can benefit your company in several ways. Think of them as an extension of your business. They build your sales pipeline while delivering value for your money.