Why your business needs cloud telephony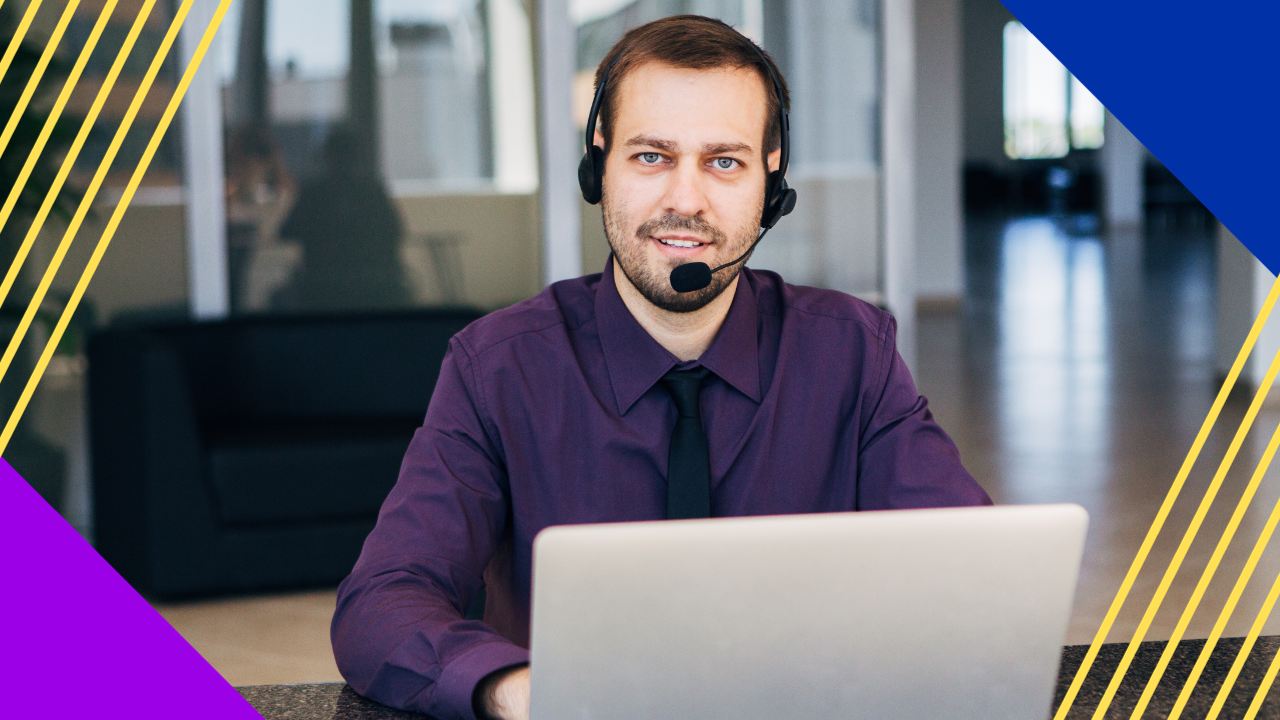 Business phone systems were once traditional, frequently relying on actual landlines and on-site hardware. However, the era of cloud telephony has arrived due to the quickly changing communication technology landscape.
Cloud telephony, also known as cloud calling, highlights the operations of business phone systems better with the help of an internet connection. Two service options of cloud telephony are web-based and application-based.
It is a Unified Communications as a Service (UCaaS), meaning communication systems and collaboration tools are set in a single platform.
Additionally, cloud telephony goes beyond straightforward voice calling. It opens up new opportunities, including file sharing, corporate connectors, and SMS and MMS messaging. 
But before investing in cloud telephony, make sure you know its basics to avoid mistakes and lapses.
How cloud telephony works
At the beginning of the procedure, you will choose a provider who can supply a cloud telephony platform end-to-end. This covers the development, administration, and continuous maintenance of the service. 
Customers are frequently given access to providers' cloud-calling solutions through a subscription model, with payments typically made monthly.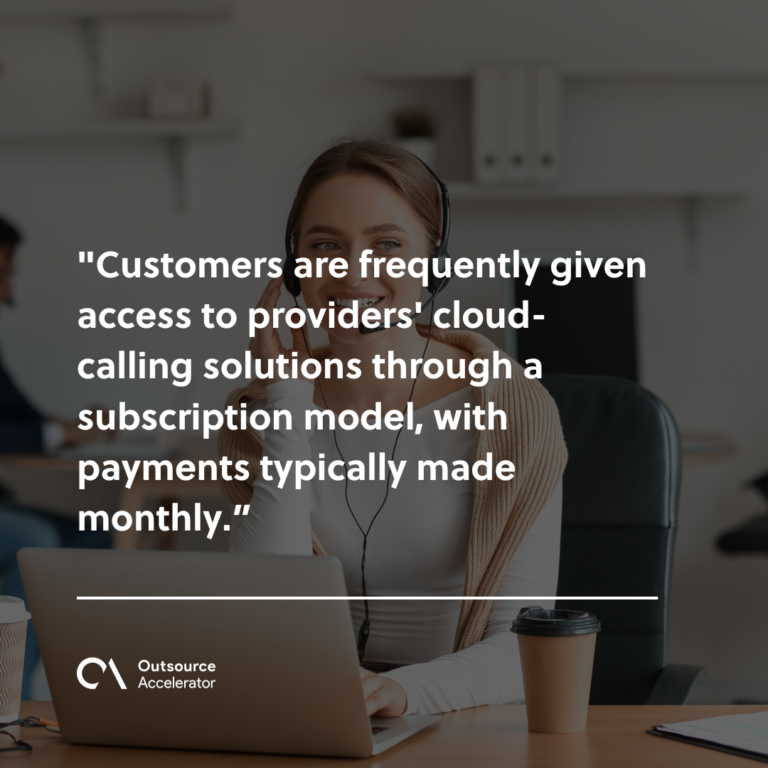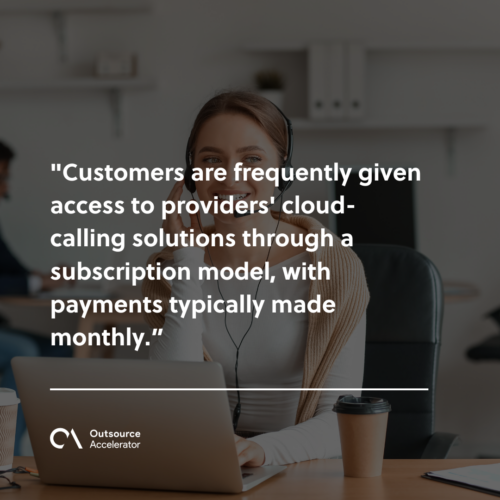 Advanced telecommunications service
Your phone calls, especially long-distance calls, are more expensive when you use a typical Private Branch Exchange (PBX). It provides only the most fundamental calling services. 
Features like HD audio, voicemail-to-email, or call statistics are available in cloud telephony.
Phones are plugged into your current network rather than a landline. You can also utilize a softphone, an application downloaded to your computer, tablet, or phone. 
The following are some of the most beneficial cloud telephony call management features:
Auto-attendant.

Your callers save time by reaching the right team in an instant.

Call forwarding.

It can route calls to any desk or mobile phone.

Advanced interactive voice response (IVR).

For callers to get information, it establishes an automated system.

Video conferencing and screen sharing.

Remote meetings can be more productive and efficient.

Toll-free numbers.

This allows customers to call you from landlines without paying an additional toll.

Local numbers.

Anywhere you choose, you can develop a local presence.

Call recording.

You can maintain quality service with a secure and reliable record.

Contact center.

It allows your customer service personnel to handle inquiries more quickly.
Cloud telephony architecture
Cloud computing stores and manages data in an online environment by using distant servers that are housed on web-based platforms. 
These features enable enterprises to rely on cloud technology without being concerned about the constraints or challenges of their IT infrastructure. 
Your service provider manages the routing when you dial the phone number you intend to call. 
Through your internet connection, it transforms analog voice impulses into digital packets. This establishes the call connection between your phone and the other party.
Companies transfer their DDI numbers to the cloud service. Thus, there is no requirement for new phone numbers. When a call is received, it is routed by predetermined guidelines.
IT personnel may still alter system settings via an intuitive online dashboard, thanks to the strength and flexibility of cloud technology. This makes the ability to affect call forwarding, numbers, and extensions possible directly.
Significant gains from cloud telephony
You need technology to stay up with the dynamic and varied ways to operate today. You should be aware of the following advantages of cloud telephony:

Cost-effective
Using cloud telephony frees your company from:
Maintenance agreements

Minute caps

Constrained local and toll-free phone lines

Cost of separate business SMS services
Instead of paying for an unused, complete package, it allows you to pay for what you use. 
It does not require investment in expensive hardware to avoid upfront costs and long-term maintenance fees.
Flexibility and scalability
It enables secure instant messaging for business communications and data sharing for agility and reduced communication time. 
A self-service portal often allows organizations to add or modify staff phone numbers as necessary.  It makes both on-site and remote employees' onboarding and offboarding processes efficient.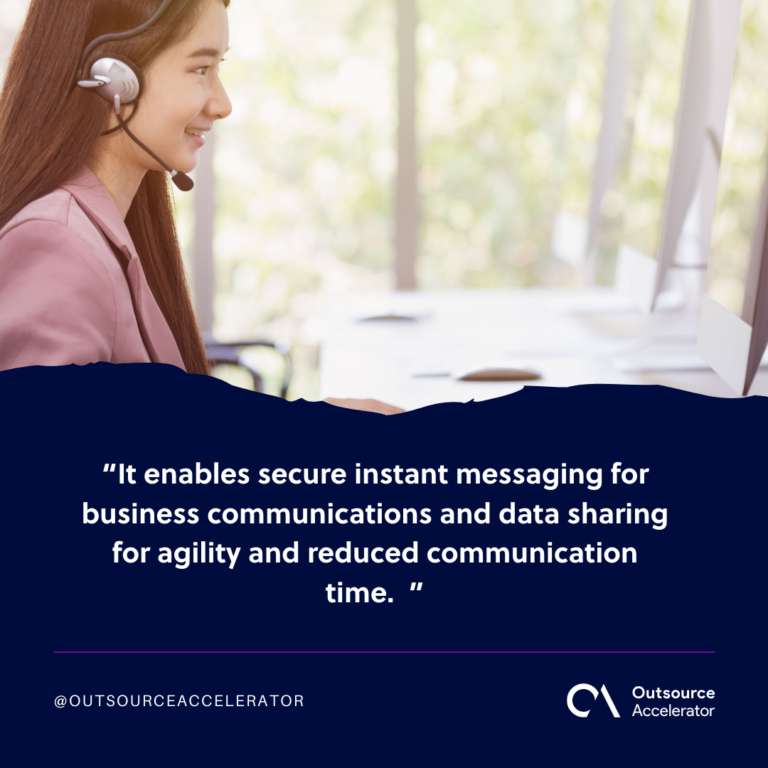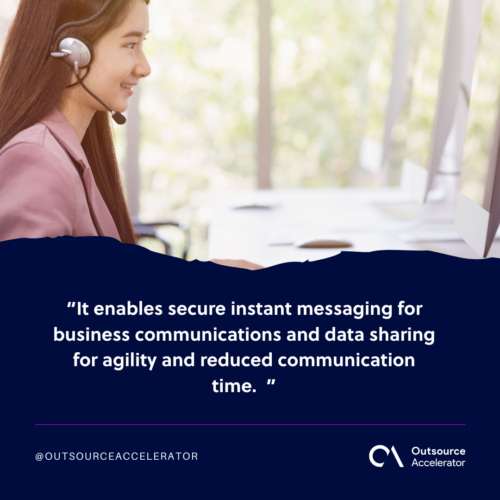 Quick and easy implementation
Implementing cloud telephony does not involve any on-site infrastructure. This benefit makes it possible for you to start working right away.
You will get immediate access to virtual phone numbers and a dashboard where you can control the full phone service.
Increased mobility
As long as they have an internet connection, your employees can use the company phone lines from anywhere. Not only can they answer calls, but they can also access their voicemail and set up or modify call routing while on the road.
Cloud telephony solutions have simple configuration options and a user-friendly, intuitive interface.
Security
It provides a secure voice and session initiation protocol (SIP) to keep conversations and other communications within the security of your network. These features consider the growing threats and tightening restrictions. 
It includes built-in redundancy, so in the event of jitter or other problems, your calls will still be accessible as a backup.
Cloud telephony vs. VoIP phone system
While both enable voice communication over the Internet, they differ in many ways. Explore the distinctions between these two communication solutions to make an informed choice for your business needs.
Defining VoIP
Voice over Internet Protocol (VoIP) is a communications technology that removes traditional phone calls via landline services. 
High-quality voice calls can be made using VoIP technology through the internet instead of landline phones, which depend on a copper telephone network to make and receive calls.
Edge of cloud telephony over VoIP
All company data is saved on the cloud in cloud telephony, so it will always be recoverable despite disasters. You may access all information from anywhere through a dashboard on the internet. In contrast, the VoIP system saves call data in internal data centers. 
Under cloud telephony, mobile phones can also place and receive calls from any distant location, perfect for remote working. VoIP phone system only functions on equipment inside the office building linked to the switch or hardware system. 
While VoIP is essential to cloud telephony, it goes beyond voice calls and adds features like enhanced call management and scalability. Despite this edge, you will pay a more affordable amount for it.
Things to consider in choosing a cloud telephony provider
Here are some things to think about when weighing your alternatives if you want to hire a cloud telephony provider:
Service quality and reviews
Service quality ensures that calls are crystal clear, data is secure, and downtime is minimized, enabling uninterrupted operations. 
Reviews from existing clients offer valuable insights into a provider's reliability, customer support, and overall performance. 
For unbiased feedback, you can search social media platforms to find posts about personal experiences with a service provider.
Compliance and security
Compliance assures that a provider has strong competence and integrity. The following certifications prove that a cloud telephony provider meets industry standards:
HIPAA compliance

. It is mandatory in healthcare organizations concerning the security, privacy, and integrity of protected health information.

ISO/IEC 20071.

This encourages companies to adopt an information security management system and apply risk management processes appropriate to their size and needs.

PCI compliance.

Payment card security standard prevents issues with security breaches and payment card data of credit card companies.

SOC 2 compliance.

It applies to service organizations that prioritize managing customer data concerning security, availability, processing integrity, privacy, and confidentiality.
Attributes and integration
All cloud telephony attributes and integration will depend on your requirements and expectations with implementing and maintaining your phone system configuration. 
Look for a provider that can cater to the estimated number of calls, business locations, and customer demographics. 
You should also consider how a new phone system fits your staff's workflows and habits. Most providers integrate cloud telephony into your project and customer relationship management software.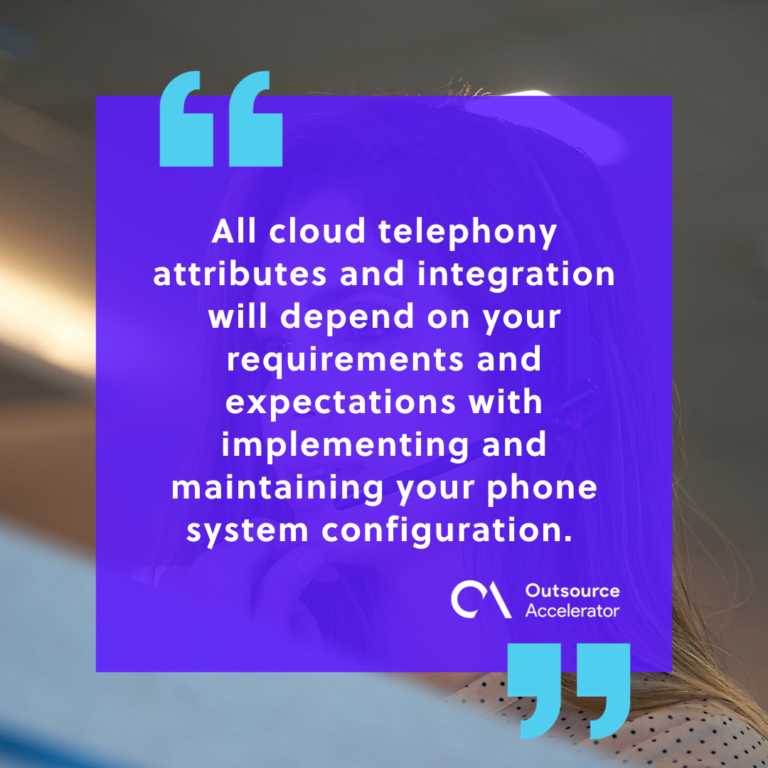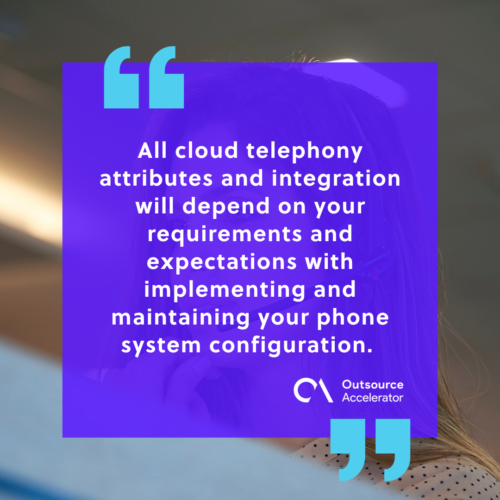 Transparent pricing
Some providers only disclose the initial or primary costs of availing their products and services. 
You will be shocked when billing occurs as to how many extra charges are present. With that, look for a provider that outlines everything in the rates, even those that could arise.
As a customer, you must present and ask for complete information for transparent pricing, including the:
Number of users

Costs for inbound and outbound calls

Equipment needed

Payment plans

Discounts

Change flexibility

Optional features

Other fees
Customer service team
It is not easy to master navigating cloud telephony. Customer support from your provider must still be available after installation. So, before investing in one, determine where and how they respond via live chat, email, or call.
At the same time, you can know how they handle customer concerns if you take the time to ask questions. 
Their responses must be comprehensive yet tailored to your situation, not generic. Here is where you can test their understanding and dedication.
As remote working grows increasingly prevalent and businesses aim to grow internationally, cloud telephony is the future of business communication. 
With a cloud phone system, businesses can grow and scale while keeping expenses down and managing their staff through a single, centralized system.