The professional advantage of a cloud consultant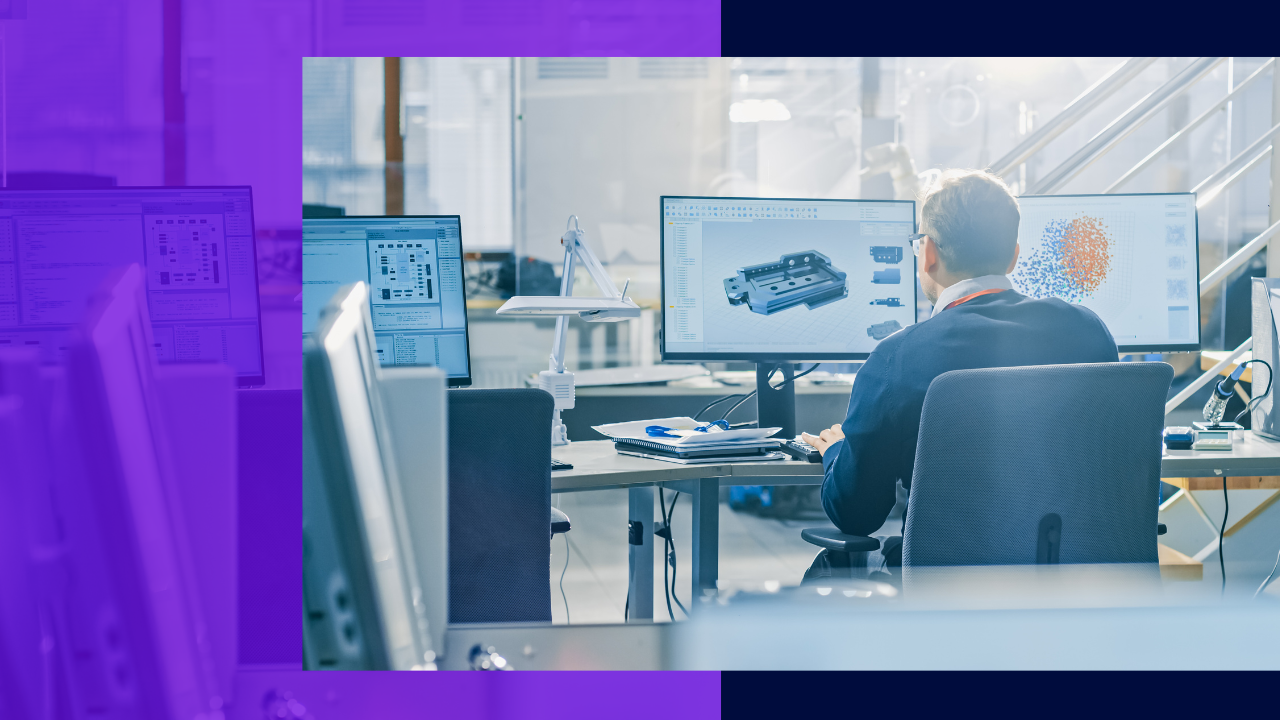 It makes more sense than ever to use the cloud now. Cloud computing is a fast-growing market that, while efficient, can be challenging for a number of users. 
Businesses must ensure compliance with the latest regulations, technologies, and processes. They also need to make sure they're actually getting value from their cloud investments. 
This is where a cloud consultant comes into use. Cloud consultants help you take advantage of the latest cloud developments while keeping you compliant with industry regulations and standards. 
What is a cloud consultant?
Cloud consultants assist businesses in adopting cloud computing, offering valuable insights on how best to use it. 
A cloud consultant analyzes a company's current IT infrastructure and recommends whether it should move to a private, public, or hybrid cloud solution. These consultants also suggest cloud solutions that suit your budget and business requirements. 
A cloud consultant usually works for software vendors or consulting companies, selling their services to businesses moving to the cloud.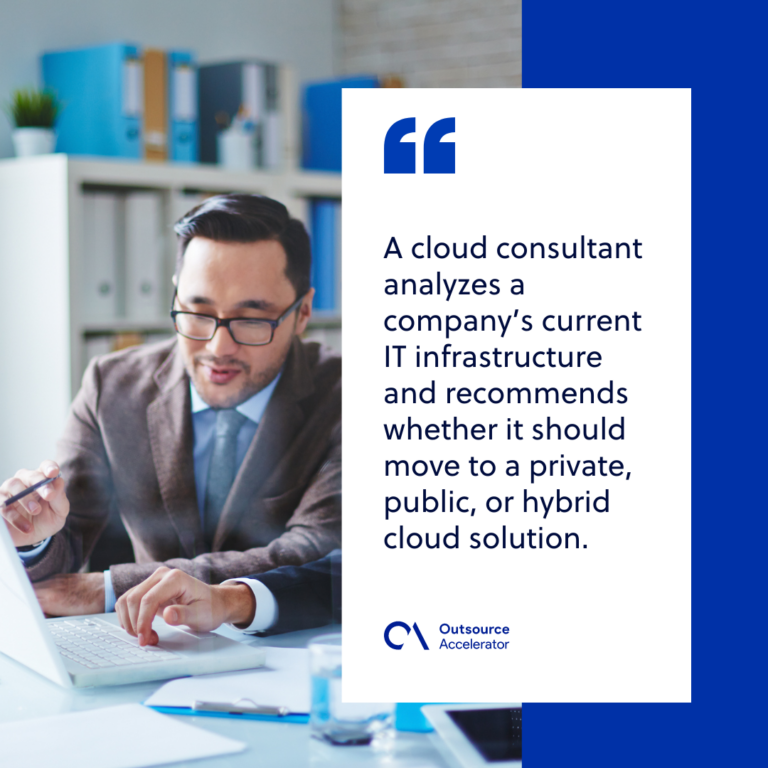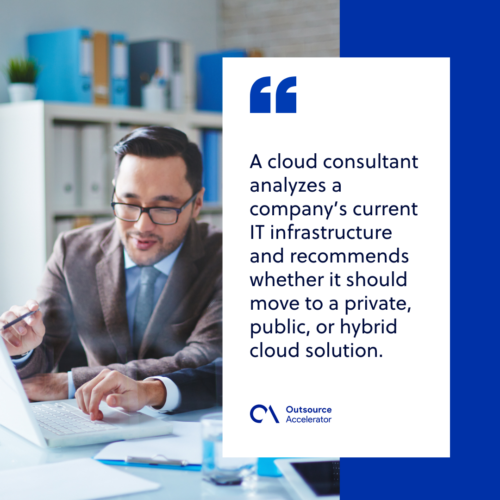 Skills to look for in a cloud consultant
A cloud consultant must have a good understanding of how cloud computing works and how it can be used for business. They advise on application design, maintenance and management, and integration for cloud operations. 
A bachelor's degree in computer science, computer engineering, information science, or IT is required in this field.
Further, cloud consultants usually possess the following skills: 
Customer service and interpersonal communication skills 

Analytical abilities 

In-depth knowledge of operating systems

Experience with network administration and proficiency in programming languages 

A background in computer infrastructure, networking, and DevOps
Popular roles for a cloud consultant 
A cloud consultant may fill one of the following roles within a company:
Cloud operations manager 
A cloud operations manager helps organizations leverage the benefits of cloud computing. They provide advice on how to improve overall efficiency and productivity while reducing costs. 
This cloud consultant role should be knowledgeable in configuring, implementing, and managing a company's cloud-based services. 
They are responsible for the day-to-day management of the cloud environment. This job is often held by senior IT professionals. 
Cloud infrastructure engineer
Cloud infrastructure engineers, also known as cloud architects, design cloud environments. They work closely with developers to create new cloud applications or upgrade existing ones to meet demand. 
Cloud infrastructure engineers must understand all the components of a cloud, including hardware, software, and networking. 
This cloud consultant role also requires some business knowledge. 
Cloud security engineer
Cloud security engineers ensure the safety of operations in a cloud environment. They must be able to identify potential threats and vulnerabilities to protect company data from being stolen or tampered with. 
It's also their job to limit access within the cloud to higher-ups with sensitive information. 
A cloud consultant in this position works across multiple departments, developing policies regarding data protection and access rights. 
Cloud software engineer
Cloud software engineers are responsible for the applications of cloud technologies, including data storage and processing. They develop software that can be stored and accessed through a cloud-based environment. 
Cloud software engineers design and build cloud-based applications. To do this, they utilize tools and techniques similar to those used to develop traditional software. 
This cloud consultant role involves developing code and systems that deploy on a cloud computing platform. They also assist with creating user interfaces and testing them before release.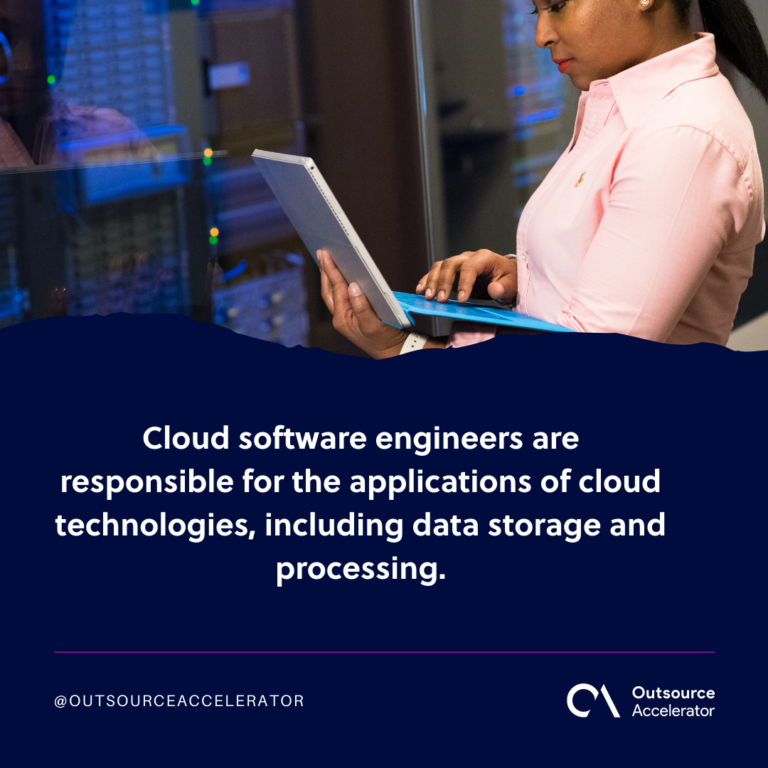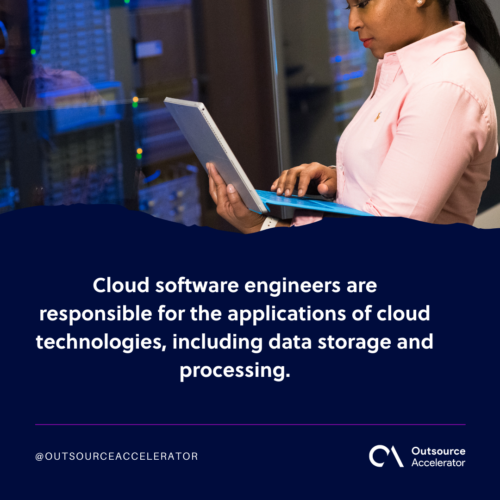 Cloud support engineer
A cloud support engineer deals with the customer side of the business. They are technical support agents who support clients and users of cloud-based software. 
This job covers troubleshooting, building documentation, and ensuring proper maintenance. They are also frequently responsible for helping users set up their systems or teaching them how to use the software. 
Some of this cloud consultant's prominent and day-to-day tasks include:

Resolving customer issues by identifying the root causes of problems 

Providing training on cloud platforms and technologies

Maintaining current knowledge of

industry trends

, technological advances, and best practices in cloud computing
How can a cloud consultant support your business?
Traditional, on-site IT infrastructure systems will always have a place in an organization's technological operations. But still, that doesn't discount the massive leap forward that cloud computing brings.
Any business with an eye towards innovation and development will at least consider shifting part of their enterprises to the cloud. 
A cloud consultant is essential to a company's success in the cloud. They provide a wealth of information on how to use cloud computing technology and how it can benefit your business.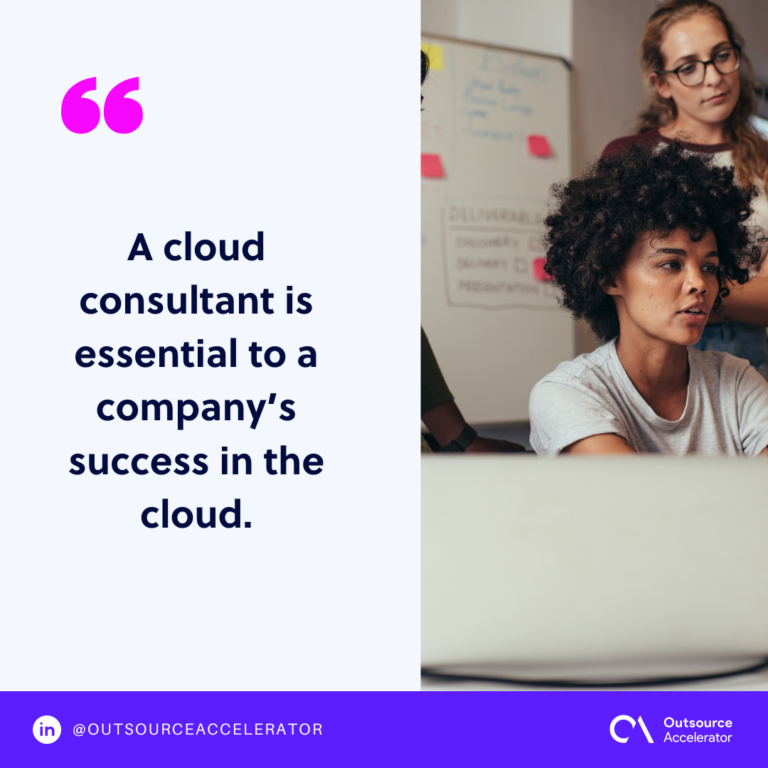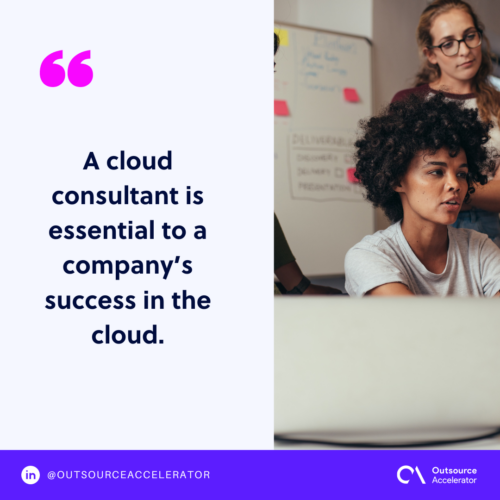 They also make sure that your systems are secure and meet regulatory compliance standards. 
A cloud consultant can help you make the most of your IT investment by offering the following:
An objective perspective on what works best for your business

Implementation expertise for your specific needs

Sustainable solutions that meet your goals and objectives now and into the future
In the end, it's all about getting the guidance you need in determining which cloud solution is right for your business, and a cloud consultant can start you on the right path.