The role of a claims administrator in business operations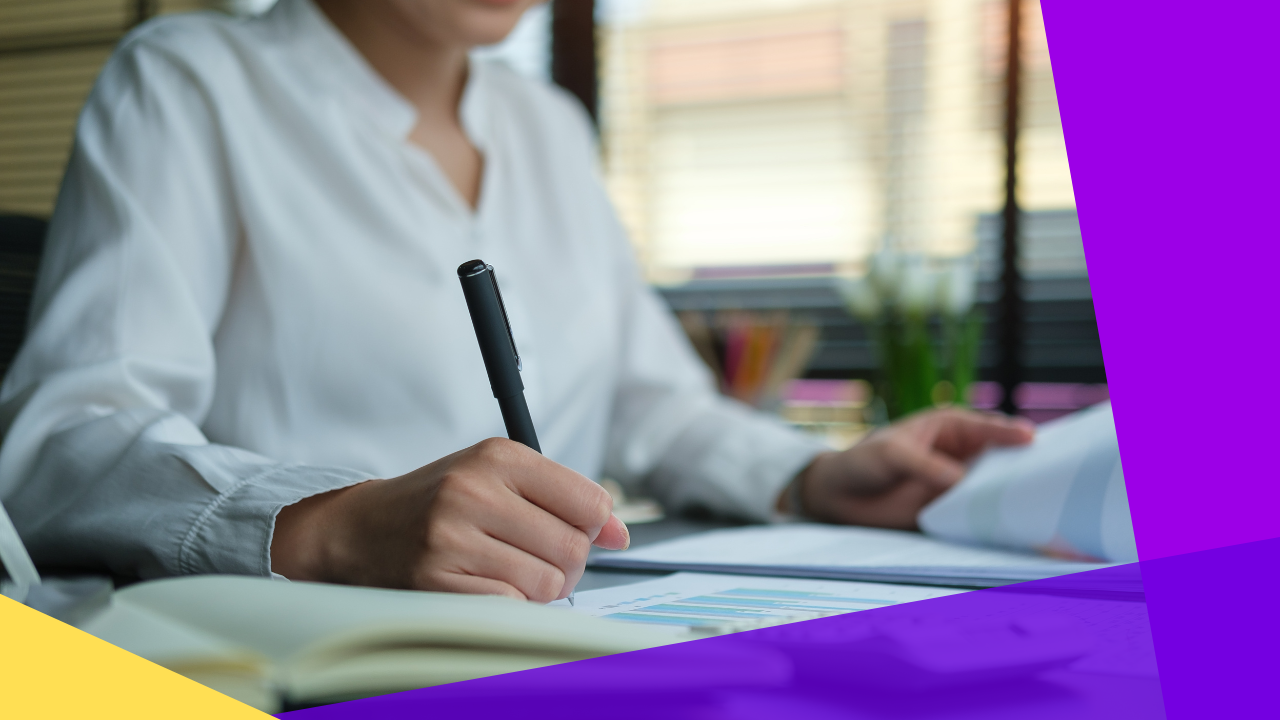 Dealing with insurance claims is a challenging and time-consuming process. Whether it be from assessing documentation to negotiating settlements.
Efficient claims management is essential for organizations to maintain smooth operations and uphold their reputation. This proves why a claims administrator is vital in ensuring an effective and efficient claims handling process. 
This article will explore the responsibilities of a claims administrator and the benefits of employing one. We'll also discuss the key factors when choosing the right staff.
What is a claims administrator?
A claims administrator is a vital player in the realm of insurance. Claims administrators are responsible for managing and overseeing the claims process on behalf of organizations. 
They serve as intermediaries between insurance companies and policyholders, ensuring a smooth and efficient claims handling experience.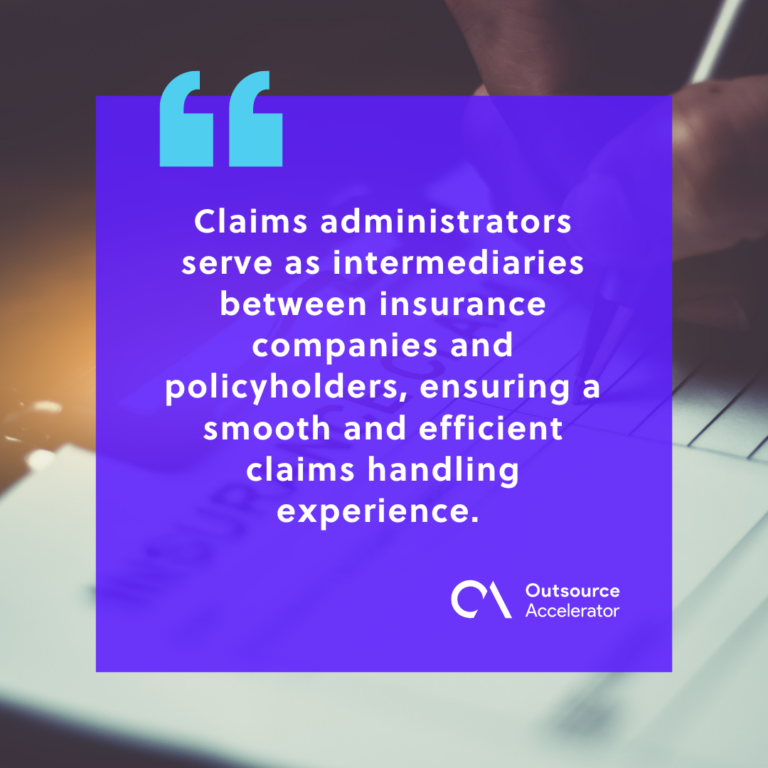 Responsibilities and duties of a claims administrator
Claims administrators have a diverse range of responsibilities and duties. Their most important task is performing efficient claims processing. 
Here are some key responsibilities in claims administration:
Handle claims for professional and general liabilities

Assess claims documentation and determine its validity

Investigate claims thoroughly, ensuring all necessary information is gathered

Communicate with policyholders, witnesses, and other relevant parties to gather additional information

Evaluate claims based on policy coverage and applicable laws

Document claims activities and maintain accurate records

Create reports on claim statistics, monitor site trends, and assess the frequency of incidents

Collaborate with insurance adjusters, lawyers, and other professionals as needed

Negotiate claim settlements and manage disputes

Keep up-to-date with insurance industry trends, regulations, and best practices

Assess expenses to settle claims within authorized limits

Monitor defense activities from start to finish and ensure the resolution of claim-related issues

Manage and keep records of all losses, assisting

risk management

personnel in minimizing losses

Oversee property damage recovery and worker compensation programs, and approve risk management claims

Coordinate with claimants to resolve customer and employee issues

Develop and implement educational programs on claims and litigation
Things to look for in a claims administrator
Here are some requirements and skills to look for when recruiting a claims administrator:
Education
A claims administrator typically requires a bachelor's degree in business administration, finance, accounting, or other related fields. 
Training
Formal training programs specifically for claims administrators may not be widely available, though on-the-job training is common in this field. 
Experienced claims administrators or supervisors can provide comprehensive training to new hires. They can cover all aspects of claims processing and the organization's specific procedures.
Certification
A claims administrator does not need a specific certificate to be hired. However, certifications are available for those who wish to advance in the field. 
One respected certification in the insurance industry is the Associate in Claims (AIC). It validates an individual's knowledge and skills in claims handling.

Experience and expertise
Look for claims administrators with a track record in handling claims similar to your business's needs. They deeply understand the insurance industry and the specific policies relevant to your business.
Technical proficiency
Claims administrators should be well-versed in using claims management software and other relevant tools. Their technical proficiency allows for efficient claims processing and accurate data management.
Strong communication skills
Excellent communication skills are essential for claims administrators because they must interact effectively with policyholders, insurance companies, and others involved. 
A claims administrator should be able to explain complex concepts clearly and concisely. This ensures everyone involved understands the claims process.
Attention to detail
Claims administration involves meticulous documentation and adherence to procedures. Look for administrators who pay attention to detail and have a strong eye for accuracy.
Why you need a claims administrator
Managing insurance claims can be an intricate and tedious process. Here are reasons why you should consider employing a claims administrator for your organization:
Expertise in claims management
A claims administrator has in-depth knowledge of insurance policies, procedures, and regulations. 
Claims administrators have the expertise to navigate complex claims processes and they ensure observance of applicable laws and regulations.
Efficient claims processing
Handling insurance claims can be daunting, especially for businesses with a high volume of claims. Claims administrators streamline the entire process by:
Managing paperwork

Communicating with policyholders

Facilitating prompt payment
Their expertise leads to faster claim resolutions, providing peace of mind to both policyholders and agencies.
Effective communication
Claims administrators act as a direct point of contact for policyholders. They address their concerns and keep them informed about the progress of their claim. 
A claims administrator enhances customer satisfaction and loyalty by maintaining clear and open communication lines.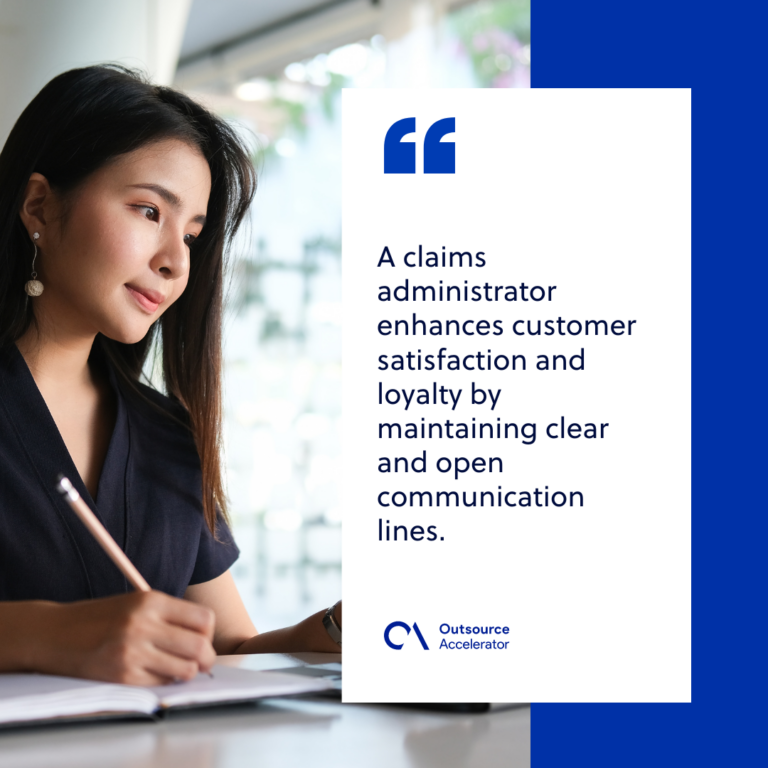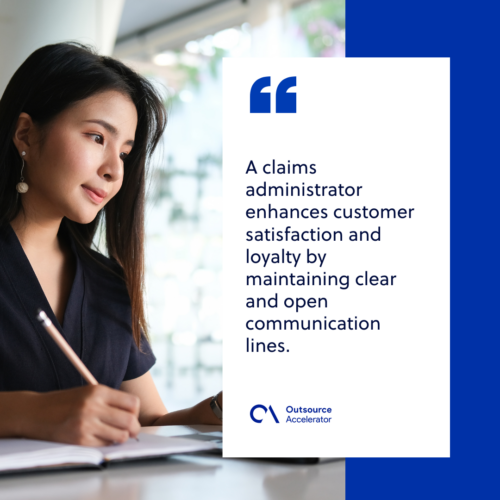 Lessens the cost of resources
Outsourcing claims processing and administration to experts can save on hiring and training costs associated with in-house claims handling. 
Additionally, a claims administrator has the ability to identify fraudulent claims. This helps minimize financial losses.
Compliance and risk management
Claims administrators ensure that claims are processed in compliance with relevant laws and regulations. They help reduce the risk of legal and financial repercussions. 
Their expertise in risk management helps businesses assess and mitigate potential risks associated with claims.
Enhanced customer satisfaction
A claims administrator can boost customer satisfaction by efficiently executing the claims process and providing timely communication. 
Satisfied policyholders are likelier to remain loyal and recommend the agency to others, contributing to long-term business growth.