Choosing the right offshoring partner for your business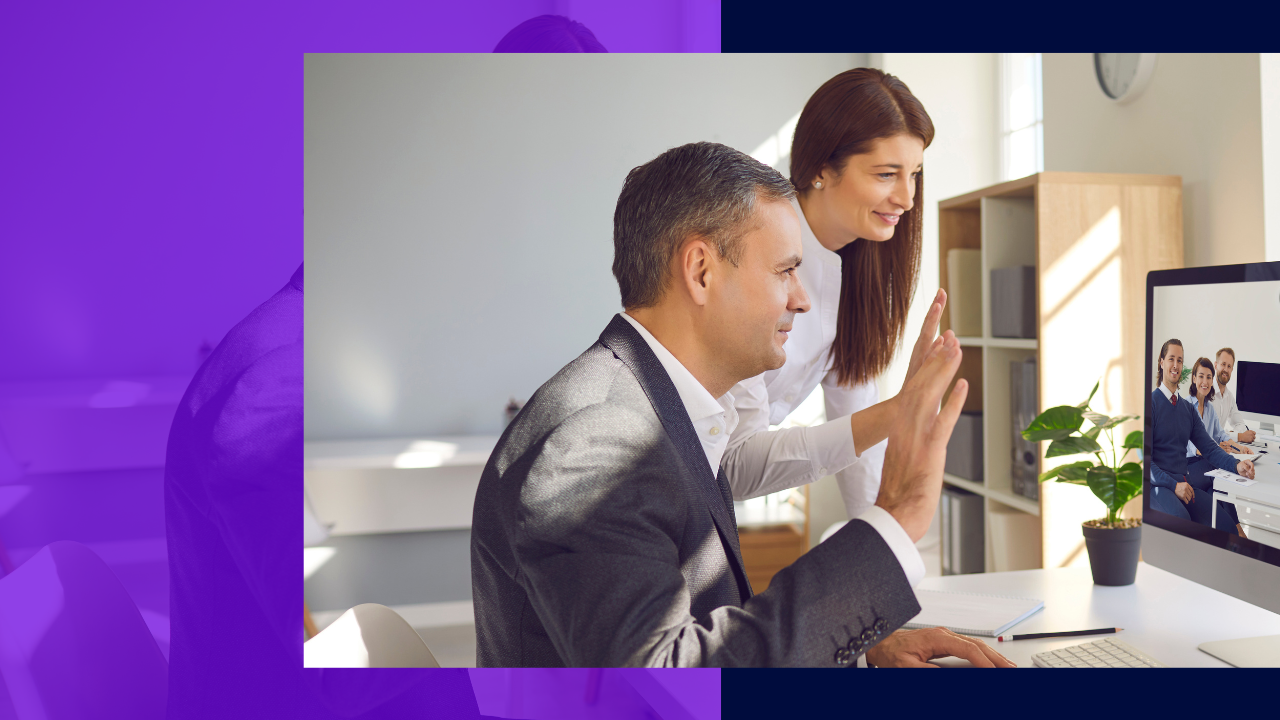 This article is a submission by Guerilla Staffing Solutions. Guerilla Staffing Solutions is a family-owned outsourcing firm based in Clark, Philippines.
Are you trying to cut costs just so you can continue your day-to-day operation? Or maybe you are looking for the cheapest way to make your business recession-proof.
If so, you may want to consider going offshore.
This business strategy has long been proven to be an effective way to sustain businesses. Its primary advantage is that it reduces your operational expenses.
But keep in mind that it would be wrong to assume that cutting costs is the only thing offshoring offers.
In fact, in today's time, where offshoring has become part of the business world, experts have seen its potential. They believed that clients are now opting for this business strategy because of its positive outcome and the value it brings to the company.
For a first-timer, you might feel a little hesitant, and that is understandable. But when you try to look more into offshoring, you will see many successful stories.
Big companies like Slack and Skype are using this business strategy for their software development. Both companies delegated their software development to several countries. 
Is going offshore good for your business?
Offshoring is good for any business as long as it is done right. Of course, you still need to consider your unique circumstances and requirements, including your business goals, budget, and resources. 
Hearing the word offshoring may present itself as complex and risky as it exposes you to challenges like communication barriers, cultural differences, and potential security risks. But as long as you are in the hand of a good offshoring partner, nothing will go wrong.
Instead, you will gain access to several benefits that are not available in your home country, such as:
Advanced skills and specialized knowledge.

 You can meet and have top talents work in your business at a fraction of the cost. 

Diverse team.

 You can gain access to diverse knowledge making it your edge against your competitors.

Recession-proof.

You can rest assured that your business will continue operating in the middle of any crisis like calamity or pandemic.

24/7 service availability.

You can always ask your offshoring partner for help when you encounter issues since most offshoring service providers operate 24/7.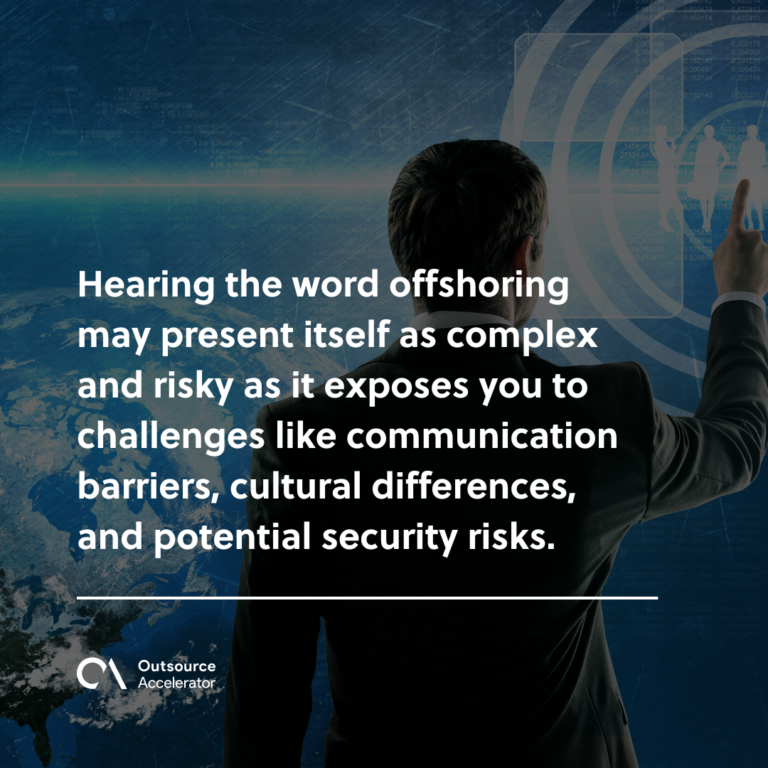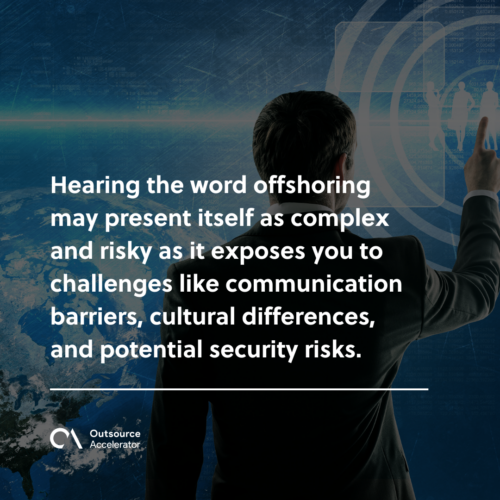 How to choose the right offshoring partner?
Since the pandemic happens, many outsourcing and offshoring companies have emerged. And that is what makes finding the right partner for your business difficult.
You need to make a thorough and strategic approach to ensure that the offshoring service provider you chose is the one your business actually needs.
Below are some tips you can take to find the best offshoring partner for your business:
Define your business requirements
The first thing you need to do before listing up potential partners is to define your business requirements.
Before going offshore, it is important to be clear on what you want and expect from your offshoring partner. Determine what specific skills, expertise, and experience you need your staff to have, as they are the key players for you to achieve your business growth. 
Doing this, first and foremost, helps you determine which of the many offshoring service providers suit and align with your business goals and objectives.
Research potential partners
After identifying all your requirements, it is now the time to search for potential offshoring partners.
Start this by answering the question, 'Where do I prefer to offshore my staff?'
Aside from India, there are actually several destinations where you can offshore, and one of them is the Philippines. The Philippines has been in this industry since 1992, and what makes them a top offshoring destination is, of course, its countrymen.
Filipinos are known for their passion and good work ethics, not to mention their top-tier skills.
Offshoring in the Philippines can help you cut your operating expense without compromising the quality of work you will receive.
Once you have determined the location for your offshored team, you can now start finding potential partners in that specific country.
Look for companies that have relevant experience working with clients in your industry, with a proven track record of delivering quality work. You can also use online directories, industry associations, and referrals to identify potential partners.
List as many as you can.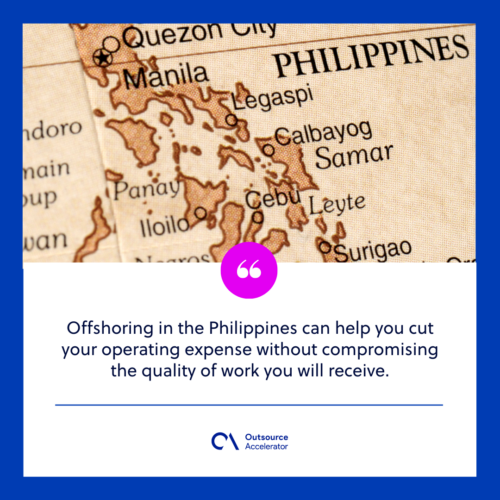 Evaluate potential partners' capabilities
The next step you need to do is to evaluate them one by one.
Using the set requirements you have previously prepared, it will be easier for you to identify which of your listed potential partners is the perfect fit for your business.
Be meticulous and identify their capabilities. Assess their expertise, technical capabilities, infrastructure, and resources. Include things like communication channels, data security measures, and cultural compatibility.
Evaluate the cost and scalability
Finally, you should evaluate the cost and scalability of the partnership. Remember to always check on this because this will make sure that the cost of offshoring is aligned with your set budget and expected ROI.
What does Guerilla Staffing Solution offer?
Guerilla Staffing Solutions is one of the many BPOs in Clark, Philippines. A family-owned business run by five sisters, all fueled by their entrepreneurial spirit and individual strengths. 
We dedicate ourselves to providing the best-suited staffing solutions businesses need at a much more affordable price without compromising the quality of work they will receive.