Understanding the concept of call flip and how it works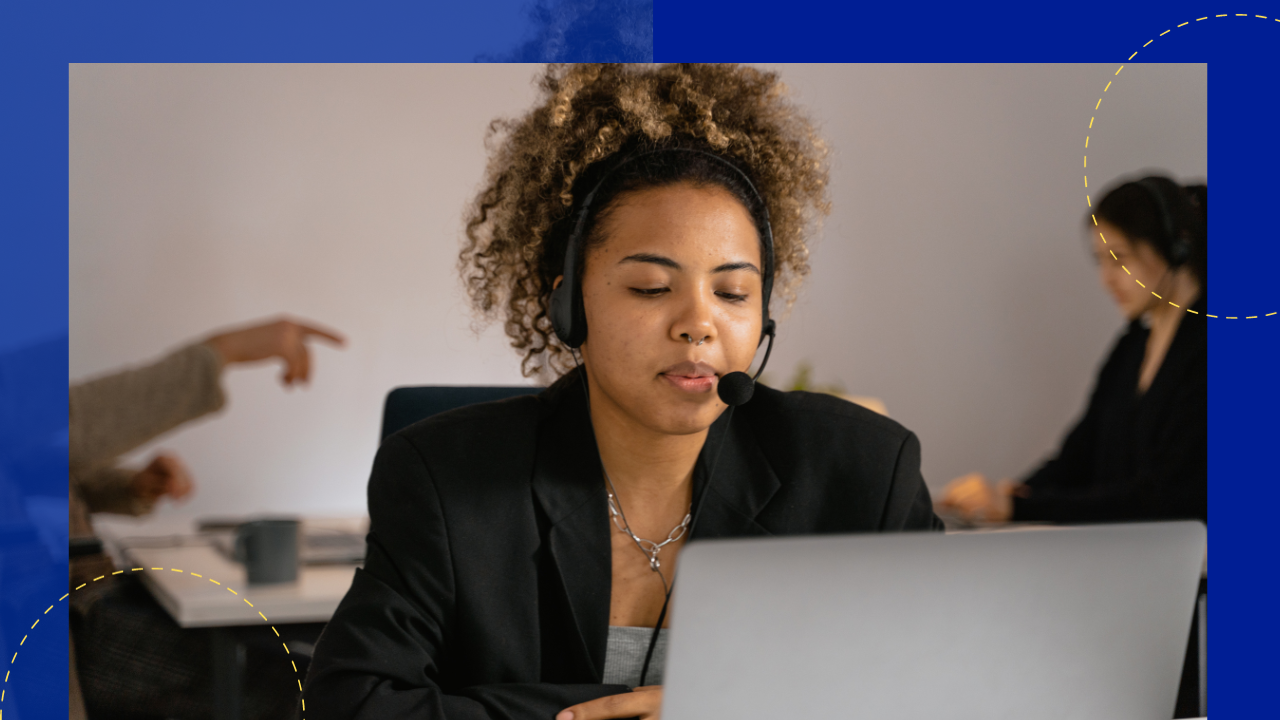 In the world of telecommunications, efficiency and flexibility are paramount for businesses to succeed.
One innovation that has revolutionized how we handle phone calls is "call flip."
This guide delves into the intricacies of this feature. Explore how it works, its benefits, and the ways to perform it seamlessly.
What is a call flip?
Call flip (also known as call forwarding, call transfer, or call pulling) is a feature that allows you to redirect an ongoing call from one device or phone number to another.
This advanced calling capability is usually found in VoIP business phone systems.
Call flipping lets users switch between devices or numbers without interrupting the conversation, offering a seamless communication experience.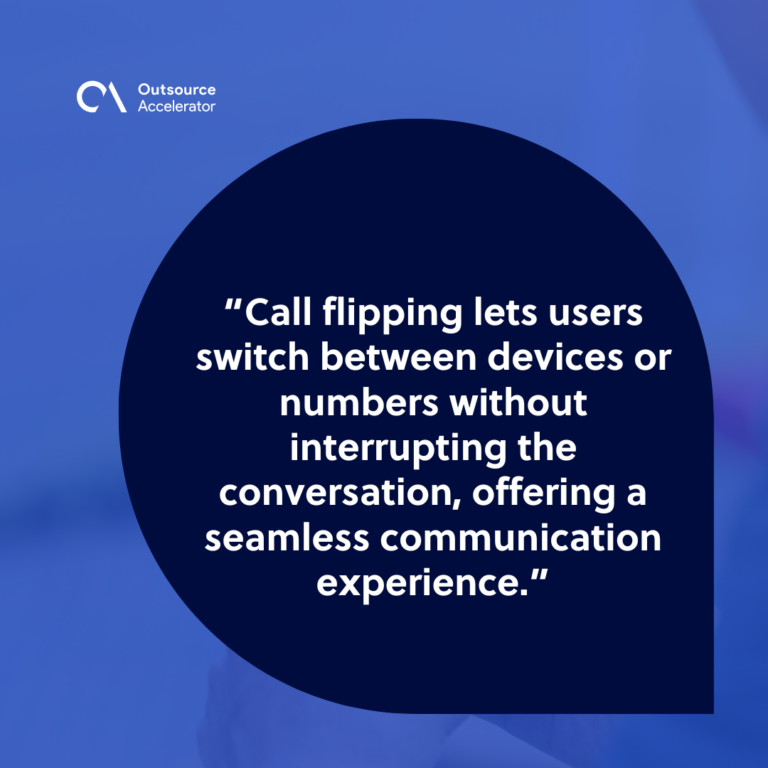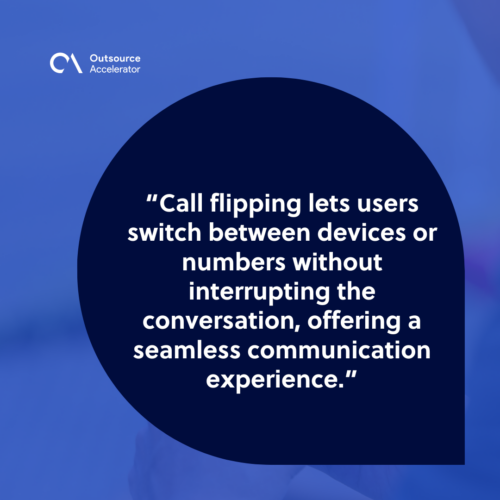 Call flip vs. Call switch
Before we dive into how call flip works, it's essential to distinguish it from another term you might come across — call switch.
With call switching, a user simply transfers the call from one device to another. However, the call gets disconnected momentarily during the switch.
On the other hand, call flip allows the user to move the call to another device effortlessly, without disconnecting the call.

How does a call flip work?
Call flip operates by establishing an ongoing call and then transferring it to another device through an intermediary. This intermediary bridges the call between the original and target devices, ensuring the conversation continues seamlessly.
To illustrate, let's consider a scenario where you start a call on your office landline. Suddenly, you realize you need to leave the office.
Through call flipping, you can transfer the call to your mobile phone without the other person noticing any interruption. It offers convenience, flexibility, and the ability to stay connected on the go.
Benefits of call flip
Using the call flip feature presents many advantages to users, such as:
Improved mobility
Call flip enhances mobility by effortlessly switching between devices and locations. This is especially useful for professionals who are constantly on the move but need to stay connected.
Enhanced convenience
Call flipping ensures you stay connected without disruptions — whether from your desk phone to your mobile device or from one room to another.
Efficient call handling
Call pulling helps manage calls efficiently. You can answer on the device that best suits your current situation.
The feature also allows you to use several devices at the same time. Some calling software offers this ability, so there's more room for flexibility and productivity.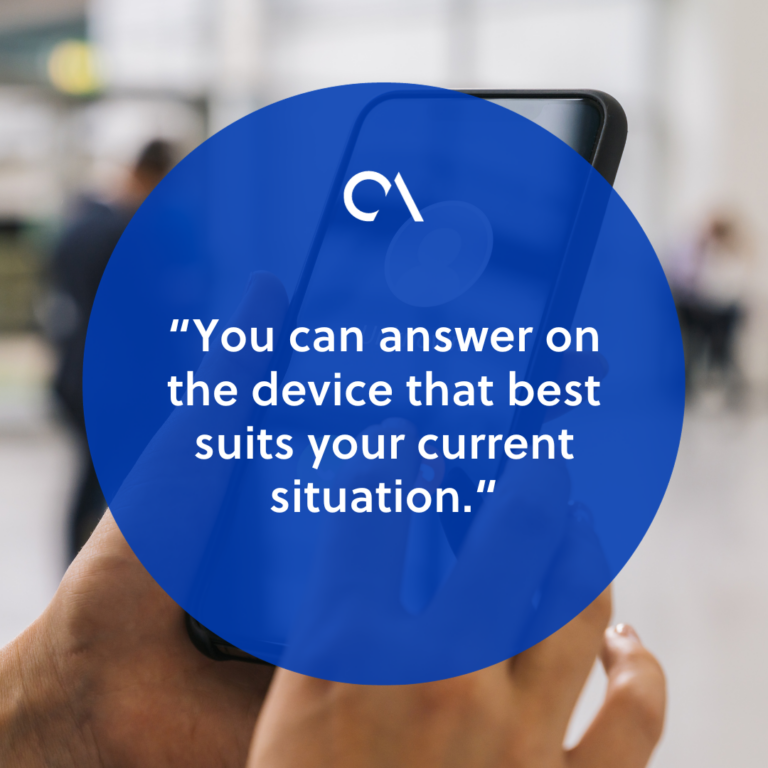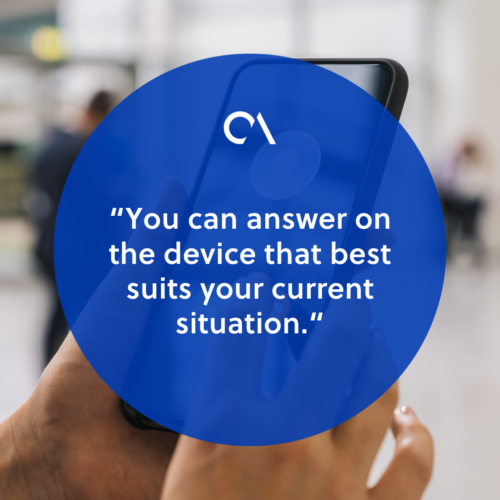 Increased productivity
With this feature, there's no need to call back or ask the other party to dial a different number. This streamlines communication, saving time and boosting productivity.
Enhanced customer service
By enabling call flip, organizations can provide a higher level of customer service.
For example, a customer might reach a support representative on their office phone. But if the call needs to be escalated to a more knowledgeable colleague, it can be transferred without the customer repeating their issue.
Cost savings
Call forwarding can save costs by eliminating the need for multiple phone lines or devices.
It streamlines communication and allows employees to use their preferred devices without the need for separate landlines or additional subscriptions.
How to perform a call flip
Performing a call flip is a straightforward process. Here's how to do it across different channels:
Call flip on mobile phones
Call flipping using a mobile phone can be performed by:
Establish the call

. Initiate the call on your mobile phone.

Choose the target device

. Determine which device to which you want to transfer the call, such as your office landline or computer.

Activate call flip

. Find the call flip option on your mobile phone in the communication app or settings menu.

Seamless transfer

. Tap the call flip option, and the ongoing call will transfer seamlessly to the chosen device, ensuring steady communication.
Call flip on office phone systems
As for office phone systems, it can be done by:
Establish the call

. Initiate the call on your office landline, desk phone, or

through the internet

using software.

Choose the target device

. Decide which device you want to transfer the call to. You can forward it to a mobile phone, computer, hands-free device, or another number.

Activate call flip

. Look for the call flip option on your office phone system or software. Typically, this can be done on a phone system by pressing a predefined key or a specific sequence of keys. In software, it could be in the settings or UI.

Seamless transfer

. After activating the feature, the ongoing call will be instantly and imperceptibly transferred to the selected device. This ensures a smooth transition and undisturbed conversation.
Ultimately, call flip is a valuable feature that allows users to transfer ongoing calls between devices seamlessly.
By mastering the process of call flip, businesses and professionals can optimize communication and stay connected effortlessly.
Embracing this innovative telecommunications feature can be a game-changer in the present dynamic business environment. It lets you have smooth and uninterrupted conversations regardless of location or device.