Call center outsourcing prices: What you need to know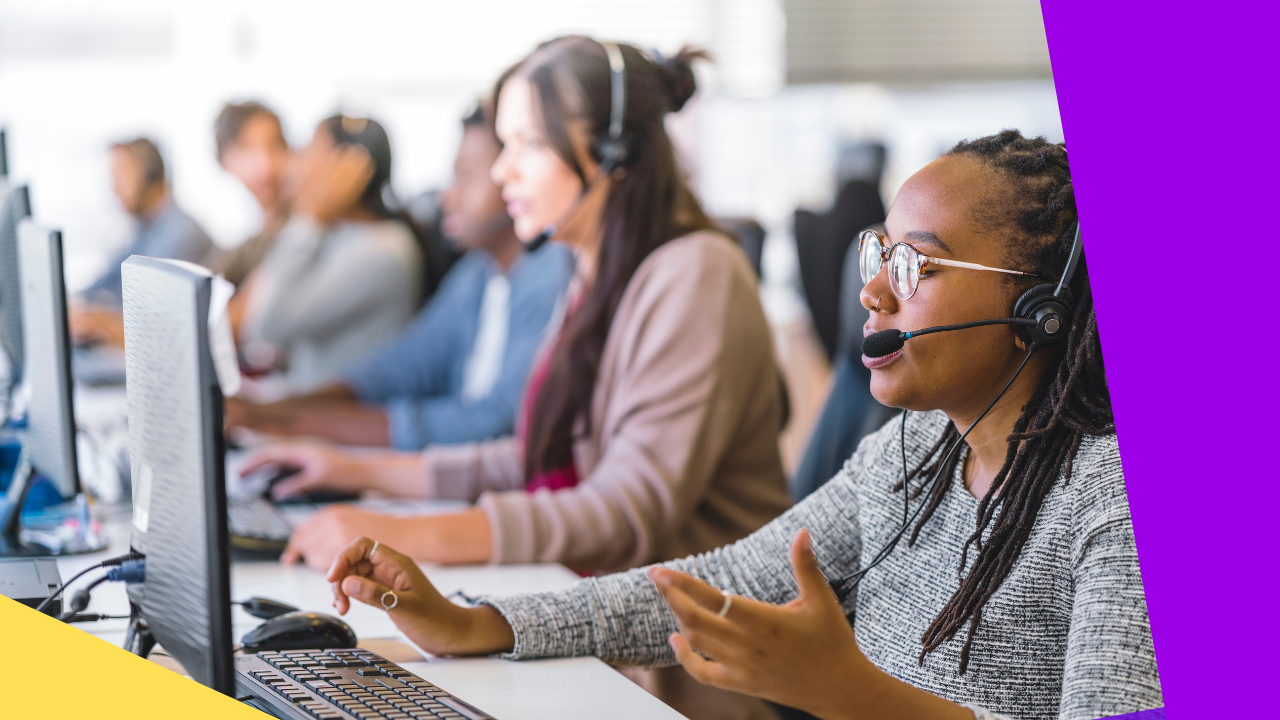 Call center outsourcing prices What you need to know
The business process outsourcing (BPO) industry has grown tremendously in recent years. One of the most popular services they offer is call center services.
Outsourcing call center services can be an excellent way for businesses to save money and increase efficiency. Enterprises can benefit from the expertise of experienced agents who can handle customer inquiries and provide quality customer service.
While telemarketing is critical to the success of a contact center, it may still impact the overall customer experience and the corporate's budget.
This article discusses what you need to know about call center outsourcing prices. Learn about the cost and fee structure, the inbound and outbound rates, and what you should not pay for.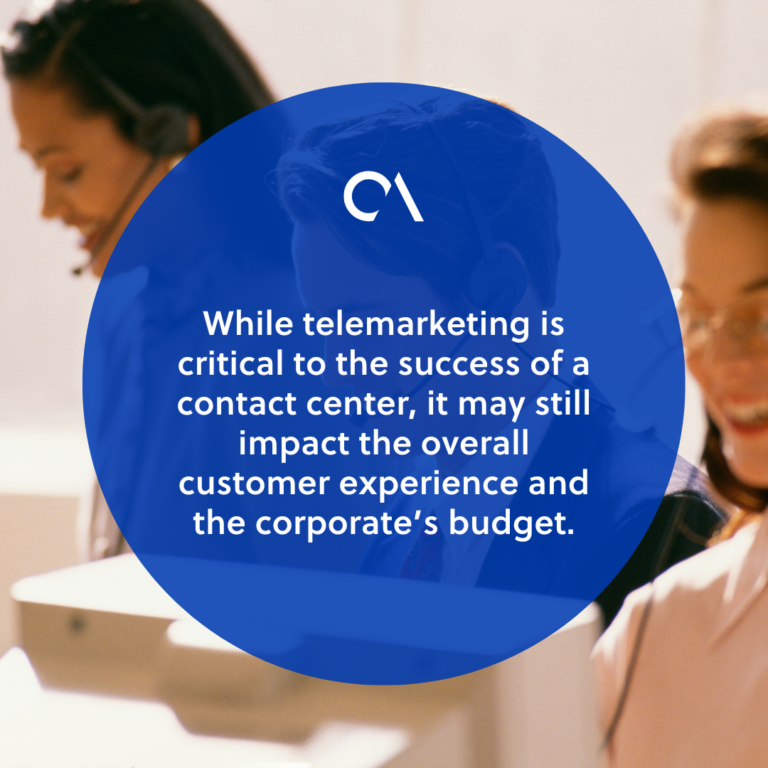 How much does it cost to outsource a call center?
Time Doctor's report shows that inbound call center outsourcing prices in the USA and Canada range from $20 to $30 per hour.
Meanwhile, it only costs eight dollars to $14 to outsource in Asian countries like The Philippines. 
This means that call center outsourcing prices can vary depending on the location of the call center, the number of agents needed, and the type of services provided.
When looking into call center outsourcing prices, it is vital to consider the services' quality. An excellent outsourced call center should provide efficient operations, good customer service, and reliable technology.
Does work-at-home setup lower costs?
Does work-from-home setup lower call center outsourcing prices and other expenses?
According to the Global Workplace Analytics report, the annual economic impact of telecommuting would exceed $700 billion. 
In terms of real estate, electricity, absenteeism, turnover, and productivity, businesses would save over $500 billion annually, or more than $11,000 per employee annually.
Additionally, a work-from-home setup reduces call center outsourcing prices because of streamlined operations.
Call center telecommuting can also reduce the following:
Rent and utilities

– if most of your staff works from home, you will not need to pay for larger premises, resulting in rent and utility cost savings.

Cleaning services

– by reducing the number of on-site employees, your cleaning services bill will likely decrease.

Food

– whether you provide a cafeteria service or refreshments during meetings, these expenses will be lessened if you have remote staff.

Taxes

– payroll, sales, and property fees determine a company's tax burden. Adapting to remote work may aid your tax burden.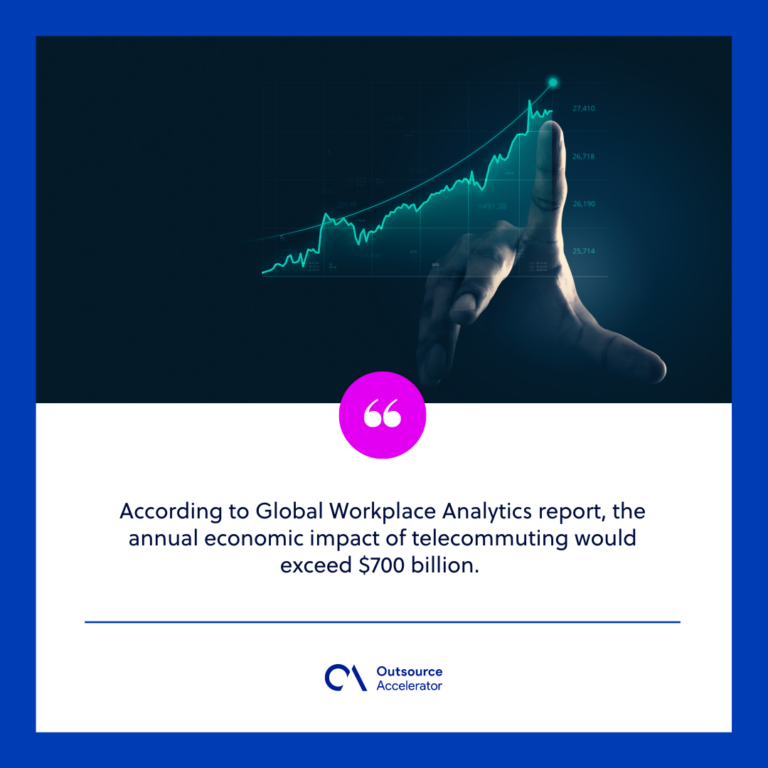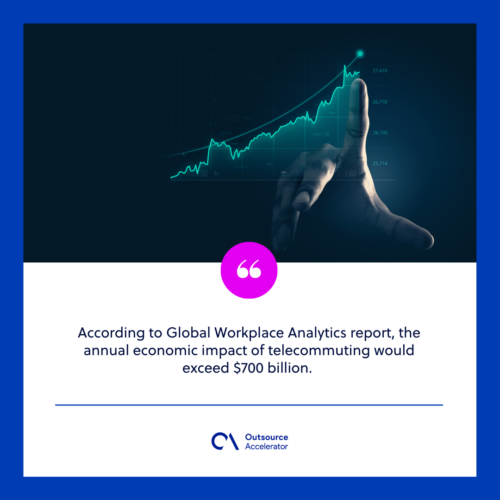 Call center outsourcing prices: Breakdown
Nowadays, most services are customizable to match your business requirements. Third-party providers also offer a free quote for an accurate breakdown of fees.
Some contact centers charge a fixed monthly fee, while others bill based on how much time employees spend talking with their consumers. Typically, the fee covers the following:
Equipment

Operations

Staff

Monitoring

Reporting



As such, before you decide to outsource, keep in mind that all call center outsourcing prices vary for their services individually. 
Here is the comprehensive breakdown of call center outsourcing prices:

Ongoing rates
Among other call center outsourcing prices, an ongoing rate would match any business size because of its flexible charges.
There are typically two types of ongoing rates:
Hourly rate

– you will be billed based on how many hours you availed of the service.

Fixed-price

– you will pay fixed charges that often correspond to a KPI. Depending on your arrangement with the call center, this may be time, sales, or something else. Additionally, this

fixed pricing model

charges either monthly or annually.
One-off fees
Among other call center outsourcing prices, one-off fees need proper consideration, especially when working with a new call center agency.
Typical one-off fees charged by call centers include:
Set-up fee.

This consists of the software and tools the call center must acquire before beginning work for you.

Training Fee.

The required number of agents might change per season. Call centers have constant turnover, and training costs cover new hires' coaching like any other profession. 
However, a legitimate contact center will not charge a training fee for employee turnover, and this cost will only be assessed if you want to add more agents.
Markup fees
A markup is given as a percentage or product of the cost of a commodity or service. In other words, the seller's profit is derived from the premium over the overall price of the service.
In a pure staffing approach, your staffing vendor will mark up a percentage cost on top of the pay rate. 
For instance, if your call center staffing provider pays their agents $15 per hour and charges you a 40% markup, you may anticipate spending $21. 
This will be the computation: 
$15 x 40% = $6
This six dollars will be your staffing markup which will be added to your $15 hourly compensation rate. Hence, a total of $21 staffing costs.
Note that other call center outsourcing prices might be involved in this area. But you should exceed the advertised amount. 
Permanent staffing fees
This is one of the call center outsourcing prices expected for a long-term client and provider relationship. In a typical temporary-to-permanent arrangement, the vendor's employees can have the chance to be hired directly after a specified period.
If you decide to do so, you will often be required to pay a permanent staffing cost. The amount is usually 10%to 25% of the worker's estimated first-year pay. 
In exchange, the vendor promises that the employee will remain with you for at least one year. If the person quits before the end of the year, you will get a portion of the permanent staffing charge.
Call center outsourcing prices: Inbound vs. Outbound rates
The cost of an outsourced call center will differ based on whether the service is inbound, outbound, or both.
For instance, an inbound call center that provides technical support will necessitate that the employees have specialized knowledge in the IT field.
In contrast, an outbound call center that handles sales calls will require sales experience from its agents. The agents' skills will impact the overall call center outsourcing prices in both instances. 
Let's analyze the average pricing ranges for each call center type:
Inbound call center rates
Outsourced inbound call center pricing models are classified into two types:
Shared – with shared agents, you will pay a per-minute fee ranging from roughly $0.27 to $0.45 This is best suited for small enterprises with minimal call volumes.
Dedicated – with a dedicated service, a call center personnel handles calls solely for your company. Dedicated agents are charged on an hourly basis — costing up to $10 per hour.
Comprehensive representation of inbound call center outsourcing prices

Shared
Dedicated
Source

Low-cost offshore prices: $0.27–0.45 per minute

Low-cost offshore prices: $8–15 per hour

Time Doctor

USA and Canada prices: $0.75–1.25 per minute

USA and Canada prices: $20–30 per hour
Outbound call center rates
On the other hand, outbound call center rates are classified in two types:
Hourly based

– Salary.com reports that the average wage typically

ranges from $16 to $22

(as of January 26, 2023). In connection, the company should anticipate that this will be the range of costs they will pay for their outsourced staff.

Commission-based

– To achieve full-commission cost, contact centers often need to earn an

additional 10-20% per hour

on top of their standard rates.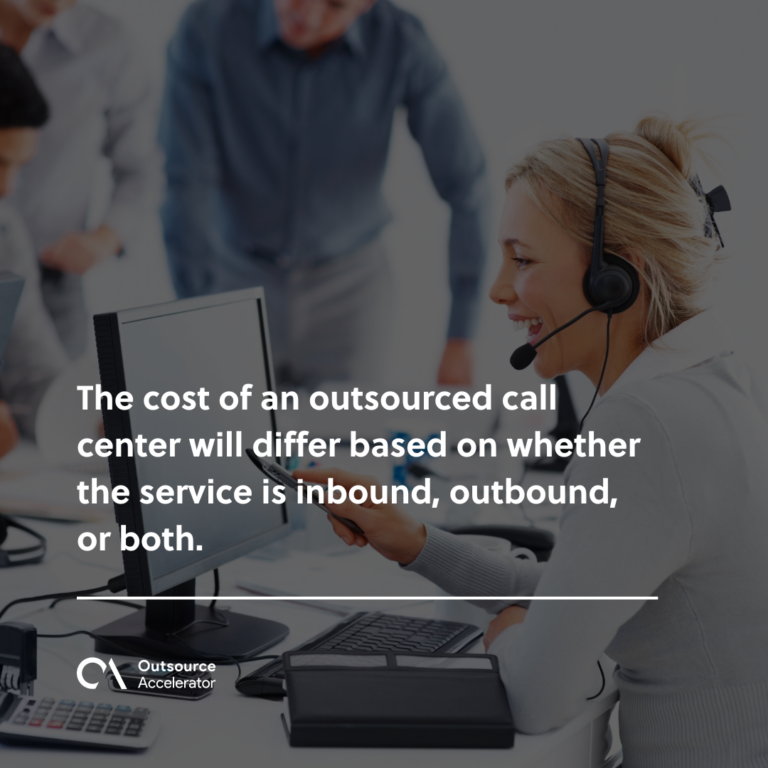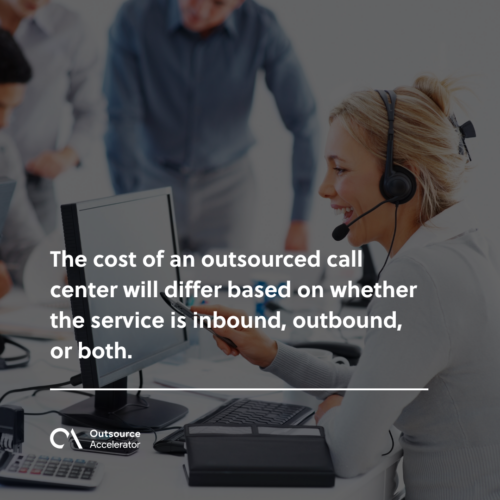 What you shouldn't pay for
When you outsource a service, there are specific call center outsourcing prices and features you should not pay for.
For instance, you should not pay for services that are not necessary for your business. If you are not sure what services are essential for your operations, it is best to consult a professional who can help you determine what services to acquire. 
You should not also pay for services not included in your purchase package. Read the fine print and understand what is included in the package before you partner with the third-party service provider.
Additionally, call center companies are only compensated for 85% of each hour spent productively. This implies that you will only pay an outsourced representative $21.25 per hour instead of the $25 you would have paid an employee in your business.
Others might charge you unreasonably. If this happens, keep in mind that you shouldn't pay for the following factors:
Turnover cost

– while training is expected during the first month of onboarding, training fees should never be your responsibility.

Client support

– there should always be a contact person at a call center who is committed to your connection. You are not obligated to pay for this package.

Management

– you shouldn't pay for supervisors or managers unless you want dedicated managers for your smaller teams.
Call center outsourcing prices: Find the right price
Considering which call center outsourcing prices would fit your corporate budget is critical. It can also help to ensure that the call center can remain profitable and competitive in the market.
As mentioned earlier, different services may present different pricing structures. It would help to look at the benefits the vendor offers and check the associated costs before deciding to outsource your call center with them.
You must also consider the call quality of the call center's services. Quality services can help to ensure that customers are satisfied with the services that they receive. 
The proper pricing structure can help ensure your business gets the best value for its money.