Call blasting: Is it good for your business?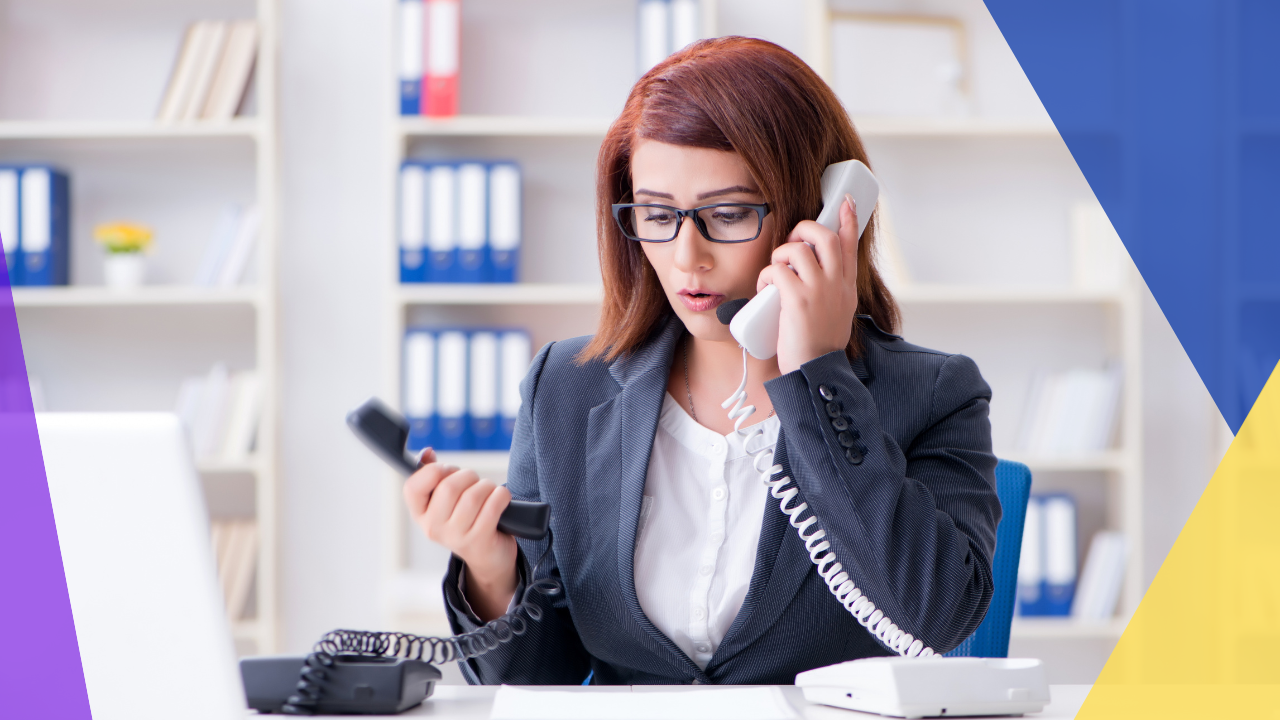 Personalized messaging has been a significant advancement in marketing and communication. 
Yes, it remains a valuable strategy for connecting with your audience on a deeper level, but it is no longer a sufficient solution for reaching potential customers and clients.
Recipients have grown accustomed to tailored content, so you must adjust your strategy and find a different approach to customer engagement.
Call blasting, on the other hand, can complement personalized messaging by adding an element of immediacy and direct engagement that personalized emails may lack.
What is call blasting?
Call blasting, also called voice broadcasting, is a versatile and efficient method of business communication. This automated phone system empowers organizations to broadcast pre-recorded messages to a broad audience simultaneously.
For marketing and promotions, call blasting provides a unique edge. Businesses can quickly reach out to their customers, notifying them of new products, special discounts, or upcoming events.
The personalized touch of a voice message can resonate more deeply with recipients, strengthening their connection to the brand. This method is ideal for announcements like school closures, emergency alerts, or last-minute event changes. 
Call blasting ensures that critical information is disseminated rapidly to all concerned parties. 
Additionally, it can serve as a powerful tool for collecting customer feedback through surveys, allowing recipients to respond immediately and providing valuable insights.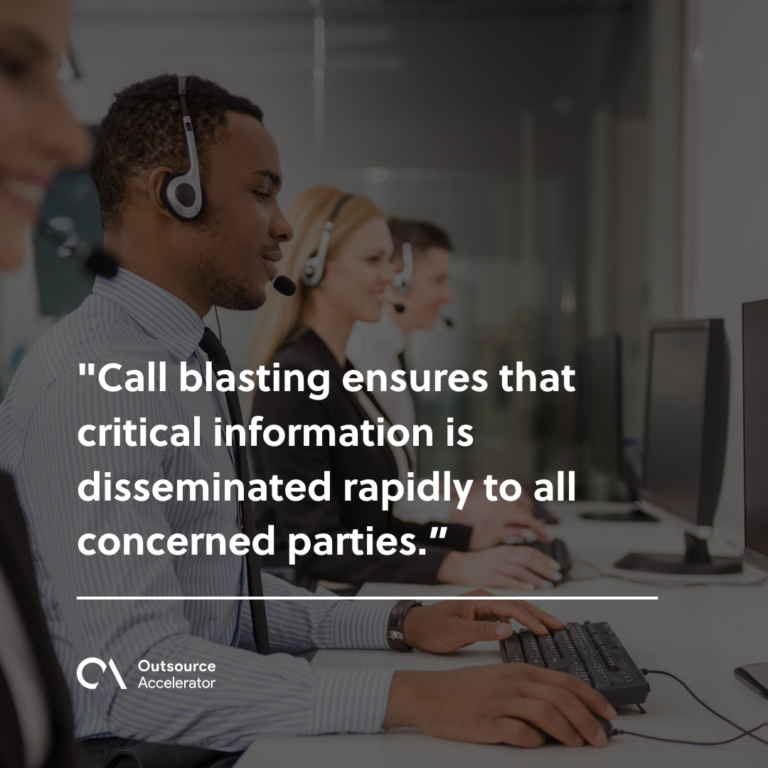 Benefits of call blasting
Call blasting is an invaluable resource for businesses seeking to streamline communication, foster engagement, and optimize outreach strategies.
Here are the significant benefits of call blasting:
Rapid communication to a large audience
Traditional methods like cold calling can be time-consuming and resource-draining.
With call blasting, you can reach thousands, or even tens of thousands, of recipients in minutes. This is particularly valuable in emergency announcements, time-sensitive promotions, or critical updates.
Time and cost-efficient
Call blasting automates this process, reducing the need for human intervention. This translates into significant cost savings as you can reach more people quickly. It'll also allow your employees to focus on other essential tasks.
Improved outreach and engagement
We know very well that people often ignore emails and text messages. However, receiving a phone call tends to grab their attention.
With call blasting, your message is more likely to be heard, leading to improved outreach. To boost engagement, you can customize your messages by including interactive features like surveys or call-to-action prompts.
Enhanced marketing and promotions
Call blasting is a versatile tool for marketing and promotional activities. You can use it to announce new products, offer special discounts, and inform customers about upcoming events. 
The personalized touch of a voice message can create a stronger connection with your audience, fostering loyalty and trust in your brand.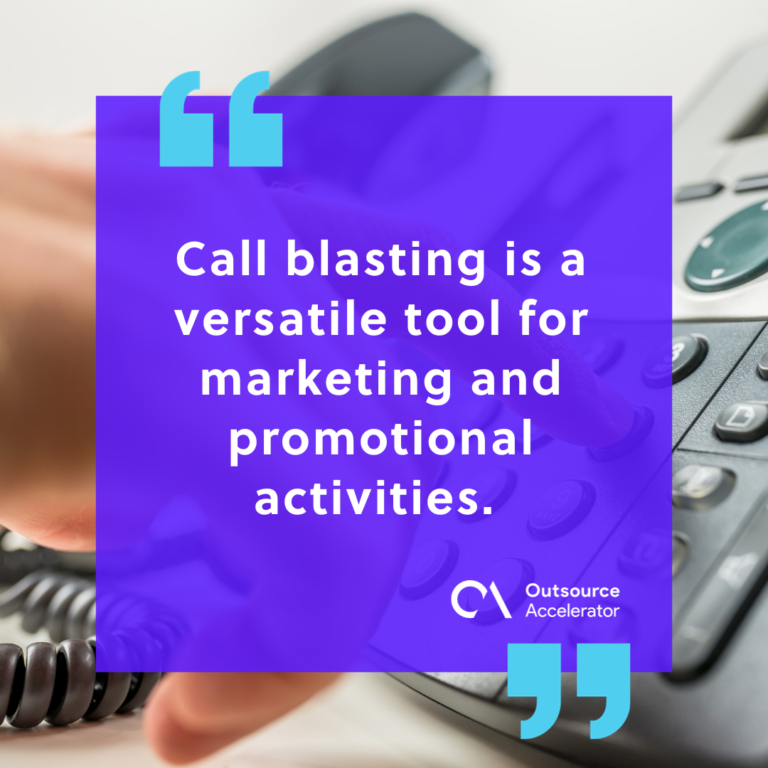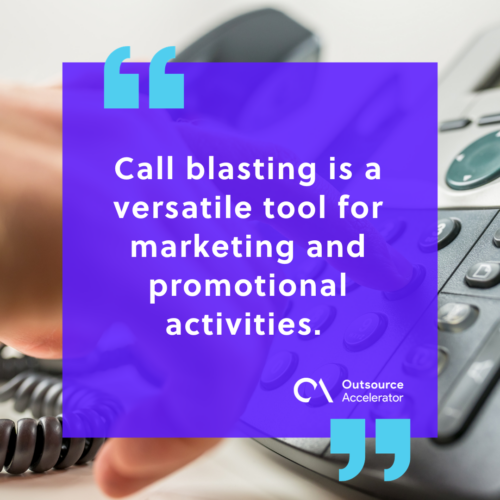 Call blasting mistakes to avoid
While call blasting offers many advantages, several common mistakes can hinder its effectiveness.
To make the most of this communication method, steer clear of the following pitfalls:

Not having a clear call list
Without a targeted list of recipients, your message may reach the wrong people or, even worse, irritate potential customers.
Ensure your call list is up-to-date and segment your target audience for specific campaigns, ensuring your messages are relevant to the recipients.
Failing to personalize messages
Failing to personalize messages within the context of call blasting is akin to missing a golden opportunity to enhance the effectiveness of your communication strategy. 
Instead of a generic announcement, the message could start with, "Hi [Recipient's Name], we have an exclusive offer just for you!"
This personalized touch instantly grabs the recipient's attention and conveys the message's relevance. You can then provide specific details about the promotion, such as how it aligns with their fitness goals or previous interactions with your center.
Overloading the message with information
While you may be eager to convey much information in one call, bombarding recipients with excessive details can be counterproductive. 
You must keep your message concise, clear, and focused on the main point. Provide a call-to-action or a way for recipients to access more information if interested.
Neglecting to test the call blast system
Before launching a call blasting campaign, thoroughly testing the system is crucial. Neglecting this step can lead to technical issues, glitches, or communication errors. 
Test different scenarios, including message delivery, call list accuracy, and response tracking, to ensure a seamless campaign.
Using poor audio quality
Using poor audio can lead to misunderstandings or recipients tuning out. Invest in high-quality recording equipment and professional voice talent to ensure your messages are clear and pleasant.
When to use call blasting
Call blasting is a valuable tool in various scenarios:
Urgent announcements

– Call blasting can ensure your message reaches everyone without delay when you need to communicate crucial information quickly.

Appointment reminders

– Call blasting can send automated reminders to reduce no-show rates for businesses in the healthcare industry, service sector, or any field where appointments are essential.

Event promotions

– If you're organizing a special event or promotion, using call blasting to notify your customer base can generate excitement and boost attendance.

Customer updates

– You can keep your customers informed about order updates, shipping notifications, or product releases through call blasting. This maintains a strong relationship and reduces inquiries.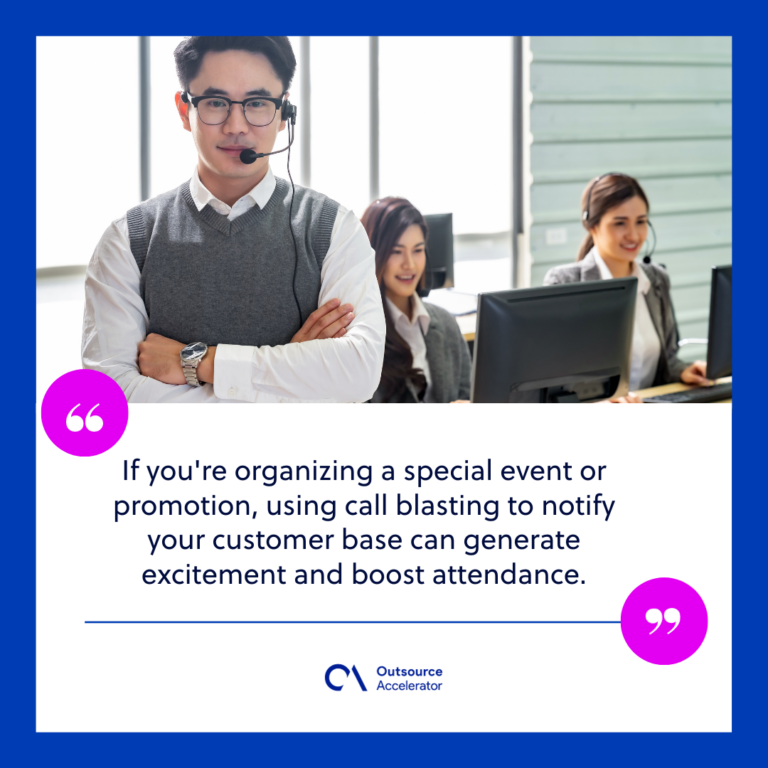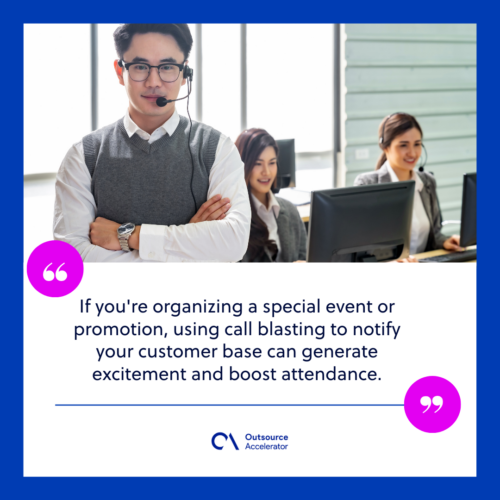 When not to use call blasting
While call blasting is a versatile tool, it's unsuitable for every situation. Do not use call blasting for the following reasons:
Unsolicited telemarketing

– Cold calling or sending unsolicited promotional messages can annoy recipients and damage your brand's reputation. Always obtain consent or ensure compliance with applicable regulations.

Complex conversations

– Call blasting is not designed for lengthy or intricate discussions. Consider other communication methods like phone calls or video conferencing if you need to engage in in-depth conversations.

Non-targeted messaging

– Sending irrelevant messages to a broad audience is a recipe for ineffective communication. Always segment your call list and tailor your messages to the recipient's needs and interests.
Overall, call blasting empowers businesses to connect, engage, and thrive. 
Whether you want to enhance marketing, customer relations, or communication, call blasting is a valuable addition to your business tools.