Building your dream team through cloud staffing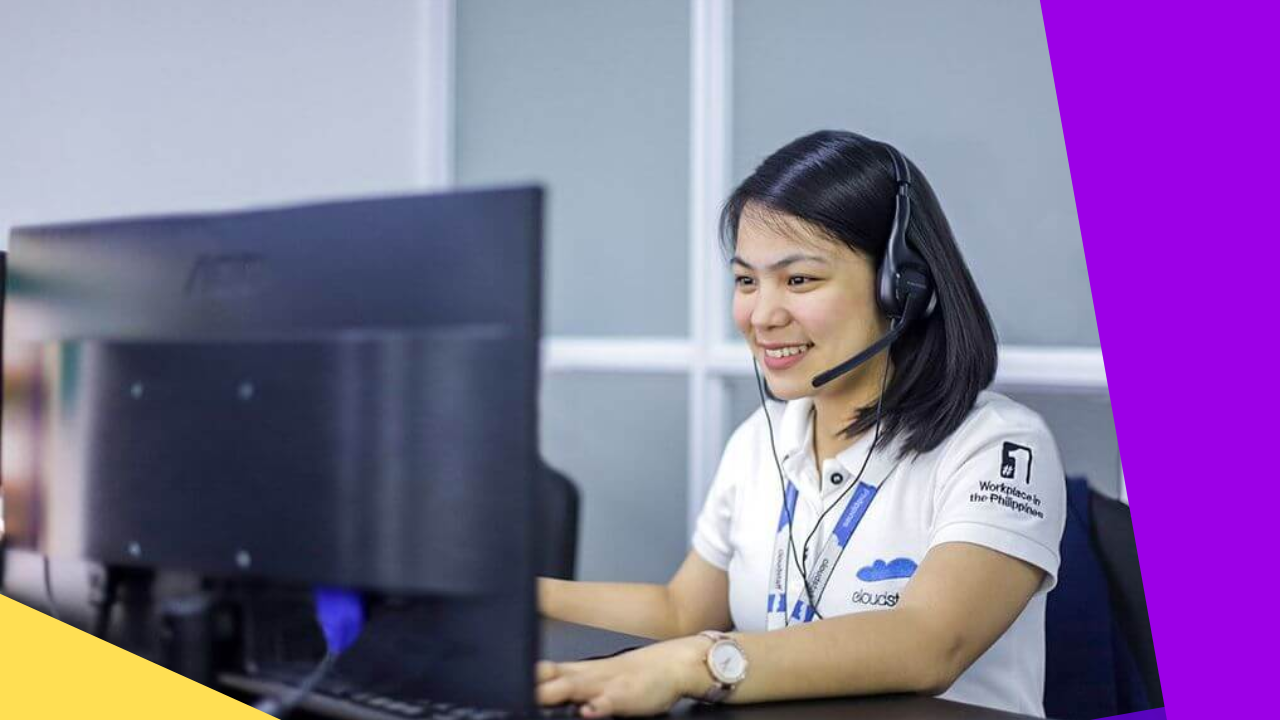 Building your dream team through cloud staffing
The COVID-19 pandemic totally changed the way companies view their business and its accompanying vision, goals, backup strategies, and expansion game plans.
Despite the mobility restrictions and expected economic depression that hinder businesses during this pandemic, new research released by Globalization Partners and CFO Research revealed that most businesses "are undeterred by the impact of COVID-19 and are still moving forward with plans for new or expanded international operations."
These businesses are very fortunate to have the option to expand during this distressing economic climate. However, expanding a company's workforce is a huge undertaking. It's something that should be planned very carefully – without rush, without pressure, and without a second thought.
Re-discovering your options
The keys to making an informed decision are learning all your options, taking the time to weigh the pros and cons, and brainstorming with other vital decision-makers. When it comes to expansion, hiring new employees, and training them to represent your company, here are your options:
In-house hiring
In-house or direct hiring is a process where a company employs new employees without hiring a third party. The company's human resources team is responsible for looking for candidates, interviewing, finding out if the candidate is the perfect fit for the position applied, negotiating salaries, collecting required documents, training new employees, and other administrative tasks.
This type of hiring can be really time- and budget-consuming, especially if a company is looking to hire a whole team for a new project or looking to do a massive hiring process.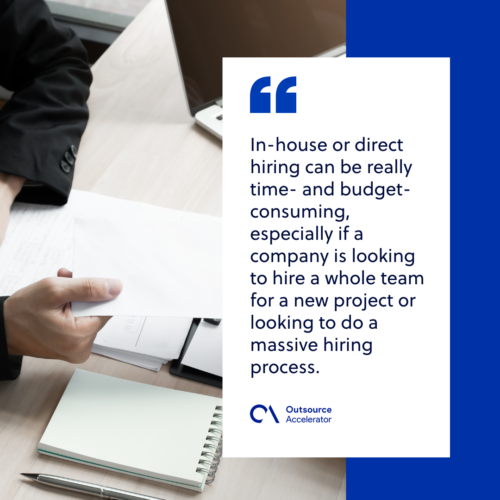 Cloud staffing
Cloud staffing means "working without needing to be physically present in the employer's office." Cloud staffing allows expanding businesses to hire dedicated employees to work remotely at the company's preferred schedule.
Cloud staffing is an efficient way to give businesses access to a dedicated offshore team, without involving themselves in the logistics and day-to-day operations. Naturally, it saves the company's precious time, but the more interesting part is it can help businesses save up to 70% on operational costs and other training expenses.
As a trivia, the term "cloudstaff" or "cloud staffing" is actually popularized by Cloudstaff Modern Workforce. The company delivers a premium and scalable outsourcing experience for any business. They basically offer outsourcing services – BUT BETTER.
Introducing Cloudstaff Modern Workforce
Cloudstaff was founded in 2005 by its CEO and Australian Internet pioneer Lloyd Ernst to focus on software development for Western markets. The company decided to expand operations in the Philippines in 2010 with a small team of only seven staff. Fast forward to 15 years later, Cloudstaff now employs more than 2,500 staff and contractors across 6 different locations and is growing at an average rate of 7.5% per month.
Cloudstaff can help businesses around the world efficiently expand and streamline their business processes through cloud staffing. With cloud staffing, companies can have the option to grow and scale their businesses affordably.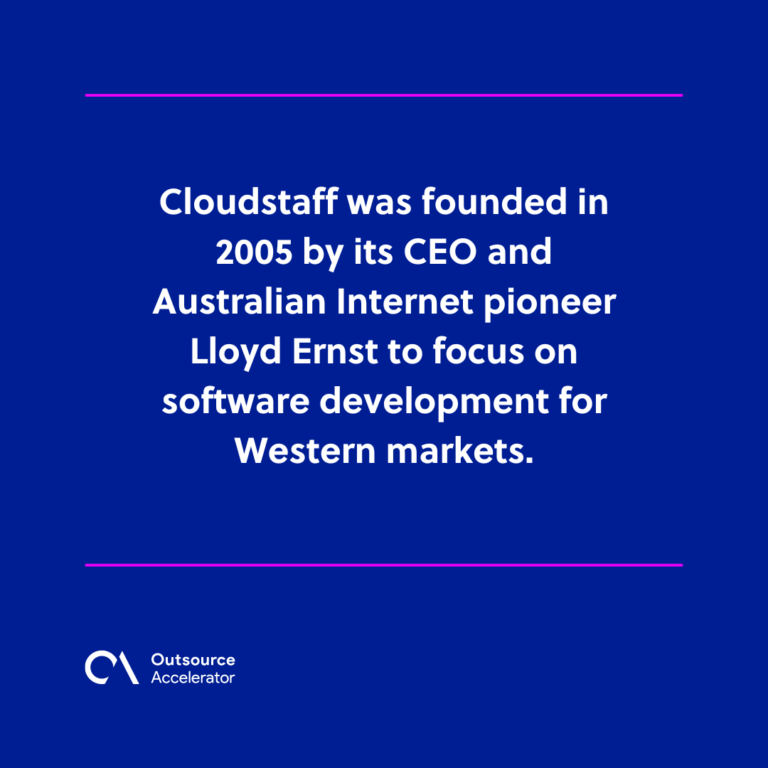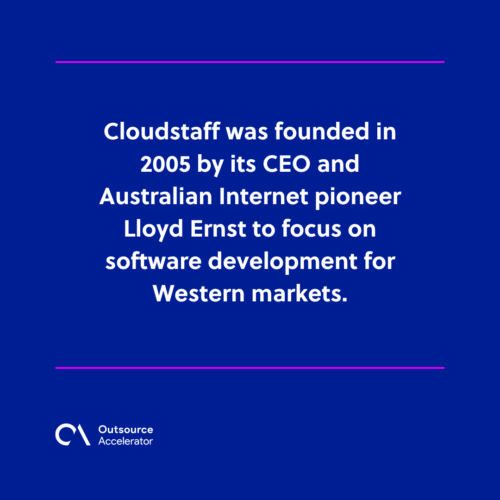 The Cloudstaff difference
Cloudstaff aims to help businesses with their staffing needs through the use of smarter outsourcing solutions, and with almost two decades of experience, you can be sure that you're getting more than what you paid for.
The company also takes pride in its team of 30+ professional recruiters and pool of 52,000 pre-screened candidates all ready to join your company – ranging from the real estate sector, accounting and finance, technical support, voice agents, and more.
Further, here are all the more reasons why you should switch to the smarter form of outsourcing, and why you should choose Cloudstaff Modern Workforce as your cloud staffing provider:
World-class facilities

Enterprise grade data security

No hidden charges

24/7 support

98.1% staff retention

Innovation

Business continuity
If interested, you can speak to one of Cloudstaff's industry experts here.