A complete guide to brand tracking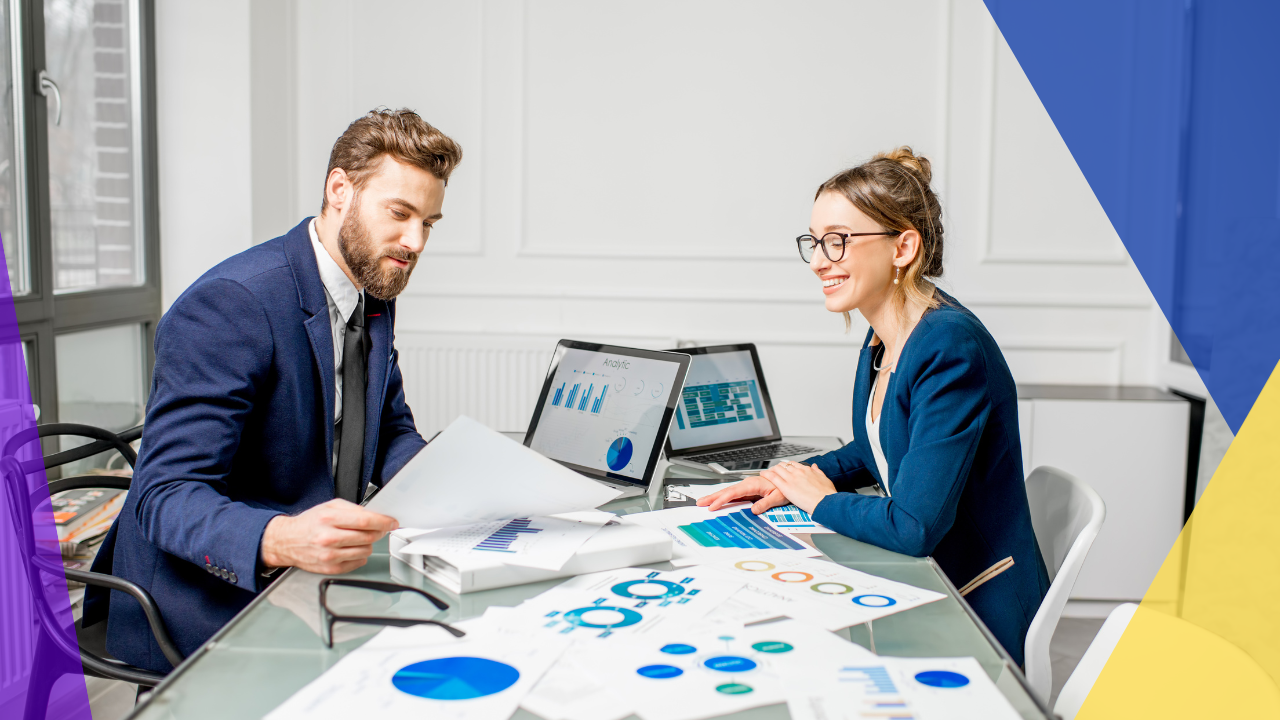 As a business owner, do you know how your brand is perceived in the market? What is your brand position, and how does it impact your business
Salsify revealed that 46% of consumers pay more for brands they trust. Branding is there to help you tell potential and existing customers a story so you can build long-lasting relationships with them.
It's essential to clearly understand your brand's reputation to make informed strategic decisions. That's why there's brand tracking — a powerful tool that helps assess a brand's health, measure its impact, and make informed decisions. 
This article provides you with a comprehensive guide to brand tracking. Let's discuss its key components and whether this process is worth the effort.
What is brand tracking?
Brand tracking is a quantitative research method that measures how a brand is perceived in the market. It is a process of continually collecting and analyzing data to provide insights into your brand's performance with consumers.
Brand tracking research typically involves gathering customer awareness, usage, perceptions, and attitudes toward a brand.
Information gathered from this process can then be used to inform brand strategy, creative messaging, and marketing tactics.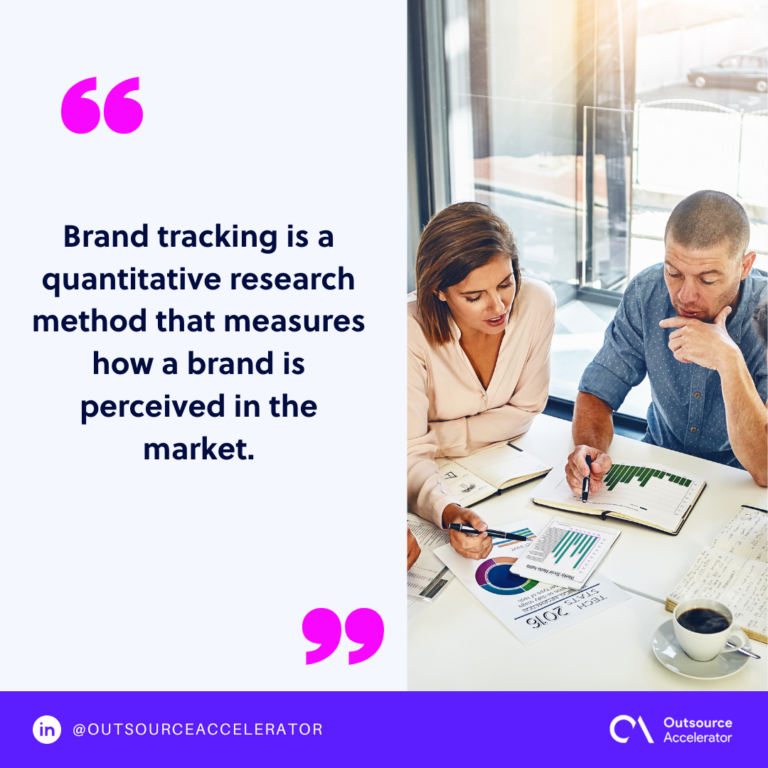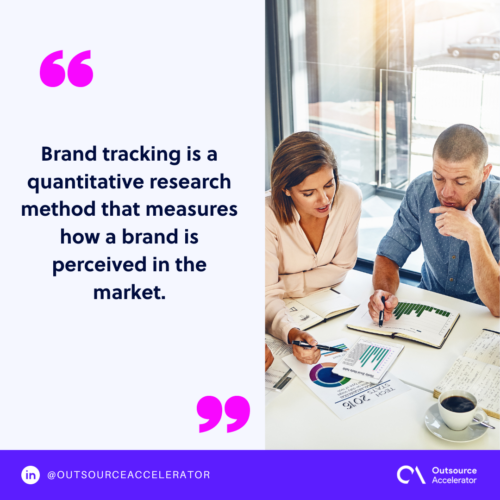 Benefits of brand tracking
Brand tracking offers several benefits for businesses, including:

Performance measurement
This process allows you to measure how well your brand is performing in the market. It helps you assess your business awareness, reputation, and customer loyalty.
Competitive analysis
You gain insights into your relative market position by tracking your brand alongside competitors. It also lets you identify areas where you can outperform rivals.
Customer insights
Brand tracking provides valuable insights into customer preferences, attitudes, and behaviors. Improved product development and marketing strategies can be developed using the sets of information you've collected.
Marketing effectiveness
The process helps you evaluate the effectiveness of your marketing campaigns. This enables you to allocate resources more efficiently.
Brand health monitoring
You can proactively identify issues that may harm your brand's reputation and address them before they escalate. You can ultimately improve your brand's health by being ahead of things through tracking.
Data-driven decision-making
Brand monitoring supports data-driven decision-making. It does so by providing a clear picture of your brand's performance and areas that need improvement.
Measure brand equity
When you track your brand's equity, you get insights into how much it contributes to your business. It also helps you determine how your brand stays in your target consumers' minds.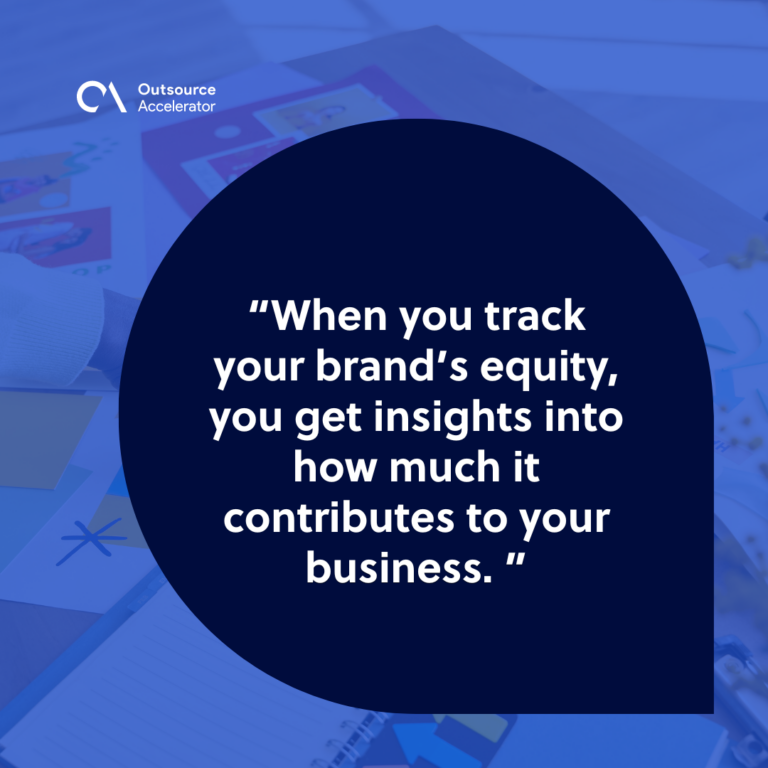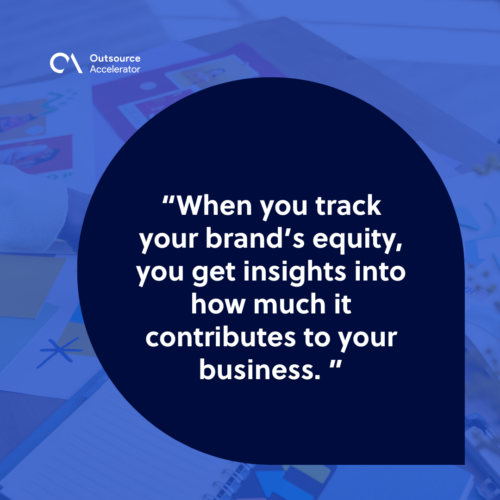 Challenges in brand tracking
The process can be challenging, and there are a few things to keep in mind when considering implementing a brand tracking study:

Data accuracy.

Achieving and maintaining data accuracy can be complex due to reliance on various sources. Ensuring data quality is essential for meaningful insights.



Benchmarking.

Finding accurate benchmarks for comparison, especially in rapidly changing industries, can be difficult. This provides a basis for where your brand stands in the market and highlights areas for improvement or innovation.



Cost and resources.

Initiating and maintaining a brand tracking study can pose resource challenges. It could be especially hard

for smaller businesses

with constrained budgets and workforce.

Frequency.

Determining the right frequency for tracking can be tricky. Too frequent can be overwhelming, while infrequent tracking may miss important shifts.

Time-consuming.

Setting up a brand monitoring study can take time, and the data collected may not be available immediately.

Difficulty in driving change.

Brand tracking data is often full of insightful information. Although, it can be challenging to translate these insights into meaningful action.
Metrics to remember when brand tracking
Here are a few key metrics to consider when conducting a brand tracking study:
Brand awareness

.

Brand awareness

sees how well your target audience recognizes your brand. This can include aided and unaided awareness.

Brand perception

. Understand how your brand is perceived in terms of quality, trustworthiness, and other key attributes.

Customer loyalty

. Assess the loyalty of your customer base by tracking metrics like customer retention and net promoter score (NPS).

Market share

. Measure your brand's share of the market compared to competitors. This provides insights into your brand's competitiveness.

Social media engagement

. Monitor social media mentions, likes, shares, and comments to gauge brand sentiment.

Consideration

. Check the percentage of people who are considering buying a brand.



Usage

. Identify the percentage of people who use a brand.

Purchase intent

. This pertains to a customer's likelihood of availing your product or service.
How to set up a brand tracking study
Here's how to set up a brand tracking study:
Define objectives

. Identify the key questions that you want the research to answer. Define your goals and what you want to achieve with the study.

Select metrics

. Choose the metrics that align with your objectives and are relevant to your industry.

Establish survey questions

. Create survey questions that reflect your brand research objectives.

Select a sample

. Decide on the audience you want to study and how to select it (

random vs. stratified

).

Data gathering

. Decide on the methods for data collection, which may include surveys, online analytics, and customer feedback.

Frequency

. Determine how often you will conduct brand tracking. Quarterly or annually is common, but it depends on your industry and objectives.

Choose a research agency

. Identify and choose a research agency that specializes in brand tracking.

Collect data

. Collect data from your target audience.

Data analysis

. Analyze the collected data, looking for trends, areas of improvement, and opportunities.

Actionable insights

. Translate the data into actionable insights that inform marketing strategies and brand improvements.
Is brand tracking worth the effort?
Is brand tracking worth the investment? Absolutely. It is an invaluable tool for businesses of all sizes and industries.
It provides the insights needed to make informed decisions, measure the effectiveness of marketing efforts, and ensure your brand remains competitive and relevant.
While it may require resources and careful planning, the benefits far outweigh the challenges.
Brand tracking is not just a business luxury — it's a necessity in today's competitive landscape.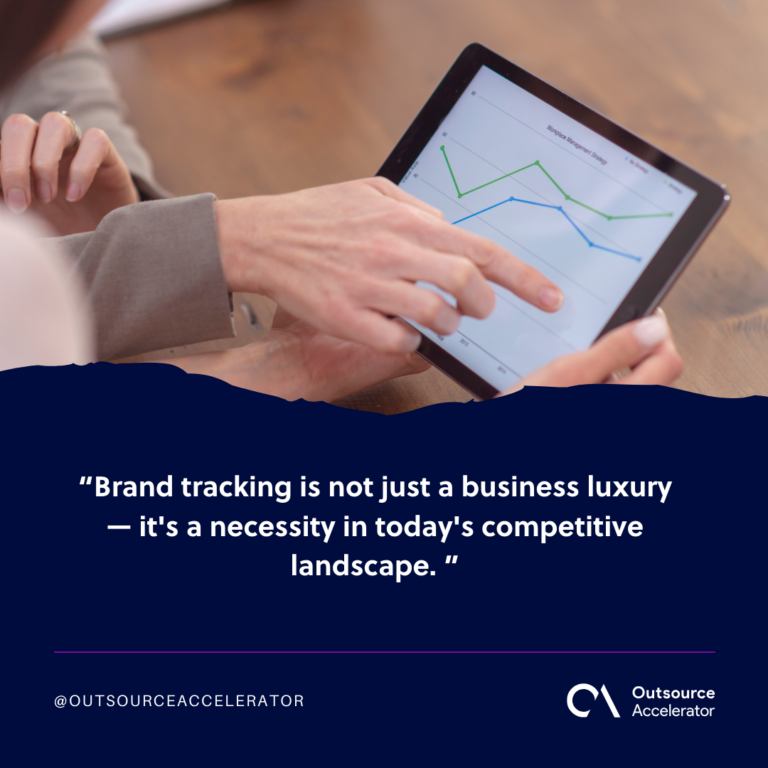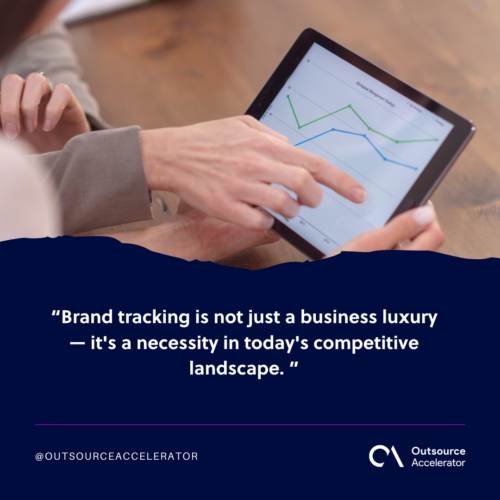 By understanding your brand's performance, you can navigate the market with confidence and ultimately strengthen your brand's position and relevance.