Hire bilingual sales representatives through Wing Assistant today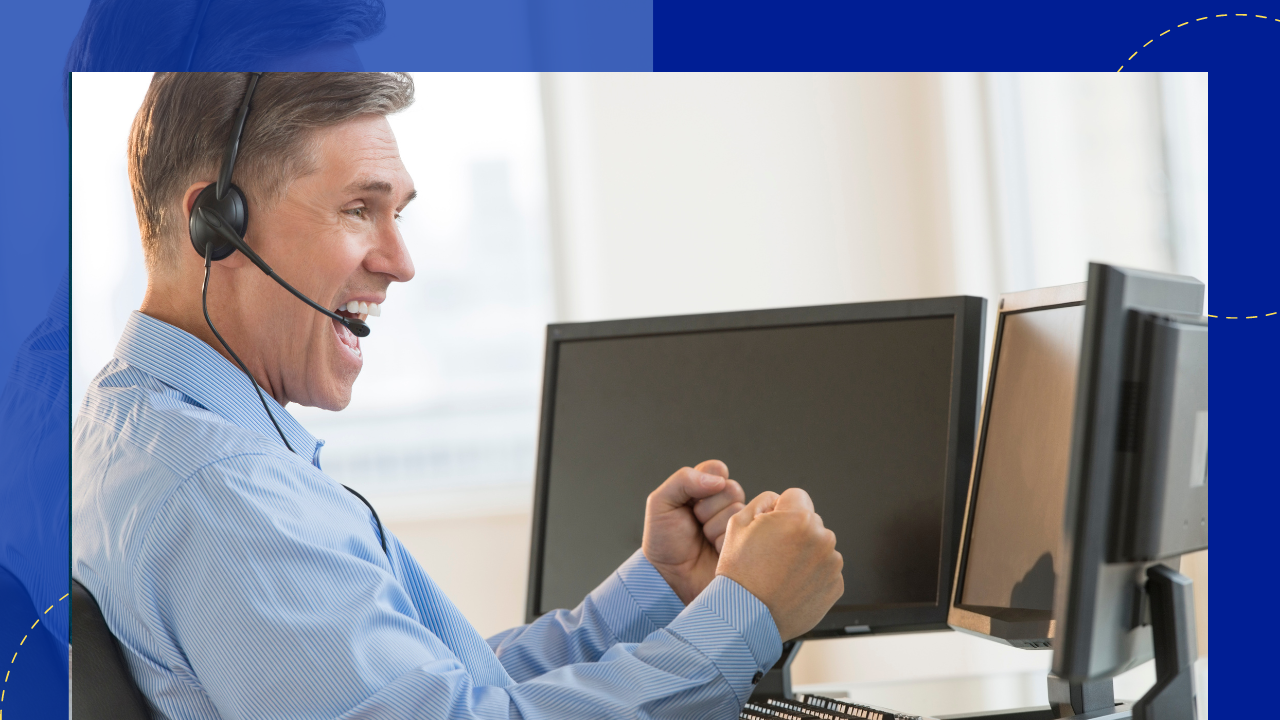 Hiring sales representatives from a reliable outsourcing firm like Wing Assistant is an excellent business strategy.
Outsourcing sales calling has become commonplace and a staple in the business, because it is a cost-effective way of reaching a lot of leads in a short time.
However, globalization presents challenges that even the highly adaptive Business Process Outsourcing (BPO) industry has to overcome.
One of these challenges is the language barrier between businesses and their customers.
Despite being dubbed as the "universal language," only about 1.5 billion people speak English out of the world's almost 8 billion total population.
Out of these 1.5 billion, only 400 million consider English as their native tongue.
Enterprises expanding their operations to other countries face the problem of having sales representatives unable to converse with potential customers effectively. Fortunately, hiring bilingual sales representatives solves this obstacle. 
Bilingual sales representatives: Definition and duties
As implied by the job title, bilingual sales representatives are salespeople who are able to converse in more than one language.
These additional languages can include Spanish, Russian, English, Korean, Mandarin, German, and Arabic.
Among these, sales representatives fluent in English and Spanish are more in demand.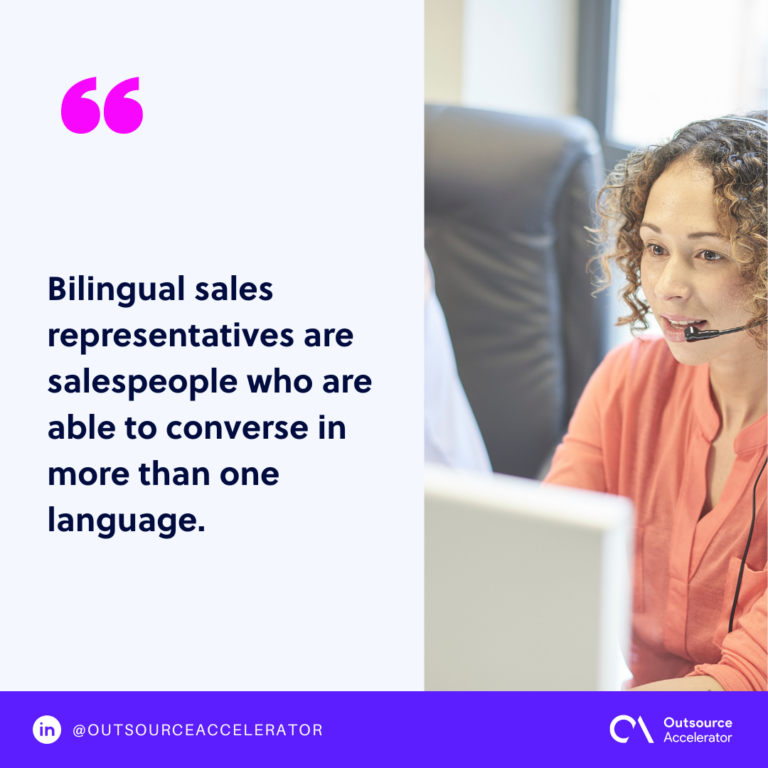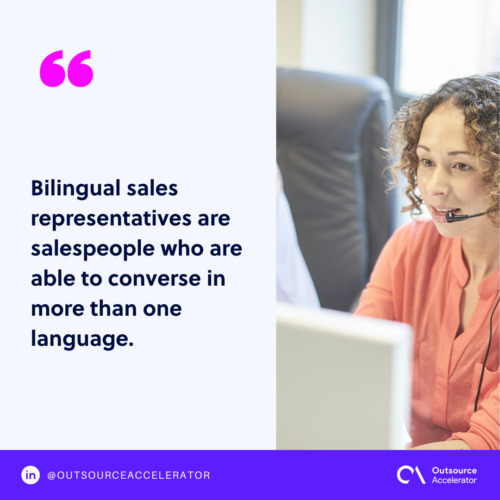 Duties of a bilingual sales representative
The duties of a bilingual sales representative are the same as their monolingual counterparts.
Bilingual sales representatives must connect with customers throughout the buyer's journey. As part of a company's sales team, they are responsible for tasks involving activating and nurturing leads. However, these are by no means their only responsibilities.
Cold calling
Cold calling is a lead generation strategy that involves calling potential customers, including people without any prior interaction with a business.
This practice aims to turn individuals who fit their customers' demographics into loyal customers.
It's one of the oldest lead generation techniques and is often associated with real estate and insurance.
Direct sales
Pitching new products or promos on services to existing customers is part of a sales representative's routine responsibilities.
Sales representatives contact these customers using information from customer relationship management (CRM) databases.
Like cold calls, direct sales often use prepared spiels to persuade customers.
Lead conversion
Lead conversion pertains to the process wherein a potential customer is turned into a loyal one. This process comes after lead generation.
While the bulk of the lead generation process may fall under the marketing team's responsibility, converting these leads into customers is the duty of sales representatives.
Following best practices typically leads to successful lead conversions.
Why having bilingual sales representatives is essential
There are plenty of benefits to having bilingual sales representatives. Some of these benefits are:
Increased sales
A survey conducted by Common Sense Advisory revealed that 76% of customers are more likely to buy products with information in their native tongue. This study involved 8,709 consumers across more than 25 countries.
Moreover, sales representatives conversing with customers using their own language can build rapport with them more effectively. They are able to insert cultural references, give nuance to prepared scripts, and avoid sensitive or taboo topics.
Increased market reach
The same survey above also indicated that 68% of consumers are more likely to switch to a different brand if said brand provides customer service in their language.
Thus, hiring sales representatives who speak Spanish can potentially reel in Hispanic consumers, who comprise 19% of the US population.
Increased competitiveness
The outsourcing industry is a fiercely competitive sector where every possible advantage is leveraged, and having sales agents who communicate in customers' native languages certainly sets a company apart.
With bilingual sales representatives, a company can have highly targeted sales campaigns that focus on concerns specific to some cultures.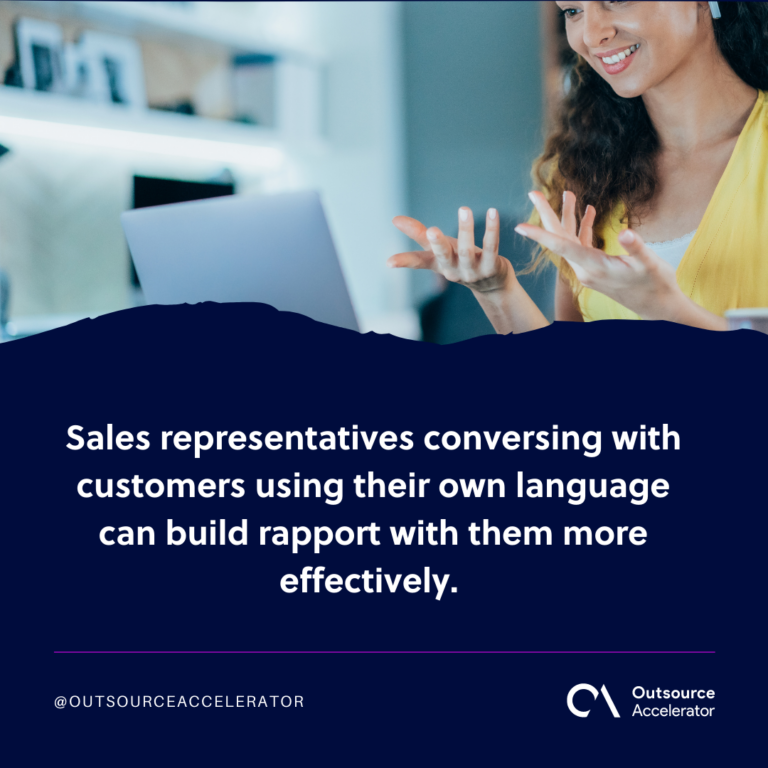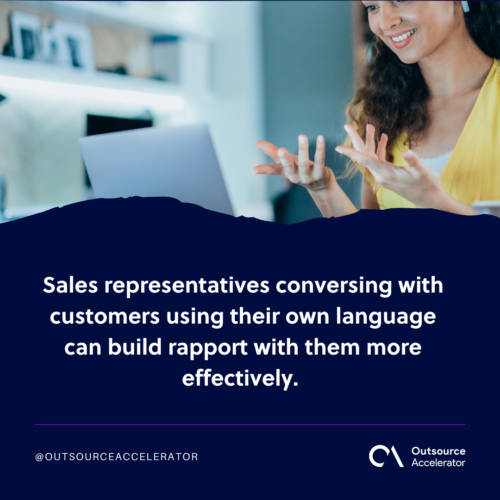 Why you should hire bilingual sales representatives thru Wing Assistant
Wing Assistant's team of experienced bilingual sales representatives is fluent in both English and Spanish.
Aside from their proficiency in these languages, these callers are also skilled in executing sales representatives' tasks, such as:
Sales calling

Real estate cold calling

Lead generation
Wing's callers can work full-time or part-time and function like an extension of your in-house team.
In addition to having your dedicated Wing caller, you'll also have access to a customer success manager who'll help you set up and provide help whenever you need it.