9 benefits of back-office accounting services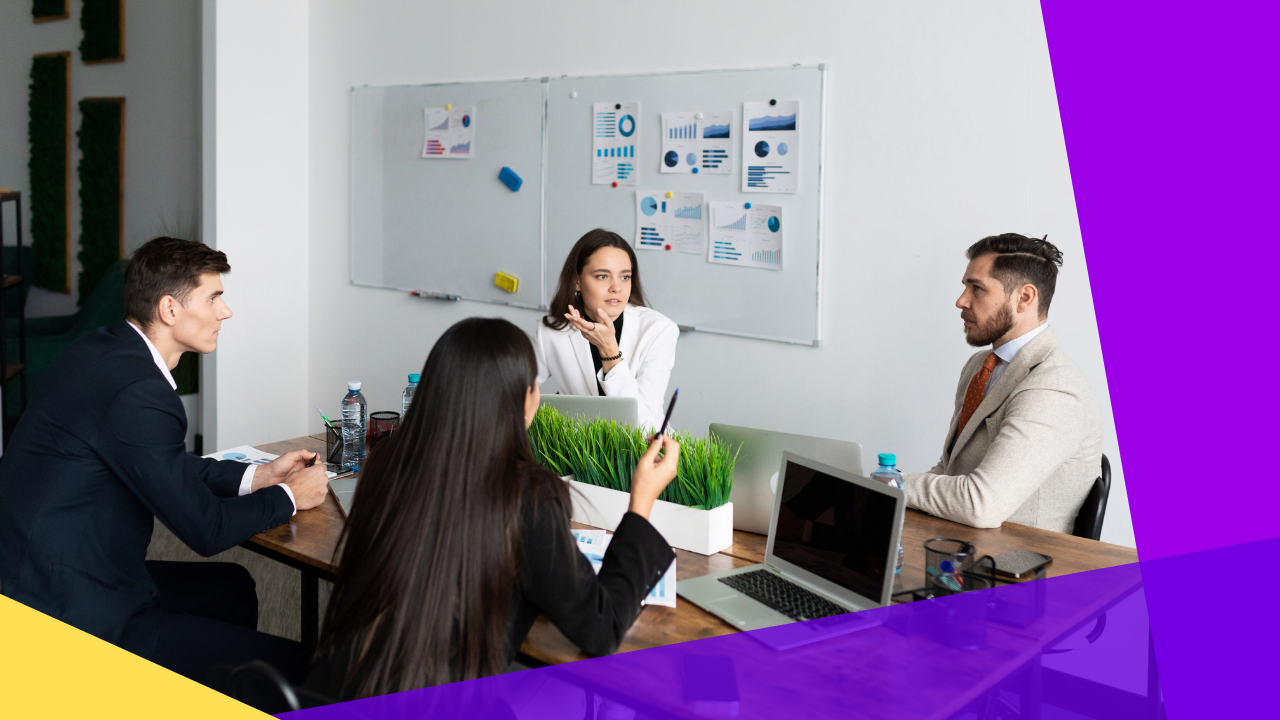 This article is a submission by D&V Philippines. D&V Philippines has years of experience in the accounting and finance industry. They provide the back-office support you need.
A profitable business has solid support that allows its teams to work efficiently and productively at what they do best.
Back-office accounting has served as a vital support team for many businesses. Companies outsource some of their accounting and bookkeeping to a team of experts.
The latter perform various tasks such as bank reconciliation, processing payroll, accounts payable, and accounts receivable, as well as preparing financial documents and reports.
The work that a back-office team does allows your employees to concentrate on profitable tasks.
In this article, we'll delve into the advantages of getting outsourced back-office accounting services.
Outsourcing back-office accounting services
A back-office team provides your business with multiple benefits. You need a reliable and trusted back-office support team to deliver the results you're looking for.
An outsourced team can do your accounting and bookkeeping tasks to boost the productivity of your team because their focus is on their own work.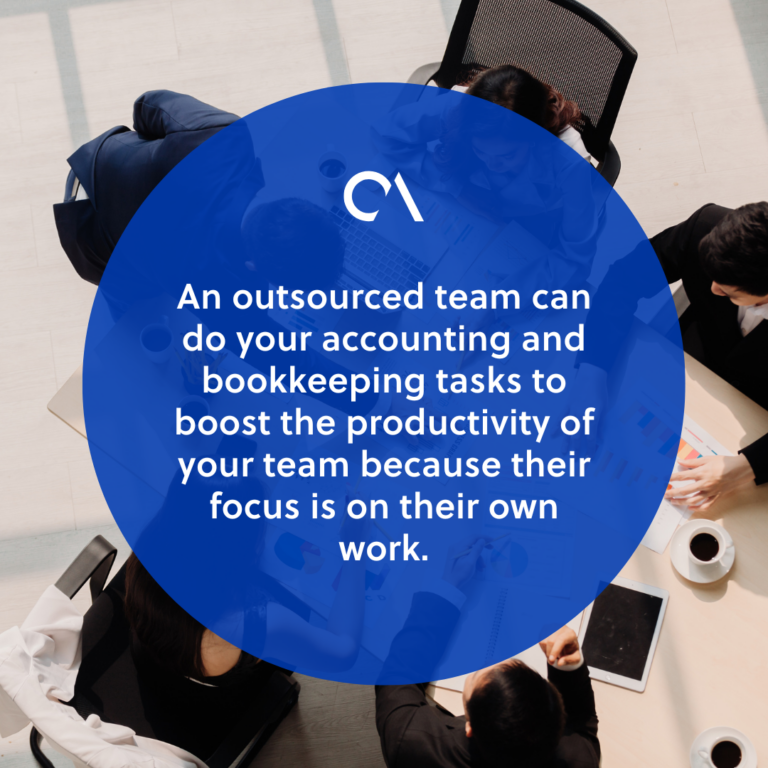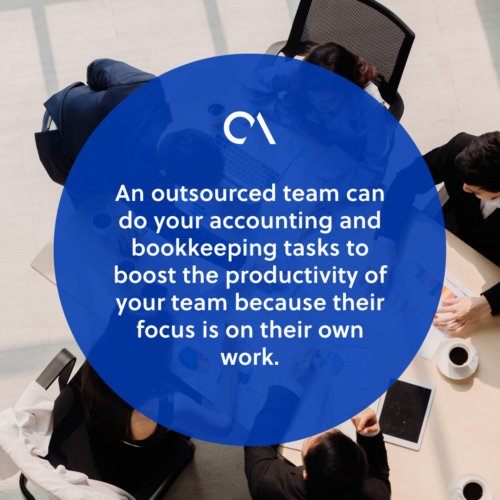 9 advantages of back-office accounting services
Outlined below are the essential benefits businesses can take full advantage of as they acquire back-office accounting services:
1. Precise financial data
Your business relies on accurate financial records. You need data to determine the effectiveness and measure the success of a marketing strategy or sales campaign.
Accurate financial statements allow you to identify aspects of your business that need more resources. Your back-office accounting team prepares error-free financial statements and makes sure that income and expenses are accurate.
You need accuracy when it comes to making financial decisions and complying with regulations. Mistakes in your accounting books may lead to higher costs because of penalties, incentives you missed, erroneous categorizations, and others.
The meticulous approach of a back-office accounting team enables you to make informed decisions.
2. Compliance with regulations
Your company needs to comply with local laws and regulations to avoid incurring penalties and fines.
You need a reliable and knowledgeable team that knows the entire compliance process. An experienced outsourced back-office accounting services team can do the work for you.
They follow accounting standards whenever they prepare reports for auditors and regulators and when you need financial statements.
They make sure you comply with tax laws and regulations. Doing so allows your company to avoid fines and/or possible legal problems.
3. Dependable cash flow management
Cash flow is one of the factors that can determine the success or failure of your business. Poor cash flow is an indicator of inefficient use of resources. An inexperienced team might mismanage your cash which will lead to higher costs.
A back-office support team has the experience and expertise to manage your company's cash flow.
They can manage and process payables and receivables and generate estimates. They can also create reports and handle some of your company's cash transactions.
Their service and expertise improve cash flow management. This enables you to make effective financial decisions and allocate resources to aspects of your operations that need cash.
4. Reduce business risks
Your company may encounter problems such as fraud, theft, and misuse, just to name a few.
Compromised financial data leads to inaccurate projections and estimates. You'll also have erroneous financial reports that you can't use. You should manage these risks to maintain the financial position of your business.
An experienced back-office accounting services team can identify fraudulent or suspicious transactions.
They can implement internal controls and policies, and analytical tools to review your financial statements and records. This enables you to identify mistakes, monitor, and record transactions effectively.
5. Improve operational efficiency
Employees that take on tasks without the experience or skills to do them are inefficient. Extra work also has a negative effect on their actual jobs.
A back-office accounting services team allows you to avoid this problem. An outsourced partner can take on specific tasks related to accounting, such as:
Processing payroll
Managing accounts receivable
Invoicing
This improves the efficiency of your accounting processes. They can also implement innovative processes that simplify accounting. They can set up automation tools such as Xero or QuickBooks Online to make updating your books easier.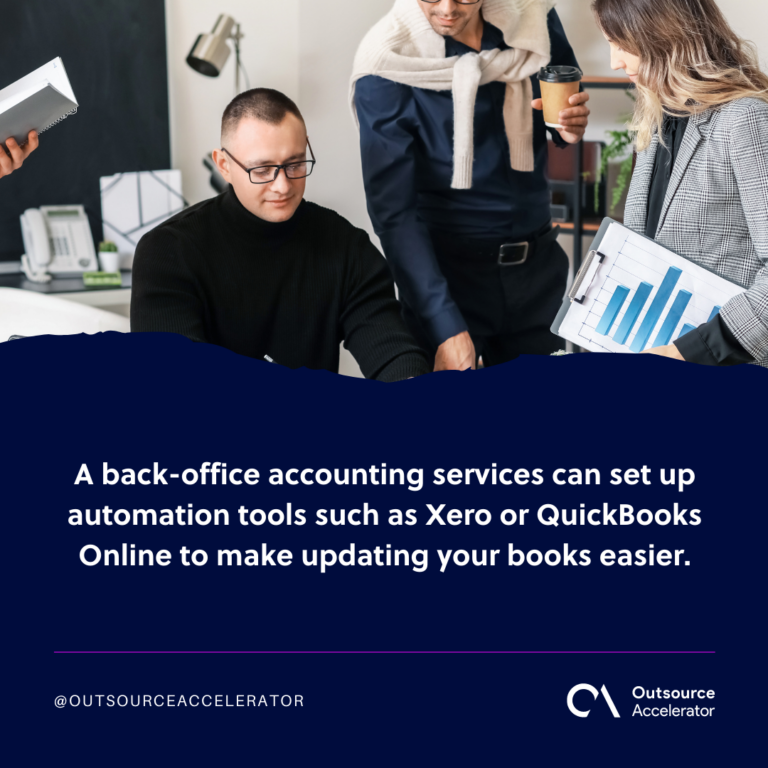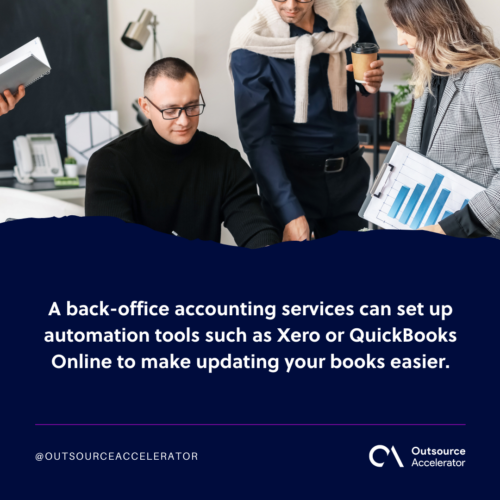 6. Cost-reduction strategy
Hiring full-time employees and training your current staff to perform tasks they lack experience and skills in may consume your company's resources.
A back-office support team provides you with financial flexibility. The team already has the experience and skills to get the job done as soon as you hire them.
You don't have to provide them with benefits as you would normally do with full-time employees. You don't have to invest in their certifications or training programs because you chose them based on their credentials for doing tasks you want them to.
A back-office team's expertise reduces your costs and allows you to save resources for profitable strategies.
7. Eliminate mistakes
Errors in your accounting books are costly. You might pay more for interest, penalties, or fees you could've avoided.
An inexperienced employee might make mistakes in categorizations, entries, computing taxes, and accounts receivable and payroll processing.
A back-office accounting services provider's team identifies and eliminates the mistakes in your accounting books. They keep your books updated so that you always have current financial information.
8. Stay on time
Time is of the essence for many businesses. Delays result in lost potential revenue or possible penalties.
A back-office team delivers the reports and updated accounting books you need. You don't have to micromanage them or wait for them to learn skills and gain experience to do accounting tasks.
They can meet deadlines for compliance and payments. They can also do some of the administrative tasks related to your business finance and accounting needs.
This allows you to focus the schedule of your team on productive work that benefits your company.
9. They keep your team focused
Multitasking employees take them away from work and the tasks they do best. This spreads them thin and may lead to more mistakes. This may also cause burnout and fatigue because of longer working hours.
A back-office team reduces the workload of your in-house employees. They can take on finance and accounting tasks your team has little to no experience in doing.
This enables your employees to concentrate on projects and work they have the skills and experience in.