Back office support: How outsourcing can help you cut costs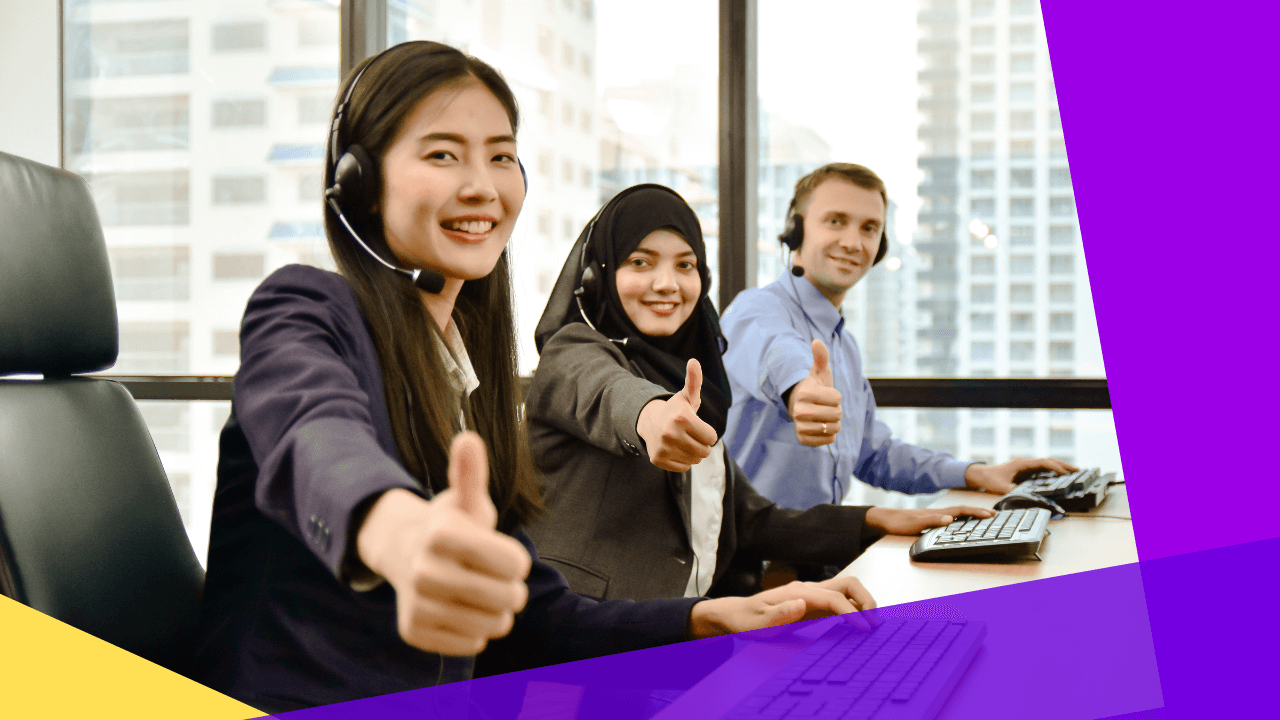 The back office is a subtle but vital department of any company. While it can be seen as a cost center, it's actually an important revenue driver. The right approach transforms your back office into a competitive advantage. 
Back office support roles are typically the ones outsourced first. This may sound degrading, but many organizations have seen the benefit of hiring capable offshore support at a reduced rate. 
The key is finding a good partner with experience in the industry, like Connext. Since 2014, Connext has provided client-based bespoke solutions, including back office support.  
Back office support services you can outsource
If you're looking to maximize your business operations and improve efficiency, you can look into outsourcing. Companies outsource for several reasons, and the wide range of roles and talent is one of the top causes. 
Here are a few back office support services you can outsource:  
Data entry
Data entry is essential for many back office jobs as it ensures accuracy and efficiency in other business processes. Data entry specialists must index documents into databases for easy retrieval by other departments to create reports and manage records. 
Administrative assistant
The administrative assistant role covers HR, payroll, benefits, and occasionally business operational tasks like accounting and IT management. 
Administrative assistants perform general office work, even remotely, to support professionals in their organization. 
Virtual assistant
While they primarily work for individual executives, virtual assistants can perform administrative, back office tasks. Their remote setup and flexible hours let them work around your schedule so you can delegate work when needed. 
Data mining
Data mining is a back office IT role that identifies data patterns and knowledge from large data sets. Higher-ups use the information for business intelligence and predictive analytics, such as describing customer buying behavior or product sales trends.  
Aside from the aforementioned roles, Connext also offers the following back office support for the healthcare industry.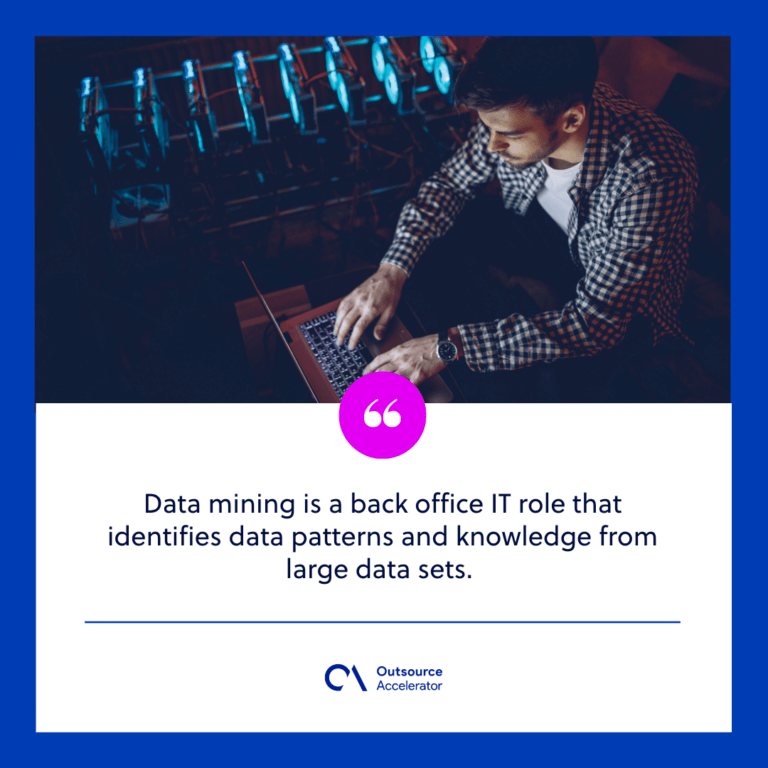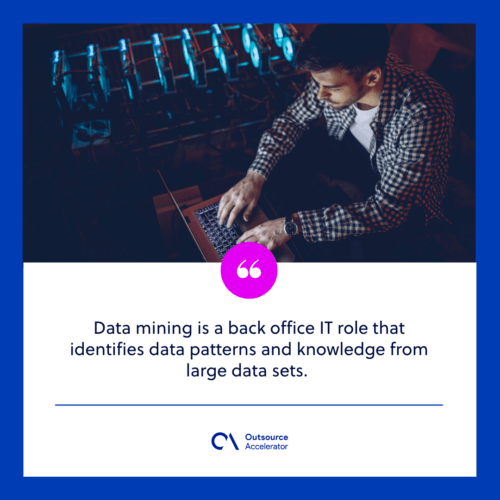 Medical transcription
Like data entry, transcription services are essential for reports and records. 
Medical transcriptionists transfer information from different audio sources:
Electronic health records

Clinical documents 

Voice recognition software 
Credentialing
Credentialing ensures that people have met certain requirements prior to working in a specific role. Credentialing helps employers verify prospects' skills and pay levels when used in an HR position.
In the healthcare industry, credentialing is part of the back office billing processes.  
Cost savings from outsourcing back office support
Outsourcing functions like back office support are credited as viable strategies for businesses desiring to cut costs. 
Here are the main ways it does so:

Cut operating expenses 
Operating expenses cover the costs of running your business, particularly labor. By outsourcing back office support, you can lower costs by hiring offshore teams of highly-skilled professionals. 
You will pay less than if you hired a full-time, onsite employee. Your third-party outsourcing provider will handle all the administrative tasks, and you will reduce the expenses of paying for these internal employees' office space and equipment. 
Lower overhead charges 
A smaller internal team (since most will be offshored) also lowers overhead costs. With an offshore back office team, you'll only need to pay for your needed services. 
This is very common with outsourcing providers, who either have their workers at home or in the BPO's offices. Their client companies, therefore, pay less for maintenance and utilities, freeing up resources for other important projects. 
Talent pool and tech stack 
Cost-effectiveness also means getting the best quality from what you paid for, and while there's an infamous notion that outsourcing produces low-quality work, the opposite is true. 
For example, consider outsourcing to the Philippines, which has a strong IT and BPO sector. Multinational outsourcing companies have set up their offices in the country, creating a large talent pool of qualified employees for IT and back office support. 
Outsourcing firms have access to both talent and technologies to focus on providing the best solutions.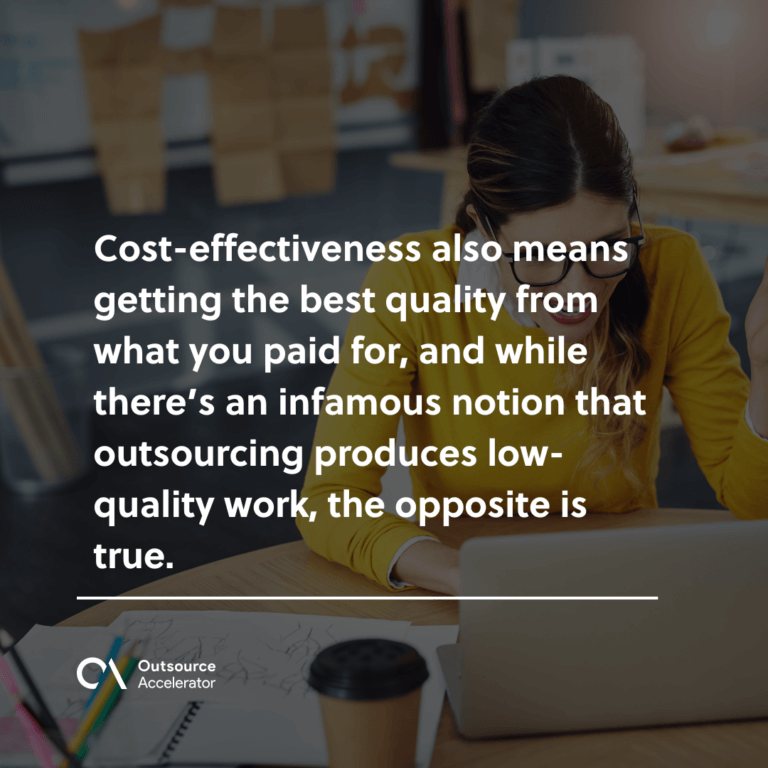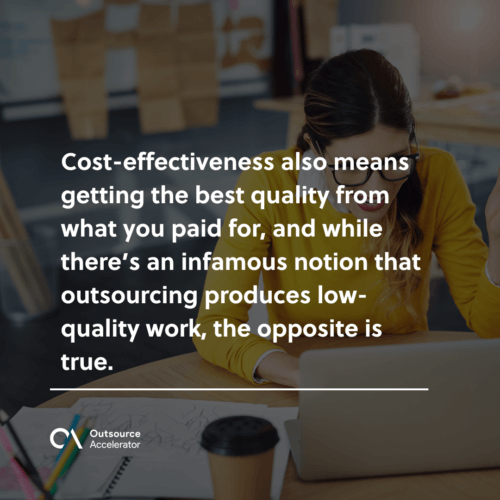 Outsource your back office support functions with Connext
Connext is a premier staffing and outsourcing firm that assembles custom, dedicated offshore support teams for its clients. Connext does outsourcing in its own way, addressing pain points and building solutions around your needs.  
Connext understands that back office administrative support is key to accurate and on-time service delivery and business growth. They hire only the top 1% of Philippine talent to staff your back office offshore. 
Build a better back office at a reduced cost, contact Connext today!