What you need to know about ASC billing services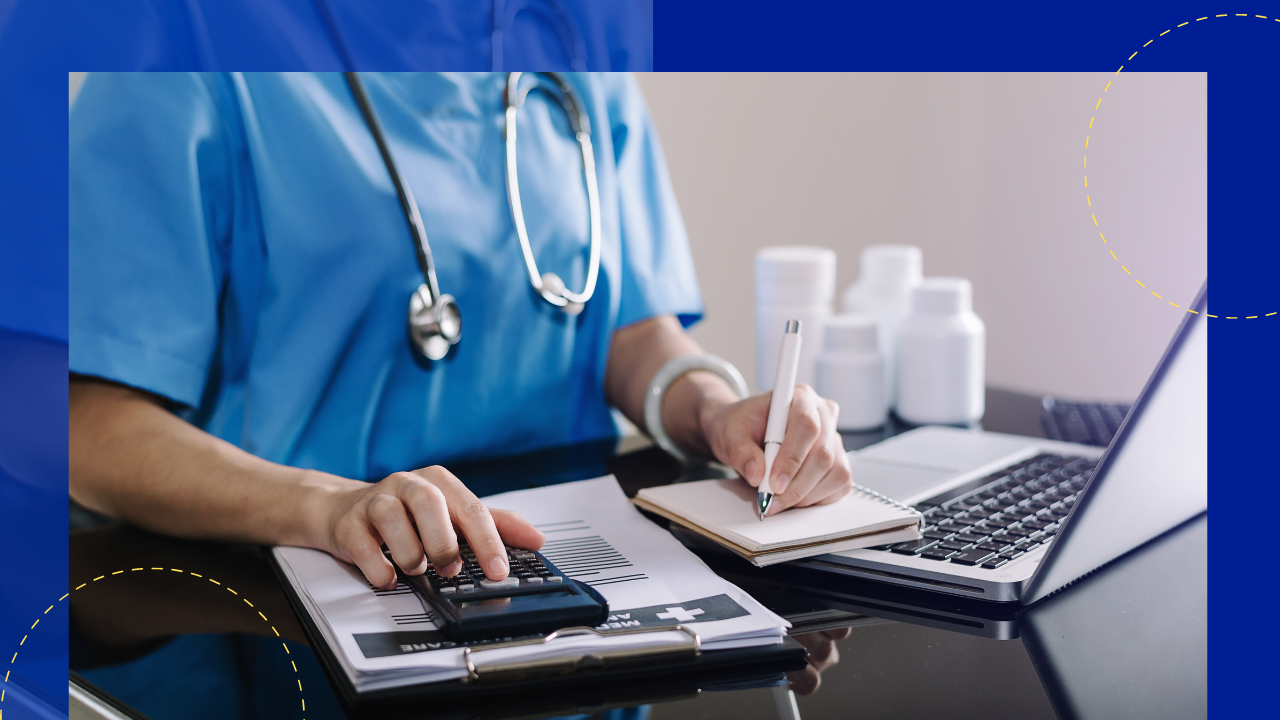 What you need to know about ASC billing services
There are instances when people will need assistance with billing. Only some people can take on a one-time total payment, especially regarding medical bills. Some people turn to loans to acquire a sufficient amount that will solve their financial dilemmas. 
Installments, credit cards, or even insurances greatly help lessen this burden. It's a good thing that there are options that offer help with medical payments.
One of the most accredited billing services to date is the Ambulatory Surgical Centers (ASC). Although this is not directly involved in patient care, they can still send out individual bills to patients to get payment from their main health plan.
This blog will discuss everything you need to understand about ASC billing services.
What is an ASC?
Ambulatory Surgery Centers (ASC) are a regulation by federal and state governments to ensure patient safety. These are the modern types of healthcare facilities that center on offering same-day surgical care, including preventive and diagnostic methods.
Millions of Americans leverage the benefits and transformation of the outpatient experience because of ASCs. They are given better alternatives to hospital-based outpatient procedures. With this, there's positive progress in the record of quality care and patient results.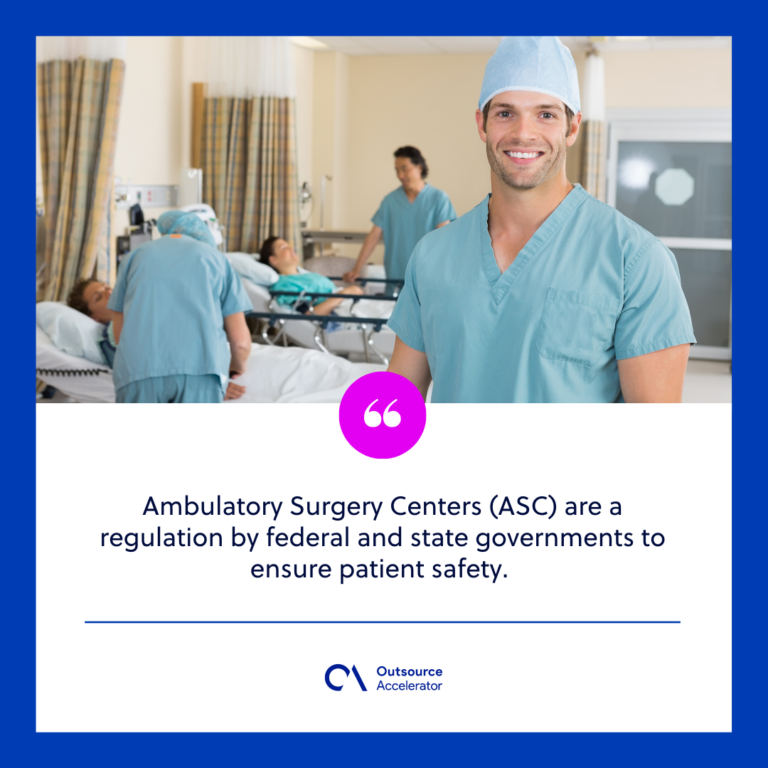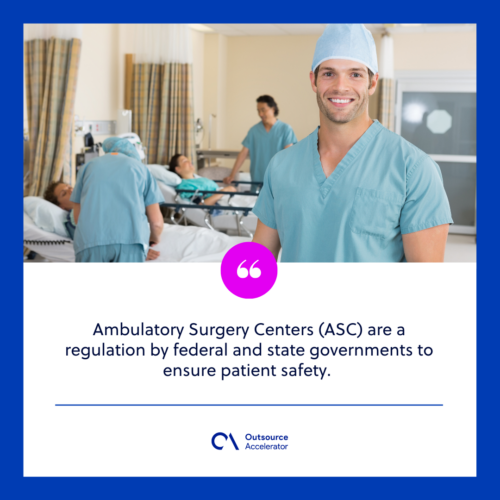 How do ASC billing services work?
While ASC is not directly involved in patient care, they send out bills individually to patients to gather payment from their main health plan. ASC billing services are often a patient's last medical billing assistance option. 
Often, ASCs take over the biller role and become responsible for delegating the information to the healthcare provider. The patient then should fulfill their duty of paying their immediate health plan. 
Typically, the healthcare provider owns ASC and offers the service. They will bill the ambulatory surgery center for their services based on a pre-agreed rate. 
Is an ASC billing a medical specialty?
While ASC is often used for healthcare purposes, it is NOT a medical specialty. There are no specific types of procedures, services, or diagnoses revolving around ASC.
ASC billing services differ significantly from other types like facility or regular physician billing. Still, ASC uses the same set of codes or billing techniques as the medical industry.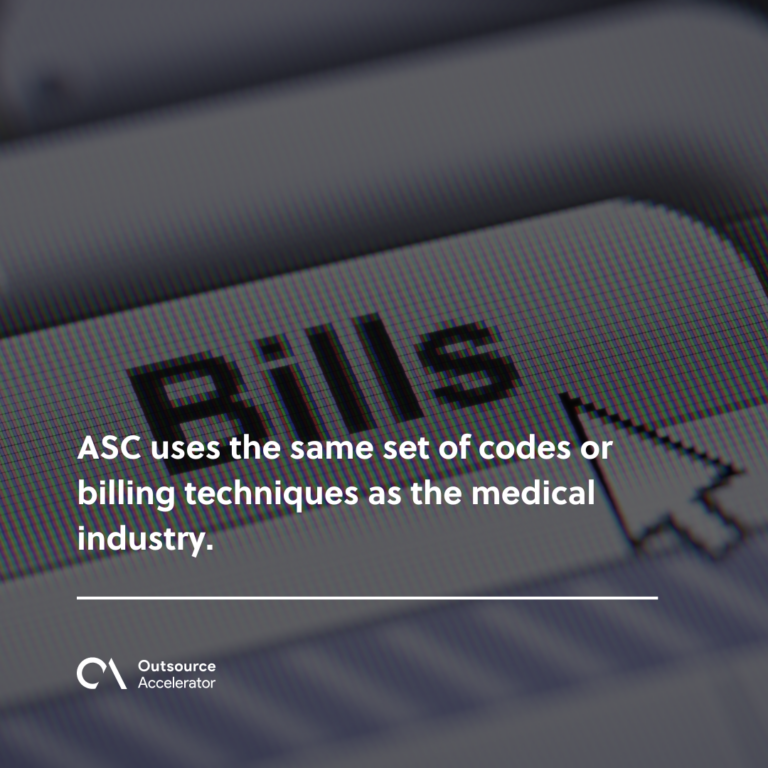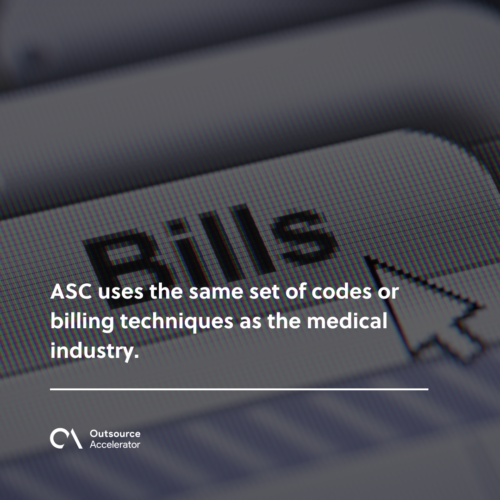 What modifiers does ASC use?
There are different modifiers used in ASC that are similar to the ones used by physicians. Check out below the modifiers accepted by ASC in claim filing:
GW

– Surgery not associated with the hospice patient's concluding condition

PC

– Wrong surgery on a patient

PB

– Surgery wrong patient

PA

– Wrong body part

PT

– Screening service transformed into a diagnostic or therapeutic service

FC

– Device provided at partial credit

FB

– Device furnished at no cost/full credit

TC

– Technical component

LT

– Left side

RT

– Right side

74

– Procedure finished following anesthesia administered

73

– Procedure discontinued after prepping for surgery

59

– Distinct, separate procedure

52

– Reduced services
ASC billing services different vs hospital outpatient billing
These are similar at some point since they both offer hospital billing services to patients. However, hospital outpatient billing represents hospitals that specialize in outpatient care. They are directly involved in medical billing.
ASC billing differs because patients use it as a last option for billing and adjusting medical billing and coding services nationwide. They are not the primary source of patient care but can provide individual bills in acquiring payment for the patient's main health plan.
The difference in payment
Hospital outpatient and ASC show a clear difference in payment. 
ASC billing services usually have a rate negotiated between the ASC and the facility–either discounted or the total amount depending on the contract agreed upon by the parties. ASCs send any outstanding amounts to the hospital they are billing after being paid in full for their services. 
Hospital Billing's payment method has a fixed fee schedule set by individual states. This pricing structure is commonly set at a markdown from the hospital's retail prices to entice patients to seek care. Hospitals not included in a patient's direct health plans demand payment directly from those plans. 
Below are some more differences between the payment method for both billings:
The relative weight
The bargaining power for each billing differs since they have different priorities. ASCs have a weaker bargaining position since they don't have a direct connection with the hospital. 
Thus, the hospital cannot provide the same level of care. Negotiation is necessary to afford healthcare services since hospitals charge less than ASC.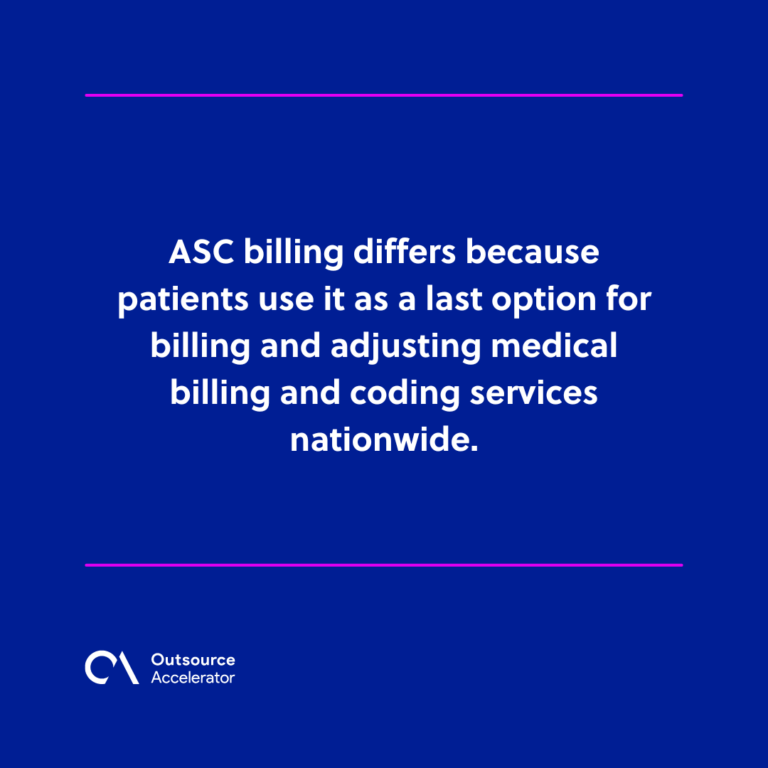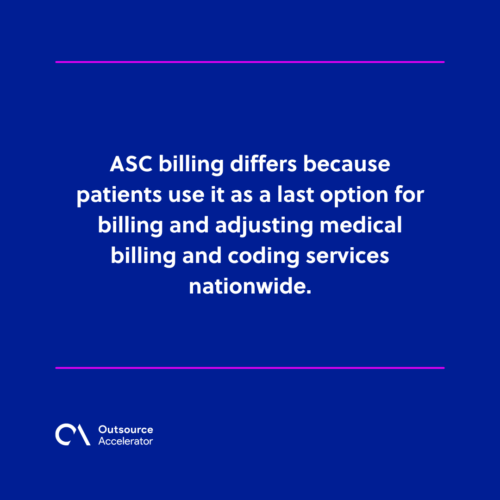 Conversion factor changes
ASC billing tasks usually negotiate a discounted rate from the hospital's retail charges. It is done in the beginning to set the expectation of the patient.
The negotiated cost and the portion of that sum clients will pay at the time of service will then be used to calculate the conversion factor.
Hospital billing already has a predetermined fee to promote access to patient care and generate volume to offset any potential losses from future discounts.
The conversion factor will tell how much will be the final expenses at the time of service after applying for all insurance.
The value system
The contrast between ambulatory surgery centers and hospital billing is how ASC billing services ask for a discount with hospitals to provide better service to their member facilities.
Hospital billing balances liability and exposure and establishes a fair ROI for all parties involved.
The wage index
For ambulatory surgery centers, they are responsible for sourcing staff for their facilities. Hence, unlike hospitals, they do not have a high budget to compensate their employees.
For hospitals, care providers ensure their employees to be happy and productive as possible by basing their wage index on their location rather than their expertise.
ASC billing services vs. Other types of billing
While ASC billing services differ from other types of medical billing, they have unique qualities that qualify for an accredited billing method. They also differ in reimbursement approach regarding medical billing and coding services.
ASC billing is distinct from facility billing since it bills hospital codes using CMS-1500, which is not part of a facility claim form.
Only clients with a primary care doctor's diagnosis and those who require medically essential procedures are served by ASCs.
Moreover, ASC medical billing and coding is an important part of revenue cycle management. It plays a crucial role in ensuring the financial stability and success of an ambulatory surgery center.
The solution involves accurately and efficiently processing and submitting claims for surgical procedures performed at the center. And it manages the claims reimbursement process with insurance companies and clients.