A handy guide for hiring an application architect
Hiring an application architect is crucial when developing robust and efficient software applications.
An application architect serves as the bridge between technical teams and management. They ensure that the software aligns with both technical requirements and business objectives.
At the same time, they are responsible for bridging interactions between an application's users and its business units.
Having an application architect in your team impacts how you develop your applications long-term. Read more about this role, including how to hire the right one for your organization.
What is an application architect?
An application architect is a skilled professional who specializes in designing and overseeing the creation of complex software systems. These architects possess a deep understanding of software development principles, technologies, and best practices.
Beyond development, they are ambassadors that bridge the communications and workflows between tech and business teams. They ensure everyone involved is on the same page throughout the development cycle, from planning to release and updates.
An application architect plays a pivotal role in ensuring the successful implementation of software solutions that align with business objectives.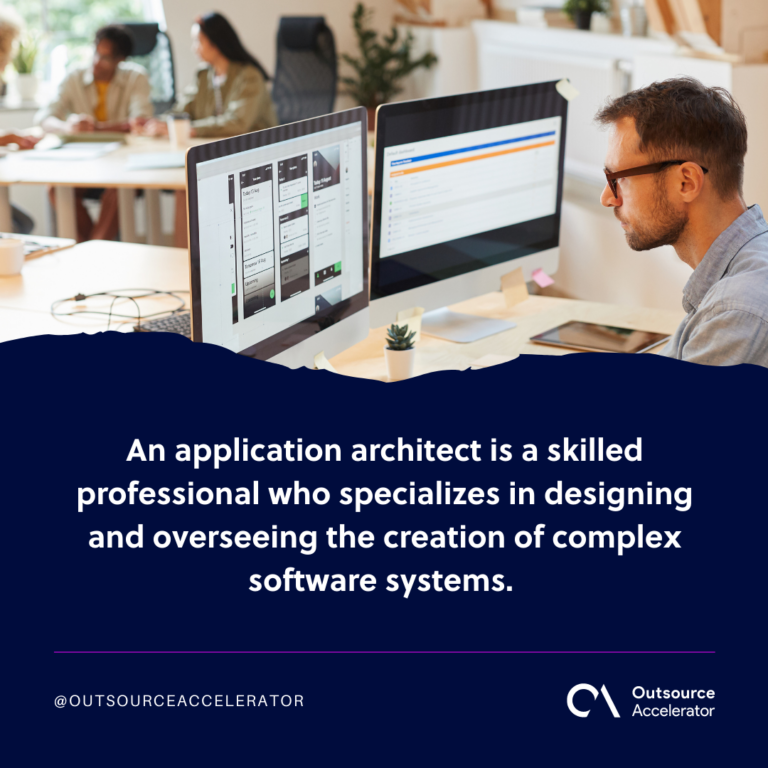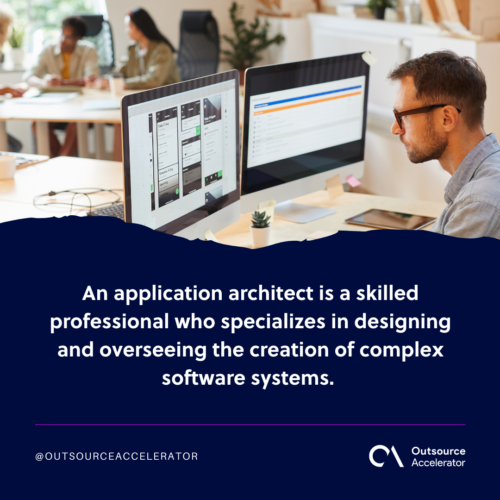 Types of roles fit for an application architect
Application architects can be found in various industries and organizations. Here are a few examples of roles where an application architect's expertise is highly valuable:
Network solutions architect
A network solutions architect focuses on designing and implementing network solutions. They work on creating secure and scalable network infrastructures that support the smooth operation of applications.
Enterprise architect
Enterprise architects work with large organizations. They are responsible for overseeing enterprise software and hardware and keeping up with the tools that can improve their processes.
IT data architect
IT data architects design and manage organizations' data architecture. They work closely with data analysts and database administrators to ensure efficient data storage and utilization.
Cloud architect
Cloud architects oversee a company's cloud computing strategy. They focus on scalability, security, and cost-effectiveness in utilizing cloud resources.
Web architect
Web architects specialize in creating robust and user-friendly web applications. They oversee a business's web architecture and coordinate with development teams to design efficient and visually appealing web solutions.
Mobile development architect
Mobile development architects focus on creating innovative and engaging mobile applications. They have expertise in developing applications for different mobile platforms.
Key responsibilities of an application architect
An application architect shoulders various responsibilities covering development, support, and leadership aspects.
Here are some of their key roles:
App development and architecture
An application architect's key responsibility lies in designing and developing an application's architecture.
They are involved in the development process, including structuring goals, risk evaluation, and customization. They help developers create a scalable, flexible architecture that aligns with the project's objectives.
Quality assurance
Ensuring the reliability of the application is another crucial responsibility of an application architect.
They implement quality assurance processes throughout the development lifecycle. This includes conducting thorough testing, identifying and resolving performance bottlenecks, and ensuring compliance with industry standards.
Collaboration and leadership
An application architect acts as a bridge between different stakeholders, including developers, project managers, and business analysts. They collaborate with each team, providing guidance and updates throughout the process.
At the same time, they participate in conferences, discussions, and research efforts to share their insights and bring fresh knowledge to the company.
Ongoing support
Application architects are accountable for providing ongoing support and maintenance for the application. They ensure the application is up-to-date and stable by addressing bugs, technical issues, and updates.
Training and development
Lastly, an application architect must stay updated with the latest technologies, frameworks, and trends in software development.
They share their knowledge and expertise with the development team through training sessions, workshops, and mentorships. This helps the team foster their professional growth and enhance their skills.
Application architect skills
Application architects must possess diverse skill sets to excel in their roles. Here are some essential skills that every application architect should have:
Technical expertise

. Application architects should deeply understand programming languages, frameworks, databases, and system architecture.

Problem-solving

. They should possess strong analytical and problem-solving skills to identify challenges and design effective solutions.

Business communication

. Application architects must effectively communicate complex technical concepts to technical and non-technical stakeholders.

Leadership

. Leadership skills are essential for guiding development teams and successfully implementing software projects.

Adaptability

. Given the ever-evolving nature of technology, application architects must be willing to learn new tools and frameworks.
Application architect salary
On average, application architects in the US earn a competitive salary ranging from US$140,000 to US$160,000 annually. This range can vary depending on factors such as experience, state, and the complexity of the projects they handle.
Experienced and specialized application architects may command even higher salaries.
The salary of an application architect is a fraction lower in offshore countries such as the Philippines compared to developed countries. Per Glassdoor, they earn an average of US$33,924 annually.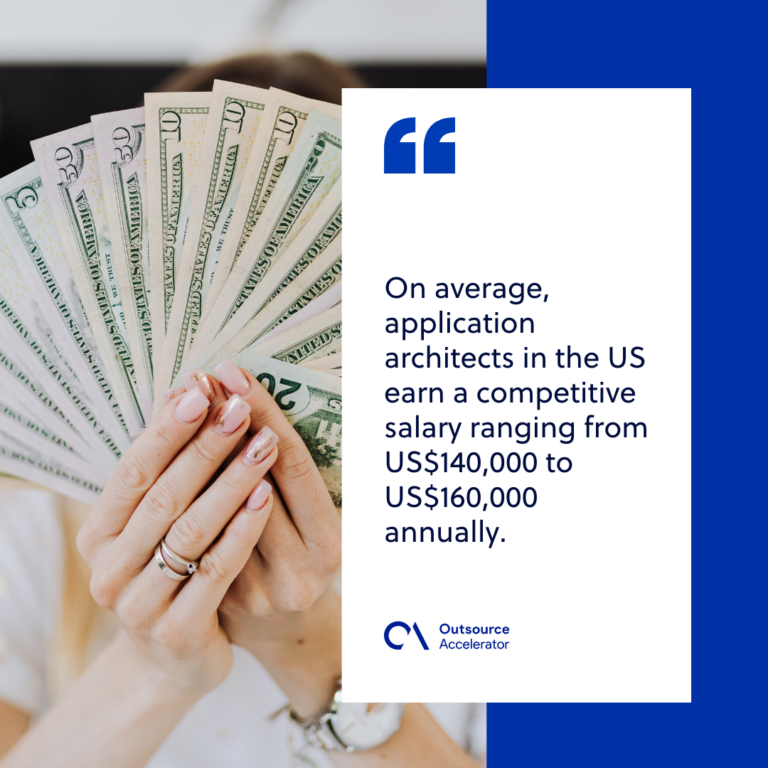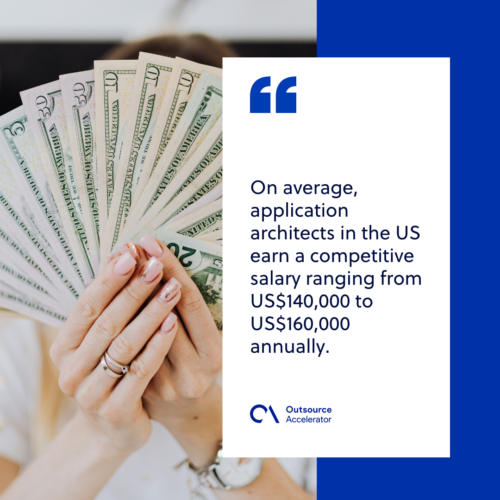 Best way to hire an application architect
Hiring the right application architect is crucial for the success of your software projects. Here are a few steps to guide you in the hiring process:
Outline the skills, experience, and qualifications you seek in an application architect based on your project's needs.

Assess the candidates' portfolios, looking for evidence of their previous work and the successful completion of similar projects.

Conduct technical assessments to evaluate candidates' proficiency in relevant technologies, problem-solving abilities, and architectural thinking.

Consider the candidate's ability to collaborate and communicate effectively with your existing team and stakeholders.
Application architects can be hired in different ways. Those who do not have enough resources to hire in-house personnel can opt to hire them offshore, along with development teams.
Remember, hiring an application architect is an investment in the long-term success of your software projects. By selecting the right professional, you can ensure the delivery of high-quality applications that meet your business objectives.